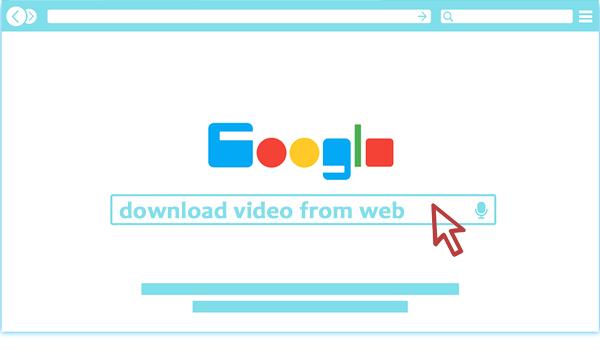 Why we need to download videos from websites as local files? According to different people, the answers may be different.
1. They may want to keep the videos offline for more convenient access at anytime;
2. They may like the videos very much and want to keep as personal collections;
3. They want to have a more fluent and convenient playback offline at anytime and anywhere;
4. Save mobile date from wasting to play videos online;
...
No matter for what reasons you need to download online videos, the way to download them from websites requires the help of reliable video downloaders. From so many choices, today, VideoHunter is highly recommended to you.
CONTENT Professional Software to Download Video from Any Website - VideoHunterSafe Online Tool to Download Video from Website - U2ConvertFree Chrome Extension to Save Video - Flash Video Downloader
Professional Software to Download Video from Any Website - VideoHunter
VideoHunter is also considered as Any Video Downloader because of its high compatibility. Rather than supporting a single website, VideoHunter holds the ability to download online videos from more than 1,000+ platforms, which include many popular sites that are used by millions of users around the globe, for example, YouTube, Facebook, Twitter, Reddit, Dailymotion, Niconico, and so forth.
VideoHunter A Reliable and High-quality Any Video Downloader for Windows/Mac Offer high resolutions to download video: 1080p, 4K, 8K; Up to 6X faster downloading speed; Built-in converter with 20+ formats for Mac (Windows soon); Easy to use functions and user-friendly in-app design; 100% safe environment without ads or virus. Free Download Free Download
# Easy Guide to Use VideoHunter
Step 1. First, please use your web browser and go to the website that is supported by VideoHunter. Subsequently, search for the online video and copy its URL.
Step 2. Please move to VideoHunter and open the Downloader inside the program. Subsequently, paste the URL to the downloading bar and tab the Analyze button right beside the bar, then VideoHunter will begin to initiate the link.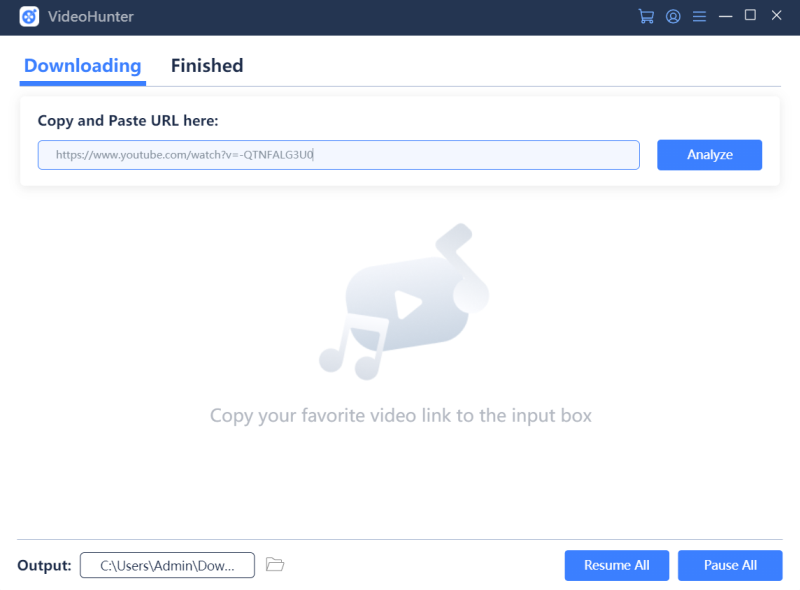 Step 3. Just for a minute, VideoHunter will finishes analyzing the video link and prompt you to the next step for selecting output format as well as quality. Make your choice and directly hit the Download button to start downloading the video.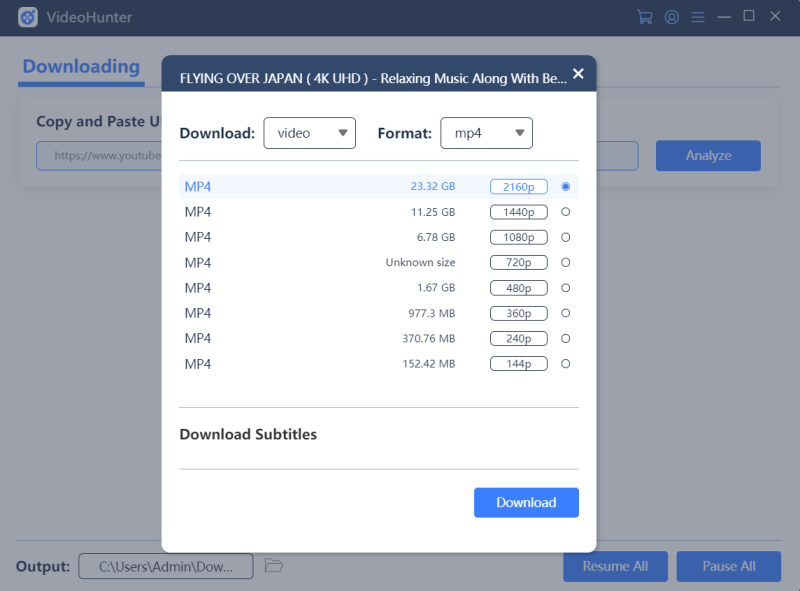 Step 4. When the download completes, the task will be moved to Finished section, where shores all the downloading history. Move to here and find the downloaded video. By clicking on the Open Folder icon behind the video, you can access the local file on your computer and enjoy free playback offline.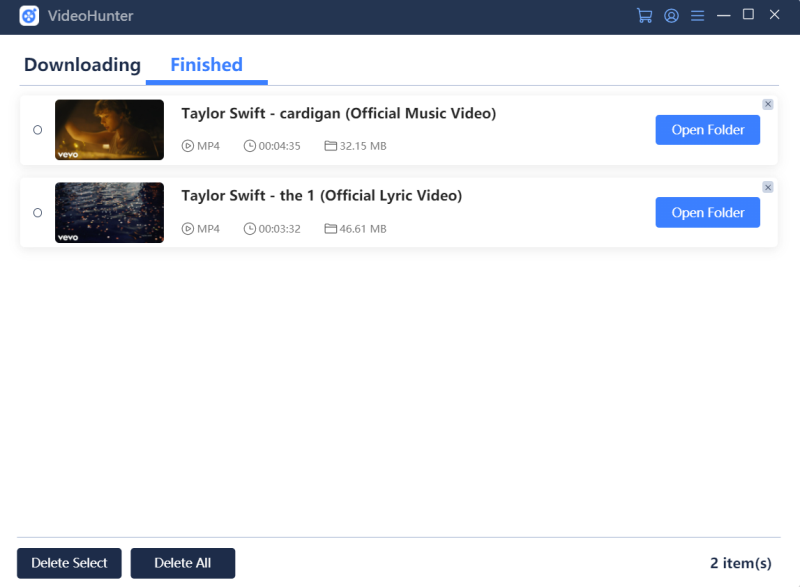 # VideoHunter Pros and Cons
Pros
* Support high output quality like 720p, 1080p, 4K, and even 8K;
* Support to download from multiple popular websites;
* Offer simple and convenient-to-use interface as well as functions;
* Support to download a whole YouTube playlist at once.
Cons
* VideoHunter is only available on Windows and Mac, which also requires people to download software;
* Requires payment for keeping using the software, which starts at $14.95/month.
Safe Online Tool to Download Video from Website - U2Convert
If you want to download video from website online, then this part will offer a safe way to you, which is by using U2Convert, a simple but 100% safe platform with fast online video downloading service.
Step 1. In the browser, please go to U2Convert. Then on its main interface, you can easily find the downloading bar located in the middle.
Step 2. Please go to YouTube (U2Convert only supports to download YouTue videos currently) and copy the link of the video you need to download.
Step 3. Paste the link to U2Convert's downloading bar, and it will automatically resolve the link and generate downloading options to you.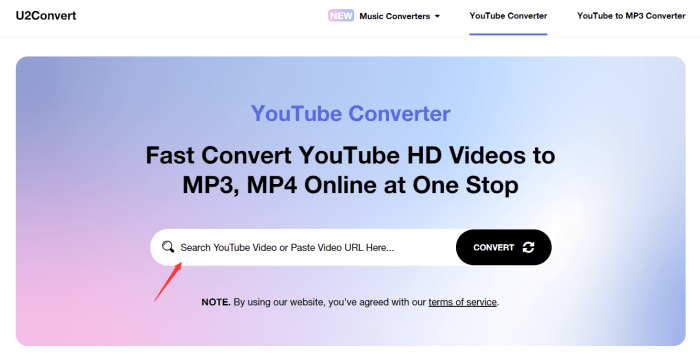 Step 4. Select a format and quality for the video. Subsequently, directly hit the Download icon for saving the video offline.
NOTE: To download video for higher than 720p (includes 720p) and audio for 320kbps, you need to use VideoHunter.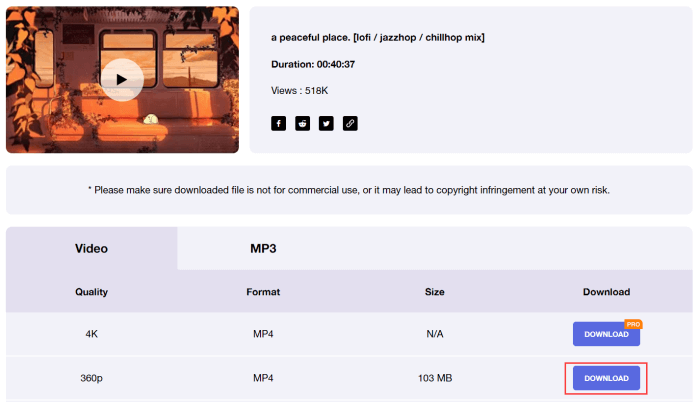 Step 5. When a window pops up with the video playing back automatically, click the three-dots icon then Download button again to save the video from website directly.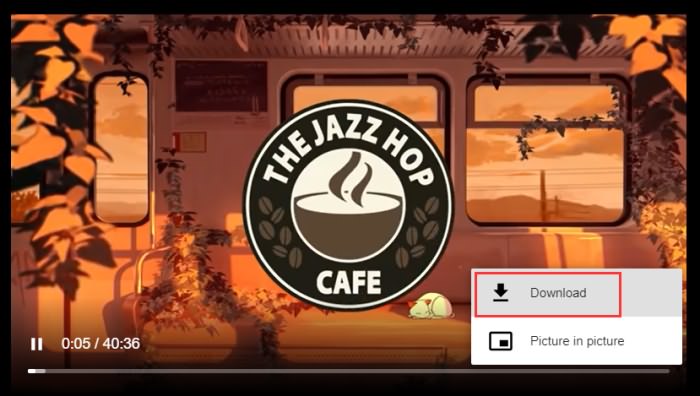 # U2Convert Pros and Cons
Pros
* Can be used on all devices with a web browser;
* Completely free to download video/audio from website.
Cons
* Only available to download video/audio with lower quality;
* No batch download supported and can only download videos one-by-one;
* Only available to download videos from YouTube;
* Can't download YouTube playlist.
Free Chrome Extension to Save Video - Flash Video Downloader
You can also choose to install a browser to help you download videos from website in Chrome. Here, the tutorial of using Flash Video Downloader, a free Chrome extension to save video, will be introduced to you.
Step 1. First, go to Google Chrome Extension Store for adding Flash Video Downloader to your Chrome browser.

Step 2. After adding Flash Video Downloader, turn the page to the website where you want to download video from. Then also open the video page of it.
Step 3. Now, please click on the extension icon and Flash Video Downloader will offer output options for you to save the video out of the website into a local file. Directly choose the option you prefer and then click on the download icon to save the video immediately!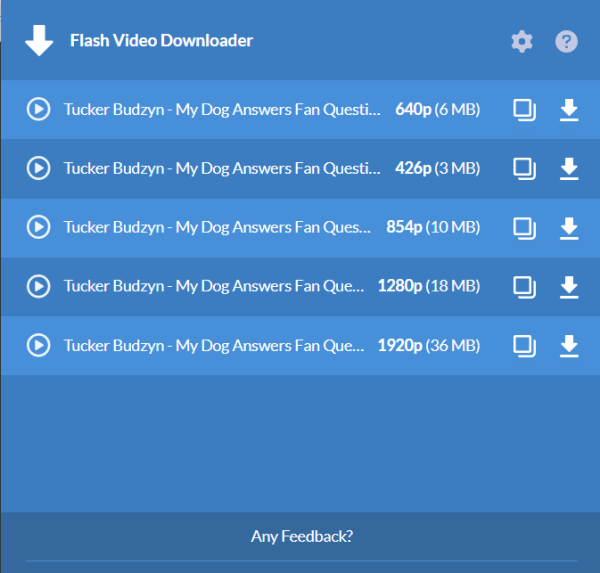 # Flash Video Downloader Pros and Cons
Pros
* Safe and easy to use;
* Don't need to download software;
* No fee is required to pay.
Cons
* Always fail to detect video from the page;
* Not work for all websites.
In conclusion, there are many different ways that are available for users to download video from any website easily, and many of them are reliable as well as quality-guaranteed. So basing on your needs, just choose a convenient way to go on for saving your favorite online videos offline web pages and have a more flexible offline playback!