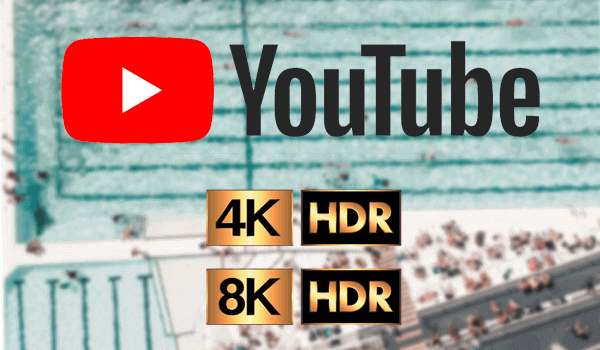 YouTube is a superior platform where provides not only huge amount of video resources but also industry-leading high resolutions to stream videos online. On YouTube, users can access lots of 4K and 8K videos for online watching, enjoying the best quality brought by YouTube.
Now, good news for YouTube Premium users should be the advantage that it supports to download YouTube videos in higher 1080p resolution for offline playback in YouTube app (whose former limit is 720p). But YouTube Premium still fails to support to download 4K/8K video from YouTube. So are there any way for us to download YouTube videos in high-quality for offline playback? Fortunately, the answer is YES. Today, we will bring one of the best 4K Video Downloader to you.
CONTENT The Best Place to Get 4K/8K Videos for FreeHow to Download 4K/8K Videos from YouTube in One-shot
The Best Place to Get 4K/8K Videos for Free
What is 4K/8K resolution?
4K resolution is also considered as UHD, or Ultra-High Definition. It is typically 3,840 x 2,160 pixels. As videos play a more important role in people's life today, they would want a higher quality in streaming videos online. Today, most TV shows and movies would be encoded in 4K resolution for providing people with better streaming quality.
Likewise, 8K resolution is a bonus to 4K, which even doubled those pixel numbers to 7,680 by 4,320. People can enjoy superior video streaming experience just like in a movie theatre with such high resolution.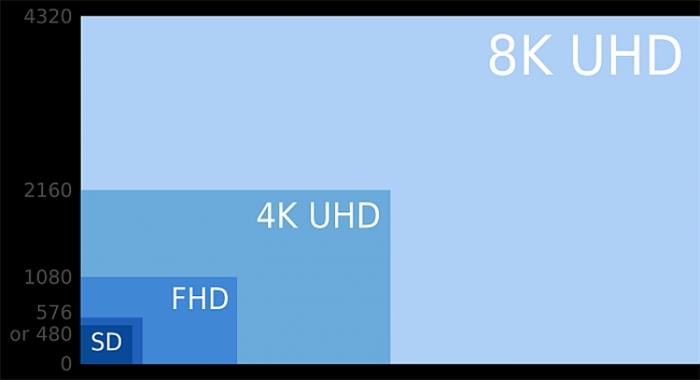 # Comparison of common video resolutions:
8K: 7,680 x 4,320 pixels
4K (UHD): 3,840 x 2,160 pixels
1080p (Full HD): 1,920 x 1,080 pixels
720p (HD): 1,280 x 720 pixels
480p (SD): 640 x 480 pixels
# Where Can I Stream 4K/8K Videos for Free?
Nowadays, not many online streaming platforms provide 4K/8K streaming services. There are only 5 platforms contain such service. They are:
Prime Video (for Amazon lovers): cost for $8.99–$12.99/month
Netflix (for original content cravers): cost for $15.99/month
Disney+ (for Disney, Star Wars, and Marvel movies): cost for $6.99-12.99/month
VUDU (for movie lovers and no subscription service): cost for $3.99–$19.99/movie
YouTube (for any type of video streaming lovers): free to $11.99/month
As we can conclude, currently, you can only navigate to YouTube for discovering and streaming some free 4K/8K videos without paying any fee. But for those copyright videos, you should still pay for streaming them with the best 4K/8K quality.
How to Download 4K/8K Videos from YouTube in One-shot
Now we know that we could access 4K/8K videos for streaming on YouTube, for those copyright-free ones, can we download from the platform for offline playback?
Although YouTube Premium still doesn't provide such a service to you, you can change to another service to help, which is using VideoHunter.
VideoHunter is one of the best YouTube video downloader, and HD video downloader for any sites, including YouTube, Facebook, Twitter, Dailymotion, and so forth. Specially, its superior ability in downloading YouTube videos attracts lots of loyal users from around the globe. VideoHunter can perfectly manage to download 4K/8K videos from YouTube easily.
VideoHunter A Reliable and High-quality Any Video Downloader for Windows/Mac Support to download videos from YouTube, Facebook, Dailymotion, and 1,000 more websites; Offer high resolutions such as 1080p, 4K, and 8K to output; Offer mainstream formats like MP3, MP4 to encode the videos; Allow to download subtitles in an extra file offline; Enable 6X faster speed and batch download to save much time; Ensure 100% clean and safe environment for everyone to use. Free Download Free Download
# Tutorial on Download 4K/8K Videos Offline
STEP 1. Launch VideoHunter and enter the main feed of "Downloader". Then you need to paste the URL of the 4K/8K YouTube video to the frame bar.
STEP 2. Click the "Analyze" button and the software will analyze the URL for you. Wait for a minute and you will get some output options to choose.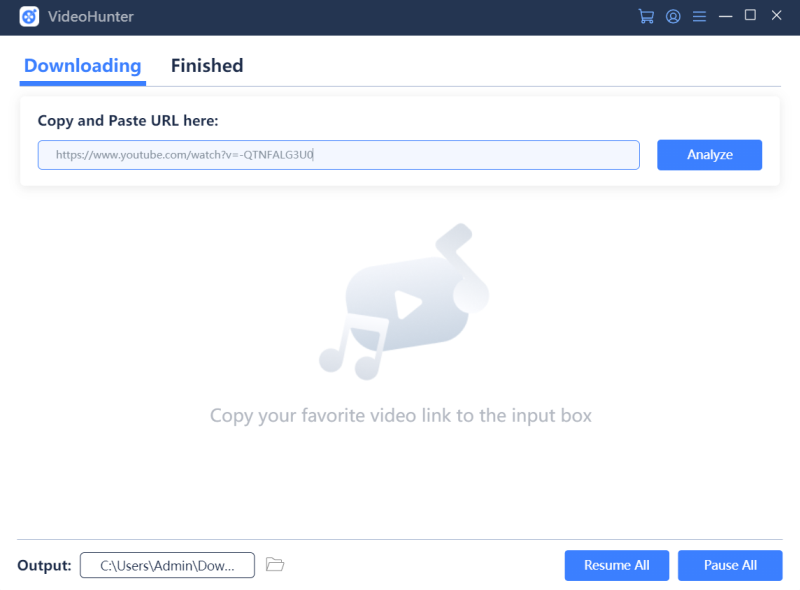 STEP 3. Select 4K or 8K to encode the video that you are going to download. Finally, click the "Download" icon to start saving the YouTube video in 4K/8K offline.
NOTE: If the original video doesn't provide such a streaming option, you can't download them because VideoHunter could not detect and provide you such output choices.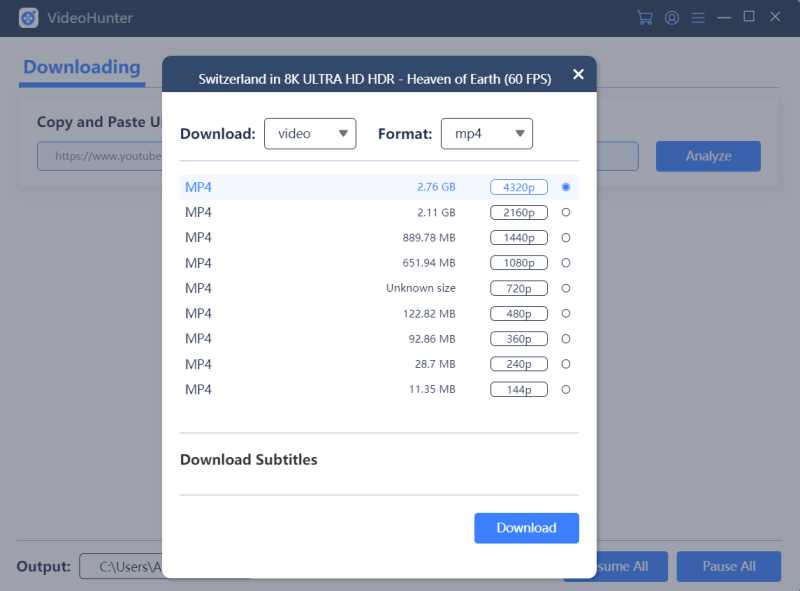 Although YouTube Premium doesn't offer the options to download YouTube videos in 4K or 8K, you can still use VideoHunter to reach this target. It will bring you the most efficient way to save videos from YouTube in 4K and 8K as you want.