4K Video Downloader, as its name suggests, supports to download videos in high quality from popular sites. If you have watched an interesting video on YouTube, Dailymotion, TikTok or other mainstream sites, you may wonder if 4K Video Downloader could be a qualified helper to download videos from these sites. Today you have come to the right place. This article will comprehensively review this widely-used software for downloading videos from these sites, to see if it is the best video downloader and worth unlocking its full version.
CONTENT
Part 1. What is 4K Video Downloader
Part 2. Main Features of 4K Video Downloader
Part 3. Pricing Plan
Part 4. Customer Support
Part 5. FAQs
Conclusion
Part 1. What is 4K Video Downloader
Nowadays, online sites like YouTube, TikTok and Dailymotion have provided a platform where users from all over the world can upload and view videos of different genres simply and conveniently. The popularity of these video websites leads to the demand of video downloaders that can help users download videos and save on their media devices so that they can enjoy offline playback at any time. The emergence of various third-party video downloaders makes it rather easy to download and save videos from these online video websites, and 4K Video Downloader is one of the most popular choices for desktop users.
Moreover, 4K Video Downloader helps you download videos you want and it is specifically designed for downloading YouTube videos. With 4K Video Downloader, you can enjoy watching videos anywhere and at any time, even when you are offline.
Part 2. Main Features of 4K Video Downloader
4K Video Downloader, with its high-profiled features and speed performance, helps you convert and download videos in high quality and allows you enjoy offline playback easily and conveniently. Furthermore, it supports multiple languages so that language barrier won't be a problem. To help you better understand it, its full features are listed in the following.
Multiple Mainstream Sites Supported
Officially supported sites are listed as follow:
YouTube
Vimeo
TikTok
SoundCloud
Bilibili
Niconico
Flicker
Instagram
DailyMotion
Naver TV
Likee
Tumblr
Download YouTube Playlist and Channel without Hassle
4K Video Downloader allows you to download the entire Playlists and channels of various video and audio formats from YouTube in high quality. You don't need to individually download each YouTube video from the playlist as what you have to when using other software programs, which can help you save a large amount of time and let you enjoy your desired YouTube videos soon. Here are the simple steps:
NOTE: 4K Video Downloader provides two versions: free and premium version. The free one only supports to download the top ten videos of the YouTube Playlist and only one video from YouTube Channel. In addition, the free version does not support to download subtitles.
Step 1: Go to YouTube, copy the link of any YouTube video from the playlist from the address bar.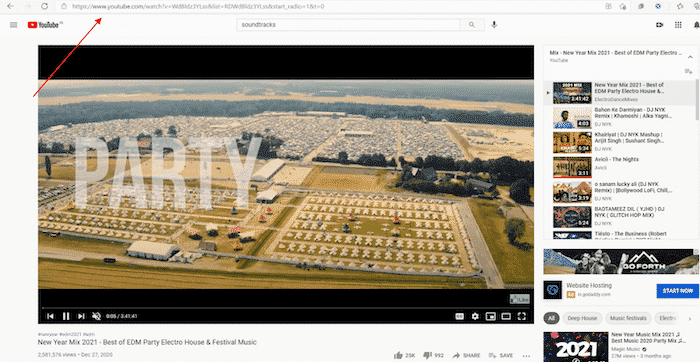 Step 2: launch 4K Video Downloader, paste the video link in the designated area. Then, the program will detect that the link is a part of YouTube Playlist automatically. A pop-up will appear, choose "Download Playlist".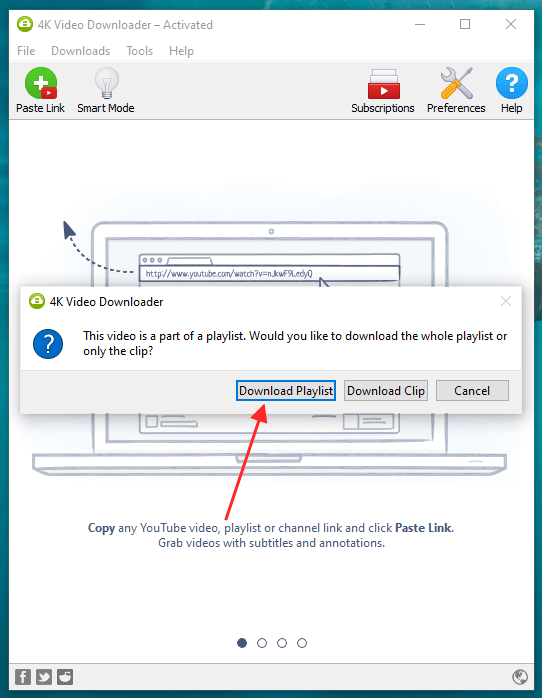 Step 3: After that, you will see a list of all the videos in the YouTube Playlist and you can choose the ones you wish to download. Then, select your preferred output format and quality.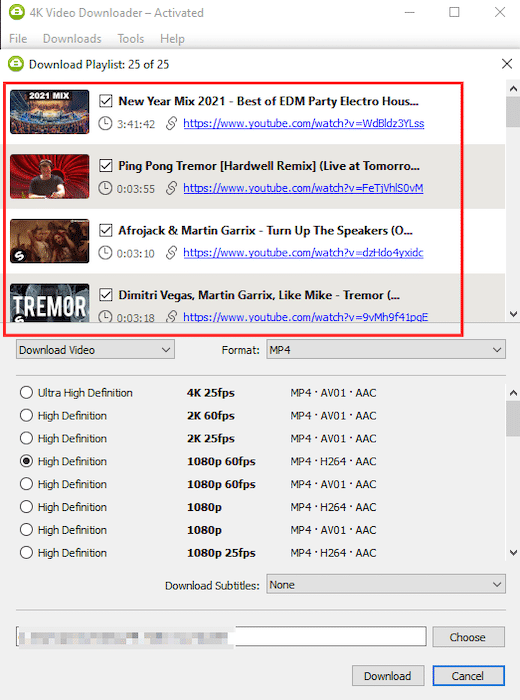 Download Online Videos with 4K Quality
With 4K Video Downloader, you can have the cinema-like experience even when using your media device to watch videos. The software program converts videos to MP3/MP4/FLV, etc. format quickly and lets you download videos in HD 1080p, HD 720p, 4K, and 8K resolution so that you can enjoy the offline playback in high definition on your HD TV, mobile phones, PC and other devices.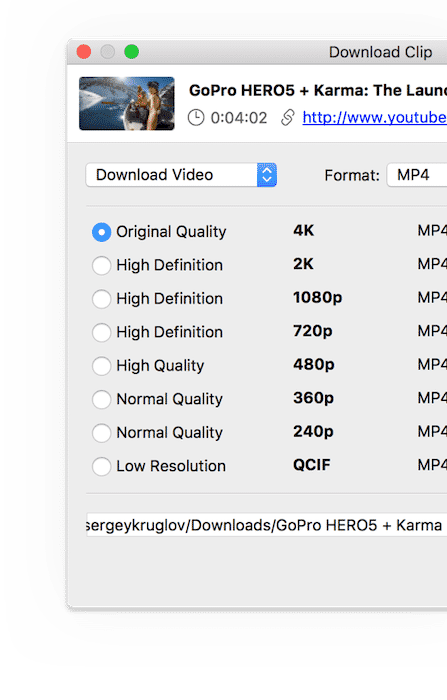 In-app Proxy Setup
For videos that are restricted by your Internet service provider or your school and workplace firewall, 4K Video Downloader can bypass these restrictions and set up a connection through the in-app proxy in order to access and download videos from YouTube and other sites.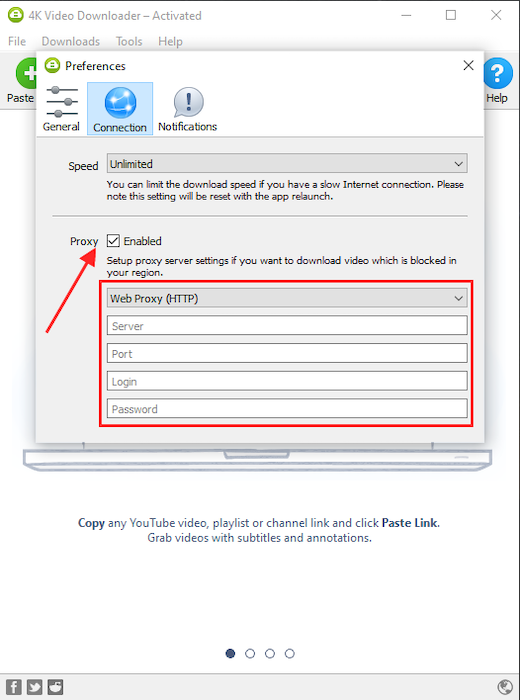 Part 3. Pricing Plan
Apart from free edtion it provides, 4K Video Downloader now offers two subscription plans to users. Only for Pro users, they can enjoy up to 7 simultaneous video downloads, and have in-app YouTube subscriptions for more convenient downloads after log in YouTube inside 4K Video Downloader. Meanwhile, if you have already subscribed to YouTube Premium, you can download YouTube Premium HQ Audio (265kbps AAC, which is almost the equivalent pf lossless audio). However, if you only pursue off-line enjoyment of your favorite videos in normal quality such as 1080p, 2K, 4K, the Personal or Starter version looks good enough for you.
| | | | |
| --- | --- | --- | --- |
| Version | Starter | Personal | Pro |
| Price | Free | $15 | $45 |
| Single video downloads | 30 per day | Unlimited | Unlimited |
| Simultaneous downloading | 1 | 3 | Up to 7 |
| Videos per playlist | 10 | Unlimited | Unlimited |
| Videos per channel | 1 | Unlimited | Unlimited |
| Advertisements free | No | Yes | Yes |
Part 4. Customer Support
4K Video Downloader provides professional customer support. Even if you are using the free version, you can also attain great help from the customer support team.
If you have any questions about 4K Video Downloader, you can:

• Go through the abundant resources available on the official website, such as tutorials, videos, blogs and FAQs, etc.
• Directly send an email about your query to the customer support team.
Part 5. FAQs
Is 4K Video Downloader Safe?
Yes, if you download and install the software program from its official website. Based on the user reviews and authoritative antivirus tests, no security issues have been reported; thus, it can be concluded that 4K Video Download is totally safe to use.
However, one flaw is that the free version is along with advertisements, and if you want to enjoy advertising-free downloading, you will need to subscribe to the paid service.
Best 4K Video Downloader Alternative – VideoHunter
VideoHunter is a versatile video downloader for both Windows and Mac that can help you download any videos in high quality from over 1000 sites such as YouTube, Facebook, Twitter and TikTok, etc. Furthermore, VideoHunter's provided quality can reach 1080P, 4K and even 8K at the maximum, bringing you fantastic offline playback anywhere and anytime.
Hight-lighted Features:
Advertising-free: the interface of VideoHunter is clear and simple, without any advertising and pop-ups.
Permanent free version: VideoHunter offers two versions: free and premium one. Free version supports to download 3 videos per day and provides professional technical support.
Quick downloading:: VideoHunter can get multiple videos downloaded simultaneously so that you don't need to wait for each one to be downloaded successively, which can save a great deal of time.
Download YouTube Playlist efficiently: Simply paste a playlist link to Video Hunter's download field, the downloader will smartly parse all videos from the playlist and allow you to download them all in one go.
Lightweight: VideoHunter won't take up much CPU usage, and it can even run smoothly and stably on your old computer.
Extract and download YouTube subtitles easily: VideoHunter can extract and download YouTube subtitles with its built-in subtitle downloader. Then, it helps generate a SRT/TTML file with all annotations and subtitles.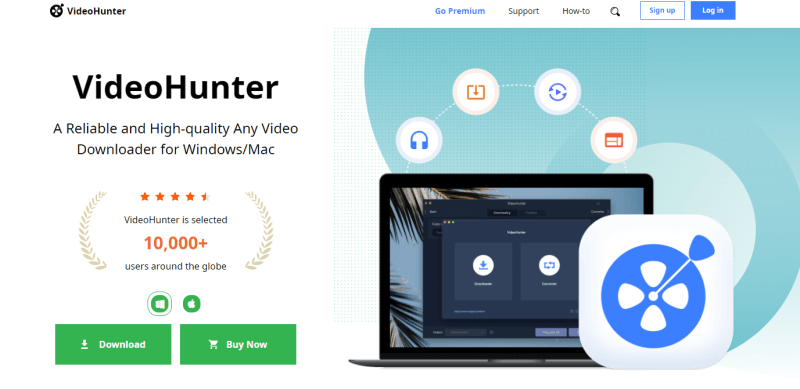 Conclusion
Now, you might have developed a comprehensive understanding of 4K Video Downloader and whether you should use it to download your desired videos according to our review. If you just need a tool to download 4K videos, 4K Video Downloader can satisfy your basic need. Or if you look for more high-profiled features, VideoHunter can be a better alternative. You can download and try its free version now. Hope that this review can help you.
You May Also Like:
8 Best Online Video Downloaders for Windows/Mac