When you can access countless videos on YouTube publicly for playing without limitations, you should also notice that there are actually more private YouTube videos that you haven't discovered. When you get shared links from others, who have invited you to access the private YouTube videos, you would find that you can't save them offline unless you find a powerful tool to help. Although there are many YouTube downloaders claiming that they are workable to save the public YouTube videos for offline watching, this article will mainly teach you a great way to download private YouTube videos. If you also have such a need, just keep reading and learn the way.
CONTENTRecommended - The Best YouTube Private Video DownloaderHow to Download Private YouTube Videos with EaseYouTube Public vs Private vs Unlisted: What Are the Differences?Extra Tips: How to Change YouTube Video Privacy Settings?
Recommended - The Best YouTube Private Video Downloader
At present, VideoHunter should be one of the best YouTube private video downloaders that works both on Windows and Mac. It provides high-quality and easy service to help people download any YouTube private video for having flexible offline playback.
Compared with other competitors, who would require people to sign in to their YouTube account within the software for accessing the function to download private videos from YouTube, VideoHunter can directly process the download without a YouTube account. It is also noted that private YouTube video download is divided as a paid feature in many other YouTube downloaders, while in VideoHunter, people can enjoy this function completely for free.
Features:
• Supports to download both public and private videos from YouTube and other 1000+ websites like Instagram, TikTok, Facebook, etc.
• Offers high qualities such as 1080p, 2K, 4K, and even 8K to save downloaded videos
• Provides the most common video/audio formats (MP4/MP3) to output online videos/audios
• Allows to download YouTube playlists, channels, and subtitles too
• Uses the in-built proxy integration to download all regional videos without limitations
• Supports up to 6X faster speed to download online videos quickly
How to Download Private YouTube Videos with Ease
To download private videos from YouTube, people only need to follow very easy steps as introduced below. Now, freely install VideoHunter on your Windows/Mac computer and download any private YouTube videos with high quality offline.
Step 1. Copy YouTube Private Video URL
When you want to download your own private YouTube video, or other private content you have access to, just copy its URL and launch VideoHunter.

Step 2. Paste and Convert YouTube Private Video
On the home screen of VideoHunter, you can directly paste the URL of the Private YouTube video to the search bar. When you click the "Analyze" button, VideoHunter will then parse the URL in seconds.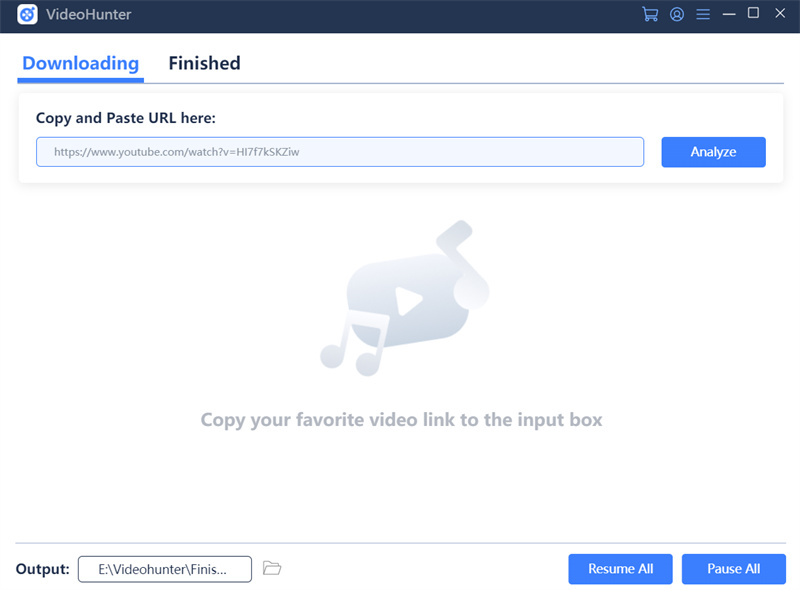 Step 3. Select Format and Quality to Download YouTube Private Video
Finally, when VideoHunter shows the output options to you, select the output format and quality you like, and tap the "Download" button to save the private video offline.
Tips: If the video has subtitles, VideoHunter will also detect them and provides the subtitle options for you to select. Meanwhile, the output quality options here depend on the video quality that YouTuber have uploaded to the platform. The downloaded quality of VideoHunter can reach 1080p, 2K, 4K, and even 8K.
Step 4. Find Downloaded YouTube Private Video
When VideoHunter finishes downloading the private video from YouTube, you can find them in the "Finished" section. To open the output folder, directly click the "Open Folder" button provided after the downloaded video.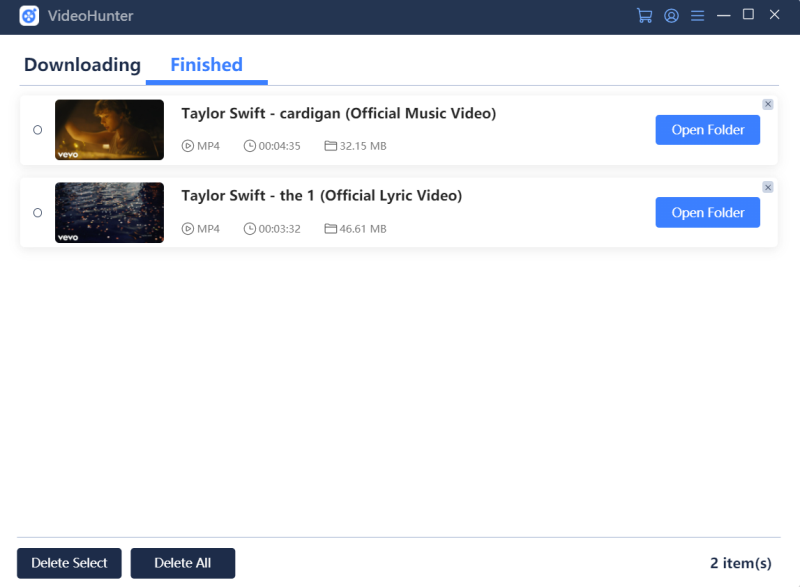 YouTube Public vs Private vs Unlisted: What Are the Differences?
YouTube videos are divided into several types based on their conditions, including public, private, and unlisted videos. So what are the exact differences among them?
YouTube public videos should be the posted contents that are available to be viewed by all YouTube users. All YouTubers can easily access the videos by searching the keywords in the search engines, no matter on YouTube or directly in the web browsers like Google Chrome.
For private and unlisted videos, they are both not directly visible. For unlisted YouTube videos, they can also be accessed or shared by the public without getting permission from the YouTubers. But such videos would not be listed in the search results. Therefore, sometimes it's a great way to share with specific groups of people who are concerned about relevant topics.
However, for the private YouTube videos, only those who have received the invitations (up to 50 people) from the YouTubers could get the video link and have the right to watch the content. And these contents would not be shown in the search results, video recommendations, or video tab section. Therefore, YouTube private videos could be counted as one of the most secure types of videos.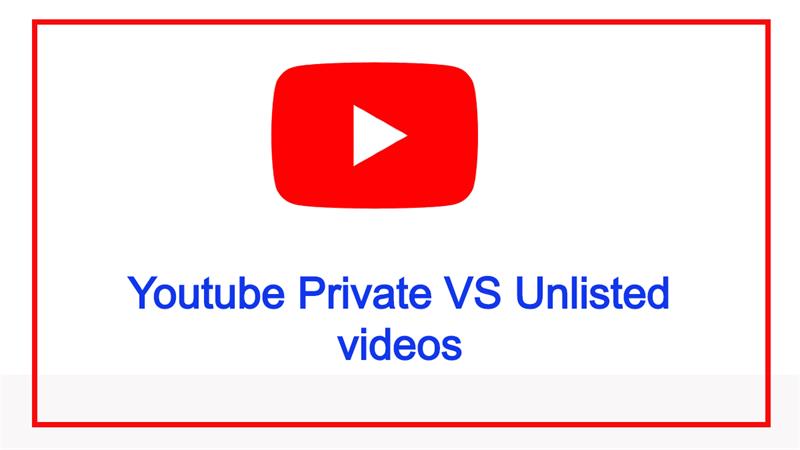 Extra Tips: How to Change YouTube Video Privacy Settings?
The privacy setting provided by YouTube offers a way for people to protect their content freely by adjusting their availability. Here will simply guide you on the way to change the privacy setting of the YouTube video while uploading it to YouTube Studio.
Step 1. After opening YouTube and sign in to your YouTube account, click the upload icon and select the "Upload video" option.
Step 2. In the "Upload videos" window, select the video from your computer to upload. Then you will need to complete entering the details of the video and set some video elements for publishing the video to YouTube.
Step 3. When you come to the "Visibility" step, you can select the privacy setting for the video, to make it as a public, private, or unlisted video as you need. If you select the "Private" option, you can also select the people you want to invite to watch the content.
Step 4. Finally, by clicking the "SAVE" button and the video will be uploaded to your YouTube Studio with the selected privacy setting as you need.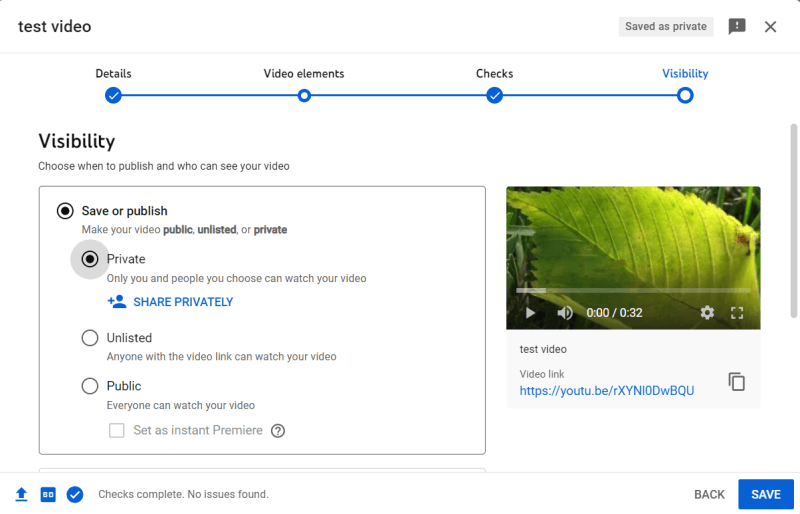 Tip: If you have uploaded the YouTube video and want to change it to be a private video now, directly go to "Uploads" in your YouTube Studio and find the video from the list, then you can click the setting icon to select to change the video to "Private".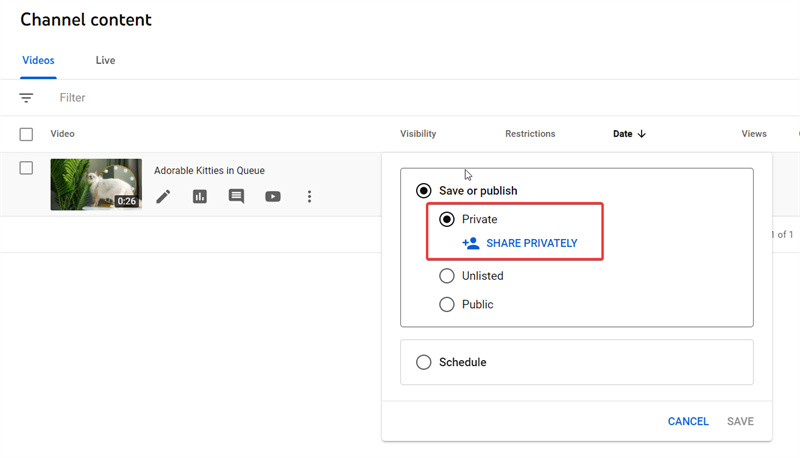 In Conclusion
When you get a YouTube private video URL, go to VideoHunter and you can easily download it offline as downloading a public YouTube video. Now, freely install VideoHunter and try its amazing functions to download any YouTube videos with high quality offline!