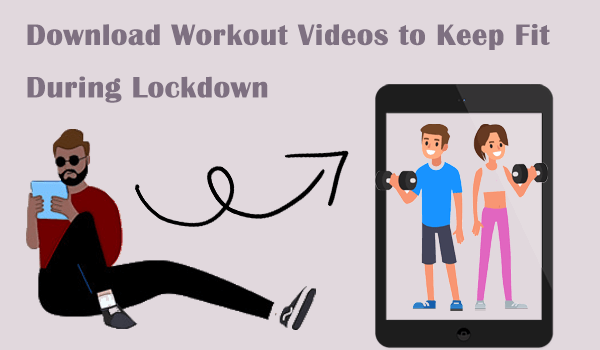 Because of COVID-19 pandemic, many regions choose to lock down their cities for protecting citizens from being infected by patients from other places. Also, people are restricted to stay at home for keeping social distancing. During this period, staying at home without doing anything would be quite boring, and it would be easier to get into depression or other negative feelings. In addition, people have no chances to hangout and do sports as they always do. So in this blog, I'd like to recommend you to do workout at home for keeping your body healthy and fit even during the lockdown period.
CONTENT
Part 1. Workout Videos You Can Try at Home During Social Distancing
Part 2. How to Download Workout Videos for Flexible Playback
Part 1. Workout Videos You Can Try at Home During Social Distancing
For people who don't have much experience in indoor workouts, or others who need much motivation to insist on doing exercises for longer time, following some workout videos uploaded by experts and coaches would be a rational option. There are lots of workout videos being uploaded to platforms like YouTube, Facebook, Reddit, etc., so you can directly access them online and start doing workout at home following such videos.
Here are some recommended YouTube workout videos you may be interested in doing while staying at home because of the lockdown.
1. 20 MIN FULL BODY WORKOUT // No Equipment | Pamela Reif
2. 30-Minute HIIT Cardio Workout with Warm Up - No Equipment at Home
3. 30 minute fat burning home workout for beginners.
4. 20 MIN FULL BODY WORKOUT - Beginner Version
5. Tuesday | FAST Walking in 30 minutes | Fitness Videos
Part 2. How to Download Workout Videos for Flexible Playback
But sometimes playing a workout video online would be annoying, especially when you are doing exercises, but the videos keep freezing because of your poor network condition. To solve such issues, the best way is to download the workout videos in advance, so you can play them at anytime and anywhere as you want, making the playback to be more flexible.
To download workout videos, a quality-guaranteed way is to use a reliable video downloader, and here I'd like to recommend VideoHunter, which is an all-featured tool that provides high-quality video downloading options to help encode videos for having better offline playback experience.
VideoHunter A Reliable and High-quality Any Video Downloader for Windows/Mac Enable 6X faster conversion as well as downloading speed; Provide HD resolution 1080p to output YouTube long videos; Allow to download subtitles from the original YouTube videos; Extract soundtracks from YouTube videos to MP3 320kbps; Detect and analyze YouTube playlist very quickly; Provide 100% secure platform without virus or spyware. Free Download Free Download
VideoHunter is also a simple tool that is suitable for everyone to use. Here are the steps you need to follow to download workout videos successfully.
STEP 1. Download and install VideoHunter to your Windows or Mac devices at first. Then launch the program and enter its "Downloader" interface.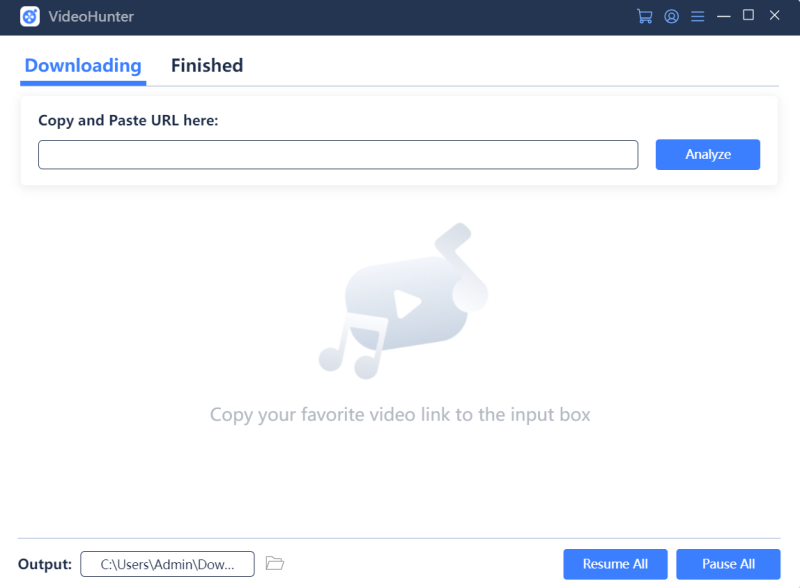 STEP 2. Open YouTube or the platforms where you find a workout video that you desire to download. As you reach the workout video, copy its URL. After that, navigate to VideoHunter software and paste the URL into the downloading frame bar.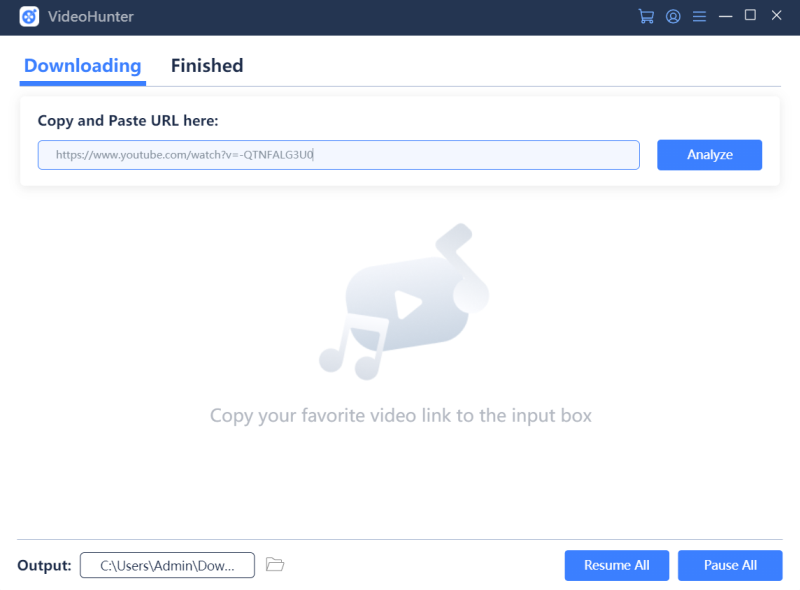 STEP 3. Press the "Analyze" icon beside the downloading bar. Just wait for a minute, some output choices will come up and allow you to select for saving the workout video offline. Choose your preferred option and then hit the "Download" button below.
Tip: Select MP4 to output the video if you want to transfer it to more devices for playback, because MP4 is an universally supported format supported by most devices and media players.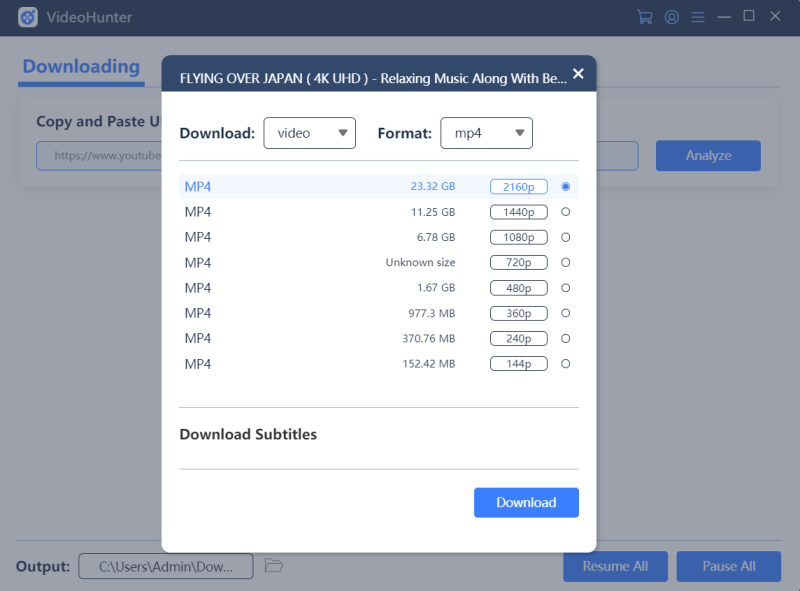 STEP 4. When the workout video is downloaded, the task will be moved to "Finished" section. Now you can click "Open Folder" to reach the destination where the video is saved. Click it and play with an installed video player on your device for starting workout at home!
Because of the lockdown, many people seemingly lose their chances to go to gym for doing regular exercises. But actually, having some simple workouts at home is also a good choice. You even don't need any equipment. All you need to do is to follow a workout video and start moving your body for having a try! Especially during this hard period, people should pay much attention to both their physical and mental health. So, don't be lazy! Choose a workout video and start doing indoor exercises for keeping fit even during lockdown!