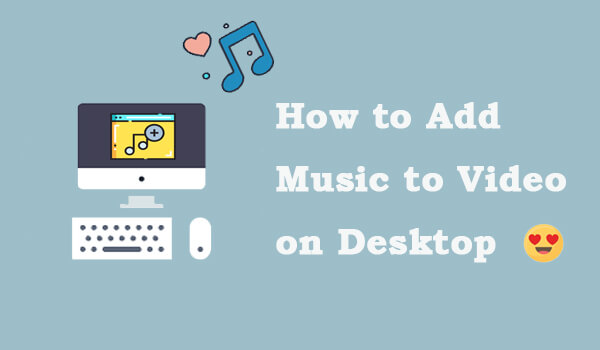 Videos have became an essential part in our daily lives. But when beginners are starting to learn creating or editing videos, they would fall into a problem - how to find proper music for adding to the videos? Or are there any reliable tools to help save music materials from online platforms for using to edit the videos?
VideoHunter is such a reliable tool to help you download music resources from online platforms with high quality, so that you can apply them to your editing videos. Today, this blog will walk you through the simple process to add music to video on Windows/Mac.
CONTENT
Where Can I Download High Quality Background Music?
How to Add Music to Video via iMovie on macOS
How to Add Music to Any Video on Windows Without Software
Where Can I Download High Quality Background Music?
The best place to find royalty-free and high-quality background music is YouTube. On YouTube, you can simply search for and access lots of copyright-free background music and use them in a non-commercial way. To download these background music, a tool you need to use is VideoHunter.
VideoHunter offers outstanding service to help download videos from different online platforms, including YouTube, Facebook, Dailymotion, SoundCloud, and other 1,000+ ones. So other than YouTube, if you find high-quality background music on other platforms that you want to use in your videos, you can also use VideoHunter to save them offline. But remember to check whether the music is copyright free before using it into your video.
VideoHunter A Reliable and High-quality Any Video Downloader for Windows/Mac Download high-quality videos from 1,000+ sites; Download with high resolutions like 1080p, 4K, 8K; Enjoy 6X faster conversion and downloading speed; Encode online video/audio in common MP3, MP4 plain formats; Download music in the best 320kbps; Enjoy simple-designed and ads-free environment. Free Download Free Download
After knowing about this downloader, now also have a quick look at how to use VideoHunter to download background music in MP3 format from YouTube.
Step 1. Install VideoHunter on Desktop VideoHunter offers both Windows and Mac version. So select the version for your desktop system and install it properly before starting to download background music.
Step 2. Copy and Paste Music URL Go to YouTube and access the copyright-free background music you want to use when edit your video. Subsequently, copy its URL from the video page's address bar or the "SHARE" icon. Next, please go to VideoHunter and paste the URL into the downloading bar inside Downloader. Remember to press the Analyze button for analyzing it as well.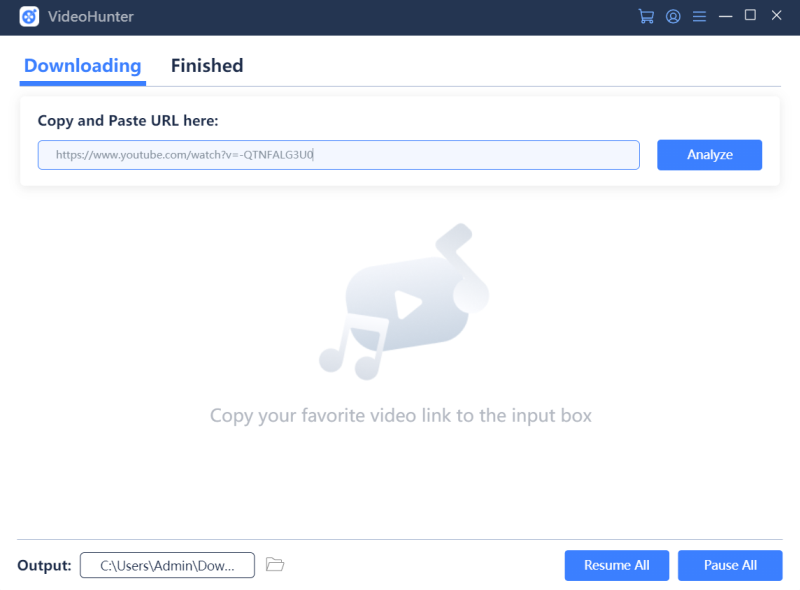 Step 3. Download Background Music in MP3 When the URL analysis completes, the output choices window appears and allow you to select output format as well as quality. Choose MP3 and the quality you need in Download Audio section. Finally, click on the Download button and the music can be converted to MP3 offline.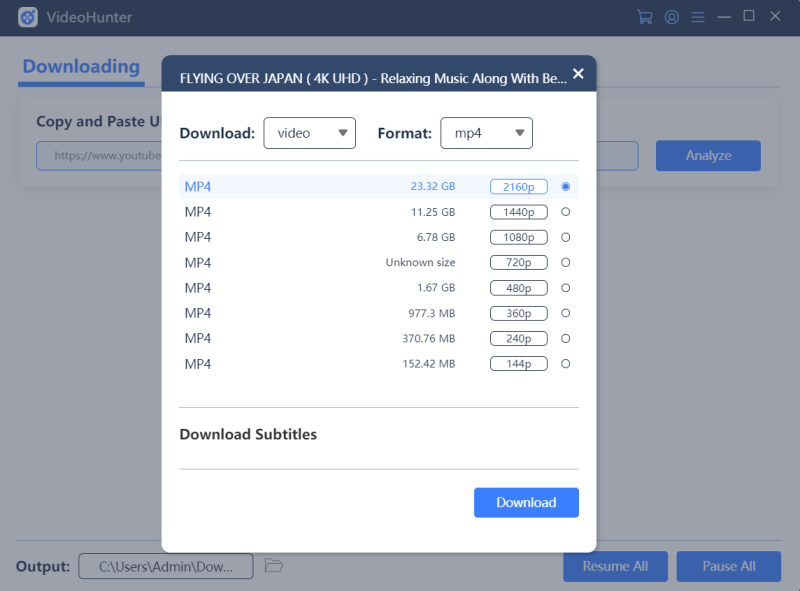 How to Add Music to Video via iMovie on macOS
When you get the music downloaded on your Mac device, now you can begin to add music to video. iMovie is an iOS application that most people use to edit videos. It can even perform in a professional and high-quality way. Here is the tutorial you can refer to see how to add music to video easily.
Launch iMove on your Mac, then you can drag both the video and audio files from your device into the software. iMovie supports formats like .mp4, .mp3, .wav, and .aif.
But depends on the places you drag the music file to, the effect of the outcome videos would be different.
Note: If you want to merge the music into the video clip so that it will stay with it all the time, you need to drag the music file to the place where is under the video clip. Then a bar would appear for letting you to choose to connect the music with the video. This is suitable for adding soundtracks to the video clip.
BTW: To add background music to the video, you can use the musical note icon provided in the timeline for adding the music file to the video. By adding music in this way, even you move the video clip, the background music will not move at all.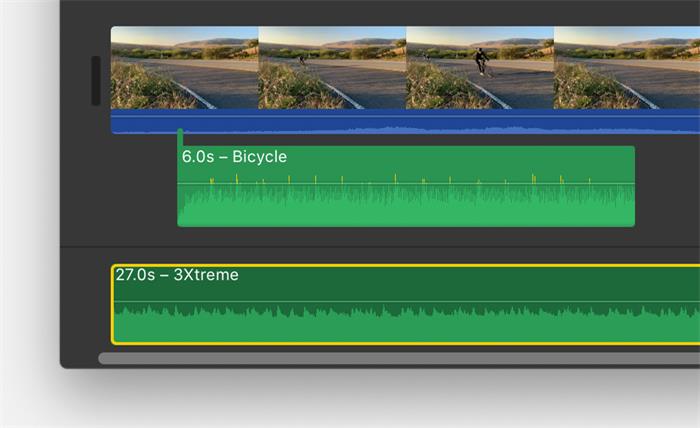 How to Add Music to Any Video on Windows Without Software
For Windows users, there is an entirely simple method to add music to video even without using software. You only need to use the local app Photos provided by Windows to complete the editing process within a short time. Now I will show you how.
Step 1. Please access the video you want to add music to on your Windows computer, then right-click it and select to open it with Photos application.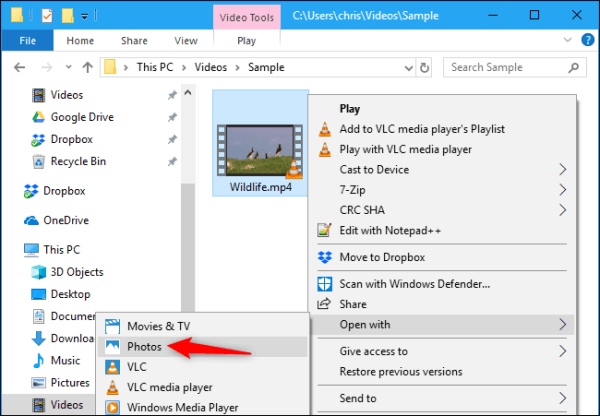 Step 2. After the video is opened inside Photos, you will see a toolbar provided on top of the app. Please click on Edit & Create and choose the Create a video with text option.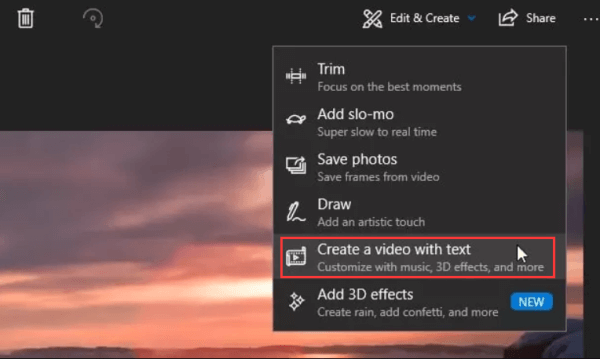 Step 3. Now please click the Music button. Then navigate to Your Music section and tab Select a music file for importing the background music you just downloaded on your computer.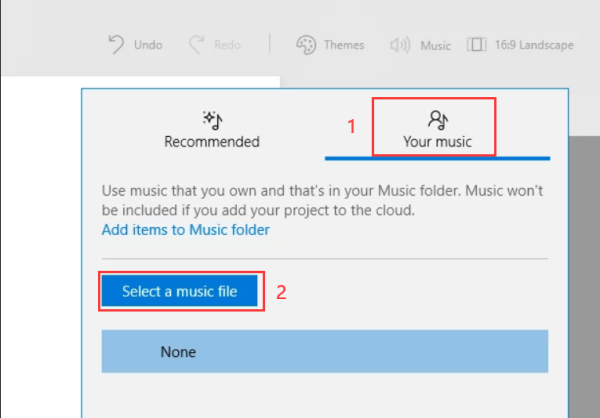 Step 4. When the music is selected, you should drag the video clip down to the Storyboard at the bottom of the interface, then the music can be successfully added to the video!

With this tutorial, even if you are a beginner, you know how to add background music to video easily on desktop. Now, just start to create amazing videos with wonderful background music! Enjoy!