VideoHunter for Android Is Available to Download Videos and Audio from 1,000+ Websites
VideoHunter is an all-featured HD video downloader, providing user-friendly features and speedy performance to download online videos/audios from over 1,000 websites, including YouTube, Facebook, Twitter, Instagram, TikTok, SoundCloud, Vlive, Vevo, Dailymotion, Niconico, Bilibili, TED, CNN, and so forth. VideoHunter's provided qualities can reach 1080p, 4K, and even 8K, bringing fantastic offline playback experiences.

Download Videos in Up to 8K Resolution
VideoHunter for Android downloads videos off the internet in original quality and supports various output resolution selections. 8K, 4K, 1080P, and others can be provided after you search for a video. Generally, the exact list of resolutions depends on what you are downloading. If you are to download a video in 8K, VideoHunter can help you save it to your phone perfectly in its original quality.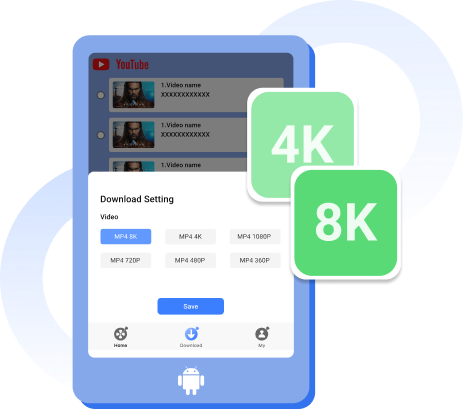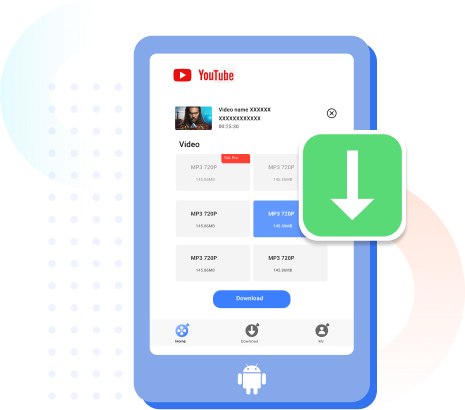 The Best YouTube to MP4 Downloader
With powerful support for YouTube download, VideoHunter helps you download YouTube to MP4, WEBM and M4A in original quality. You can easily get your favorite online videos through the built-in YouTube browser by searching the name or link of the YouTube video. Meanwhile, it supports you to download YouTube playlist, unlisted YouTube videos and private YouTube videos without hassle.
Download YouTube Playlist in One Click
Playlist batch download is also supported by VideoHunter for Android. It's easy to use and will save you much time when downloading a great number of videos from a YouTube playlist. All videos from the playlist can be selected after being detected. Only with one click, you can download them to your phone in the quality you choose.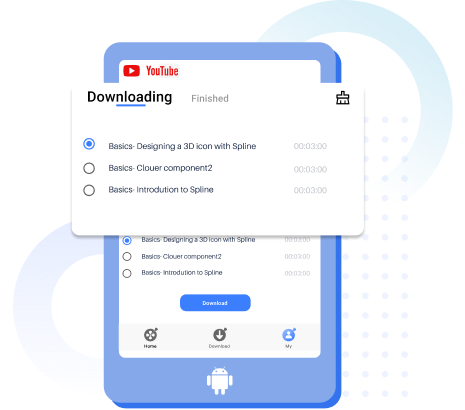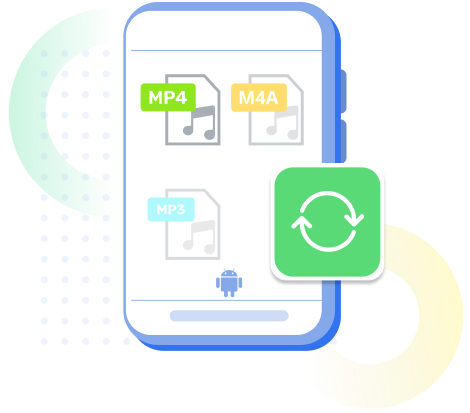 Download Video/Audio in MP4/MP3
VideoHunter for Android saves videos from websites in MP4 in high quality. This video format is the most common one and is compatible with almost every player on your phone. Meanwhile, this tool can also rip audio in high quality from the video you are downloading. You can use it to save music you like from some websites such as YouTube, SoundCloud, etc. To keep audio in high quality in a rather small size, VideoHunter saves audio in M4A and WEBM.
Batch Download Videos at a Fast Speed
To provide users with a pleasant experience and make the download more effective, VideoHunter adopts batch processing technology and lets you download videos or music in bulk. After adding one video to the download list, you can navigate to another one and add it to the list. Both of they can be downloaded at the same time. Currently, 4 videos can be downloaded simultaneously.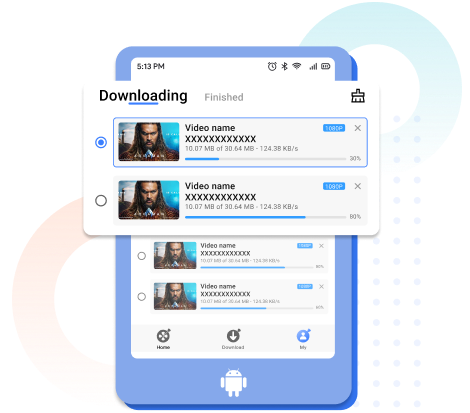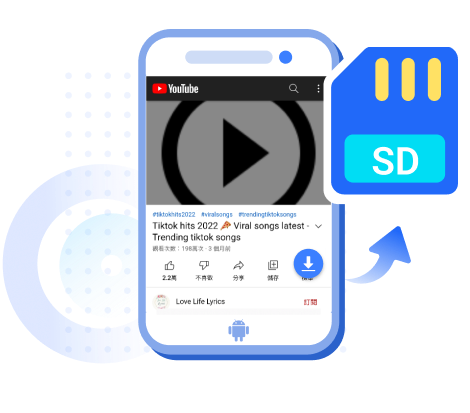 Download Videos to SD Card
VideoHunter enables you to change the download location to the directory you prefer. In this way, you can manage all the video or audio downloads well and differentiate them from the ones you save or take from other apps. Besides, when SD card is still being used for some Androids, storing files on it is essential. And VideoHunter lets you make output location in a folder in your SD Card to free up your internal memory.
Learn More Features about VideoHunter for Android
2 Ways for Video Searching
Use the web browser to navigate to the video streaming website or input the video URL for the video download.
Save Original Media Title
Download online video and audio with its original title well preserved.
Free to Use
VideoHunter provides a free version that lets you try it without cost.
100% Safe and Without Ads
This is a 100% clean and safe app with no ads at all.
Change Interface Language
You can choose the language of this app from English, 日本語, 中文 (简体), 中文 (繁體), Русский, Français, Deutsch, Español, Português.
Enable Completion Notification
Turn on the completion notification so that you can check your downloads immediately when the downloading finishes.
How to Download YouTube Videos
Step 1.
Copy and paste the video URL to the browser on VideoHunter for Android. Or head to the websites and navigate to the video you wish to download
Step 2.
Hit the blue down-arrow button on the lower right to add the video to the download list.
Step 3.
Check your downloads from the "Download" tab.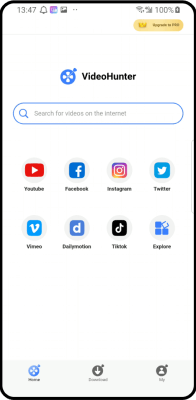 Tech Specification
System Requirements
Android 7.0 or abov
All Android devices are supported, including Samsung, Huawei, OnePlus, etc.
Downloader Output Formats
Output Quality
Video: 8K, 4K, 2K, 1080p, 720p, 480p, etc.
Audio: 160kbps, 128kbps, etc.
How Users Enjoy Downloading with Us
Alessandra Arnett
Best video downloader ever!! You can really download any TikTok videos without a watermark and save music from YouTube playlists. Thank you VideoHunter.
Erin Murphy
I have been using the PC version for a long time. And this VideoHunter for Android also satisfies me with its batch-processing feature.
Stephen Leno
Thank you for the awesome downloading works! I've downloaded a great number of animations so that my kids can be quiet down during the flight. I finished the downloading within minutes!
Over 1,000+ Media Trust Us

VideoHunter is an excellent video downloader that allows you to download tons of videos from many websites. You can save them in original quality or other lower resolutions so that the video can be smaller. Moreover, this app lets you change the output location to your SD card for better internal memory management.

Always being praised as the best YouTube video downloader, VideoHunter for Android makes YouTube video and music downloading easy and fast. It saves videos to your phone in high quality up to 8K and allows you to download YouTube playlists in batches.

You can trust VideoHunter for Android with video and music download. This is a well-known brand that has been endeavoring in this service for many years. Providing you with a great video download experience, it differentiates itself from its competitors through a clean and ad-free interface. Moreover, there's customer service of VideoHunter for Android and you can easily seek professional technical support.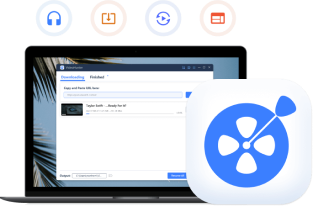 Go premium with VideoHunter for PC, and you can get the full features of VideoHunter for
Android for free