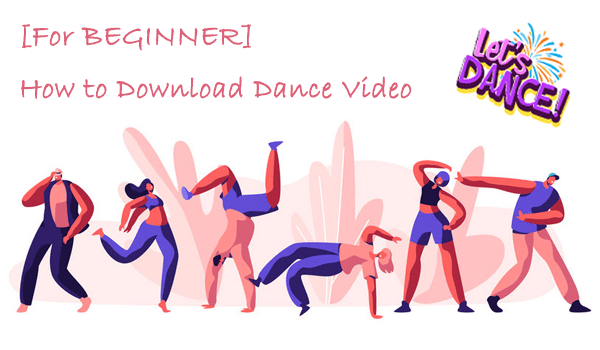 Do you want to learn dancing at home? COVID-19 has locked many people indoor, and this would be a chance for those who want to do more new things at home. Some people may want to learn to dance (especially for those K-pop fans who are extremely attracted by
BLACKPINK dance practices
or BTS's dance performances). So this blog will guide you the ways to watch and download dance videos for learning offline! Even beginners can quickly master a song's dance by following the tutorials step-by-step!
CONTENT
Part 1. Where to Get High Quality Dance Video
Part 2. How to Download Dance Video for Offline Learning
Part 3. Alternative Way to Save the Specific Part of A Dance Video
Part 1. Where to Get High Quality Dance Video
For dance beginners, the first thing they need to know should be the places to discover some dance practice videos that are suitable for them to learn at the beginning. So where can we get some high-quality dance videos for online streaming? Here are three places that I would like to recommend.
# 1. YouTube
YouTube
is absolutely the largest video streaming platform which covers videos of almost all categories. Therefore, you can easily find a comprehensive dancing tutorials on YouTube, from those self-created dances to the popular songs' dancing covers. In addition, many dancers are willing to upload their choreography to YouTube as a way to be a successful YouTubers for sharing more dancing skills. As a result, for beginners, YouTube is a good place to discover some simple and easy-to-follow dancing tutorials for quickly startup.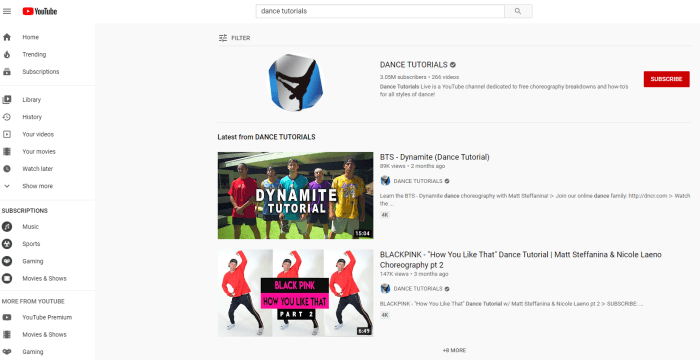 # 2. Vimeo
Vimeo
is another world's popular video streaming platform with lots of video resources uploaded by people from around the globe. Some dancers would open channels on Vimeo as well, then share their dancing videos or tutorials to Vimeo for more people to play back. You can directly search for dance tutorials on Vimeo and its powerful search engine will lead you to countless results. Just select one for yourself to stream and practice!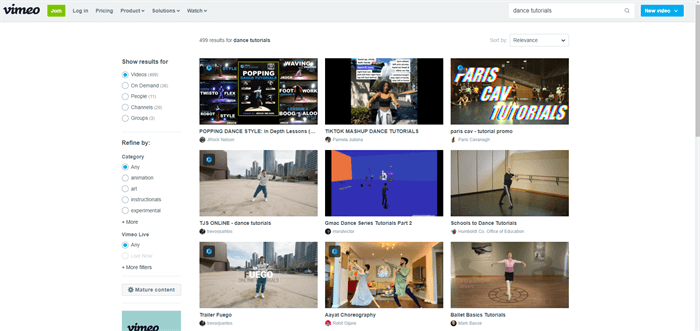 # 3. SkillShare
When you are not confident if you can do well in learning dancing, you can find some more simple-to-follow tutorials to start with. On
SkillShare
, you can access many learning tutorials with teachers teaching you how to bring out your inner potential to master dancing more properly. You will gain good learning experience and have much clearer way to figure out the best way to dance, or learn dancing. Comparing to finding dancing tutorials by yourself, SkillShare can bring you more target-oriented lessons that you can watch for learning to dance.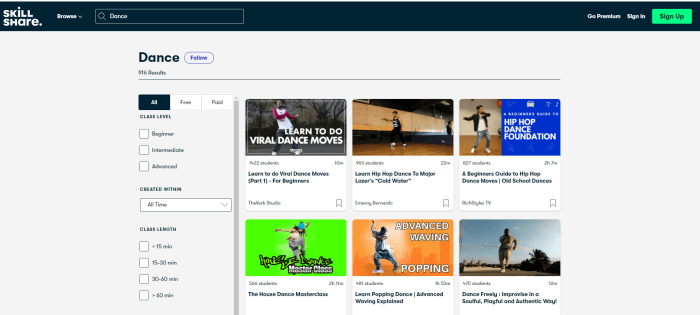 Part 2. How to Download Dance Video for Offline Learning
To learn dancing more efficiently, you must not wish to see the tutorial loading for a long time when you stream it online. Instead, by downloading the dance videos offline, you can bring them to everywhere for learning conveniently as well as flexibly. Accordingly, I'd like to introduce VideoHunter, which can download dance videos from both YouTube and Vimeo for offline playback.
VideoHunter
holds high compatibility, with the ability to download online videos from 1,000+ websites, including the popular ones such as YouTube, Facebook, Dailymotion, Vimeo, and so forth. Therefore, when you discover some dance videos on these platforms and want to download them offline, VideoHunter can bring you the help.
VideoHunter A Reliable and High-quality Any Video Downloader for Windows/Mac Download videos from 1,000+ sites; Support high resolutions (1080p, 4K, 8K); Offer mainstream formats (MP3, MP4); Support to download YouTube playlist; Detect subtitles and download in files; Provide 6X faster downloading speed; Free Download Free Download
In the following tutorial, I will briefly guide you to download the Halloween music playlist from YouTube to your desktop with the help of VideoHunter.
Step 1. Copy Dance Video URL
First, you should go to YouTube or Vimeo and search for the dance video you need to learn offline. After deciding the dance video to download, please copy its unique URL.
Step 2. Analyze Dance Video URL in VideoHunter
Please launch VideoHunter on your desktop. After entering the main feed of its
Downloader
, you can directly insert the dance video into the downloading bar. Subsequently, tab
Analyze
button for initializing the URL and get the output options to select.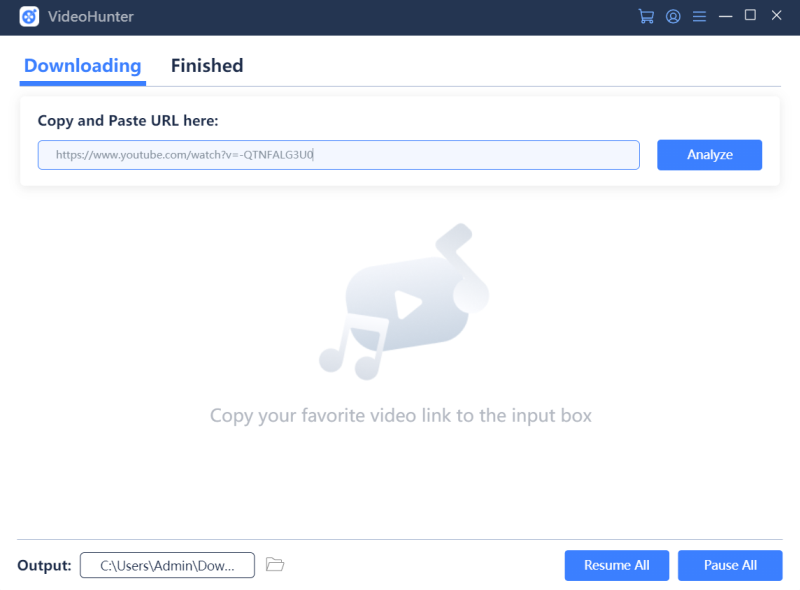 Step 3. Download Dance Video
Just a moment and all the output options will be provided for you to save the dance video offline. You just need to select MP4 and the output quality you like. Eventually, the download will be started automatically after clicking the
Download
icon.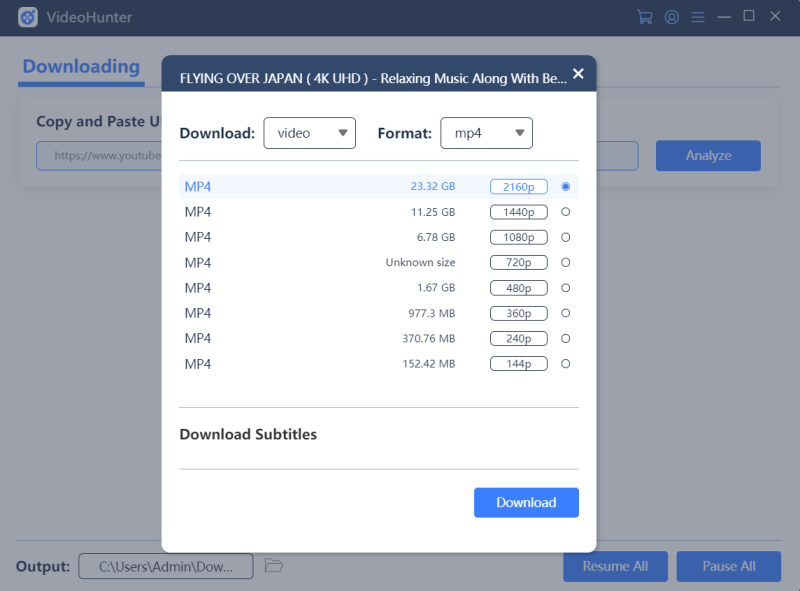 Part 3. Alternative Way to Save the Specific Part of A Dance Video
Instead of directly downloading the whole dance video, some people may want to get part of it for analyzing the movements by themselves, especially for those dancers who want to cover some hit dances once they release. So to save a specific part of a dance video, it is more recommended for you to record that part down for playback. If you need to record part of a dance video for viewing offline,
RecordAnyVid
is a good option for you, which is a lightweight program, providing very intuitive interface for you to record the screen flexibly. Here is the steps to use RecordAnyVid to capture a specific part of a dance video:
Step 1.
Open the dance video you'd like to record a part from it. Meanwhile, launch RecordAnyVid and enter its
Video Recorder
.
Step 2.
Customize the recording window size to fit the dance video. In addition, adjust the system sound volume to be ideal.
NOTE: Turning off the microphone can enable better sound recording quality.

Step 3.
Start recording the dance video by clicking on the
REC
button. To end the recording, just press the red stop icon on the recording menu bar.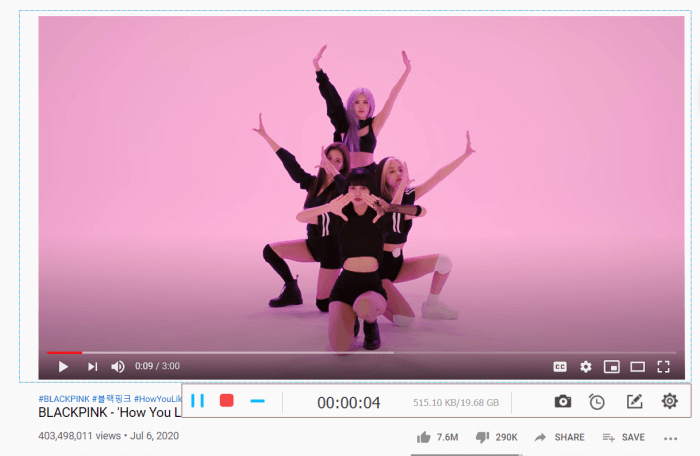 Step 4.
Preview the dance video recording and then save the recording to your desktop for offline playback.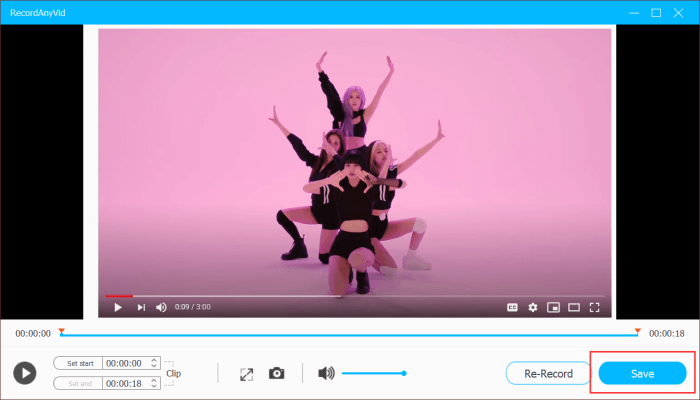 After getting the dance video offline, you can play it back at anytime when you want to practice dancing at home. Dancing is an interesting and also healthy way to spend your time at home during lockdown. If you are interested in it, try now!