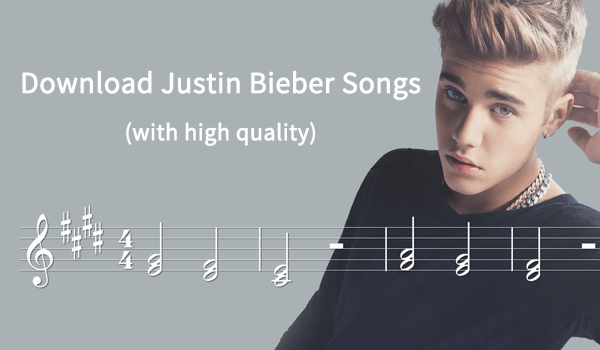 Justin Bieber (Justin Drew Bieber) is a world famous Canadian singer, who has been popular since his 13 years old, when he was discovered with talented singing skills on YouTube. Since he was signed to RBMG Records in 2008, Justin Bieber has released lots of famous songs that have hit the top places of Billboard rankings. In 2020, Justin Bieber also released some songs for audiences from all over the world to enjoy his music. So today's blog will share Justin Bieber's latest songs of 2020 for enjoying.
CONTENT
Part 1. [New] Latest Songs of Justin Bieber Released in 2020s
Part 2. How to Download Justin Bieber Songs and Videos on PC/Mac
Part 1. [New] Latest Songs of Justin Bieber Released in 2020
This year, Justin Bieber also brought his excellent music to audiences from the globe to enjoy. With his passion to music, we may gain inspiration from his songs and his attitude towards his favorite job. Let's first see what latest songs Justin Bieber has brought to us in 2020.
# New 2020 Album - CHANGES: The Movement
January 28, 2020, Justin Bieber finally confirmed the release date of his Changes is the fifth studio album of Justin Bieber. This album was release on February 14, 2020.
# Justin Bieber Sings 2020 (Featuring Songs Included)
1. Jaden - Falling for You feat. Justin Bieber
2. Justin Bieber - Intentions ft. Quavo
3. Justin Bieber & benny blanco - Lonely
4. Justin Bieber - Holy ft. Chance The Rapper
Part 2. How to Download Justin Bieber Songs and Videos on PC/Mac
Do you want to save a copy of Justin Bieber songs or videos on your PC or Mac for offline playback, or transfer them to other devices for listening flexibly? Here is a powerful downloader that can help you, which is VideoHunter.
VideoHunter
provides convenient, speedy, and efficient path to let people easily save video/audio from online platforms such as YouTube, Facebook, Twitter, and so forth. It can be operated very easily and everyone can use VideoHunter without hassle.
VideoHunter A Reliable and High-quality Any Video Downloader for Windows/Mac Enable 6X faster conversion as well as downloading speed; Provide HD resolution 1080p to output YouTube long videos; Allow to download subtitles from the original YouTube videos; Extract soundtracks from YouTube videos to MP3 320kbps; Detect and analyze YouTube playlist very quickly; Provide 100% secure platform without virus or spyware. Free Download Free Download
In the following, the tutorial will be divided into two parts - to download a single or a whole playlist. Now let's have a look.
# Download Justin Bieber Single from YouTube
STEP 1.
Open YouTube platform and then search for a Justin Bieber single you'd like to download for saving as a copy. After opening the video page, you should copy its URL.
NOTE: For Windows users, the single is contained in the playlist, you need to copy the URL by clicking the **"SHARE"** icon. Mac users can directly copy the URL from address bar regardless of whether the video is a single video or a playlist video.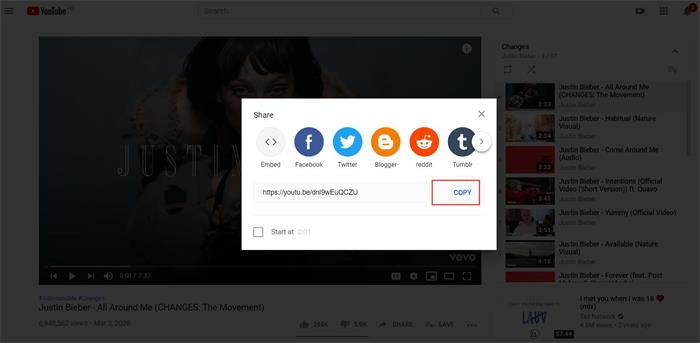 STEP 2.
Run VideoHunter and paste the Justin Bieber song URL to the frame bar. Then click the
"Analyze"
button for starting to convert the song.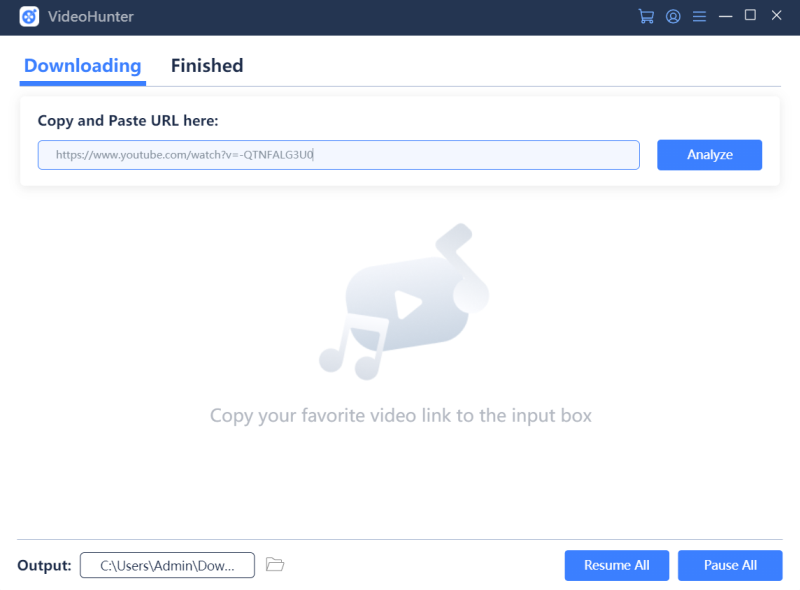 On Mac
, if you copy the URL of the single which is contained in a playlist, after clicking the "Analyze" button, you need to select
"Download Clip"
.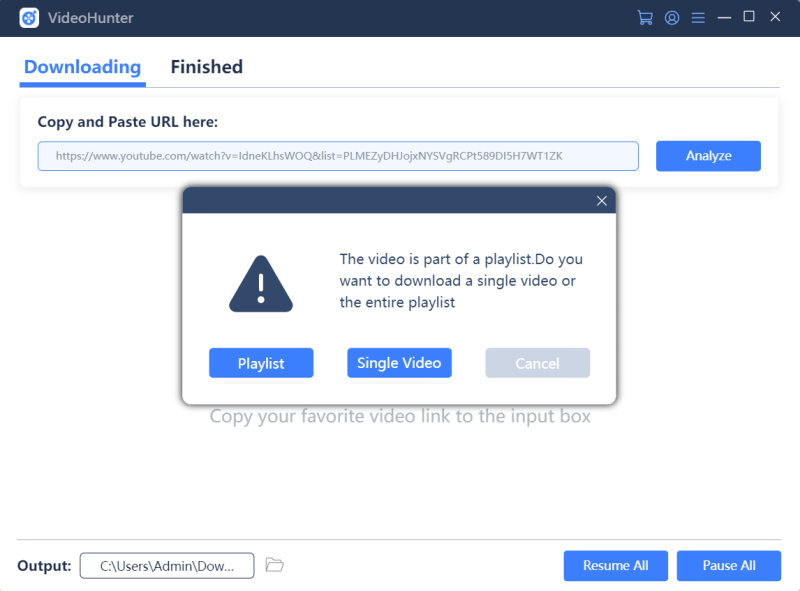 STEP 3.
When VideoHunter offers output choices for you to select for the single, choose the option you like, and then click the
"Download"
button for directly downloading it.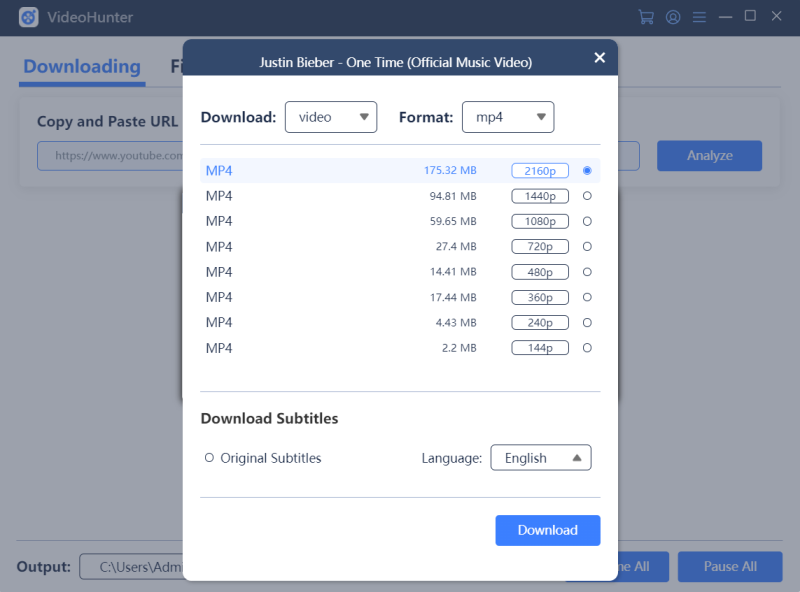 # Download Justin Biebie Songs Playlist from YouTube
STEP 1.
On YouTube, copy the URL of Justin Bieber's songs playlist from the top address bar. You can open any video contained in the playlist and then copy the URL of its video page.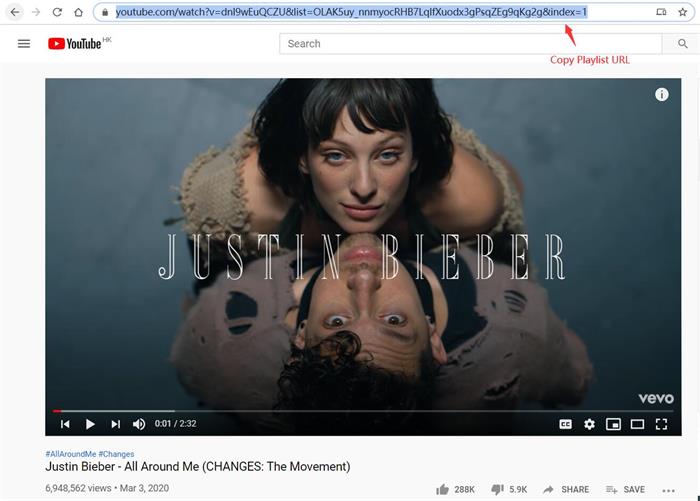 STEP 2.
Navigate to VideoHunter and then paste the URL of the playlist into VideoHunter Downloader's frame bar. After pressing
"Analyze"
, wait for VideoHunter to detect the playlist for you. (Mac users should select
"Download Playlist"
after clicking on
"Analyze"
.)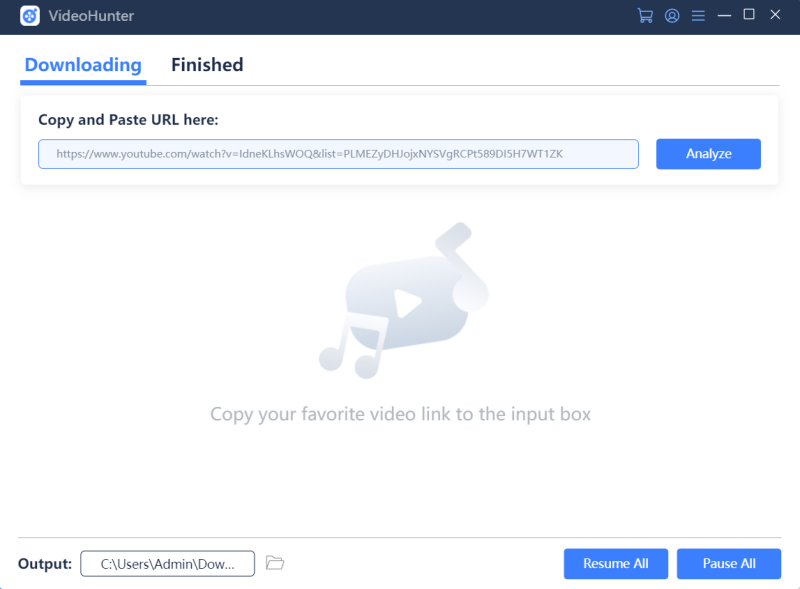 STEP 3.
When the playlist is detected and showed to you, select the songs you want to download. Also, you can select the output format as well as quality you need to save them offline. Finally, hit
"Download"
to get the playlist songs in one-shot.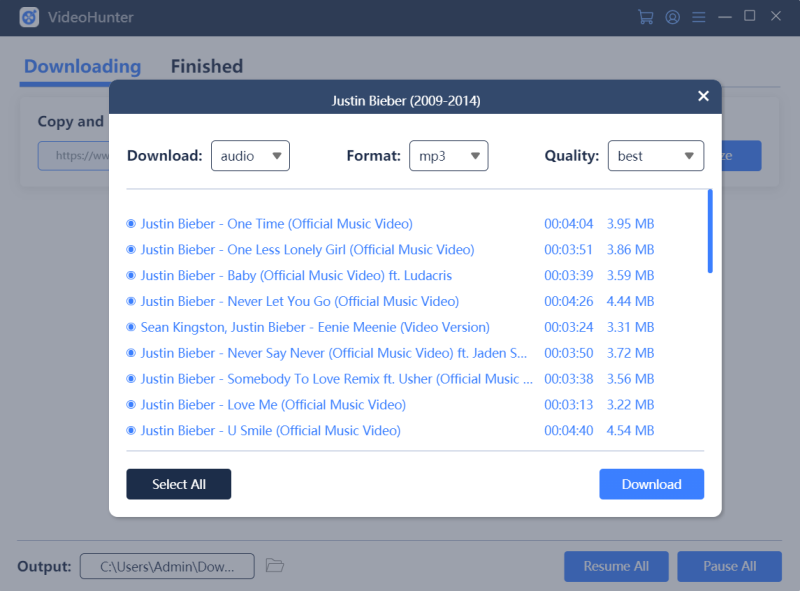 No matter you are a fan of Justin Bieber or not, you must have listened to his songs before. He has released many popular songs for audiences from around the globe to enjoy. You can stream or download his songs for enjoying now! Enjoy!