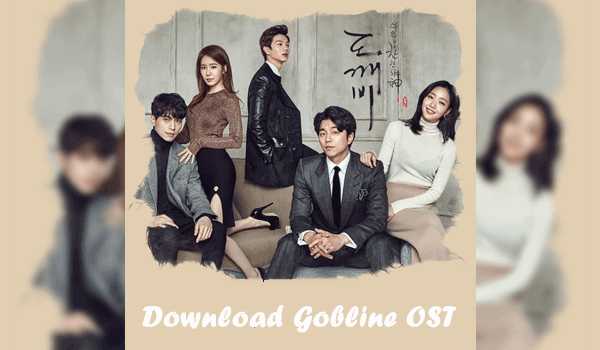 Goblin is also named as Guardian: The Lonely and Great God, which is a Korean TV drama that tells the romance between a goblin (performed by Gong Yoo) and a human girl (performed by Kim Go-eun). The show was aired from December, 2016 to January, 2017, which gained great success and became the fifth-highest rated Korean drama in history. From the performance, storyline, to the OST, Goblin is so successful and till today, many people still enjoy listening to the songs. So in the blog, the full OST of Goblin and the ways to download Goblin OST will all be introduced.
CONTENT
Part 1. [Full Album] Goblin OST Tracklist
Part 2. How to Download Full Album of Goblin OST
Tip: Download Goblin OST from Spotify
Part 1. [Full Album] Goblin OST Tracklist
Goblin OST has attracted many audiences, and some songs have reached the top places on Korean music streaming platforms such as Melon at that period. Even today, some people would still reach back to the OST and enjoy them. Here is the full playlist of Goblin. You can stream the YouTube playlist provided below the list.
Stay with Me - Chanyeol, Punch
Only in My Eyes (내 눈에만 보여) - 10cm
Hush - Lasse Lindh
Beautiful - Crush
You Are So Beautiful (이쁘다니까) - Eddy Kim
Who Are You - Sam Kim
I Miss You - Soyou
First Snow (첫눈) - Jung Joon-il
I Will Go to You Like the First Snow[30]" (첫눈처럼 너에게 가겠다) - Ailee
Wish (소원) - Urban Zakapa
And I'm Here - Kim Kyung-hee
Winter Is Coming - Han Soo-ji
Stuck in Love - Kim Kyung-hee
Heaven - Roy Kim, Kim EZ
Love - Mamamoo
Round and Round - Heize and Han Soo-ji
Part 2. How to Download Full Album of Goblin OST
If you want to play Goblin OST offline, you can save its soundtracks from YouTube with the help of a powerful YouTube video downloader, which is VideoHunter.
VideoHunter
can perform in a speedy and efficient way to download Goblin OST in video/audio form for offline playback from YouTube with good quality.
VideoHunter A Reliable and High-quality Any Video Downloader for Windows/Mac High video output quality: 1080p, 4K, 8K; High audio output quality: 320kbps; Batch download feature; 6X faster converting and downloading speed; Built-in converter with 20+ output formats (on Mac now); 100% safe and ads-free platform. Free Download Free Download
# Tutorial on How to Download Goblin OST
NOTE: You can use VideoHunter to download full YouTube playlist of Goblin OST as well.
STEP 1.
Open the Goblin OST you need to download in YouTube. Then get its URL by clicking the
"SHARE"
icon below the video.
NOTE: If the video is contained in a playlist and you copy the URL from the address bar, you get the URL of the whole playlist instead of a single video.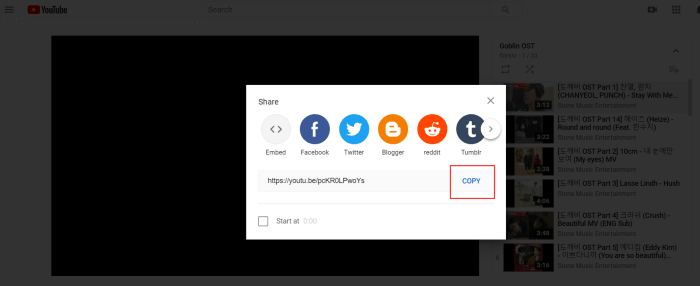 STEP 2.
With the copied Goblin OST URL, go to VideoHunter Downloader and input the URL into its frame bar. Then, click the
"Analyze"
button as well.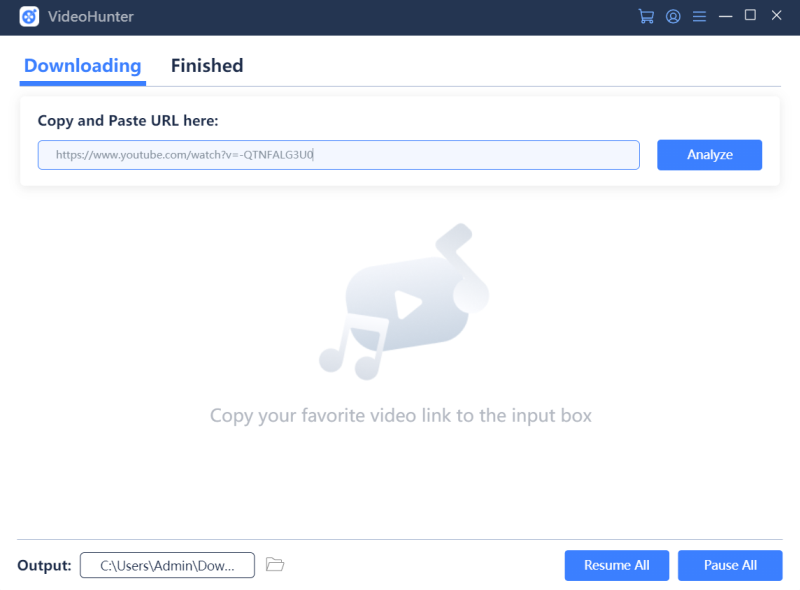 STEP 3.
When the output choices show up, you need to select an output format as well as quality for the Goblin OST. You can choose both video and audio according to your need. After that, hit the
"Download"
icon to start downloading the video.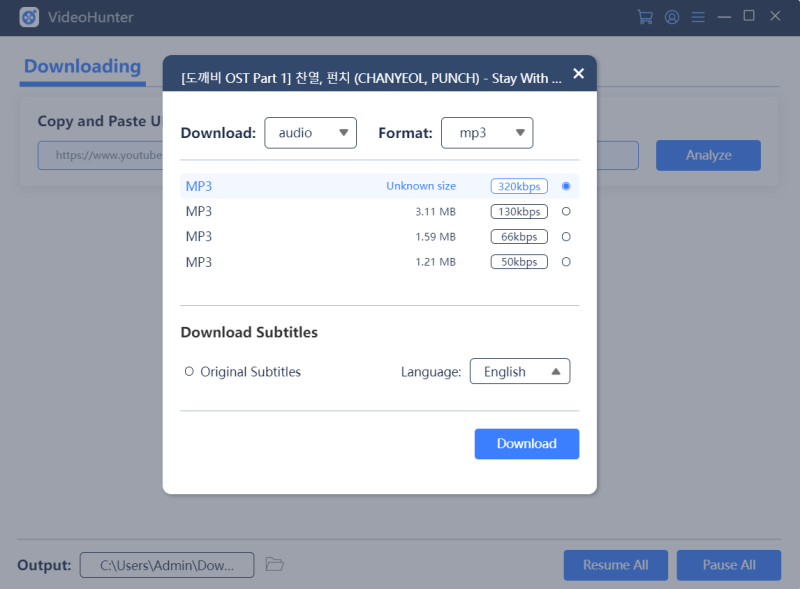 Tutorial Video on How to Download Music and Video with VideoHunter
[iframe src="https://www.youtube.com/embed/yvryhTVy-G8" width="600" height="400"]
Tip: Download Goblin OST from Spotify
If you discover the Goblin OST album on the world's largest music streaming platform Spotify, you are available to use another third-party tool, Spotify Music Converter to download full Goblin OST album easily from Spotify. Here we recommend SpotiKeep Music Converter.
SpotiKeep Music Converter
contains the following advantages that may meet your needs: * Download Spotify songs, playlist, albums, etc. in one-shot; * Save the ID3 tags and metadata of the Spotify songs; * Convert to common formats such as MP3, M4A, FLAC, and WAV; * Provide fast converting speed; * Save Spotify songs with high audio quality.
# How to Download Goblin Spotify Album
STEP 1.
After installing SpotiKeep Music Converter, launch the program and it will activate your Spotify software automatically as well.
NOTE: You need to download and install Spotify software to your desktop too.
STEP 2.
Go to Spotify and copy the link of the Goblin album or playlist you need to download to desktop for offline listening.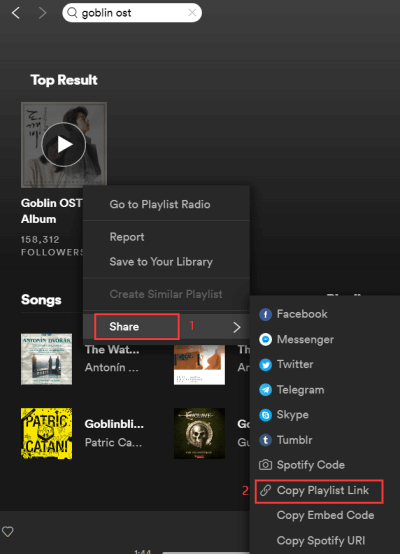 STEP 3.
Paste the album link to SpotiKeep Music Converter and hit the icon of
"Add File"
beside the frame bar. Then all the Goblin OST contained in the Spotify album will be added to SpotiKeep Music Converter.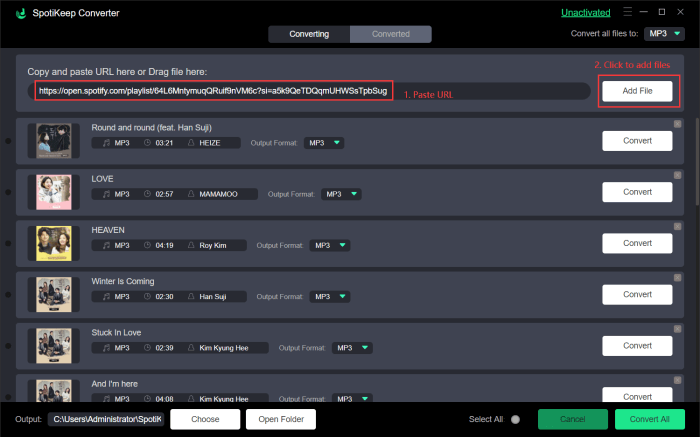 STEP 4.
Select an output format for all the OST (or you can select one-by-one, but this would be time-consuming). Finally, only click the
"Convert All"
button and all the Goblin OST will started to be downloaded one-by-one.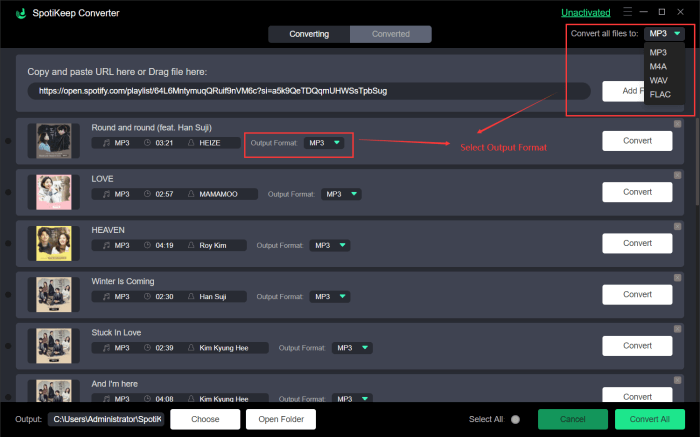 When you get the Goblin OST offline on desktop, you can also transfer and save the songs to your mobile phones. For example, you can use iTunes to transfer them to your iPhone/iPad, then apply the song you like as your ringtone. With both VideoHunter and SpotiKeep Music Converter, you can enjoy Goblin OST better for use it in more ways!