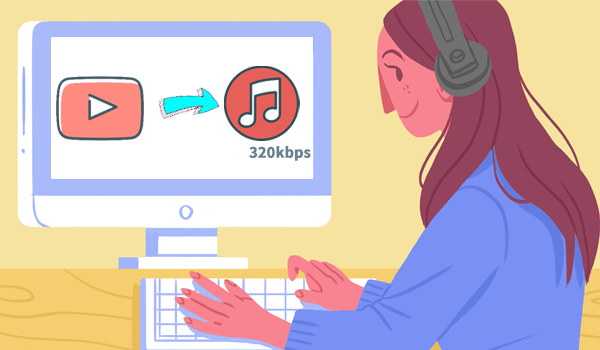 YouTube offers countless video resources, from music videos to movie soundtracks, but most of them are mainly delivered in the form of video. What if we only need the audio file of a YouTube video? Are there any workable and efficient ways for us to download YouTube audio in high quality instead of recording them and get the recording files with noise? Luckily, we made VideoHunter here. Let's see how this tool can help download audio from YouTube video with the best quality.
CONTENT Multifunctional Tool to Download YouTube ResourcesHow to Directly Download Audio from YouTube?
Multifunctional Tool to Download YouTube Resources
Originally, VideoHunter is a video downloader, providing convenient and efficient services to let people download online videos from over 1,000 sites, which include YouTube, Facebook, Twitter, Reddit, Dailymotion, VLIVE, and so on. But as you know VideoHunter better, you can also discover that it acts more than a single video downloader. For example, VideoHunter is also an excellent audio downloader and music converter.
# #1. Audio Converter and Downloader
VideoHunter also provides audio conversion and downloading functions to let people extract soundtracks from YouTube videos and SoundCloud. It helps to convert them into MP3 format, the most widely used audio format, and with the best quality, 320kbps. So by downloading music with VideoHunter, you can enjoy a good streaming experience offline.
# #2. YouTube Playlist Downloading Feature
VideoHunter can detect a whole YouTube playlist and allows users to download the a complete YouTube playlist to get the content they want at once. This feature helps to save much time and efforts for people who need to download multiple tasks from a single YouTube playlist.
VideoHunter A Reliable and High-quality Any Video Downloader for Windows/Mac Offer high resolutions to download video: 1080p, 4K, 8K; Up to 6X faster downloading speed; Built-in converter with 20+ formats for Mac (Windows soon); Easy to use functions and user-friendly in-app design; 100% safe environment without ads or virus. Free Download Free Download
As mentioned, VideoHunter is simple to use, so in the following, we'd like to offer a tutorial on how to download audio from YouTube via VideoHunter in only a few clicks.
How to Directly Download Audio from YouTube?
This part will divide into two parts with both ways to download audio from a single YouTube video and a playlist. Check the one you need.
# From A Single YouTube Video
STEP 1. At first, when you have properly install VideoHunter on your computer, you can go to YouTube website for getting the URL of the single YouTube video which you want to download audio from. If the video is contained in a playlist, you need to click the "SHARE" button below the video for copying its link, or you will get the whole playlist's URL.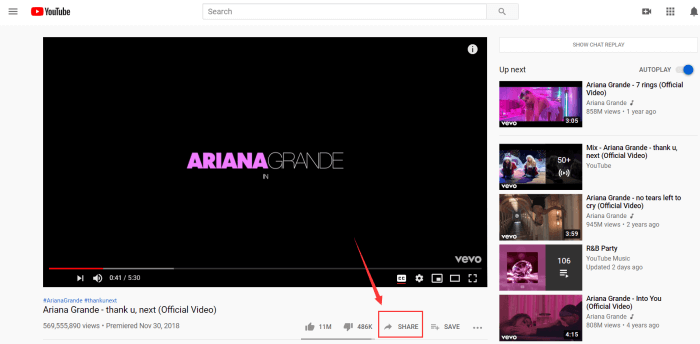 STEP 2. Now go to VideoHunter and enter "Downloader" on its main feed. Then, directly paste the URL of the YouTube video you just copied into the frame bar. After that, also press the "Analyze" icon to let it analyze the video for you.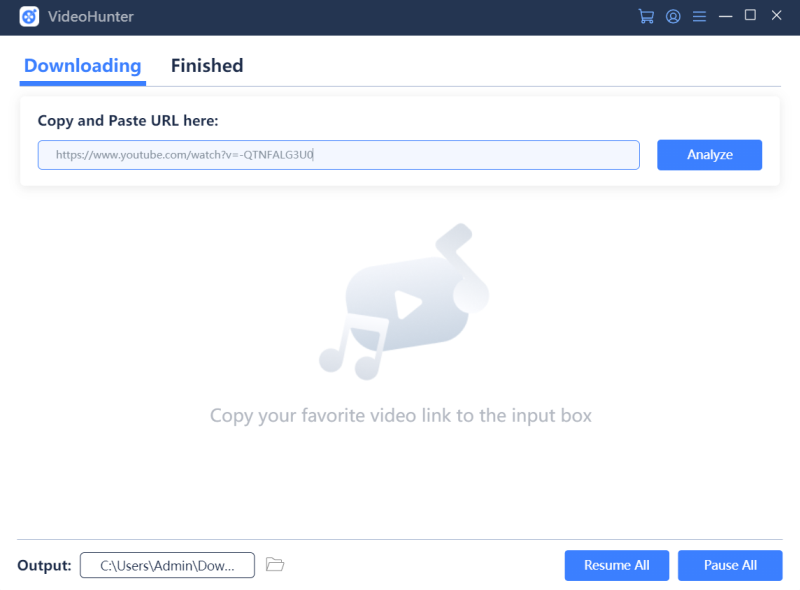 STEP 3. When the analysis is completed, you can get some downloading options to save the content. Select "Audio" and choose the quality you need. After ticking the option, directly hit "Download" and the YouTube audio can be saved offline in MP3 format.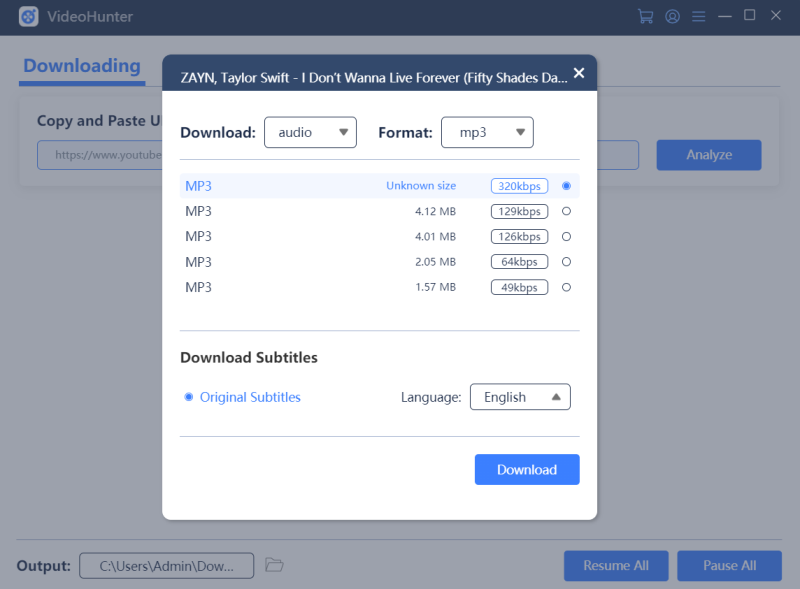 # From A YouTube Playlist
STEP 1. Go to YouTube and open a video which is contained in the YouTube playlist that you want to download. For downloading the playlist, you should copy the URL from the top address bar.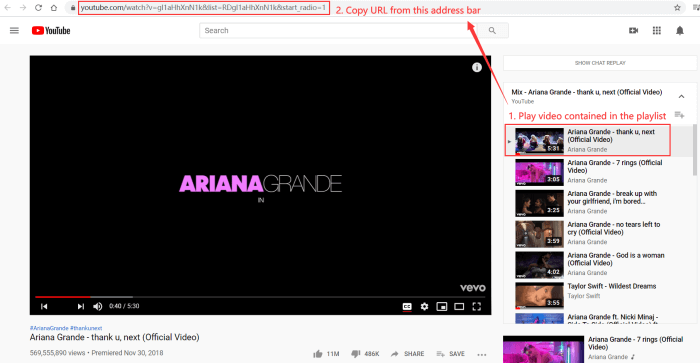 STEP 2. Go to VideoHunter and enter "Downloader", the directly paste the URL of the YouTube playlist into the blank bar. Likewise, hit the "Analyze" icon to get the URL analyzed by VideoHunter.
NOTE: VideoHunter takes longer time to analyze YouTube playlist. The more videos contained in the playlist, the longer it requires. So please wait for it patiently.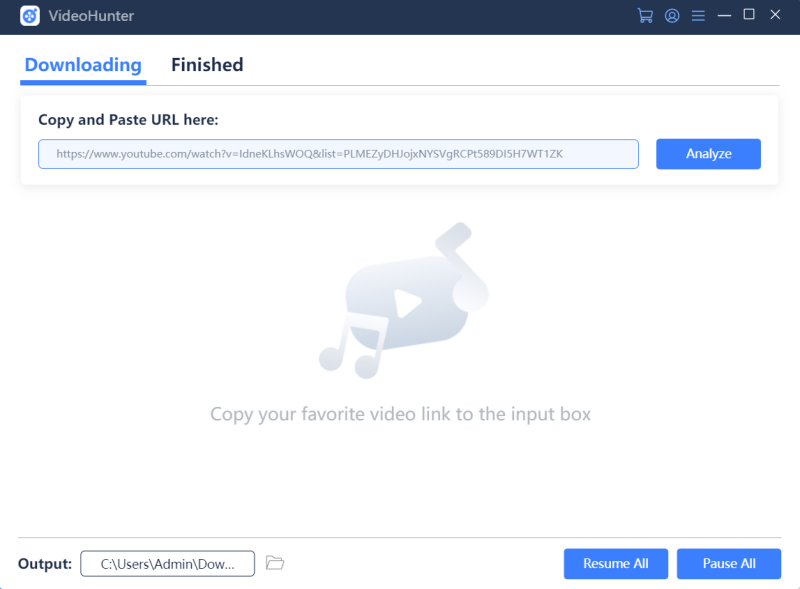 STEP 3. After the analysis, you can select format, quality, and the audio you want to download from the playlist. Finally, just by hitting the "Download" button and you can get all of them offline to your computer.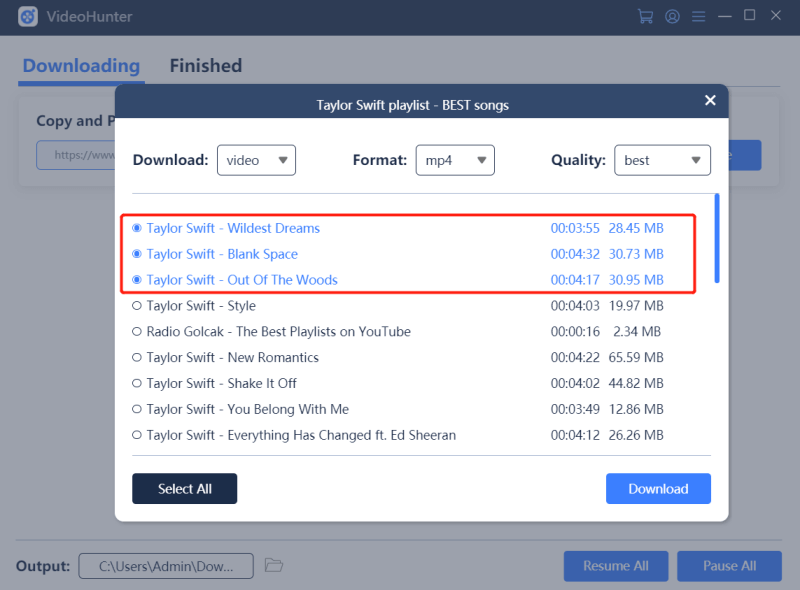 Follow this guide to download high-quality audio from YouTube videos now. From then on, YouTube can also be a music library instead of a video library for you. If VideoHunter helps, share it with your friends! Thanks again for your valuable support!