Nowadays, more and more people spend plenty of time watching YouTube videos. However, when the network is slow or unstable, people can not play YouTube videos offline smoothly. Some methods of downloading YouTube Videos from the Internet are complicated. Meanwhile, those methods may contain lots of ads and malware.
In this article, I've collected the latest ways to download YouTube videos without any software in 2022. You can pick the suitable one among them or our alternative YouTube downloader software – VideoHunter.
1. How to Download YouTube Videos without Software on PC
Taking many steps to download YouTube videos is troublesome. Therefore, I will recommend an online downloader called BigConverter. Here are the two reasons why I recommend it to you. First, you only need to prepare two things, a stable network, and a computer. On the other hand, it is very easy to learn how to use it. The only thing you need to do is copy the URL of the YouTube video and paste it into the box and press the "Convert" button so that you can download the YouTube video.
Although Big Converter has many pop-up ads and can't provide 1080p, 2K, or 4K quality options, it is free and convenient. If you don't care about those shortages I mentioned above, it could be your best YouTube video online downloader on PC.
Let's follow three steps for how to download YouTube videos to computer without software.
Step 1 Copy the URL from the Website
Firstly, you need to visit YouTube and find the video, then copy the URL from the address bar.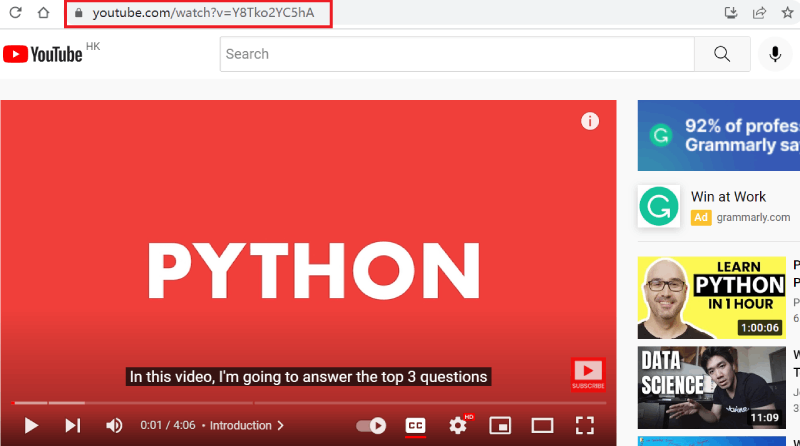 Step 2 Search "BigConverter" and Paste the URL
Search "BigConveter" on your browser and enter their website. On this website, you can find the blanket box. Please paste the URL address into the box and click the "convert" button, then BigConverter will start parsing the video quickly.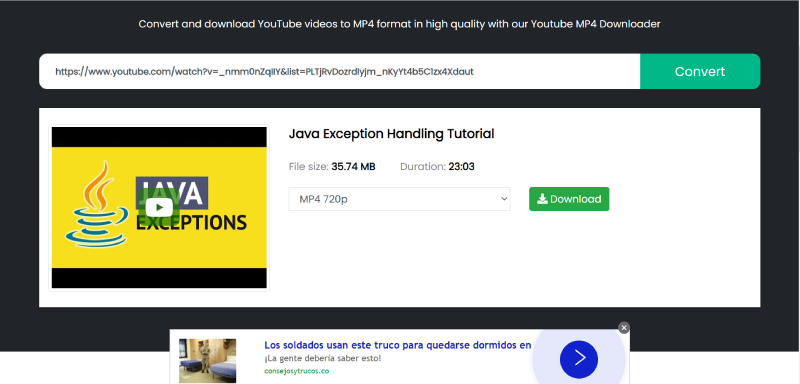 Tips:
Each click will pop up a new ad, please be careful not to click it.
Step 3 Choose Video quality
You can select the video quality and click the download button until the URL is parsed.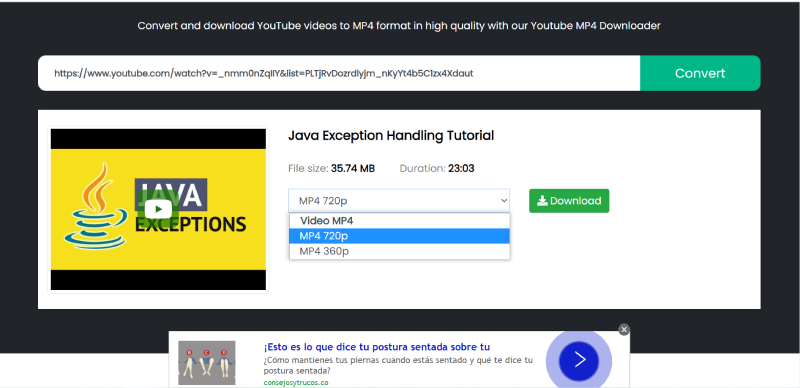 Tips:
If you want to download many YouTube videos, you need to repeat those steps many times.
2. Download YouTube Videos without Software using SS
Thanks to the SS method of downloading YouTube videos made by savefrom.net you can download YouTube videos by adding "ss" to the URL. Just by adding "ss" to the URL of the original YouTube video, you will be directed to savefrom.net site for downloading your target video.
However, this site has stopped offering the downloading service in America since April 16th, 2020. So, if you want to use this method to download YouTube videos in the US region, you have to use the VPN to switch network region, which may be tricky.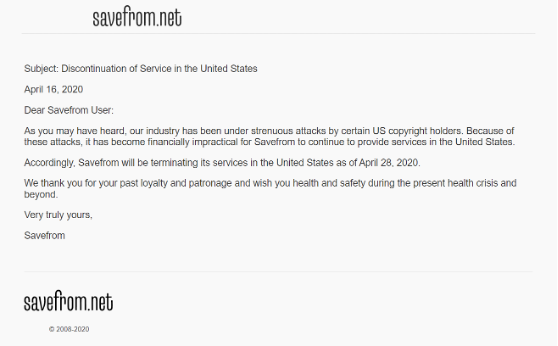 And I will show you the following steps.
Step 1 Copy the URL from the Address Box
You need to visit YouTube and find the video you want to download first, then copy the URL from the browser above.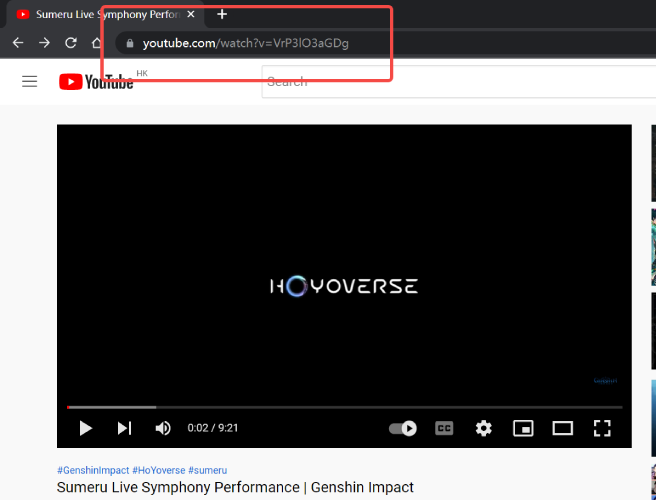 Step 2 Add "ss" in front of YouTube
Enter "ss" in front of "youtube" and click on Enter button to parse the URL. Then savefrom.net site will parse the video in seconds.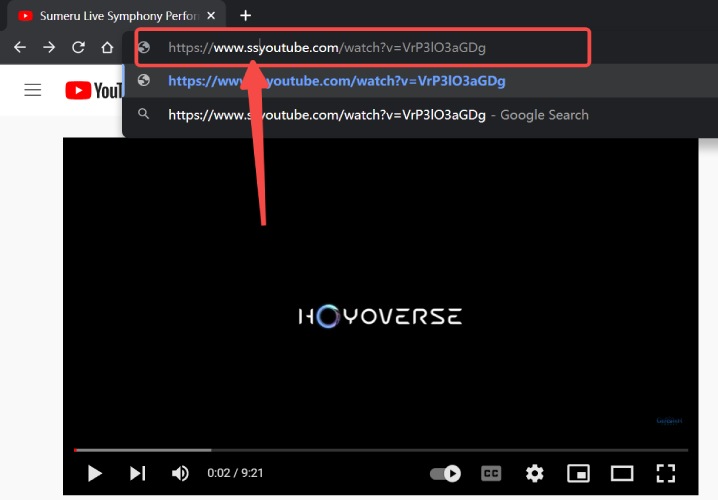 Step 3 Choose YouTube Video Quality and format
After finishing Step 2, you will be led to the savefrom.net site, you can choose video quality and format depending on your need.
In addition, you should pay attention that if you choose WEBM format or 1080P quality MP4 format, you can't download the video with audio included. If you want to watch 1080P video with sound, you need to download 720P audio and 1080 video and use another software to combine them into a new video.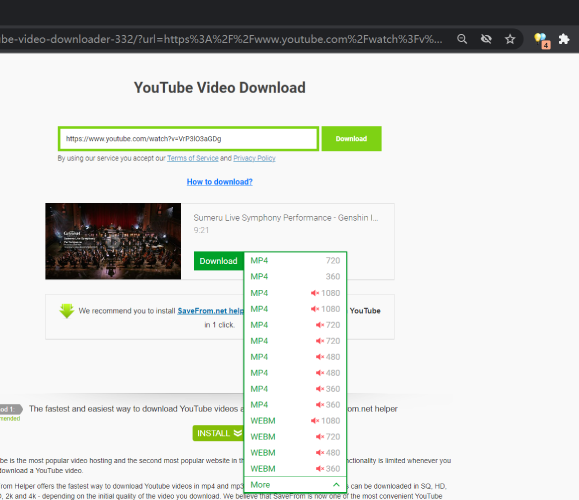 Note:
If you think this method is not quite suitable for you, I will recommend you to read another article we wrote before, which introduces 7 best savefrom.net alternatives:
7 Best Savefrom.net Alternatives to Download Online Videos.
3. Download YouTube Videos without Software by Firefox Add-on/Chrome Extension
Apart from the above 2 ways to download YouTube videos, there is another way that only requires one-time download of the YouTube downloader tool. That's a Firefox add-on or Chrome extension. As long as you've installed this plug-in on your browser, you won't have to copy and paste the URL repeatedly, saving you some time.
Video Downloader Plus is a Chrome is an extension that can download online videos from various websites fast and conveniently. It offers 1080P, 2K, or 4K quality options and common output formats such as MP4, MOV, FLV, AVI, WEBM, and so on. Meanwhile, it doesn't require a high-end device to launch so this extension can be launched on various devices, but this extension needs to pay to unlock all the functions.
Following are 3 steps to download YouTube videos in Video Downloader Plus.
Step 1 Install Video Downloader Plus Extension
You need to search and install Video Downloader Plus on the Chrome Web Store first.

Step 2 Launch Video Downloader Plus Extension
Secondly, please visit the YouTube video page, then click the extension icon.
Step 3 Choose YouTube Video Quality and Format and Download
Then the extension will detect the video and show download buttons of different output quality for you to download the YouTube video offline. You can choose the video format and click the "Download" button to save it offline immediately.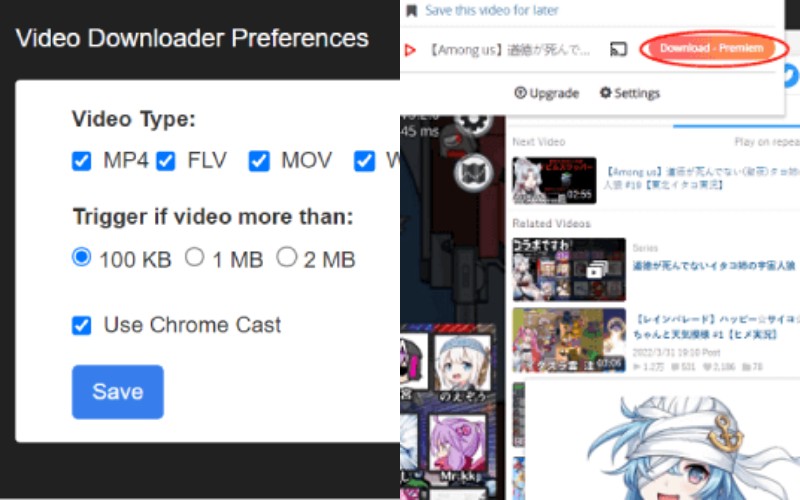 4. Recommended: Download YouTube Videos to PC in Bulk
Through the introduction above, you may have realized that there are some limitations to download YouTube videos with them. They have endless pop-ups, limited output options, or even the risk of being suspended. Therefore, I would recommend the most stable and versatile way, that is, downloading YouTube videos via YouTube video downloader software – VideoHunter.
VideoHunter is a desktop downloader that's available on both Windows and Mac systems. It supports bulk downloading online videos in 1080P, 2K, or 4K videos to MP4, MP3, etc. Meanwhile, it provides high-quality audio output of up to 128kbps, 320kbps. More importantly, you can never miss its powerful YouTube download function. It now offers full types of YouTube download including downloading YouTube playlists, YouTube channels, private YouTube videos, unlisted YouTube videos, etc. Besides, it gets a clean and simple UI without any advertisement, which makes it easy and safe to use. Although it needs to download and install compared to web-based YouTube downloader, it is worth trying.
3 Steps to Download YouTube Videos with VideoHunter
Step 1. Copy and paste YouTube video URL to VideoHunter.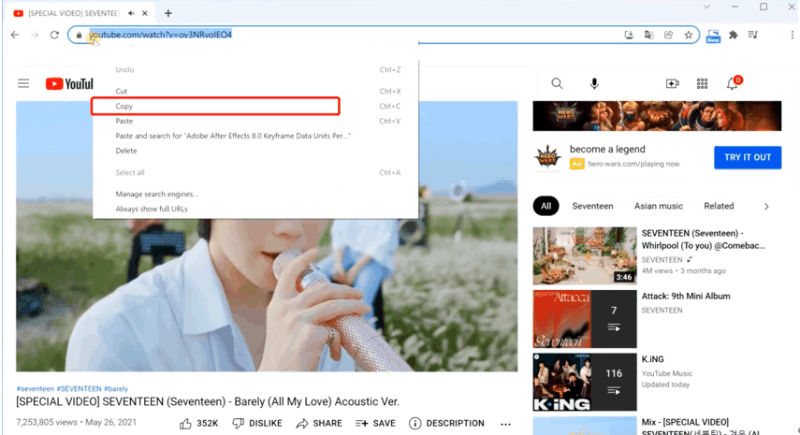 Step 2.Click "Analyze" and choose your preferred output quality.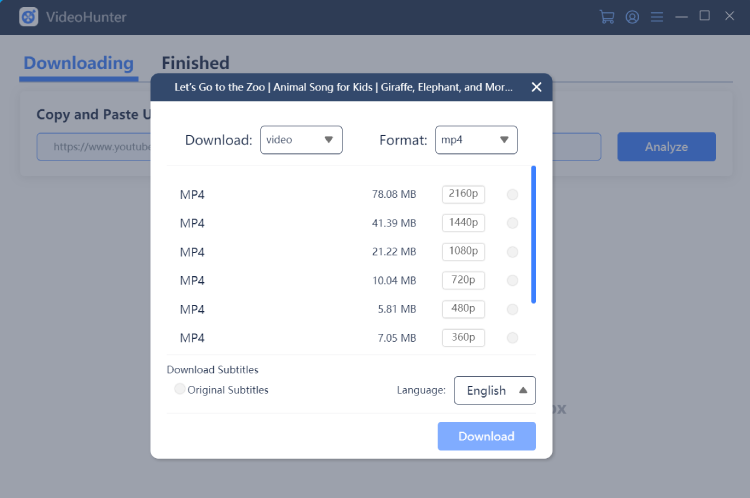 Step 3. Click "Download" to start downloading. Then you can find downloaded files via "Finished" section.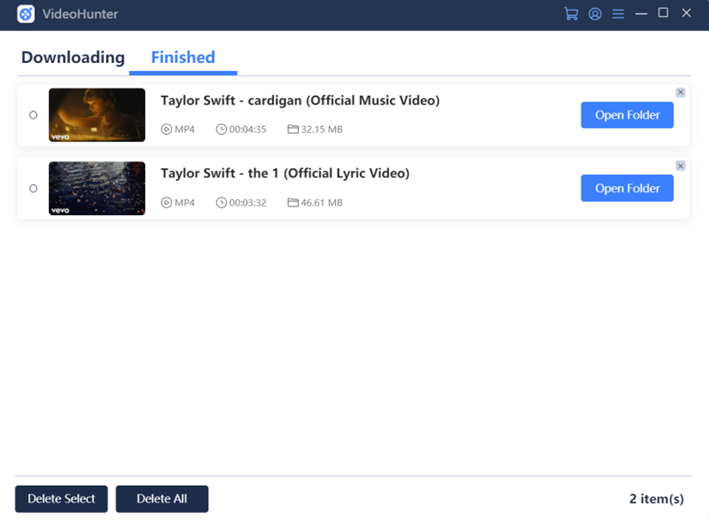 Conclusion
To download YouTube videos without any software, you could try web-based YouTube downloaders, "ss" method provided by savefrom.net, or adding a browser add-on for a more convenient download. In addition, VideoHunter as the best YouTube video downloader on PC, which performs well on downloading YouTube videos, playlists, and subtitles in bulk, could be the reliable alternative to all the download method above. You can get started from its free trial now!