Now we are in the age of streaming media, where everyone can browse all kinds of videos on the Internet. When you find an interesting video or touching movie, you may want to download it in case it will be removed one day. However, some websites do not come with a download feature. So this is where video converters come into play.
With so many video converters available in the Internet, it is time-consuming to compare them and pick one on your own. So today this post will start with a review of HitPaw Video Converter, a video converter that claims to be the best solution to video downloads, and walk you through its functions, price, shortcomings, and instructions to help you find out whether it is worth a try. In the end we will recommend a better alternative - VideoHunter - to enhance your video watching and download experience.
Free Download Free Download Free Download
CONTENTWhat is HitPaw Video ConverterKey Features of HitPaw Video ConverterHow to Use HitPaw Video Converter HitPaw Video Converter: Pricing & PlansCons of HitPaw Video DownloaderWhy Choose VideoHunter Downloader as Best Alternative FAQs for HitPaw Video Converter
What is HitPaw Video Converter?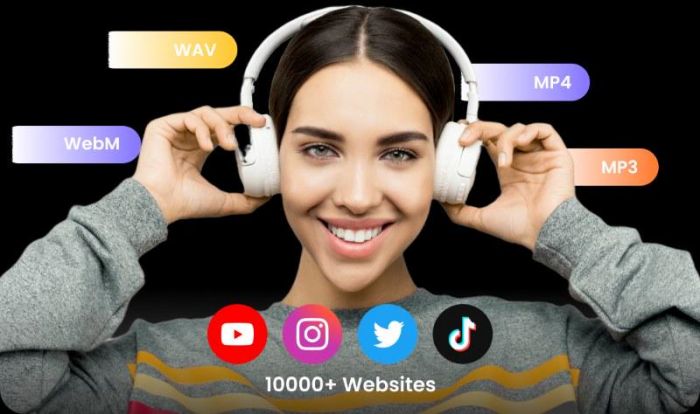 HitPaw Video Converter is a popular desktop software that offers numerous nifty features. It allows you to convert videos, music, DVDs, and images as well as download online videos, movies, and music to your computer. What's more, it also offers toolboxes for video trimming and background removal, noise removal, etc.
Despite these versatile features, not all of them are available for free. HitPaw provides both a free version and a paid version. You can only enjoy a few limited features with the free trial. To download and convert videos without limits, you'll need to purchase a subscription.
Are these paid features truly worth the cost? What helpful features does it offer? Read on and learn more about the features of HitPaw. Let's see if the program lives up to its introduction claims.
Free Download Free Download Free Download
Key Features of HitPaw Video Converter
HitPaw Video Converter serves as a lossless downloader for videos, with which you can grab a wide range of videos from websites and download them to the computer with HD quality. Besides, it is also a good choice for converting videos and audio files between over 1,000 different media file formats.
What's more, HitPaw also embeds editing tools and comes with a toolbox including additional features such as Instagram Downloader, Noise Remover, and so on. Its one-stop service can meet all your needs for video download, editing, and even playback.
Download Video From 10,000 Sites
HitPaw Video Converter is capable of downloading videos from over 10,000 popular websites such as YouTube, TikTok, Instagram, Twitter, etc. With its latest updates, you can even download YouTube live streams to MP4. By using this converter, you can easily solve all your video and audio compatibility issues and keep the videos and audio you like permanently.
NOTE: If you download a video using the free version of HitPaw Video Converter, only one-third of the video can be downloaded and it leaves a watermark. To remove all these limitations, you'll need to pay $19.95 for the upgrade.

Batch Download Feature & 120X Conversion Speed
HitPaw Video Converter supports batch download videos/playlists/channels with one link. So that you don't need to convert the video one by one, which is time-saving, especially when you want to download videos from an entire playlist. HitPaw allows you to convert up to 5000 videos or audio at a time. What's more, the program comes with 120 times faster conversion speed. However, it should be noted that batch download is a feature that you need to pay to use.
Convert Video to MP4/WebM at High Resolution
Many users value video quality pretty much. However, some converters will damage the quality during the conversion, seriously affecting the user experience. With HitPaw Video Converter, videos, and audio can be downloaded to MP4/Web in 8K/ 4K/ HD, and MP3/WAV up to 320kbps.
Three Built-in Tools & Extra Functions
There are four sections at the top menu of HitPaw Video Converter home page. After the conversion or download, you can go to "Edit", then easily and quickly edit your videos with the built-in editor, such as cutting, merging, cropping, rotating, etc. This is quite a helpful feature for video makers.
HitPaw Video Converter has three built-in tools, namely vocal remover, noise remover, and background remover. The first two AI-powered tools improve the sound quality by automatically removing wind noise and separating vocals and background music from any audio. Background remover allows you to freely remove part of an image and change the background.
Aside from being a video downloader, HitPaw is also a reliable converter, with which you can convert playlists or even premium songs from Apple Music, Spotify, and Deezer to plain audio formats MP3, FLAC, WMA, or M4A with lossless quality.
Free Download Free Download Free Download
How to Use HitPaw Video Converter
HitPaw Video Converter has a straightforward interface. When you start the program, you can see almost all the features it provides. Simply follow the instructions to proceed with it.
Step 1. Download and install HitPaw Video Converter on your computer.
Step 2. Launch it. To download online videos, you can navigate to the "Download" tab. Copy the video URL you want to download from the corresponding website and paste it by clicking the "+ Paste URL" button.
Step 3. Then, you'll see a pop-up window showing several options including output format, download thumbnail, and so on. Click on the "Download" button.
Step 4. When you're done, go to "Finished" and you can edit the video with the built-in editor.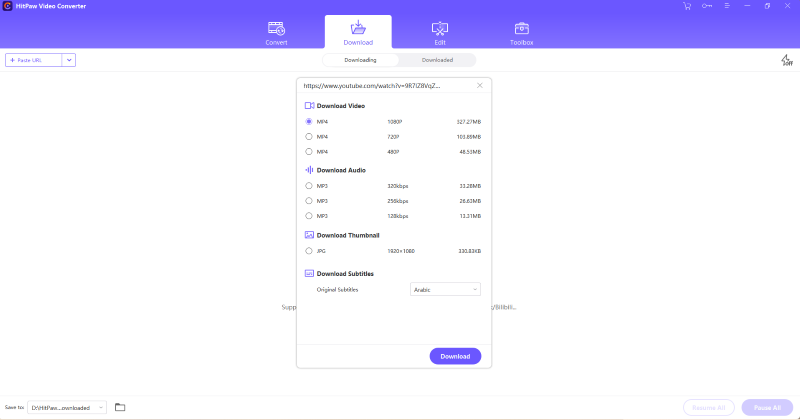 HitPaw Video Converter: Pricing & Plans
As mentioned earlier, there is a free version and a paid version of HitPaw Video Converter and they offer different features. Although the free version has certain limitations, you can try it for the first time to evaluate whether the features can meet your needs.
Here we present you the differences between the free and paid versions of HitPaw Video Converter.
Free Plan

Convert 1/3 length of video, audio, DVDs, and blu-ray DVDs.
Download 1 file free from online sites.
Convert 2 images for free.

1 Monthly Plan

Download videos/audio/subtitles from 10000+ sites.
Convert any video, audio, DVDs, blu-ray discs, and images.
ccess all AI tools & the batch download feature.
Batch cut/merge/rotate videos.
Batch add filters and watermarks to videos.
If you're satisfied with it and want to unlock all features, you can upgrade to the paid version. Here are three plans for the paid version.
Pros
1 monthly plan: $19.95
1 yearly plan: $39.95
Lifetime plan: $79.95
Free Download Free Download Free Download
Cons of HitPaw Video Converter
Through the previous parts, I believe you've had a basic idea of this desktop software. HitPaw Video Converter is arguably a versatile application for video editing and conversion. But when it comes to video watching and downloading, this might not the case. Keep reading to take a more comprehensive look at HitPaw.
Pricey Subscription Fee for Unnecessary Advanced Features
Compared with other video converters and downloaders, the subscription fee of HitPaw Video Converter is higher. What's more, its paid version contains a lot of features that are not so useful for users who just want to download videos for offline watching or video re-creation. You can't choose to purchase a feature that you need separately, making the paid version not cost-effective enough.
Complex UI - Too Many Features for Some Users
If you just want to download videos from websites and keep them on your computer, HitPaw is offering too many unnecessary features, which makes its UI relatively complicated. When you launch the app for the first time, you need to click them one by one to learn about those features. What's more, HitPaw has both "Converter" and "Downloader" tabs on its home interface. They are so similar that will make you confused about which one can be used to download online videos.
Limitations on Free Trial - Watermark on Videos
When using the HitPaw Video Converter free of charge, you might encounter some limitations, such as video watermarking, unable to download and convert full videos, no batch download function, etc. If you want to unlock them, you'll need to purchase a subscription.
Why Choose VideoHunter as Best Alternative
For those who want to download videos for offline viewing, or re-creation, HitPaw Video Converter is not your best choice. Because you need to update to the paid version for the whole-video download feature and other unnecessary features at a cost of $19.95 at least per month. Instead of paying for some features that you don't use, or spending time searching for a cracked version, why not choose another suitable software? Today, we bring you an alternative that better meets your needs - VideoHunter.
VideoHunter is a high-quality online video downloader for Windows PC and Mac. Although it is not as versatile as HitPaw Video Converter, its features are more relevant to your needs. You can not only download videos and movies from mainstream websites but also grab audio, music, and soundtracks from other platforms.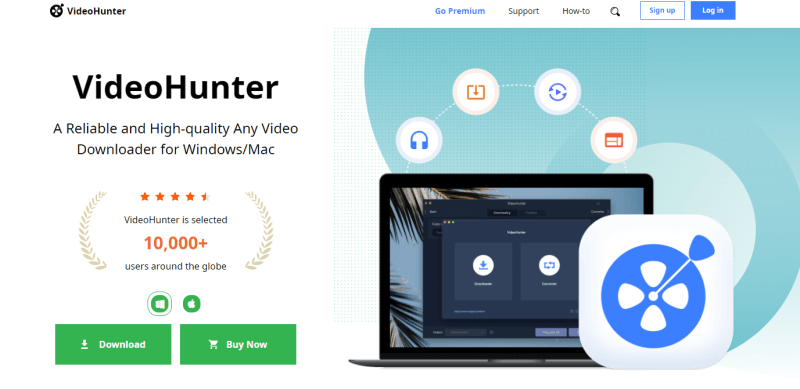 Download Any Videos from the Internet with VideoHunter
Using VideoHunter, you can download any video from 1,000+ websites such as YouTube, Facebook, Twitter, Instagram, etc. in 720p, 1080p, Full HD, 4K, and 8K. It saves video to popular formats like MP4, which is more convenient for you to keep on a computer or make re-creative videos. Whether a single song, a playlist, or a channel, VideoHunter can easily parse them in a link at once and start the multi-thread downloads with 6X faster speed to save your time.
Easy of Use - User-friendly User Interface & Operation
VideoHunter has a much intuitive UI than HitPaw. Rather than drowning in a lot of features, VideoHunter offers more targeted features and can well meet your needs by simply downloading the videos or movies you want. It is extremely easy to use VideoHunter. Simply copy the online video URL and paste it into the input bar. Even if you don't have any technical skills, you can get started with it.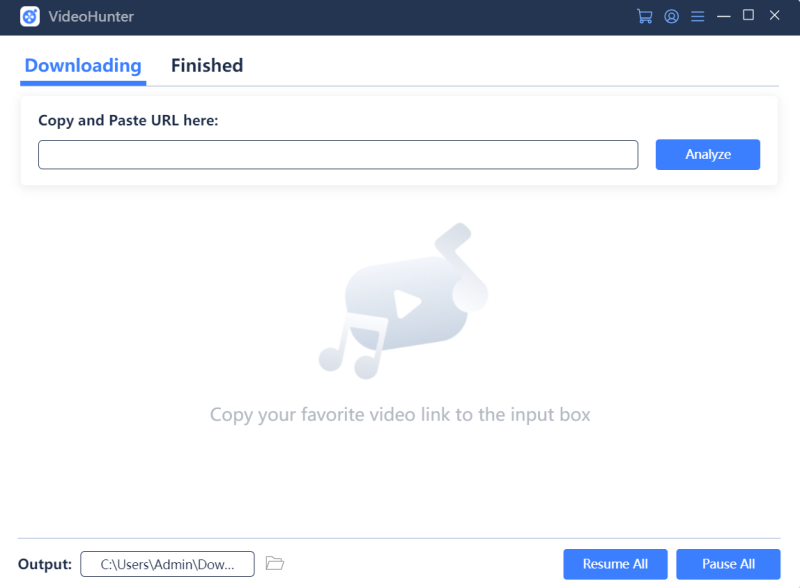 Free trial & Cheaper Subscription Fee - Offer Advanced and Core Features
Different from the limited free version of HitPaw, VideoHunter offers a free version that comes with more features and fewer restrictions. You can use VideoHunter for free without a time limit. And you can download three whole videos per day for free with VideoHunter. To download unlimited videos or movies from over the Internet, it only costs you $14.95 to upgrade to premium, which is lower and much more cost-effective compared with HitPaw's subscription fee.
How to Use VideoHunter to Download Any Video from the Internet
Step 1. Download and install VideoHunter on your computer. Launch it. Right-click the address bar to copy the URL of the online video from the site VideoHunter supports.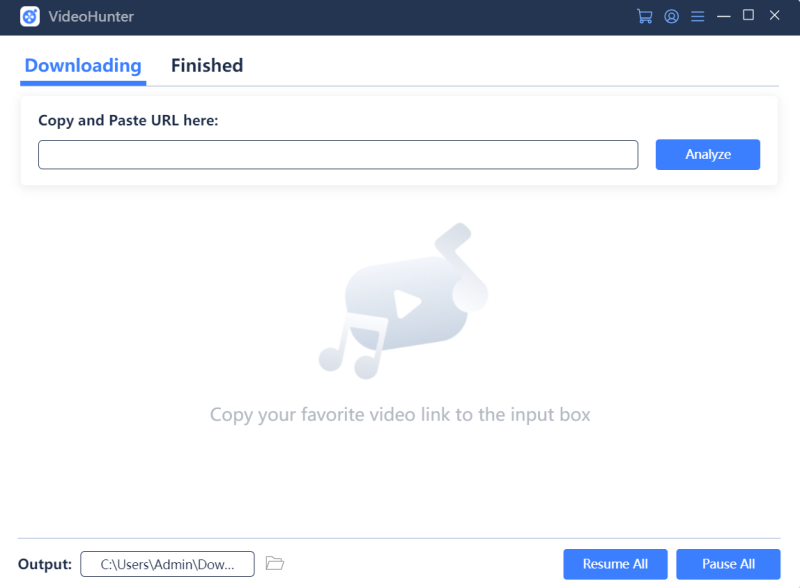 Step 2. Paste the online video URL to the downloader's input bar and tap "Analyze".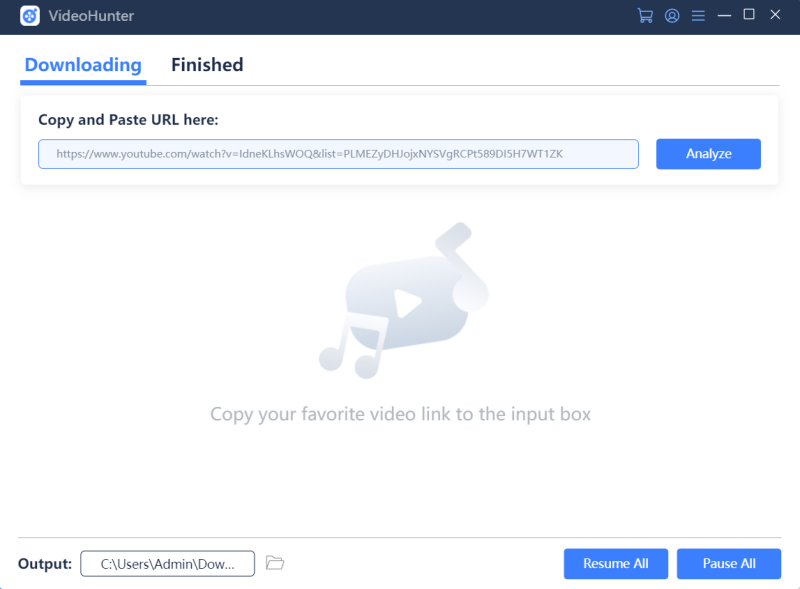 Step 3. Select the output format and quality from the pop-up window. Then submit "Download".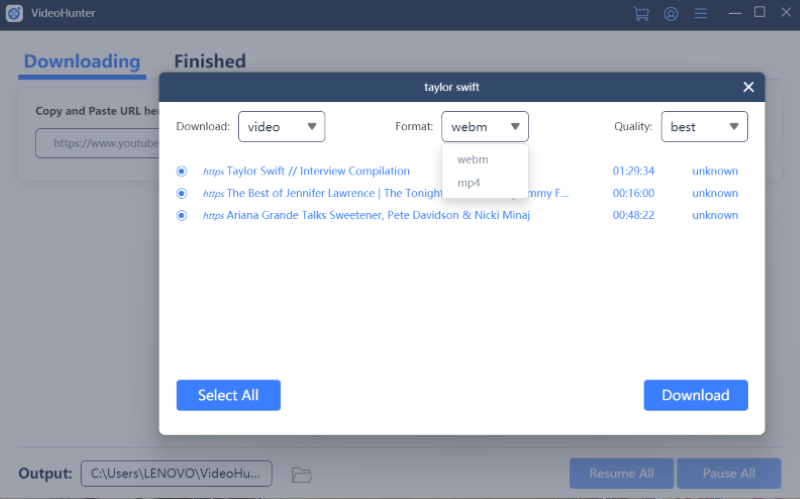 Step 4. When the download is complete, navigate to the "Finished" to check the output folder.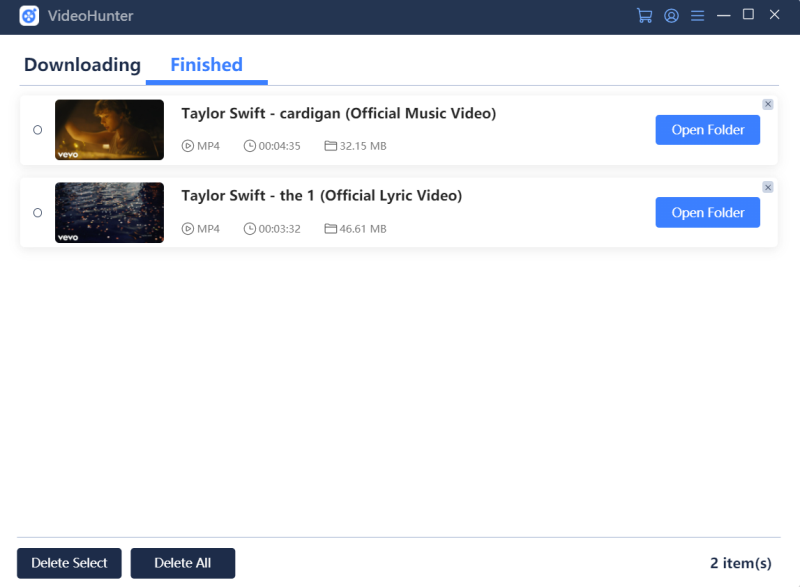 Final Words
If you have complex or professional needs for converting files, downloading movies as well as editing videos, HitPaw is a really good choice. But if you're simply a movie lover, and just want to download a TV series or a beloved movie for offline playback, VideoHunter will be definitely a better option. Its features are enough to meet your needs for downloading videos from various websites and platforms. It has a simple UI and is easy to operate. Why not choose this cost-effective program to begin your movie journey?
FAQs for HitPaw Video Converter
Is HitPaw Video Converter safe?
Yes, HitPaw Video Converter is 100% secure desktop software. Different from free online converters, HitPaw Video Converter is ad-free and reliable with tech support. You will not be bothered by pop-up windows and no need to worry about viruses and malware to steal your information and damage your computer.
Is there HitPaw Video Converter crack?
Though there are HitPaw Video Converter crack versions available on the internet, it is not recommended to use them. They may be dangerous and risky and you can't get any after-sales when you come across some problems. HitPaw Video Converter now has a special offer for its customers. You can get 20% off. If you want a cheaper plan, now's your chance.
Is there any HitPaw watermark remover?
If you've just used HitPaw Video Converter to convert or download videos, a HitPaw watermark will be left on your videos. To remove it, you'll need to purchase its premium.
If you have a video coming with watermarks of other platforms, you can try HitPaw Watermark Remover. But it doesn't have any cracked version, meaning that you still need to pay $19.95 per month to unlock its removal service and other features.