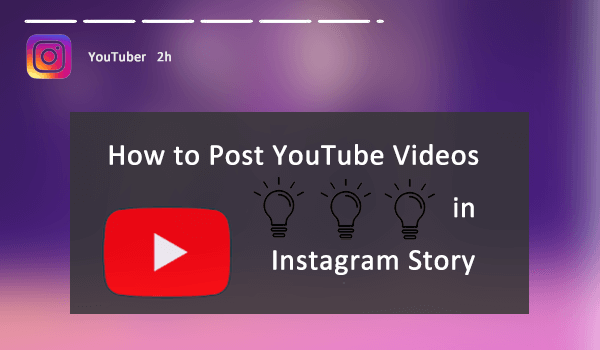 Instagram is a fashionable social media platform which allows users to post beautiful images and photos for interacting with their friends. Instagram Story is a content sharing feature provided by this platform, which will list the uploaded image/video for 24 hours, then disappears automatically. Many people like this function and are willing to share some instant content using Instagram Story for fun. But when people discover interesting videos on YouTube and want to share to Instagram Story, how can they do? Today, we bring this guide to you. Please keep on reading.
CONTENT
1. Download YouTube Video with Reliable Video Downloader
2. Post YouTube Video in Instagram Story
[Tip] Instagram Story Video Requirements
1. Download YouTube Video with Reliable Video Downloader
Currently, YouTube provides share options that allows users to share YouTube videos to some social media platforms such as Facebook and Twitter. But unfortunately, it doesn't support for sharing to Instagram Story. Therefore, for people who want to share YouTube videos in Instagram Story, the most direct and simplest way is to download the YouTube video at first. Here, I would like to recommend a reliable YouTube video downloader, VideoHunter to you.
VideoHunter is an all-platform video downloader that allows to download online video/audio resources from over 1,000 sites, including YouTube, Facebook, Twitter, Dailymotion, Reddit, and so forth. Its stable and smooth downloading performance has brought itself a large loyal user group.
VideoHunter A Reliable and High-quality Any Video Downloader for Windows/Mac Unlimited Downloads Available Provide HD/4K/8K Output Quality Support Videos from 1,000+ Sites Provide Extra Built-in Video Converter Enable 6X Faster Downloading Speed Convert Music to MP3 Easily Free Download Free Download
Now you should know the process to download YouTube video via VideoHunter.
STEP 1. Open YouTube in browser. Then please go to the YouTube video you find it interesting and want to share in Instagram Story. When you access the video, copy the URL of it.
STEP 2. Launch the installed VideoHunter on your desktop. Then, enter the interface of "Downloader" and paste the URL of the YouTube video into its frame bar. Later, directly click on the "Analyze" button beside the bar.
NOTE: You can change the output folder by browsing the one you'd like to preserve the video in "Output" section, which is in the bottom of the interface.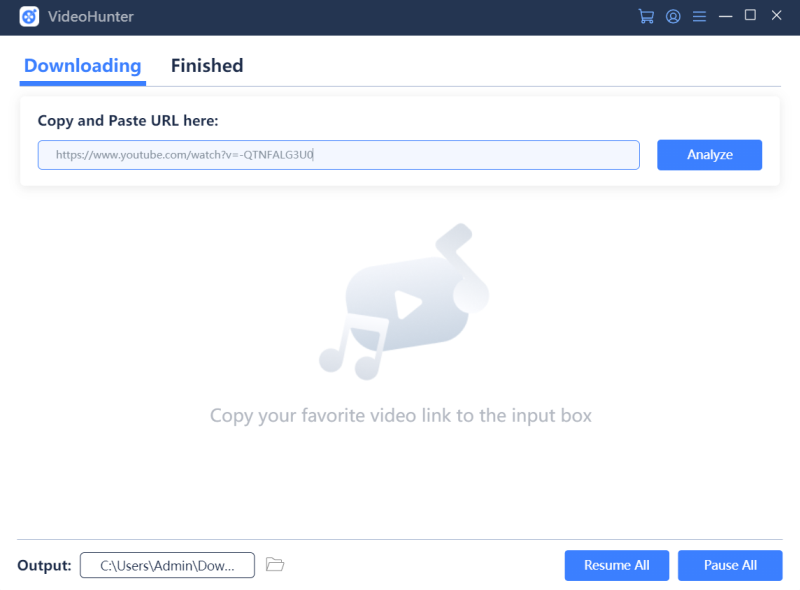 STEP 3. Wait for the conversion process to be completed, and VideoHunter will provide you several downloading choices to encode the YouTube video. You need to select MP4 (Instagram's video uploading format) and any quality you prefer. After that, hit "Download" to start saving the video offline.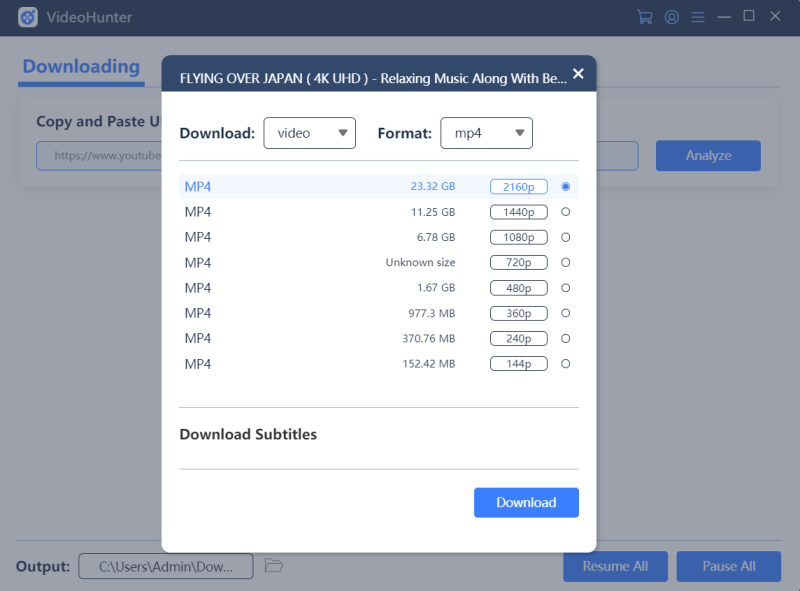 2. Post YouTube Video in Instagram Story
When you get the high-quality YouTube video downloaded, you can transfer the video to your mobile devices for uploading to Instagram Story using Instagram app. Here is a simple tutorial teaching you how to post YouTube video in Instagram Story
NOTE: Currently, Instagram doesn't allow to add content to Instagram Story using the web-based platform.
STEP 1. Launch Instagram app on your mobile device, then click the camera icon on the top left corner of the main feed.
STEP 2. Press the Photos button in the bottom left corner of the screen for adding the YouTube video here. Then, you can edit the video using the free provided tools on the top side of the screen to make it personalized.
STEP 3. Finally, click "Send to" button in the bottom right corner for sharing the Instagram Story instantly. You can also select to share to only your close friends, or add to a highlight album you have created. Then the YouTube video can be successfully posted in Instagram Story.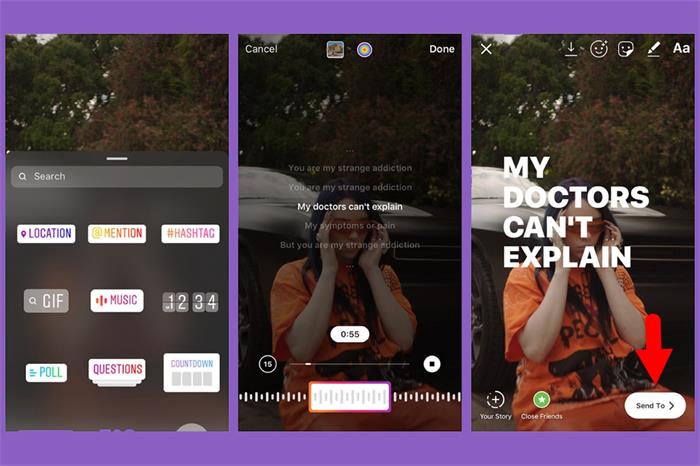 [Tip] Instagram Story Video Requirements
Before uploading video to Instagram Story, you should know some basic requirements that Instagram has set for the format of the videos for avoiding upload failure. Here is a small tip on the Instagram Story video requirements:
Video file type: MP4 or MOV format
Instagram Video Length: 3 - 15 seconds (when you upload a video with duration longer than this, Instagram will cut it into several Instagram Stories for uploading automatically)
Aspect Ratio:
Vertical video: 9:16 aspect ratio
Horizontal video: 16:9 aspect ratio
Frame Rate: Maximum of 30 FPS
File Size: Maximum of 4GB
Resolution: Minimum: 600 x 1067 pixels (1080 x 1920 pixels is recommended)
Here are all the things I would like to share with you on how to post YouTube video to Instagram Story. Do you find it useful? If this tutorial has helped, share with your friends!