TikTok, one of the most downloaded apps in App Store and Google Play, is a popular online platform where users around the world can share and view short videos of different genres, including entertainment, education, and sports, etc. No wonder that you might want to save some of the TikTok videos that you are interested in and watch them later. Luckily, TikTok does offer the download option that allows you to keep videos on your media device if the creator allows that in privacy setting.
However, what if the creator does not permit the downloading of his/her videos. So this is why we are here to introduce 7 best TikTok video downloaders for you. With the help of these top TikTok video downloaders, you're guaranteed to download the TikTok videos you like without hassle.
CONTENT Summary: Comparison Between Top TikTok Video Downloaders1. VideoHunter TikTok Downloader2. TikMate Online Downloader3. TTDown4. Tiktokfull5. ExpertsPHP6. SnapTik7. TikMate Chrome ExtensionConclusion
Summary: Comparison Between Top TikTok Video Downloaders
This table
previews the pros and cons about the 7 best TikTok video downloaders. Just have a quick flip through it.
| | | | |
| --- | --- | --- | --- |
| Product Name | Price | Pros | Cons |
| VideoHunter TikTok Downloader | Free Edition; Paid Edition | Powerful; Batch download videos without watermark; Provide high definition downloaded videos | Requires stable network connection for better analyzing |
| TikMate Online Downloader | Free | Online tool, no need to download and install apps; Download videos without watermark | Lots of pops-up |
| TTDown | Free | Download videos without watermark; Support MP3 & MP4 format | Low response speed |
| Tiktokfull | Free | Easy steps to download TikTok videos; Downloaded videos can be shared | Lots of pop-ups; A mobile app only for Android users, and IOS users have to use browser and access the web-based application to download videos |
| ExpertsPHP | Free | Download videos without watermark; High quality downloaded videos | The download failure rate is higher |
| Snaptik | Free | Support all devices; Unlimited downloads; Download high-definition videos | Lots of advertisements; should avoid malware |
| TikMate Chrome Extension | Free | Download videos without watermark; Easy-to-use | Sometimes the "Download" button does not work |
1. VideoHunter TikTok Downloader
VideoHunter TikTok Downloader as a reliable and high-quality any-video downloader for both Windows and Mac, enables you to download and save any TikTok videos quickly and efficiently. This TikTok video downloader app provides you with user-friendly features and speed performance so that you can enjoy your favorite high-definition TikTok videos offline on your media device without being annoyed by any Internet problems.
Highlighted Features:
Download videos for free: VideoHunter TikTok Downloader provides free and Premium version for users. Once having registered, you can enjoy the free version, which supports to download three videos per day and provides technical support if you are in need.
Enjoy high-definition TikTok videos: VideoHunter TikTok Downloader's provided qualities can reach 1024p, bringing fantastic offline playback experience to you..
Download videos in bulk: You can download multiple videos simultaneously without a need to wait for each video to be downloaded successively. In this way, you can save a lot of time and enjoy your favorite TikTok videos offline soon.
Advertising-free: There will be not any advertising or pop-ups when using VideoHunter TikTok Downloader so that you will not be exposed to any unsafe information.
Easy-to-use: Offers a clean and user-friendly UI to download videos easily.You can enjoy offline TikTok videos on your media device only with several simple steps.
Access all TikTok videos: Provides built-in proxy settings to download videos without regional restrictions.
NOTE: VideoHunter TikTok Downloader not only supports downloading high-quality videos from TikTok without watermark, but also enables you to save videos that don't have a "Save Video" option.
Detailed Steps to Download TikTok Videos Using VideoHunter TikTok Downloader
Step 1. Download and Install VideoHunter TikTok Downloader Visit its official website, download and install VideoHunter TikTok Downloader. Then, run the app and register, now you can enjoy the free version and use it to download the TikTok videos you want.
Step 2. Copy the URL of TikTok video Go to TikTok, access the TikTok video you wish to download, open its video page and copy the link of it from the address bar.
Step 3. Paste the URL to VideoHunter TikTok Downloader Launch VideoHunter TikTok Downloader and go to its Download section, paste the URL of the TikTok video you wish to download into the designated area, then tap Analyze.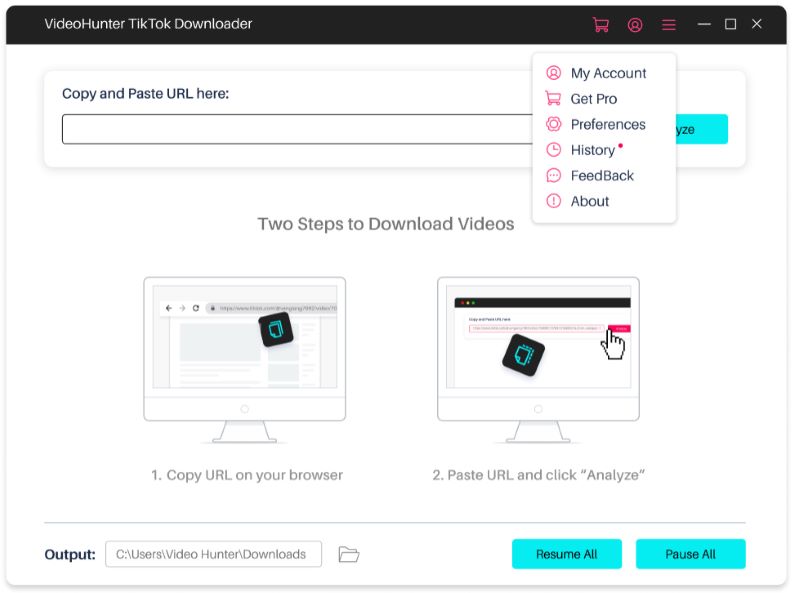 Step 4. Choose output format and quality After analyzing, choose your preferred output format and quality from the menu and then tap Download. VideoHunter TikTok Downloader will automatically download and save the TikTok video for you. When the downloading task has completed, you can find your offline TikTok videos on Finish section.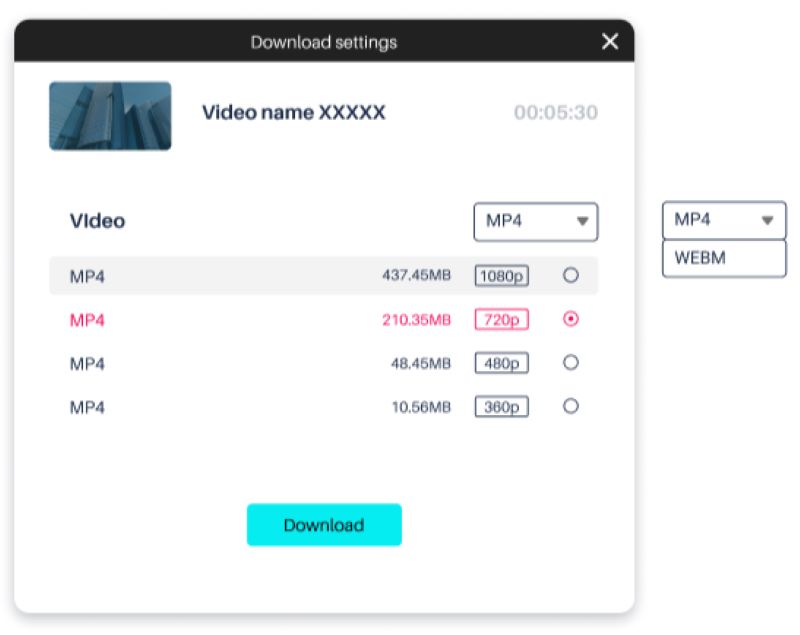 You can also see more details about VideoHunter TikTok Downloader in the video below:
2. TikMate Online Downloader
TikMate online downloader is a free online Tiktok MP4 converter that allows you to download TikTok videos using your browser without the need to download and install any third-party programs or extensions. More importantly, it can download TikTok videos of HD quality without watermark. Simply by copying and pasting the TikTok video link into the search box of TikMate, then hit the Download button, you can get the TikTok video of MP4 video without watermark on your media device.
However, the provided options of output format and quality are limited. What is worse, almost each step is accompanied by annoying pop-ups. Therefore, extra care is needed to avoid accessing unsafe information.

3. TTDown
TTDown is a great choice for you to download TikTok videos and convert them to any format that is compatible with the tool, more importantly, without watermark. You can simply go to TTDown website, paste the URL of TikTok video you want to download in the search box, hit the GO button, and that is it. The best part of TTDown is that it is simple as making coffee. And all you need is the correct URL and the rest of everything will be done by the online tool itself.
Despite its convenience and easiness, TTDownload is somewhat limited for its response speed can be rather slow. Sometimes it might take quite a while to convert the TikTok videos.

4. Tiktokfull
Tiktokfull, as a popular online video downloader for TikTok, not only helps you download TikTok videos of other creators, but also allows you to get more views for your own content. Without any registration, all you need is to copy and paste the video link of TikTok in the designated area of Tiktokfull and wait for the online tool to finish the downloading task for you.
Generally, it will provide 2 kinds of download options for you: no watermark or audio (MP3). And it will offer a thumbnail of the video cover for you to confirm if you're downloading the correct one. However, the interface of Tiktokfull is full of advertising, you might feel somewhat annoyed when using it.

5. ExpertsPHP
Like other online TikTok video downloaders, ExpertsPHP also allows you to download TikTok videos by pasting the copied link of the video to be downloaded, into the search box provided on the web page of ExpertsPHP. This free online tool is compatible with all browsers and social media platforms so that you can download and save TikTok without watermark on your media device and enjoy the offline playback easily.
One flaw of ExpertsPHP is that it only provides basic feature downloading and does not offer other more high-profiled ones such as conversion from videos to GIFs, as offered by its alternatives. What's worse, its download failure rate is relatively higher than other TikTok video downloader.

6. SnapTik
SnapTik, as a web-based TikTok video downloader, lets you download TikTok videos of high quality without watermark. You don't need to download and install any apps and extension or pay for the service to download TikTok videos by using SnapTik. To do so, you just need to copy the TikTok video link, paste it into the designated box of the interface of SnapTik, and then click on the download button.
It should be noticed that lots of advertisements will show up on the interface of SnapTik, which can be somewhat annoying and you might access risky websites easily. Meanwhile, owing to Apple's security policies, downloading TikTok videos on IOS devices would be troublesome.

7. TikMate Chrome Extension
Slightly different from the above online TikTok video downloaders, TikMate Chrome Extension only works if you have Chrome installed on your PC. The best of it is that you can view and tap the "Download"option of all TikTok videos at once you have installed the TikMate Chrome Extension and used Chrome to browse TikTok website.
However, the tool is limited for which the download option might not show up and work sometimes so that you cannot download TikTok videos even you have installed the extension.

Conclusion
Now it's time for you to choose the best TikTok video downloader that is compatible with your device and can satisfy your needs. According to the comparison between above TikTok video downloaders, VideoHunter TikTok Downloader is more recommended out there. Though it charges you some fees if you would to enjoy more high-profile services, the features it provides are worth every penny. More importantly, it is still developing more sites supported and always provides a professional support team to deal with your either technical or general problems on this software.