When video streaming takes up a large part in our lives, ByClick Downloader, one of the most popular video downloaders, is welcomed by users from around the world.
For delivering you with better video downloading as well as offline streaming experience, this full ByClick Downloader review has evaluated from all aspects after detailed tests on the software. Now, just take a while to grasp an overall understanding before getting started with it!
CONTENT
1. Overview of ByClick Downloader2. Key Features of ByClick Downloader3. Is ByClick Downloader Free 4. Pros & Cons of ByClick Downloader5. Best ByClick Downloader Alternative: VideoHunter
1. Overview of ByClick Downloader
As a one-stop online video downloader, ByClick Downloader is compatible with multiple streaming platforms, including the most popular YouTube, Dailymotion, Facebook, and other 40+ ones, providing users the out-performing ability to download videos as well as audios from them.
Except for the single videos, ByClick Downloader also supports downloading the whole YouTube playlists, channels, and Instagram pages by one click, thus helps to improve higher efficiency in processing the online content download.
With the help of the software, while meeting any online media resource that you desire to download offline, launch it and simply process the download right away! Through the simple URL copy-and-paste operation, ByClick Downloader will help you easily get them downloaded for offline viewing without hassle.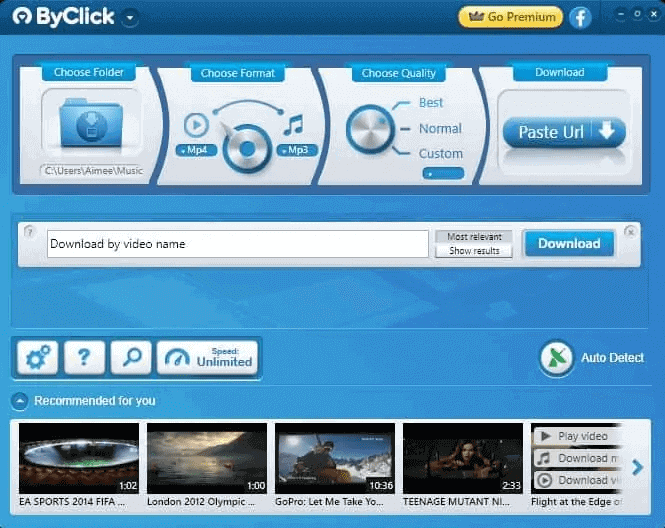 ByClick Downloader Availability
Supported OS: Windows
Compatible sites: YouTube, Facebook, Instagram, Vimeo, Dailymotion, and 40+ more streaming sites.
Supported video formats: MP4、AVI、FLV、WMV、3GP、WEBM、MKV、WAV
Supported audio formats: MP3、AAC、M4A
2. Key Features of ByClick Downloader
But why does ByClick Downloader stay outstanding when there are a variety of video downloaders on the market? Now, let's walk through its highlighted features that boost its success.
#1. Compatible with 40+ Sites
ByClick Downloader is able to deliver a download service to cover users of different demands, as it is available to be compatible with over 40+ streaming sites. With only one piece of software, no matter what video sites and discover any online videos, simply launch ByClick Downloader and you can immediately download them without seeking extra help!
#2. High Resolutions Available
As modern people are paying higher attention to the resolutions of the video, thus making sure the best streaming experience, ByClick Downloader has provided the highest options for you to select outputting the online videos offline. From 720p to the highest 8K, you are available to freely select the option while processing the video download.
#3. Mainstream Format Options
To increase the downloaded video as well as audio compatibility, all the output formats provided by ByClick Downloader are those available to be widely supported on a majority of devices, including MP4、AVI、FLV、WMV, etc. for video, and MP3、AAC、M4A for audio.
#4. Higher Efficiency Guaranteed
ByClick Downloader will also guaranteed the download efficiency for you. With the multi-download feature equipped, the software is able to manage multiple downloads simultaneously to save time. Additionally, as one of the best YouTube video downloader, it is compatible with YouTube playlists and channels conversion within one click.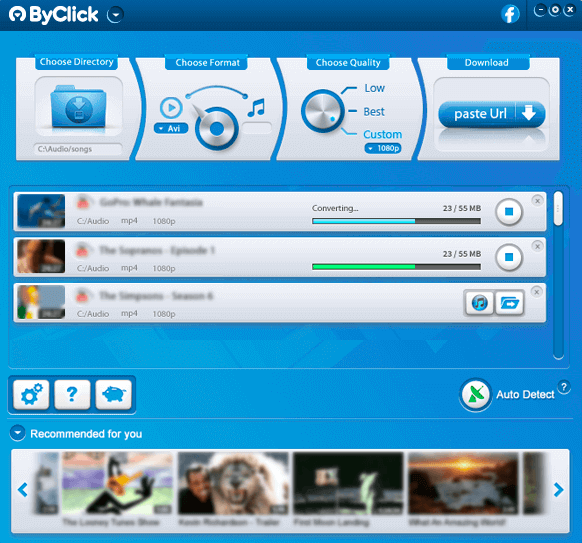 #5. Private Videos Download Supported
Another powerful functionality of ByClick Downloader should be its ability to process private videos download. Like private YouTube and Facebook videos, you are available to grasp those private ones for preserving offline without getting permissions from others as you want at anytime.
In addition to these most essential features, ByClick Downloader also delivers more helpful benefits, such as the regular software updates and enhancement, responsive customer support, and intuitive interface. All these lead to its easy-to-grasp and professional service that is available to help you download online videos in a convenient and quality-guaranteed way.
3. Is ByClick Downloader Free
Considering is ByClick Downloader free to use? It is good news that ByClick Downloader delivers a free version which requires no charge to access the ads-free video download functionality provided in the software. However, it contains certain limitations:
Only available to download videos of the highest resolution at 480p;
Unavailable to preserve ID3 tags for MP3 files;
Playlist and private videos download not supported.
Hence, to bypass such limitations and enjoy the full functions provided by ByClick Downloader, you are able to select upgrading to its premium plan at $19.99, which is available for 3 PCs to use at the same time.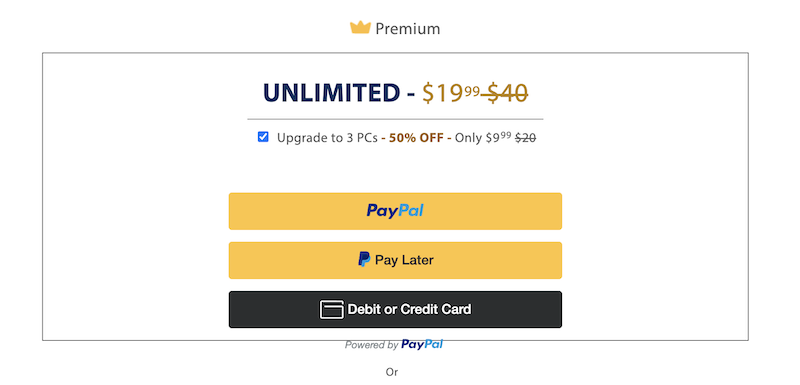 4. Pros & Cons of ByClick Downloader
To conclude, ByClick Downloader delivers great video download features available for users to enjoy the smooth process of getting any online video/audio to preserve offline as they desire. Meanwhile, the software also contains certain drawbacks. Here are the concluded pros and cons that you are able to take as references:
Pros
Compatible with 40+ popular streaming sites;
High resolutions (up to 8K) to output online videos;
Intuitive deign with easy-to-grasp functionality;
Mainstream output formats provided to select;
YouTube channels, playlists, and Instagram pages download available;
Available to save private videos without permissions;
Ad-free and 100% secure in-app environment ensuring ByClick Downloader safe to use.
Cons
Only available for Windows desktops;
Less streaming sites supported compared with many of its competitors;
Limitations existed under the free version;
Less superior in managing subtitle management.
5. Best ByClick Downloader Alternative: VideoHunter
When ByClick Downloader also contains weaknesses, it would be better for you to back up an alternative when the software is failing to fulfill your demands.
VideoHunter is an ideal pick as it is able to cover almost all benefits provided by ByClick Downloader. Additionally, the software can even offset the downsides of ByClick as well. For example, VideoHunter is able to support over 1,000 sites. For sure, they will cover many platforms that ByClick Downloader fails to provide the download option for.
In addition, VideoHunter also works on Mac computers, and can process subtitle merging more than simply downloading them in a separate SRT file like ByClick does. From these aspects, you will discover VideoHunter a perfect choice if you are considering a ByClick Downloader alternative right now!
Let's also grasp how VideoHunter is able to download online videos for you simply by clicks:
STEP 1. Log in VideoHunter
Firstly, you are required to sign up a VideoHunter account to log in the software to access its download functionality the first time installing and launching it.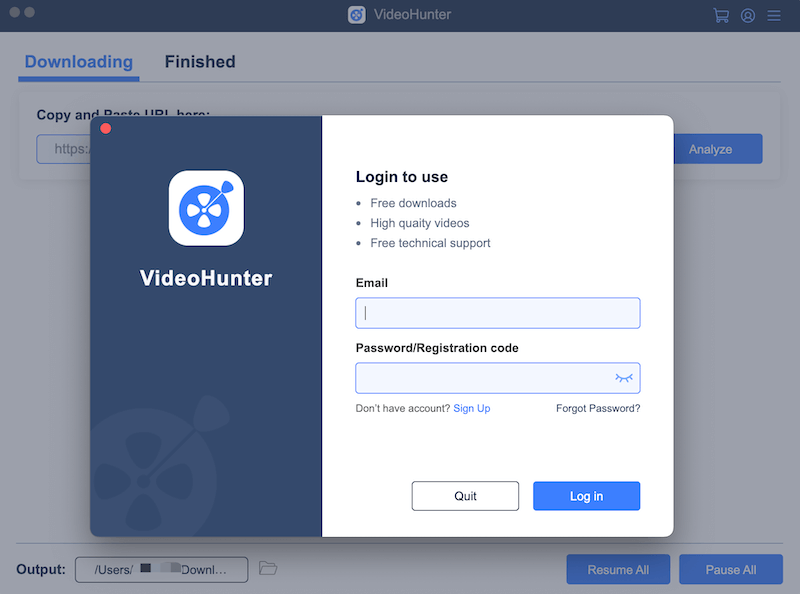 STEP 2. Copy and Paste Online Video URL
Once login, you are available to search for the online video you desire to download offline in browser, then copy its URL to the frame bar in VideoHunter and hit the "Analyze" icon.
NOTE: For converting a playlist, there will be a notification pops up for confirmation. Select to download playlist here instead of a single video.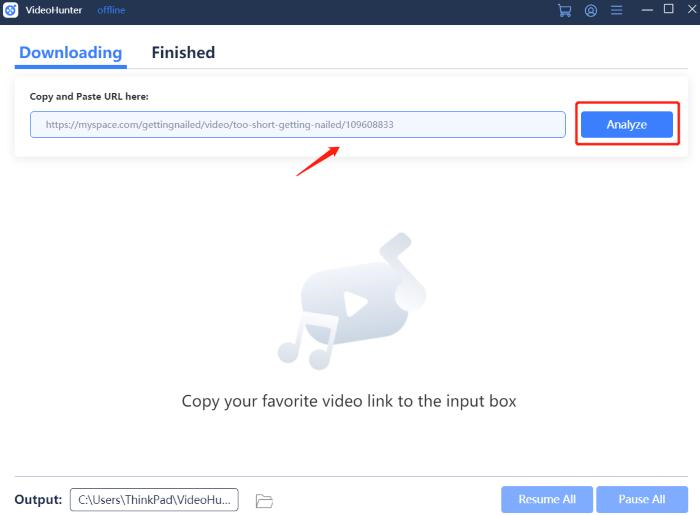 STEP 3. Select Output Format and Quality
When the analysis completes, you are available to select an output format as well as quality from the pop-up output options menu to download the online video offline based on your own requirements.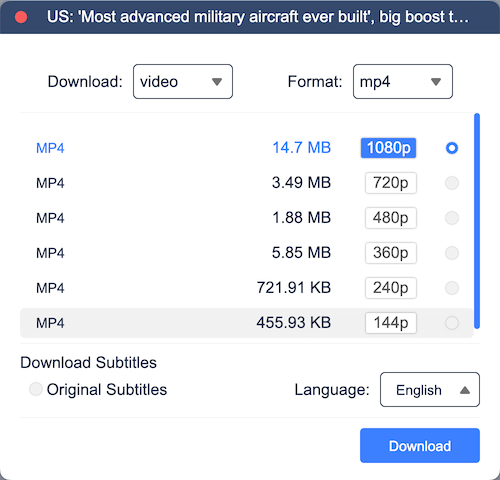 STEP 4. Download Online Video Offline
Finally, simply tap the "Download" button, then VideoHunter will process the download for you right away. Just wait for a while till it completes the download for you!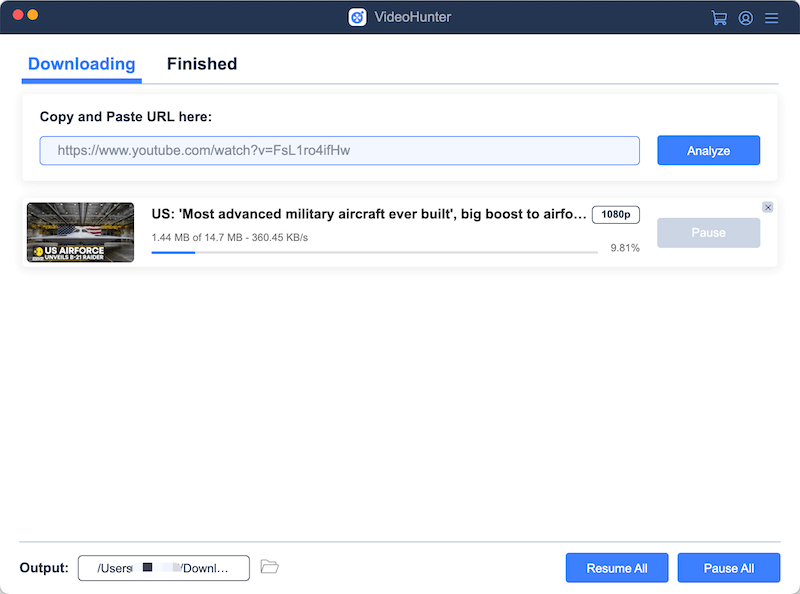 Consider More Alternative?
Desktop pick: 4K Video Downloader
Online Tool: Y2Mate

Conclusion
ByClick Downloader does offers helpful functionality for you to download online videos with high resolutions, optional mainstream formats, higher efficiency, and secure environment. Also, the best ByClick Downloader alternative, VideoHunter, is also prepared here to deliver even better service to all of you. For further learning about VideoHunter, this
full review
will help.
Now, get started to download any online video on desktops with these two brilliant downloaders!