When it comes to downloading any video from websites, VideoHunter stands out with its impressive specs and features, like excellent audio and video quality, batch downloads of playlists and videos, and blazing-fast speed.
As the most professional online video downloader, VideoHunter can grasp videos from over 1,000 sites, like YouTube, Facebook, TikTok, Twitter, Instagram, SoundCloud, Pornhub, TED, CNN, and so forth, to help users download any video they like from the Internet. The downloader is fast and easy to use, saving videos from the video links within seconds. All these features make VideoHunter the best online video downloader.
If you are looking for a video downloader to save videos off the Internet, keep reading this full review to learn about VideoHunter's standout features, price plans, and steps to find out whether this app is your best helper to download online videos.
CONTENT What Is VideoHunter Quick Look: Pros and Cons Sparkling Features Pricing and Plans How to Download Online Videos Using VideoHunter FAQs about VideoHunter Final Verdict
What Is VideoHunter
VideoHunter is specially designed to help PC/Mac users easily download videos and audio from 1,000+ websites for offline playback or collection. Best of all, this online video downloader can convert your favorite videos to MP4 or MP3 files and save them on your computer with very simple steps.
Quick Look: Pros and Cons
Before learning more about VideoHunter's features, you could have a quick look at its pros and cons.
Pros
Cons

Download videos from 1,000+ websites
Up to 8K video quality and superior audio
Batch and fast download
Bypass region restrictions with in-app proxy setup
Download entire playlists & channels in one go
Download YouTube videos with subtitles
Easy to use & Light-weight
100% safe and trustworthy

Require a stable network connection for the fastest download
Only 3 free downloads every day
Sparkling Features
Download Videos from 1,000+ Websites
VideoHunter, a versatile online video downloader, has supported over 1,000 sites including video streaming sites like YouTube, Instagram, TikTok, Facebook, Dailymotion, Twitter, etc. For music fans, you can use VideoHunter to easily download favorite music videos from Vimeo, Bandcamp, SoundCloud, etc. Or you just save music from videos for other uses, like background music, ringtones, etc.
You May Also Like:
How to Download Funny Instagram Videos [Easy & Fast]
Best Music Video Downloaders: Save Your Idol's Music Videos Forever

Crisp Clear Video Quality & Dynamic Sound
To help you save your audio and video files in the best quality possible, VideoHunter guarantees the highest audio quality at 320Kbps and video quality at 1080p, 4K and even 8K, helping you watch movies, short videos, MVs, and more in original quality. All these files can be downloaded to MP3, MP4, and WebM, so that you can enjoy them whenever you want.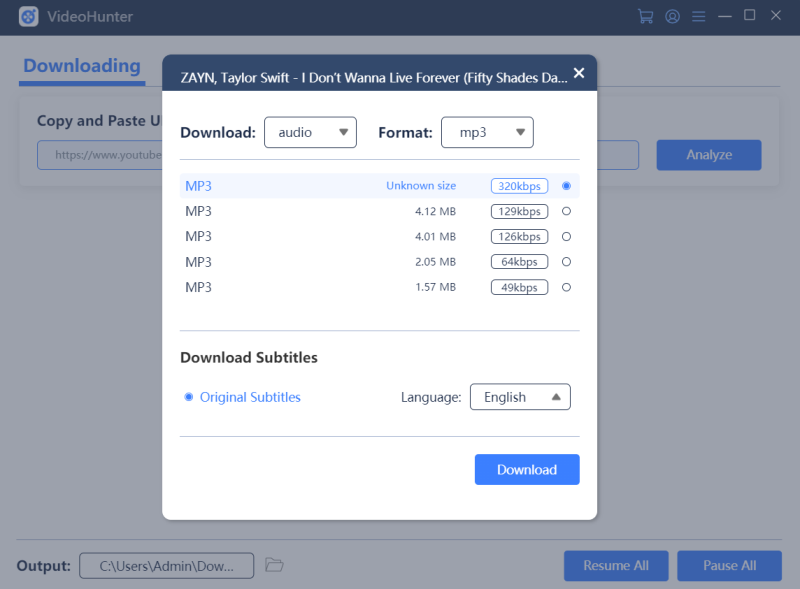 Batch Video Download at 6X Speed
Another standout feature of VideoHunter is its excellent ability to save multiple videos in batches. When other online downloaders fail to save videos in bulk, VideoHunter impresses you by downloading videos simultaneously at a 6X faster speed.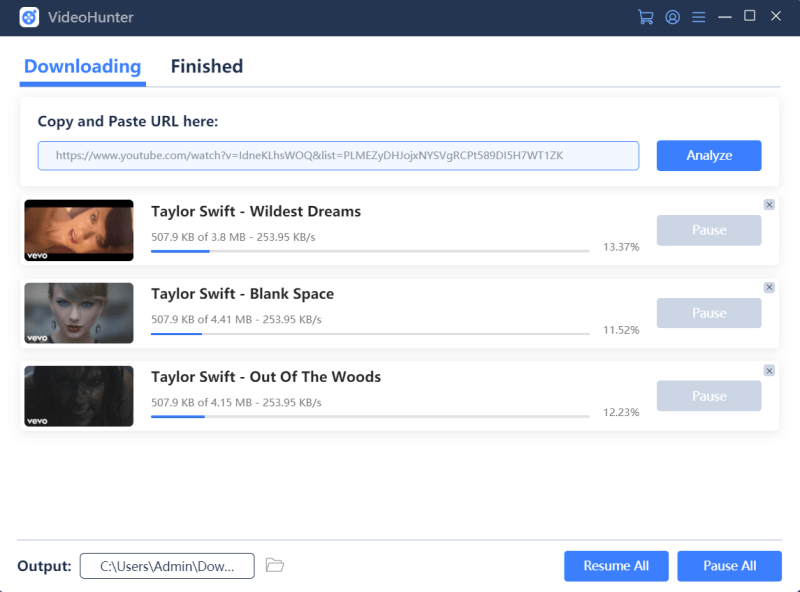 Download YouTube Playlists and Channels
VideoHunter prides itself as one of the best YouTube downloaders. It can download the entire YouTube playlist easily from just the playlist link. You just need to copy and paste the link into VideoHunter, and the fast downloader will immediately download the whole playlist or channel for you. Best of all, in addition to YouTube, VideoHunter can also download playlists from Dailymotion, SoundCloud, etc.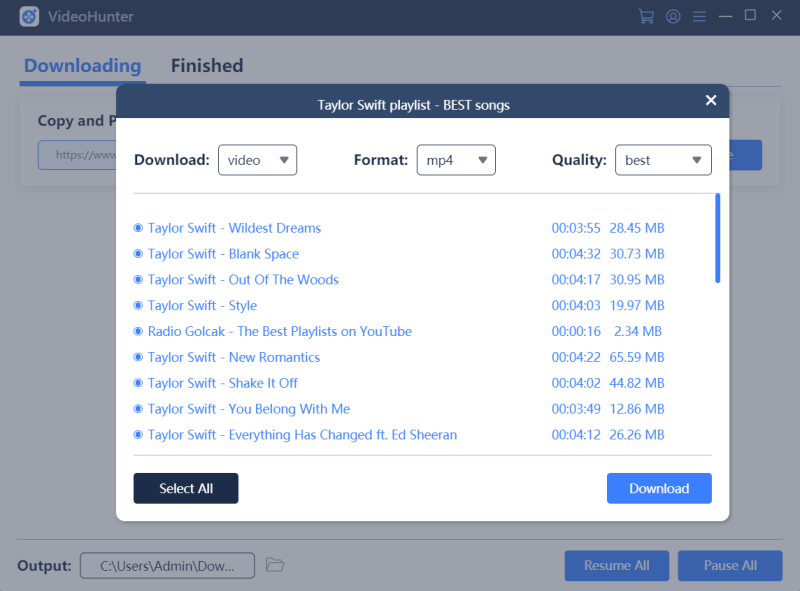 Download Videos with Subtitles
Another huge plus of VideoHunter is that it can download videos with subtitles. Most video downloaders on the market only download videos and subtitles separately and require an extra app to merge them together. VideoHunter can directly download and merge subtitles with videos if you want. This makes it an ideal option to download movies, documentaries, talk shows, and so on.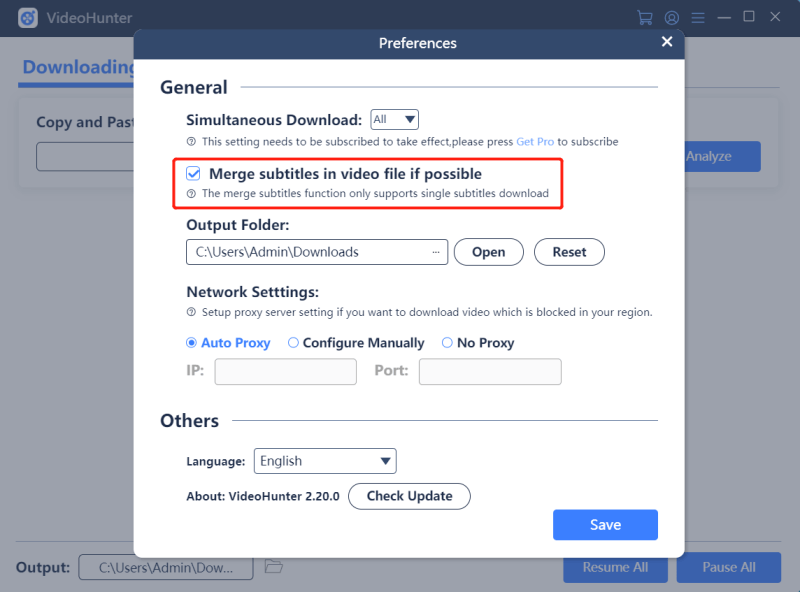 Access Any Video You Want
When you find some videos from popular streaming sites (like YouTube) are sometimes blocked in your region, you may get frustrated as you can't get them downloaded for personal enjoyment. In this case, VideoHunter will be the best solution. This powerful any video downloader is equipped with a built-in proxy setup that bypasses the region restrictions, helping save any videos you like with ease, be it porn videos or YouTube videos.
See Also:
How to Download Pornhub Videos Free HD
Best YouTube Downloaders of the Year [Online & Desktop]

Free Android Version
For those who often watch videos on Android phones, VideoHunter launched VideoHunter for Android, an app that downloads videos from common websites to phones. This video downloader app is free to use and supports MP3 and MP4, making it the best video downloader for Android.
Customer Support
VideoHunter boasts prompt and professional customer support even if you're using the free version. When you have some questions about the features, you can easily get help on its website where there are detailed tutorials and FAQs. Furthermore, if you find these resources do not resolve your queries, you can directly contact VideoHunter via email or Twitter. All your questions will be answered by our professional support team.
Pricing and Plans
Currently, VideoHunter offers both FREE and subscription-based versions. With the free one, you can download 3 videos every day for free to try the powerful download performance before committing to a long-term payment plan.
For a reasonable monthly fee costing US$11.96, you'll get nearly every feature you need for online video downloads, including unlimited downloads, up to 8K video quality, and batch downloads. If you find it satisfactory, you could get a yearly subscription at the price of US$32.16 for 2 devices which offers even better value compared to other products. Click Get Pro here to get started!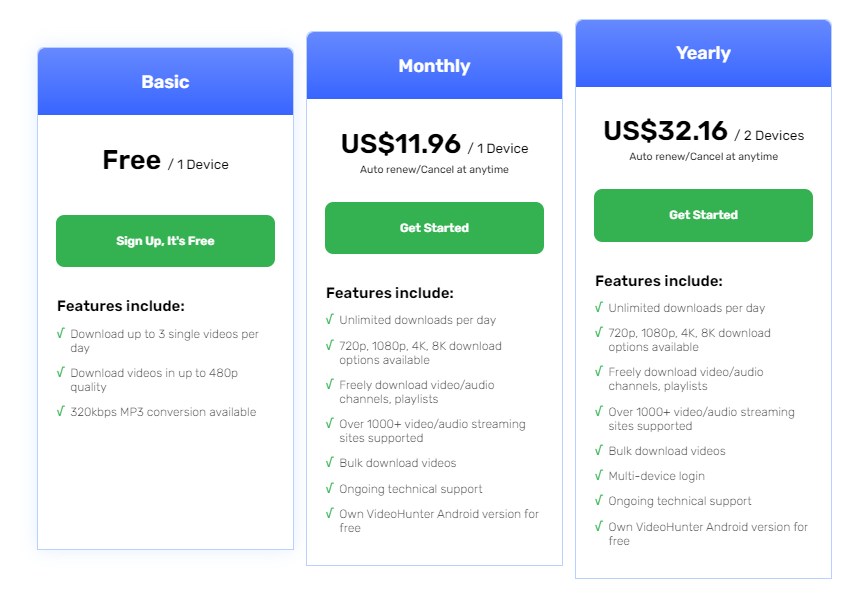 How to Download Online Videos Using VideoHunter
Using VideoHunter to download online videos can be incredibly easy. Here we will take YouTube as an example to show you how to download YouTube playlists to MP4 or MP3.
STEP 1. Click the download button below to get VideoHunter downloaded. Then install it on your computer.
STEP 2. Open the YouTube website and find a playlist you want to download. Then copy its link from the address bar.
STEP 3. Paste the YouTube link to VideoHunter and click "Analyze". Then you can choose "Playlist" to download all videos from the YouTube playlist.
STEP 4. In this step, you can choose "Video" and "MP4" first. Then just click "Select All" to save all the videos of the playlist or choose your favored ones. Finally, click "Download" to start downloading.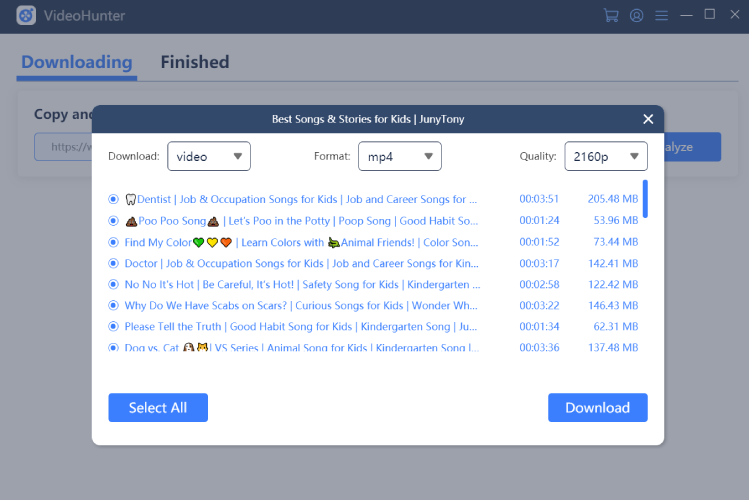 STEP 5. After completing downloading all videos from the playlist, the videos would be saved to the Finished section. Access the files by clicking on the "Open Folder" button.
NOTE: Apart from YouTube, VideoHunter is also good at downloading videos from 1,000+ sites. The steps are the same when you use VideoHunter to download other videos from the Internet. Try it now!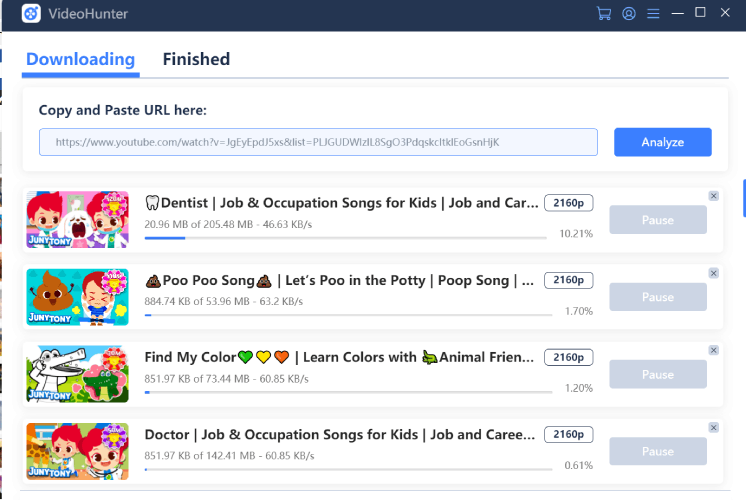 FAQs about VideoHunter
Is VideoHunter Safe to Use?
Yes, VideoHunter is trustworthy and safe to use. Unlike online video downloaders, the app has no in-app ads or malware that leads you to other sites or downloads unknown software on your devices. For your privacy, download history, and data, VideoHunter also won't leak or collect your information. Overall, as a reliable video downloader, VideoHunter ensures a 100% safe environment to download videos and protect your privacy.
Where Can I Get VideoHunter Crack?
It is not recommended to use VideoHunter crack. This type of software might contain viruses that leak your data or infect your PC with potentially unwanted software. For official downloads and the Premium version, please go to the VideoHunter Online Store. where you can access more VideoHunter downloaders, like VideoHunter for Android, YouTube Downloader, Facebook Downloader, PornHub Downloader, etc.
Final Verdict
Overall, VideoHunter is a powerful online video downloader that features the best video quality, batch download, and speedy performance. Besides, the app is also easy to use for both beginners and tech-savvy users. Most importantly, it supports over 1,000 websites and always guarantees the best visual and audio enjoyment.
Considering the safe, easy, and high-quality download service it offers, VideoHunter is one of the best video downloaders worth a try. Download and check it for yourself!