When you are watching a video on YouTube or any other popular website, you might want to download the video to enjoy it offline without the limit of network connection or else. Then, VideoHunter will be your best assistante.
It is the best online video downloader for several reasons, performing each of its many online video downloading features with panache. This video/audio downloader is fast and intuitive. Moreover, it supports more and more mainstream sites like YouTube, Facebook, TikTok, Twitter, Instagram, SoundCloud, Vlive, Niconico, TED, CNN, and so forth. And it keeps developing more sites to meet users' demands.
This article will discuss VideoHunter's key features, price, technical specifications, and more why it can be the best online video downloader in your hands.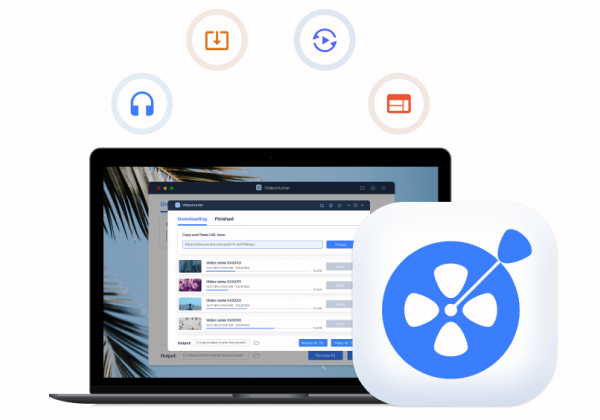 CONTENT
1. What Is VideoHunter
2. Key Sneak Peek: Pros and Cons
3. Sparkling Features
4. Tech Specification
5. Laboratory Data: Downloading Performance
6. Price Plan
7. Customer Support
8. How to Download Online Videos Using VideoHunter
9. Summary
1. What Is VideoHunter
VideoHunter's name vividly reflects its functionality. It is oriented for PC/Mac users to download videos and audios from 1,000+ websites for offline playback or collection. This online video downloader can convert your favorite videos to MP4 or MP3 files and save them on your computer with very simple steps.
2. Key Sneak Peek: Pros and Cons
Before you go, you could have a quick flip through the Pros and Cons of this any video downloader.
| | |
| --- | --- |
| PROS | CONS |
| Download from 1,000+ websites | Relatively stable network connection is required |
| 1080p, 2K, 4K and even 8K video output quality | Only 3 free trials every day |
| 128kbps, 160kbps or even 320kbps audio output quality | |
| In-app proxy setup to bypass region restrictions | |
| Download entire playlists in one go | |
| Download YouTube channel and subtitles | |
| | |
| | |
| | |
| | |
| | |
3. Sparkling Features
Download Videos from 1,000+ Websites
VideoHunter as a versatile online video downloader, now has accumulated over 1,000 supported sites including video streaming sites like YouTube, Instagram, TikTok, Facebook, Dailymotion, Twitter, etc. For music fans, you can easily download favorite music files from Vimeo, Bandcamp, soundCloud, etc. You will definitely find the one you like and get these online video/audio files downloaded in a super-easy way.

High-quality Output
To help you fully enjoy the taste of your favorite audio/video files in original quality, VideoHunter helps you preserve the max audio quality at 320Kbps and video quality at 1080p, 4K and even 8K. You can see the full range that VideoHunter supports in Part 4.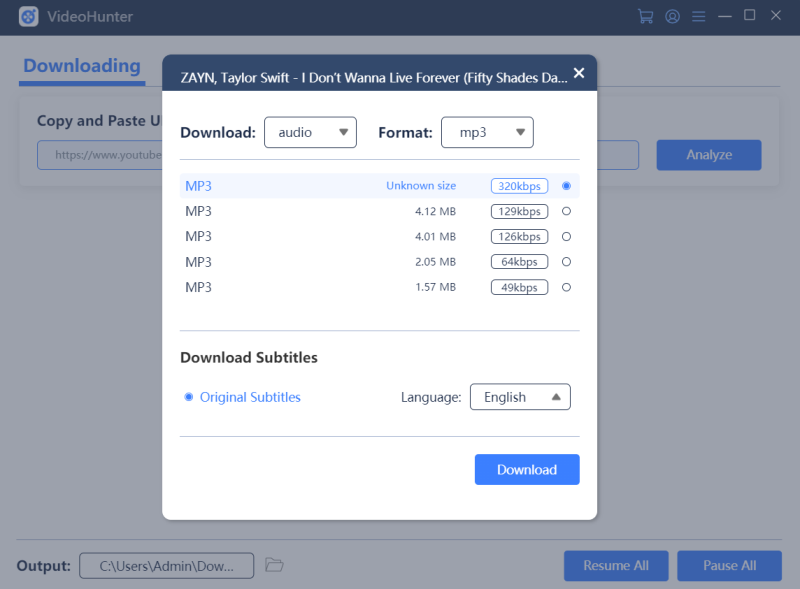 Download YouTube Playlist and Channel
With VideoHunter, it's quite easy to download the entire YouTube playlist and it doesn't require an absolutely accurate URL address. You just need to click on any video/audio of the playlist and copy the URL and VideoHunter can automatically identify the whole playlist. In order to download a YouTube channel, simply copy the channel's url. It is worth mentioning that in addition to YouTube, VideoHunter can also download playlists from Dailymotion, SoundCloud, etc.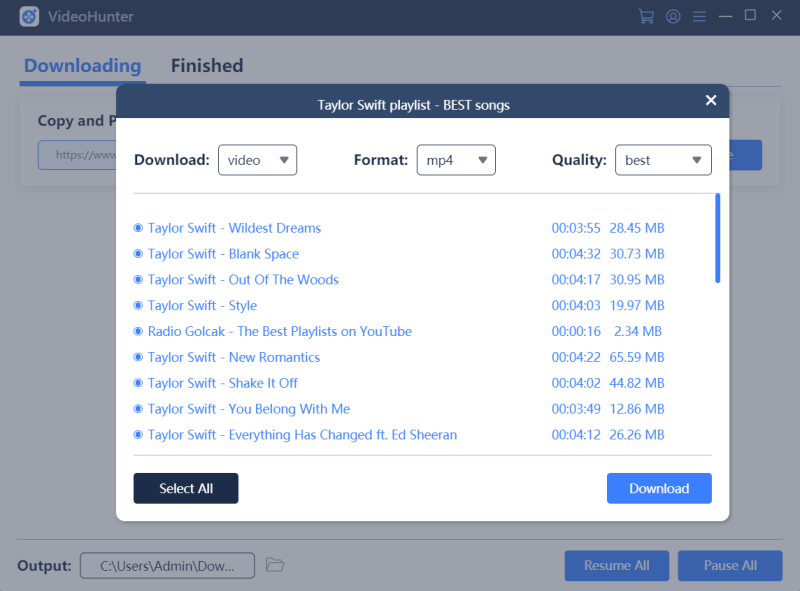 Download Video with Subtitles
What makes VideoHunter stand out is that it supports to download video with subttitles. Most of the video downloaders on the market will only download videos and subtitles separately and require further steps to merge them together with an extra third-party app. However, VideoHunter provides an option to merge subtitles in video if you want.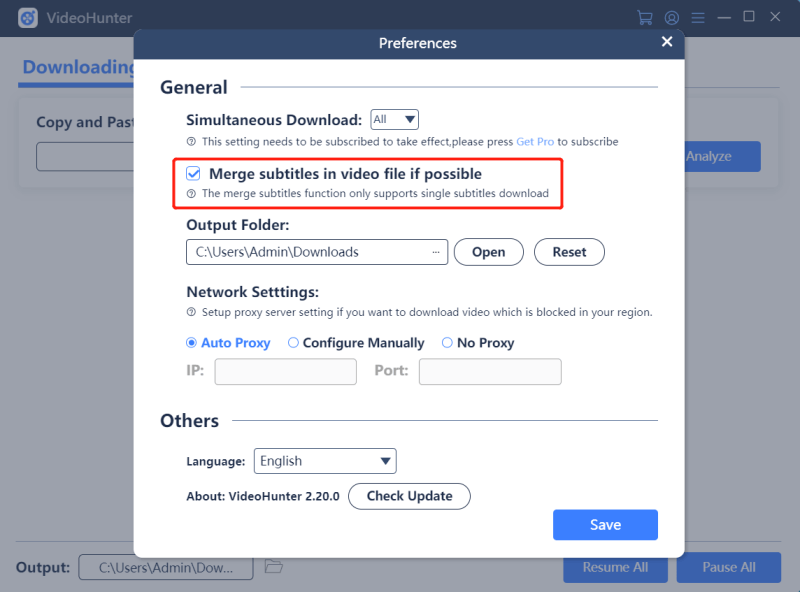 In-app Auto-proxy Settings
When you find some videos from those popular streaming sites are sometimes blocked in your region, you may get frustrated for you won't be able to get them downloaded for personal enjoyment without the limit of devices. In this case, VideoHunter will be the best solution as it integrates with a built-in proxy setup so that you can bypass the region restrictions easily.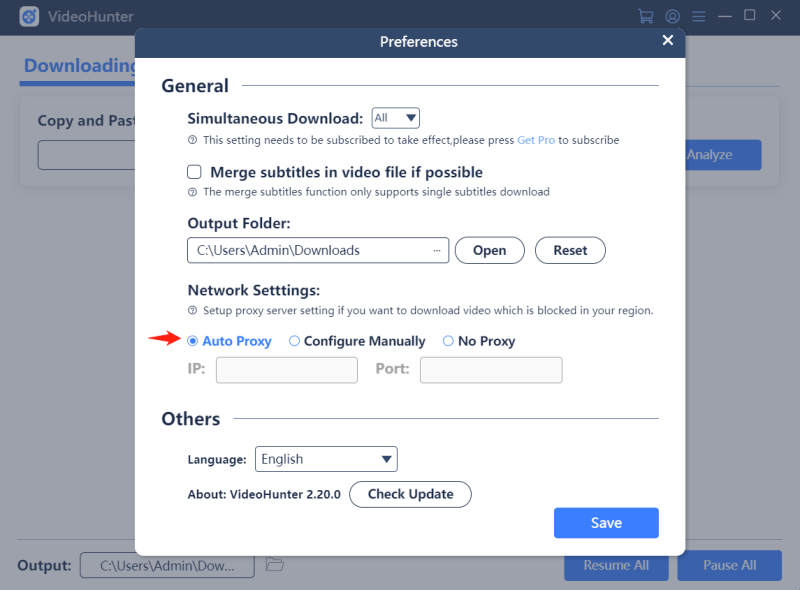 4. Tech Specification
Currently, VideoHunter is available on both Windows and Mac OS systems. PC and Mac users can download online videos and music to computer freely.
System Requirements
Windows 11/10/8/7/XP/Vista
Mac OS X 10.12 or higher
Output Formats
MP3, MP4, WEBM (Windows only)
Output Quality
Video: 8K, 4K, 2K, 1080p, 720p, 480p, 360p, etc.
Audio: 320kbps, 160kbps, 128kbps, etc.
Software Language
VideoHunter now supports English, Japanese, Portuguese, French, Spanish, German, Traditional Chinese, and still works on more language support to meet the video/audio download needs of global users.
5. Laboratory Data: Downloading Performance
The reason why we strongly recommend this versatile YouTube downloader is that it always keeps developing the most user-friendly and practical features that we need. From the major update in 2021, you could see there is significant progress on the downloading performance for a Webm video that lasts for 4'22''.
Old Version
| | | | |
| --- | --- | --- | --- |
| Definition | Download Time | Merge Time | Total |
| 1080p | 2min16s | 33min44s | 36min |
| 720p | 2min11s | 14min4s | 16min15s |
Latest Version
| | | | |
| --- | --- | --- | --- |
| Definition | Download Time | Merge Time | Total |
| 1080p | 1min40s | 47s | 2min27s |
| 720p | 38s | 25s | 1min3s |
As pictured above, the latest version of this all-in-one video and subtitles downloader has excellent download performance. And after we tested the old version of VideoHunter and its latest version, the latest version has a great improvement in download time and merge time. More importantly, VideoHunter does not stop there, but continues to improve in order to provide users with a better download experience.
6. Price Plan
It might surprise you that VideoHunter now provides 3 free trials every day. If you want to unlock the full features of VideoHunter, you can get started at US$14.95/month for 1 device. After you subscribe to this price plan, you can already:
Get unlimited downloads every day
Free download the entire YouTube playlist
4K, 8K videos
Moreover, if you find it satisfactory, you could get a yearly subscription at the price of US$39.95 for 2 devices which is a far more competitive price compared to other products. Click Get Pro here to get started!
7. Customer Support
VideoHunter provides prompt and professional customer support even if you're using the free version. You could easily get some guide information on their website when you have some basic questions about the features. They provide very demonstrative tutorials and FAQs on the website. Furthermore, if you find these resources do not resolve your queries, you can directly contact them via email or Twitter. All your questions will be answered by its professional support team.
8. How to Download Online Videos Using VideoHunter
Based on the knowledge of VideoHunter above, you can learn how to download YouTube videos to MP4 or MP3 files step by step here.
STEP 1. Navigate to the VideoHunter website and get this program downloaded. Then install it on your computer.
STEP 2. Please go to YouTube with your web browser and search for the single video or playlist you are about to download. Then copy its URL from the address bar.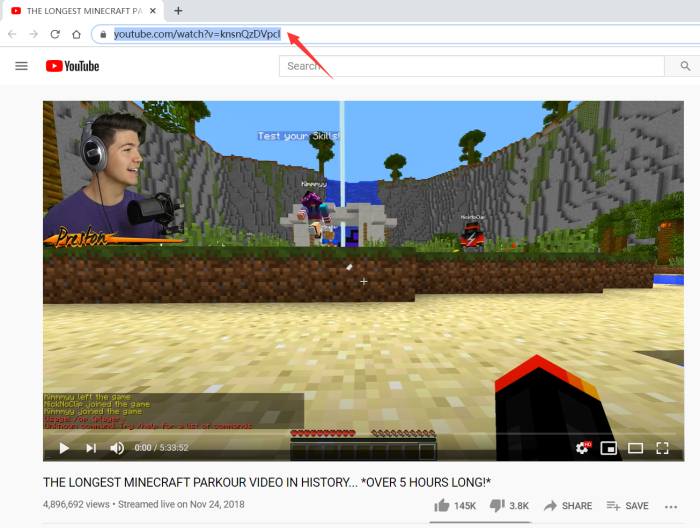 STEP 3. Paste the URL to VideoHunter and click "Analyze". Then you can choose "Playlist" for downloading the entire videos of the playlist.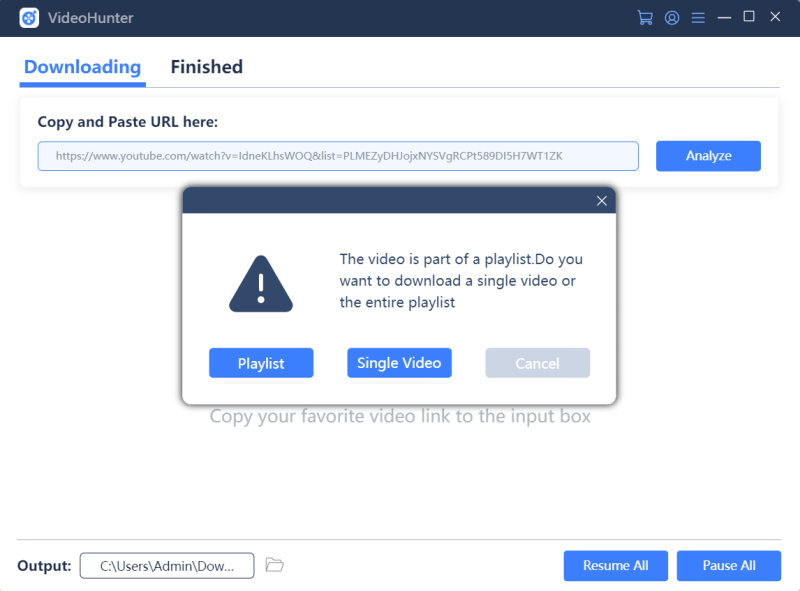 STEP 4. In this step, you can choose Audio or Video format first. Then just select all the songs/videos of the playlist or choose your favored ones. Finally, click "Download" to start downloading.
NOTE: As VideoHunter supports simultaneously downloads, after you click download, it will do the rest automatically.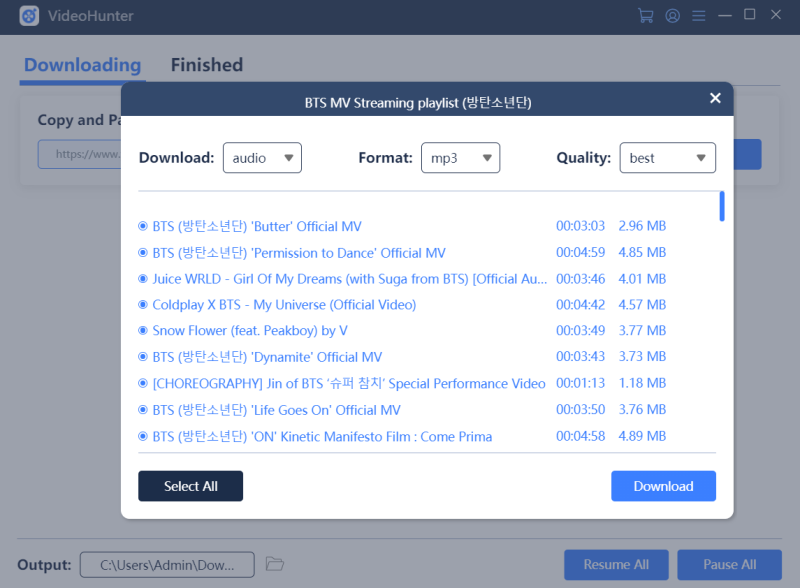 STEP 5. After completing downloading all videos/audios from the playlist, the tasks would be moved to the Finished section. Navigate to it and access the files by clicking on the "Open Folder" button.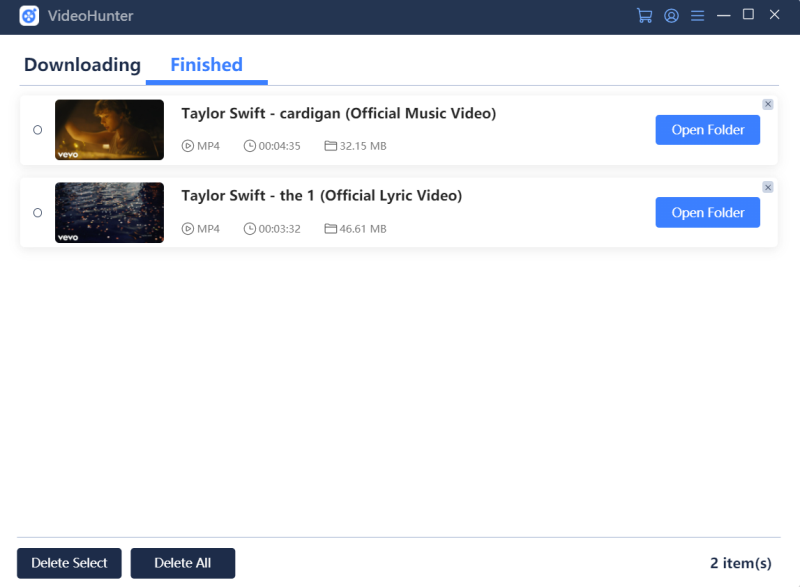 9. Summary
Overall, VideoHunter is a powerful downloader that harbors the most advanced downloading features. It's one of the most convenient video downloaders we've used to date. Meanwhile, the design of this downloader is very user-friendly and simple to use, so you'll spend less time fumbling around.
Most importantly, the output quality of the video/audio downloader will always guarantee the best visual and audio enjoyment. If you don't want to be plagued by region restrictions, VideoHunter is also the ideal solution. We highly recommend this tool for downloading YouTube or other videos with high-quality output. Now you can download and check it for yourself!
You May Like:
10 BEST YouTube Video Downloader for PC [2022 Selective]