SoundCloud enjoys great popularity with over 80 million monthly listeners. No surprise. I'm one drop in that ocean. SoundCloud has great diversity in genres, making it the world's biggest music streaming platform. So, today's topic is how to download from SoundCloud - Music Tracks, Playlists, and Albums with ease.
Please note that some SoundCloud tracks cannot be downloaded if the uploader disables the download feature, yet the majority of songs can still be easily accessed and downloaded. This ultimate guide will introduce free and online SoundCloud converters to easily download music from SoundCloud. Go get it!
CONTENT
How to Download Music from SoundCloud DirectlyHow to Download Songs from SoundCloud for FreeSteps to Download Music from SoundCloud Using VideoHunterHow to Download Tracks from SoundCloud OnlineComparison Among SoundCloud Downloaders
How to Download Music from SoundCloud Directly
Actually, SoundCloud rolled out its official download feature - SoundCloud Go in 2016. Later on in 2017, it brought up SoundCloud Go as a premium subscription. What are the differences? Check here:
SoundCloud Go at $4.99 per month with an ad-free experience and unlimited track downloads.
SouldCloud Go+ at $9.99 per month with previous features as well as high-quality audio listening and access to full catelogue.
That means some hits are only available for SoundCloud Go+ listeners. Also, the official download feature is to save tracks for offline listening which cannot be transferred or copied to an SD card. Before we go any further, let's have an idea of how it works.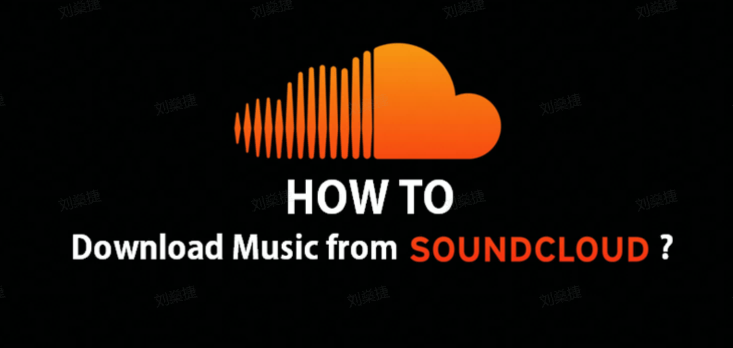 Download Music from SoundCloud Official Website
To download SoundCloud music from the web platform, you need to know that not all the songs are downloadable. Only those songs have been enabled the download options will be allowed for people to download offline. You just need to follow these steps to download music from SoundCloud on the website.
STEP 1. You must subscribe to SoundCloud Go or SoundCloud Go+. Or, you can start the 30-day free trial to determine whether it's worth every penny or not.
STEP 2. In the feed of the track, click the "More" option.
STEP 3. Select "Download file" to download a song from SoundCloud.
Note that you cannot batch download Playlists or Albums using the official website.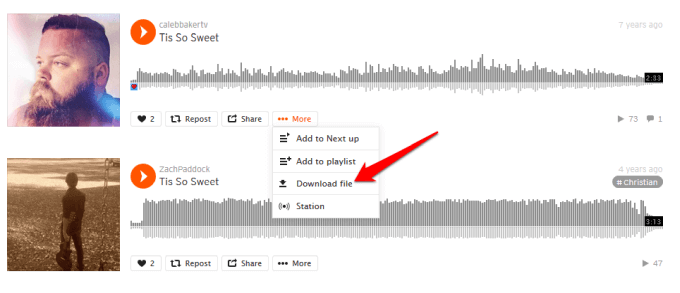 Download Music from SoundCloud Go App to iPhone/Android
SoundCloud Go and SoundCloud Go+ subscriptions enable users to download songs from SoundCloud for offline listening. However, these audio downloads cannot be played by another player or transferred to others.
STEP 1. Install and open the SoundCloud app on Android or iPhone.
STEP 2. Start the free trial for 30 days.
STEP 3. To download Liked, Mixed playlists, there is an orange "Download" arrow next to the Liked button. Then, it'll automatically save all songs offline in the playlist.
STEP 4. Also, you can turn on "automatic saving" for current and future Likes and Playlists in Offline listening settings. Don't forget to enable the "Only Save via Wi-Fi option" unless you have unlimited mobile data.
How to Download Songs from SoundCloud for Free
VideoHunter is a hit star of one-stop downloaders for its advanced download service from mainstream video and audio platforms including SoundCloud, Spotify, YouTube, Twitter, and over 1,000 sites.
Highlighted Features of VideoHunter
Download songs from SoundCloud to MP3.
Enable high-quality audio download at 320kbps.
Enjoy ultra-fast downloading service.
Support batch download task for playlists and albums.
Enable to fetch premium songs for SoundCloud Go+.
VideoHunter functions as the best SoundCloud Music Downloader on Windows and Mac. The free trial version is available and totally enough to use, which allows users to download 3 music tracks from SoundCloud per day for free. Better yet, it offers free video & music downloader for Android. Good for you to enjoy unlimited downloads if you have an Android phone.
Steps to Download Music from SoundCloud Using VideoHunter
VideoHunter is an intuitive program with an easy-to-go interface. Better yet, VideoHunter is able to decode SoundCloud Go+ exclusive music. This well-integrated software makes it simple to solve your headache - How to download MP3 from SoundCloud with high quality by taking 3 steps.
STEP 1. Copy SoundCloud Music URL
Now, you should copy the URL of the music you want to download from SoundCloud. Simply search the song in Soundcloud and select "Copy Link" in the feed. The URL will be copied to your clipboard.
STEP 2. Paste URL and Download Music from SoundCloud
Paste the URL to VideoHunter's box in the Downloading tab and click the "Analyze" button to start analyzing and fetching data over the cloud. Since the music from SoundCloud will be decoded and transcoded in VideoHunter, this may take a while to do so.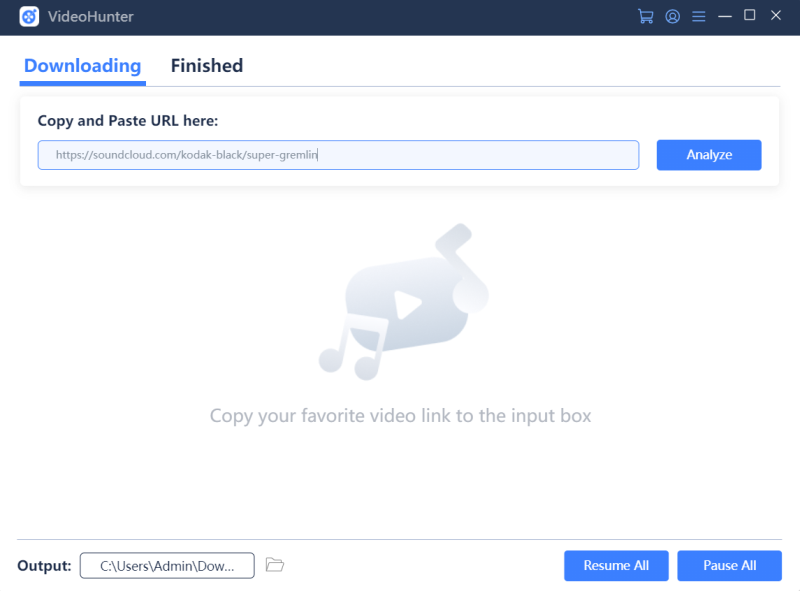 STEP 3. Download Songs from SoundCloud
When the analysis is completed, you should be able to see the results on the screen. There are several options with different audio quality. For me, it must be the best audio quality without hesitation. Next, click "Download" button to save the MP3 file to your selected path.
Note that please set it to Auto Proxy or No Proxy in Preferences if it prompts you to check proxy settings.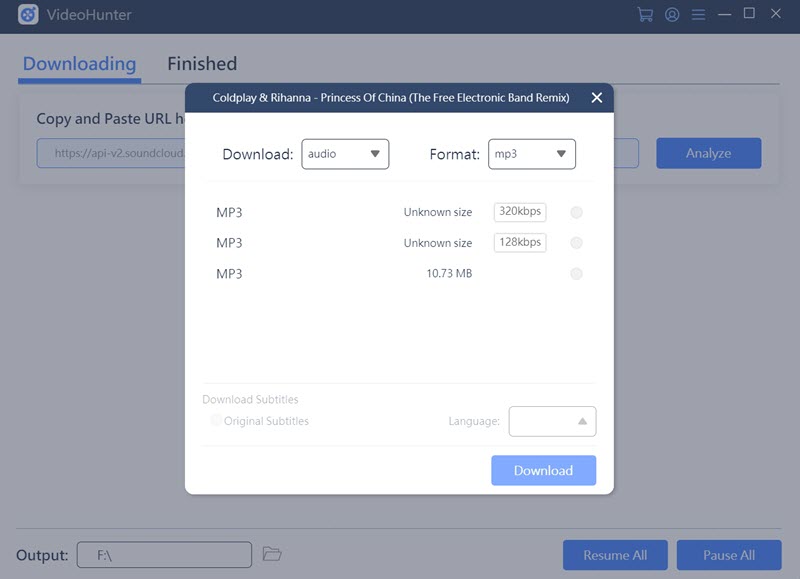 Bonus Tips - Download Playlist from SoundCloud
If you're wondering how to download playlist from SoundCloud or download album from SoundCloud, this is easy with VideoHunter. Apart from downloading songs from SoundCloud one by one, VideoHunter also enables you to batch download music from SoundCloud by playlists and albums. This feature will be available in its Pro version.
The steps are basically the same as above. You will otherwise see a list of songs after VideoHunter successfully fetches the playlist/album from SoundCloud. Now, you can easily transcode and download audio from SoundCloud to MP3.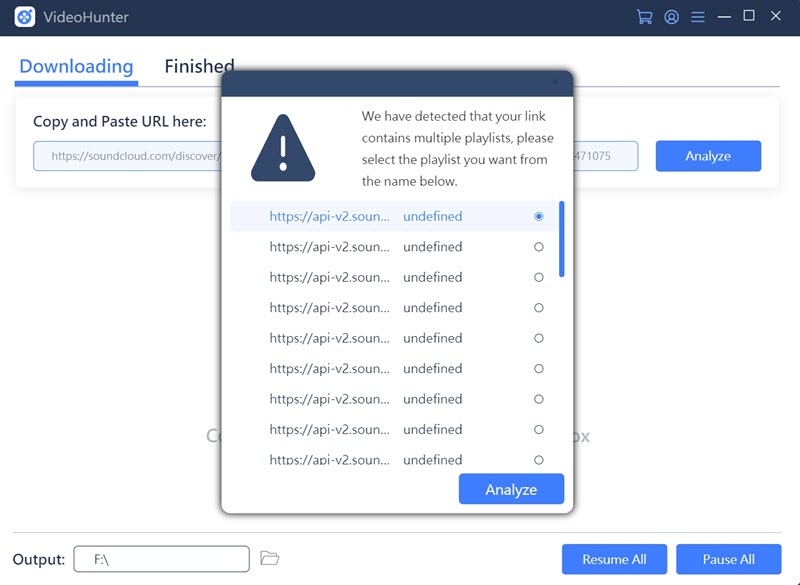 How to Download Tracks from SoundCloud Online
Some listeners may be a bit reluctant to download third-party software and that's totally fine. The following online SoundCloud Downloaders come to help you download songs from SoundCloud without software. Now, please learn the ropes here.
Online SoundCloud Downloader - SoundCloud to MP3
SoundCloud to MP3 is a popular online downloader for SoundCloud listeners. It works with cloud technology to decode and download music from SoundCloud with no need to download any program. The pity is that it fails from time to time and cannot download playlists. Also, the download files will be in .m3u extension, which is not supported by most players.
STEP 1. Visit SoundCloud to MP3 on your Windows, Mac, and Android.
STEP 2. Copy the link of your desired song from SoundCloud.
STEP 3. Paste URL in the bar and click "DOWNLOAD" to start analysis over the cloud.
STEP 4. Select the "DOWNLOAD THE SONG" option to save the audio file onto your device.

Online SoundCloud Downloader - KlickAud
KlickAud is an alternative to SoundCloud to MP3, for online downloader is quite unstable and becomes obsolete quickly. Online SoundCloud Downloaders are nevertheless extremely simple and easy to use. That's why people like them. Songs that are available for Go+ subscription are not supported to download.
STEP 1. Open KlickAud in your Chrome or Firefox browsers. This online tool is workable on all operating systems.
STEP 2. Look for the song you want to download and copy the URL to the clipboard.
STEP 3. Paste the URL to KlickAud's download box and click the Download button to fetch and decode the source.
STEP 4. When done analysis, select the "DOWNLOAD THE SONG" option and save it to your device. It should be saved to the Download folder if not asking for the path to save the file.

Comparison Among SoundCloud Downloaders
Pros
Cons
VideoHunter

Download videos from YouTube, Twitter, Facebook, and mainstream video sites
Download MP3 from SoundCloud, Spotify, and other music platforms.
Fast downloading speed and stable performance.
Support high quality audio and video output.
Support to fetch SoundCloud Go+ Music

Paid software with free trial.

SoundCloud Subscriptions

Official way to download from SoundCloud.
Offline listening on mobile devices.

Downloads cannot be transfered
Bad performance on desktop.

Online SoundCloud Downloaders

Easy to access on all devices.
No need to download any software.

Unstable performance.
Flood with ads.
The output file is not MP3 extension.
No extra audio quality options.
Cheers! You are already a resourceful guy knowing how to download music from SoundCloud in different ways. Now, you can save your SoundCloud favorites to an SD card or share them with friends. Which way do you prefer? Leave your recommendation below.