You must be subscribing to lots of YouTube Channels to keep updated and have fun. YouTube Premium plan allows you to download YouTube Channel videos one by one. However, that simply doesn't work to download entire YouTube channel. There are 4 methods in this guide that will show you how to download all videos from a YouTube channel in one click. Let's get the rope here.
CONTENT
Download All Videos from Youtube Channel Using VideoHunterDownload All Videos from Youtube Channel Using DVDVideoSoftDownload All Videos from Youtube Channel Using YouTube Multi Downloader OnlineDownload All Videos from Youtube Channel Using a Command
1. Download All Videos from Youtube Channel Using VideoHunter
VideoHunter is the leading video downloader in the field. That's why I'd like to recommend it as the first choice. This powerful and professional video downloader makes it easy to download all YouTube videos from a channel with one button. More features are listed below, so let's take a quick tour.
What VideoHunter Can Do?
A Long Support List - Over 1,000 online video streaming platforms are supported to download via VideoHunter, such as YouTube, TikTok, Twitter, Facebook, TED, and so on.
Premium YouTube Downloader - VideoHunter defies the barriers of YouTube video encryption technology to easily fetch videos and even download unlisted YouTube videos.
Batch YouTube Video Downloader - VideoHunter comes with the most advanced online video download technology to enable batch download videos in YouTube Playlists and YouTube Channels.
Stable and Workable Download Service - The program works to extract and transcode online videos from all sites with a high success rate and up to 6X fast downloading speed.
High Quality Media Output - VideoHunter ensures the high quality of the original video in 1080p, 2K, 4K, and even 8K. (if the source supports.)
Private and Protected YouTube Downloader - VideoHunter Team develops a powerful video decryption algorithm to decrypt and download copy-protected YouTube videos easily.
Downloads in Transferrable and Shareable MP3/MP4 - This best YouTube downloader transcodes online videos to the most popular video or audio wrapper formats and users are free to play, transfer and share the downloads.
Download and Merge Subtitles - VideoHunter can download YouTube videos with subtitles, and even grab subtitles from entire channels.
How to Download Entire YouTube Channel with VideoHunter
You must find it a lot of work to download all videos from a channel if you are the YouTube Premium subscriber. However, VideoHunter utilizes ONE BUTTON to download the entire YouTube Channel. You can also use it to easily download whole videos from a YouTube playlist.
STEP 1. Get the Channel Link
After you launch the VideoHunter after the setup, you may be marveled at its simplicity. Yep, all you need is a link. Now, back to the channel and copy the link to paste it into the box.
NOTE: You should switch to the Video tab and copy the link ending with /videos for personal channels so that VideoHunter can fetch all videos on the channel.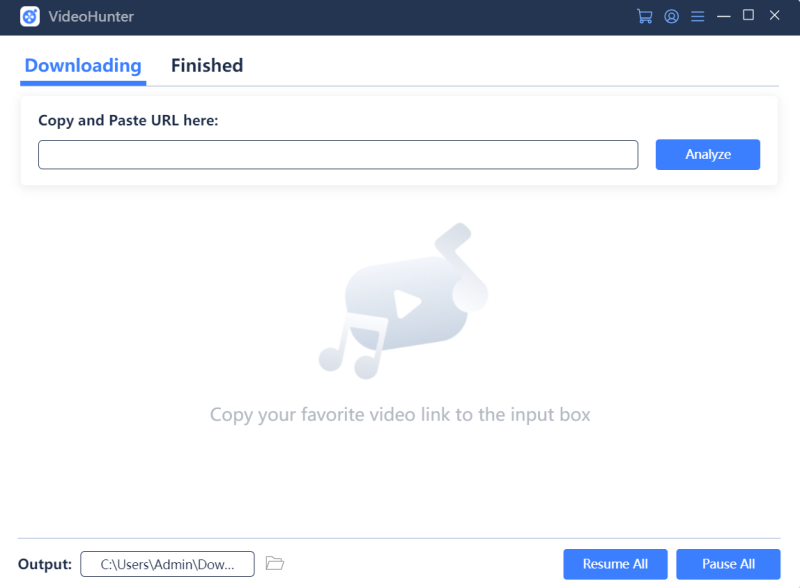 STEP 2. Start Extracting Videos
Then, click the Analyze button and the video will start fetching the video data from the channel.When it's completed, you should be able to see a window listed with all the videos. The default setting is to export selected ones to MP4 format with the best resolution. You can download YouTube videos in 1080p and up to 4K.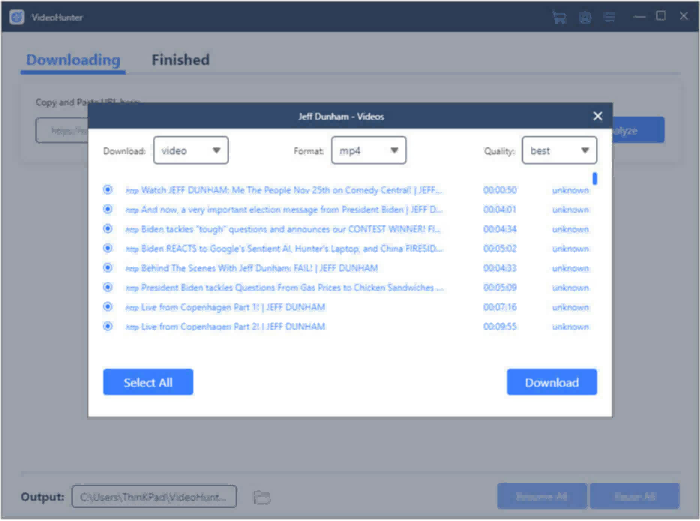 STEP 3. Download Entire YouTube Channel
Click the Download button after you select the videos, you should see the videos are being downloaded now. Later on, the downloads will be stored in the output folder and they are welcome to be freely viewed and shared.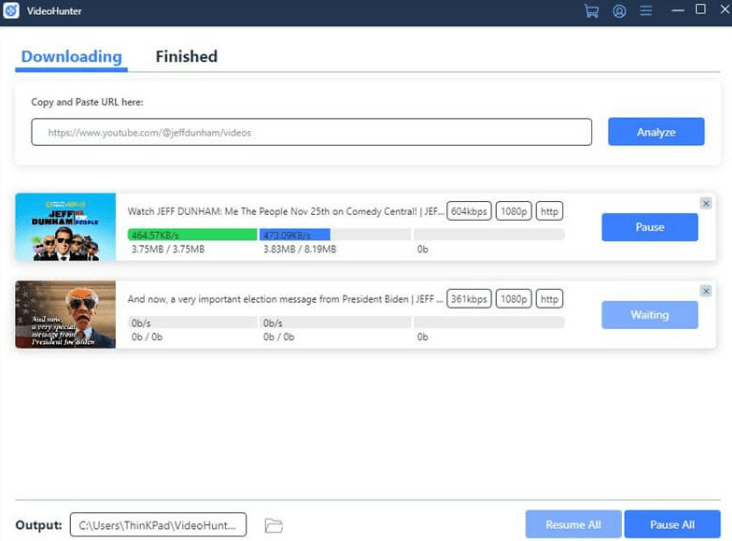 2. Download an Entire YouTube Channel Using DVDVideoSoft
DVDVideoSoft is also a YouTube channel downloader for Windows and Mac. This paid software enables users to download YouTube videos to MP3 and MP4 one after one from a channel. The program is easy to use as well. However, it doesn't support batch downloads and download online videos from other sites except for YouTube.
Pros
Easy to use.
Paid to use.
Unstable performance.
Unable to download copy-protected videos.
Tend to get frozen when extracting videos.
Unable to choose output formats and resolutions.
DVDVideoSoft is easy to use. However, the unactivated version has restrictions on performance. Let's go on if you want to learn how it works.
STEP 1. Install the program on your computer and open it.
STEP 2. You can directly copy URL from the YouTube video or click the Search tab to look for the video in the software.
STEP 3. Click the Paste button and the video will be automatically analyzed.
STEP 4. Then you can see a Down-Arrow icon on the right. Click on it and start downloading the video from a YouTube channel.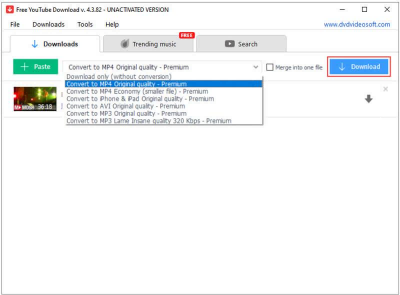 3. Download YouTube Channel Using YouTube Multi Downloader Online
In addition to the previous YouTube Channel downloader for desktop, here is an online tool recommendation. YouTube Multi Downloader makes it easy for users to download YouTube videos from all platforms, including Windows, Android, Mac, and iPhone.
The site will directly fetch and decode YouTube videos over the cloud without any software. Easy as it is, the downloading quality is less compared to desktop software.
Pros
Free and easy to use.
Support batch extract videos from YouTube playlists and channels.
Available on all operating systems.
Enable to download videos to MP4, 3GP, and WebM.
Cons
Unable to download copy-protected content.
Download videos from YouTube only.
Cannot download the extracted videos in bulk.
Support up to 720p output video quality.
Unable to download YouTube videos to MP3.
One nice thing about online YouTube Channel downloader is that it works easily on both your computer and mobile devices. The following procedure can be operated on all your devices.
STEP 1. Go to YouTube Multi Downloader in your browser. You'll see a simple website with 3 tabs ahead - Single Video, Playlist, and Channel. In this case, click Channel to proceed.
STEP 2. Open the YouTube channel you want to download and copy the channel link to the clipboard.
STEP 3. Paste the link to the bar in YouTube Multi Downloader and click the Download button.
STEP 4. It will start fetching data from YouTube and options will be loaded in the list.
STEP 5. Pick up the desired option and download the video to your device one by one.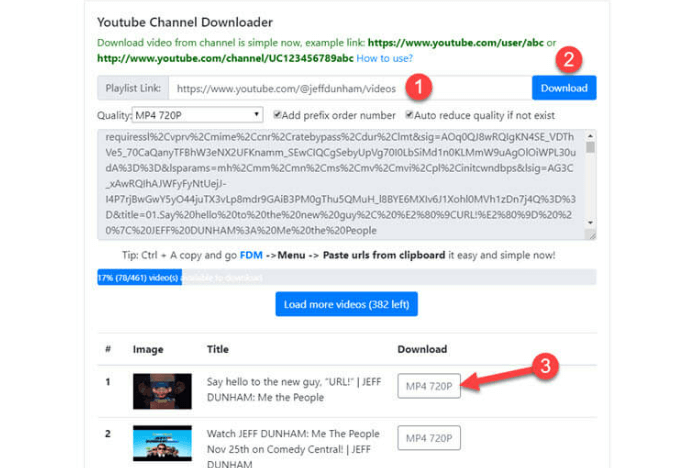 4. Download All YouTube Videos from a Channel Using a Command
There are 3 ways to download YouTube channel videos, be it online or on your desktop. However, if you happen to know something about Python programming language, check out this method to complete YouTube channel download on your own. Please follow exactly the two sections below.
NOTE: This method performs on a Windows computer and the steps are different on Mac.

Pros
Free to use.
No need to download any software.
Cons
Need to know a bit of Python basics
Take much long time to download videos
Fail to download videos with copyright protection.
Section 1. Download channel-dl.exe
STEP 1. To begin with, download the latest version of youtube-dl.exe on your desktop to a new folder. Don't put the file in c:\Windows\System32
STEP 2. Press hotkey - Win+R to pop up the Command Prompt window.
STEP 3. Type in systempropertiesadvanced and press the Enter key.
STEP 4. Select Environment Variables in Advanced.
STEP 5. Click on Path in the popup twice and click New. Then, copy and paste the path of the folder you created in STEP 1. Confirm it by clicking OK.
Section 2. Run youtube-dl command
STEP 1. Go to YouTube Channel and copy the link of the entire channel.
STEP 2. Launch again the Command Prompt window by the hotkey - Win+R.
STEP 3. Enter cmd and press Enter key to proceed.
STEP 4. Enter youtube-dl command and then a Space. Paste the YouTube video link into it and proceed with the Enter key.
STEP 5. You shall see the process going on the window. If the channel owns plenty of videos, that could take a long time to finish downloading videos.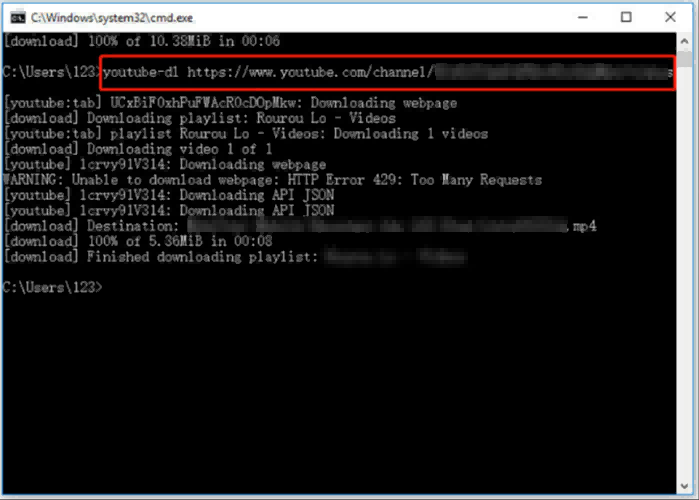 Conclusion
To sum up, VideoHunter is the best YouTube Channel Downloader, especially for those who want to download copy-protected or private videos. If you are interested in trying something new, Method 4 will be your choice. Why are you hesitating? Better try than never.