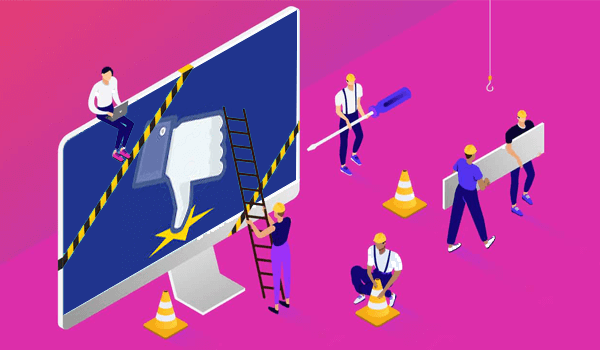 Facebook down may unexpectedly happen to users sometimes. How can we tell whether the Facebook down because of its web platform, app, your device settings, or even your Facebook account? Luckily, we bring this blog here to help you make clearer about the Facebook down issue, and also some ways to fix it. If you also encounter with Facebook down problem, keep on reading to resolve it immediately!
CONTENT
Methods to Tell Whether Facebook Is Down
Possible Displayed Error Messages When Facebook Is Down
How to Fix Facebook Down Problems
Methods to Tell Whether Facebook Is Down
Sometimes you can't open Facebook simply because your network connection is not stable enough. But how can we make sure whether the platform is down or not and distinguish the Facebook down issue from the bad network condition? Here are three ways you can try:
# Way 1. Search on Twitter
Twitter is another popular social media platform for grasping the latest trending topics in local areas or the whole world. So you can go to Twitter and search for the hashtag #facebookdown for seeing if there are a large number of people are suffering the same issue as you do. If yes, then Facebook must have went through errors that cause the platform down. Under this situation, you can only wait for official announcement and Facebook's official technical team to fix it.
Likewise, when other platforms are down, Twitter may also have the trending topics appeared such as #youtubedown, #instagramdown, etc. So you can search for them to see if the problem happens to most users or just you for defining whether Facebook is down or not.
Way 2. Directly Check Facebook Status
Facebook offers an official page for letting users to know if the platform runs well or not, which is the Facebook Platform Status. So when you are not sure whether Facebook is down or not, navigate to this site and you will see the status of Facebook. But a problem is that this web page is operated by Facebook and sometimes the information provided on it is not updated.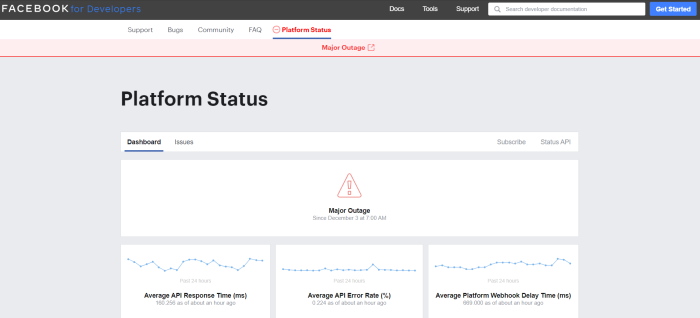 # Way 3. Use Third-party Services
Some third-party platforms also provide the services to let people test whether Facebook is functioning normally. So you can directly search for such platforms to try their services to tell if Facebook works normally or not.
Possible Displayed Error Messages When Facebook Is Down
When Facebook can not function normally for users to access, it will display some error messages to let users know. There are some common Facebook errors such as 500 error, HTTP status code errors, 403/404 errors, and so forth. In addition, some more concrete error messages may also show up for telling users Facebook is not available, for example:
"Sorry, something went wrong. We're working on getting this fixed as soon as we can."
"Account Temporarily Unavailable. Your account is currently unavailable due to a site issue. We expect this to be resolved shortly"
"Your account is temporarily unavailable due to site maintenance. It should be available again within a few hours."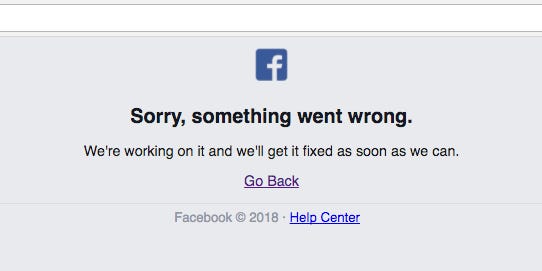 In most cases, when Facebook is down or is under maintenance, users may receive notification from Facebook. Under this situation, you can only wait for the Facebook services coming back again after the maintenance completes.
How to Fix Facebook Down Problems
Except for the large Facebook down issue which can only be fixed by the official technical team, sometimes Facebook connection problem may happen to a small portion of users because of different reasons. To fix such Facebook connection errors, you can try these simple methods to help.
# Method 1. Change Facebook Platform
Normally, the performance of Facebook app and web platform performs differently during the same period . So when the Facebook web platform is down, try to switch to its application on mobile phone for continue on using the services as before. Likewise, when the Facebook app is down, use it in your web browser instead.
# Method 2. Restart Device and App
Sometimes the Facebook goes wrong because of the confusion of there apps or programs running in the background of your devices, so you can try to exit Facebook platform or app, then restart your devices for relaunching the app or platform for using again. Then the issue may be fixed successfully.
# Method 3. Clear Cache and Cookies
When there are too much cache data and cookies stored on your device, the apps and platforms may easily get corrupted and errors would happen. So when your Facebook fails to connect normally, try to clear the cache and cookies data of your web browser or Facebook app for trying to use again.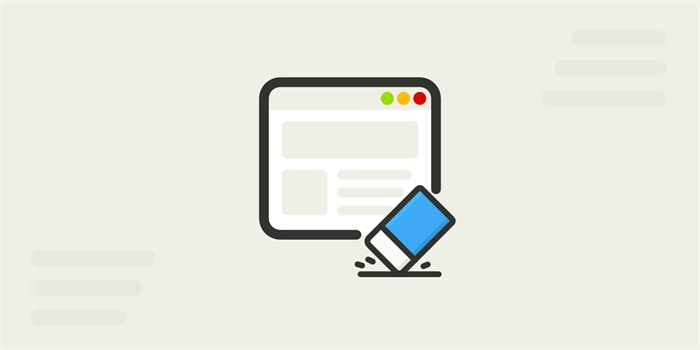 # Method 4. Ensure Faster Network
When your Facebook is not connected and doesn't show you content, check if your network connection is weak. By switching your network connection to a faster one, the Facebook down issue may be easily fixed and you can continue on using Facebook as usual.
Here are some helpful tips for you to know about Facebook down issue and some ways to fix when your Facebook fails to connect normally. You can also choose to back up some information from Facebook such as the images, text content by screenshots, or use Facebook video downloader to back up the Facebook videos when you find those you need.