For the first quarter of 2020, Facebook had gained over 2.6 billion monthly active users. Meanwhile, during this multimedia era, you can find that video content has become a trend that people are more likely to share on Facebook. Still, very similar to many other social media platforms, Facebook also fails to provide a download option to help its users save the videos they like for later review. After all, just cut to the chase, and this post will introduce the best Facebook video downloader for PC so that you can download Facebook videos easily.
CONTENT Top 1 Facebook Video Downloader for PCHow to Download Facebook Video to MP4 HD in One-shot[Extra Tips] How to Upload Facebook Videos on Mobile/Website
Top 1 Facebook Video Downloader for PC
We would like to recommend the best video downloader for Facebook here, which is an efficient, high-quality, user-friendly, and customizable program selected by many people. That is VideoHunter.
# Efficient
VideoHunter can be the most efficient video downloader tool for its ability to accelerate the downloading speed to be 6X faster, with an acceleration mode added inside. In addition, this program allows people to download online videos in batch, saving much time and effort.
# High-quality
VideoHunter offers brilliant output qualities. For video, it provides HD definitions and even higher, which includes 720p, 1080p, 2K, 4K, and even 8K. And for audio, the highest 320kbps will also be provided to let you download the best audio file for offline listening.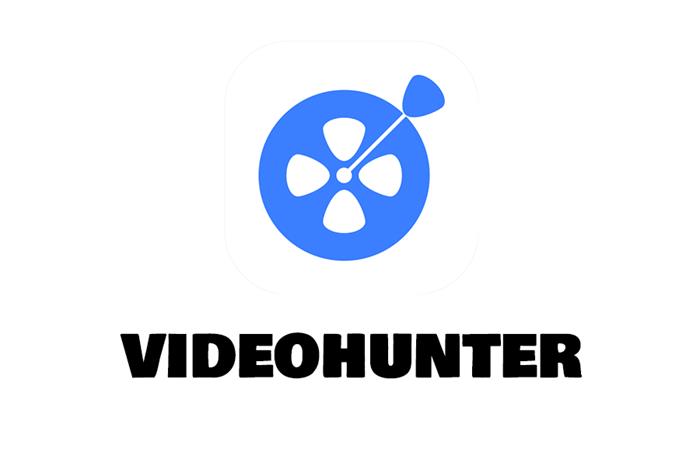 # User-friendly
VideoHunter has a clean interface without messy ads. In addition, the functions provided inside the program are completely intuitive. Everyone can manage to master the program very quickly, even for the new users.
# Customizable
VideoHunter offers various output formats to download videos from online platforms such as MP3, MP4, and WEBM, which are highly-compatible with almost all media player devices. So you can easily customize the output formats for making your video/audio suitable to be played on different devices as well as media players.
Other than these features, VideoHunter also has the ability to download online video/audio resources from more than 1,000 video/audio sharing websites, including YouTube, Facebook, Twitter, Instagram, TED, Vlive, Niconico, Dailymotion, and so forth. With VideoHunter, you can make your media enjoying experience to be more brilliant!
How to Download Facebook Video to MP4 HD in One-shot
Now, let's go through the steps to download Facebook video to MP3 in HD via VideoHunter. As mentioned, the operation would be quite simple and intuitive. After having a glimpse of this tutorial for once, you can master it completely! Let's take a close at the steps now!
STEP 1. Open Facebook in your browser, then, search for the Facebook video you desire to download. As you access it, click the share icon and copy its URL address.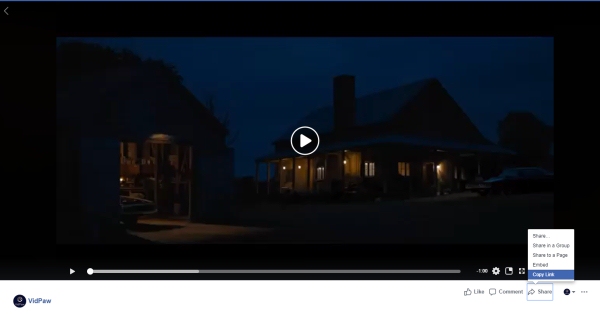 STEP 2. Launch VideoHunter and bring the URL of the Facebook video to the downloader interface in the program. Now, please insert the URL to the frame bar, and press the "Analyze" button to convert the video.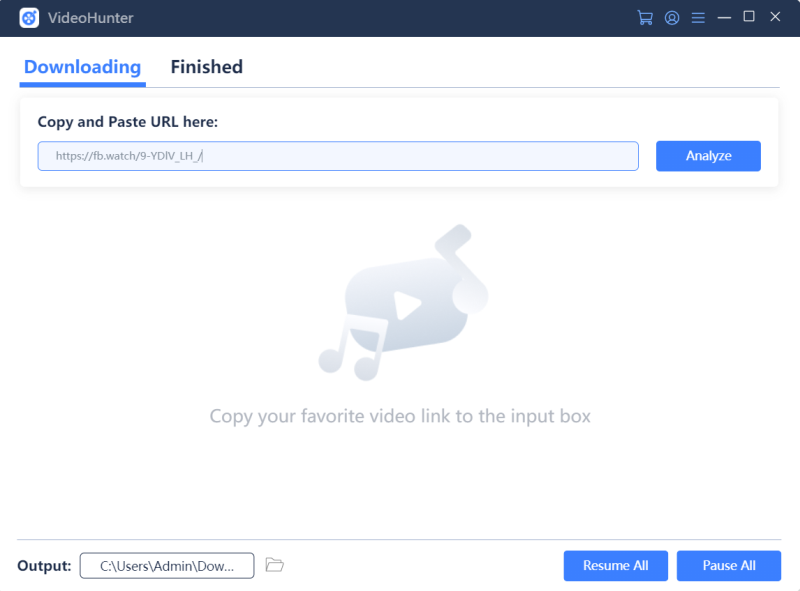 STEP 3. When the conversion is done, there will be a variety of output choice show up for you to select. Choose HD quality or SD as you need, then MP4 format. Finally, hit the icon of "Download" and you can start downloading the Facebook video for offline viewing.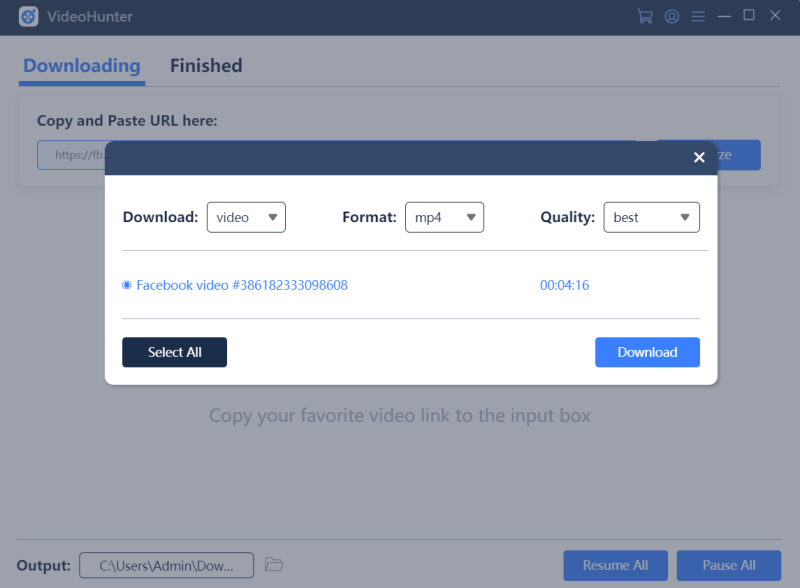 [Extra Tips] How to Upload Facebook Videos on Mobile/Website
Other than downloading Facebook videos, do you know how to upload Facebook videos in the Facebook mobile app or on its web-based platform correctly? These extra tips will guide you to upload Facebook videos step-by-step.
# On Mobile
STEP 1. Open the Facebook app on your mobile device. Then in the top editing box "What's on your mind?", you can enter the text for sharing.
STEP 2. Tap the "Photo" icon under the box and enter your camera roll for selecting the video you want to upload to Facebook for sharing. After selecting, hit "Done" in the top right corner.
STEP 3. Now you will be navigated to the step for editing the video before sharing it. You can also select to share the video with the public, friends, or the friends exclude some people. After settings, hit "Post" and the Facebook video will be uploaded.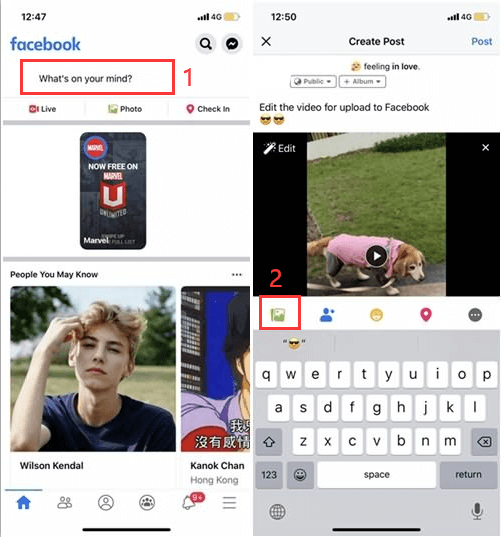 # On Website
STEP 1. Go to Facebook in your browser and log in to your account. Then on the homepage, you can also notice an editing option for you to create a Facebook post.
STEP 2. Press the "Photo/Video" and Facebook will allow you to select the video file you want to share from your desktop.

STEP 3. After the video is uploaded, you can select to post the video as a New Feeds, and also select the people who can view this video post.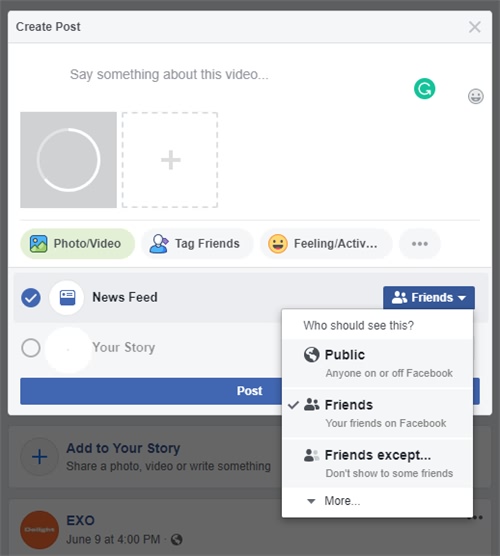 STEP 4. Finally, by clicking the "Post" button, and the video post will be posted on Facebook successfully!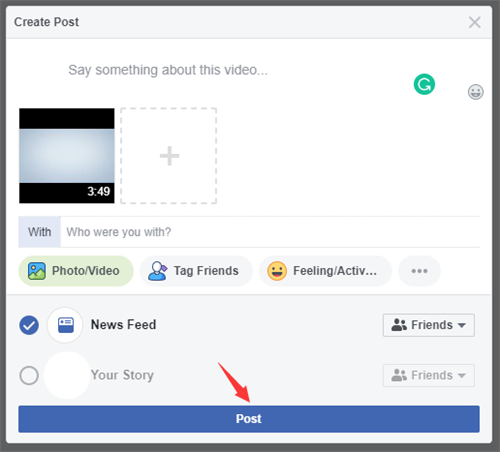 That's all! You get extra tips on how to download Facebook videos and how to upload one for sharing in the platform here in this blog. Facebook is really nice for connecting with different people in the world, no matter those you have already known or others you have never met. This is also the fascinating feature that brings so many users to Facebook.
You May Like:
How Do You Solve Facebook Videos Not Playing?
[New Method] How to Download Facebook Live Videos to Computer 2022