During this multimedia era, you can find that video content has become a trend that people are more willing to share on social media platforms. Still, like many other sites, Facebook also fails to provide a download option to help its users save their favorite videos for later viewing. Therefore, this post will introduce the best Facebook video downloader for PC so that you can download Facebook videos easily.
CONTENT
Best Facebook Video Downloader for PC - VideoHunter
Why Choose VideoHunter from All Facebook Video Downloaders
Steps to Download Facebook Videos using VideoHunter
[Extra Tips] How to Upload Facebook Videos on Mobile/Website
Best Facebook Video Downloader for PC - VideoHunter
The reason why VideoHunter is the Top 1 Facebook video downloader, recommended by leading tech media and users is that it supports streaming video downloads from 1000+ websites, including but not limited to Facebook, YouTube, Instagram, Twitter, TikTok and more.
Moreover, it downloads 6 times faster than other Facebook video downloaders and with just a few clicks, you can save online videos to MP4 or MP3 format on your Windows or Mac computer. Also, as a powerful and simple video downloader, VideoHunter is able to download Facebook videos in 720P, 1080P, 4K and even 8K.
VideoHunter A Reliable and High-quality Any Video Downloader for Windows/Mac Support to download videos from YouTube, Facebook, Dailymotion, and 1,000 more websites; Offer high resolutions such as 1080p, 4K, and 8K to output; Offer mainstream formats like MP3, MP4 to encode the videos; Allow to download subtitles in an extra file offline; Enable 6X faster speed and batch download to save much time; Ensure 100% clean and safe environment for everyone to use. Free Download Free Download
Why Choose VideoHunter from All Facebook Video Downloaders
Now, you have learned the basic information about VideoHunter. Next, let's take a look at what makes it worth for you to choose this high-quality Facebook video downloader.
# User-friendly
VideoHunter has a clean interface without messy ads. In addition, the functions provided inside the program are completely intuitive. Everyone can manage to master the program very quickly, even for the new users.
# Batch Download
The program allows people to download multiple videos from Facebook simultaneously to save time and effort. You can also customize the maximum number of batch tasks.
# Proxy Setup
You can specify your own proxy within the software to download from websites or videos that are blocked in your region.
# Customer Support
If you are a paid user, you can enjoy free liftime updates and prompt technical support. Even if you are using the free version, VideoHunter also provides prompt and professional customer support. When you have some basic questions about the software features, you can easily get some guide information on their website. They provide very demonstrative tutorials and FAQs on their website.
VideoHunter has a free version and a paid version, in order to let users really experience the software features before purchasing. You can download and install it on your PC or Mac to experience it for free. With VideoHunter, you can make your media enjoying experience to be more brilliant!
Steps to Download Facebook Videos using VideoHunter
Now, let's go through the steps to download Facebook video to MP4 in HD via VideoHunter. As mentioned, the operation would be quite simple and intuitive. After having a glimpse of this tutorial for once, you can master it completely! Let's take a close at the steps now!
Reminder: For a more detailed step-by-step tutorial, you can read How to Download Facebook Videos (Recently Updated)

STEP 1. Open Facebook in your browser, then, search for the Facebook video you desire to download. As you access it, click the share icon and copy its URL address.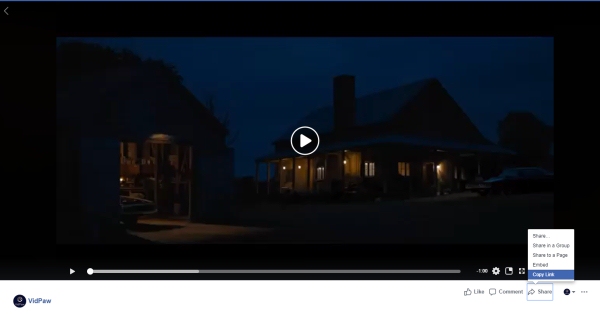 STEP 2. Launch VideoHunter and bring the URL of the Facebook video to the downloader interface in the program. Now, please insert the URL to the frame bar, and press the "Analyze" button to convert the video.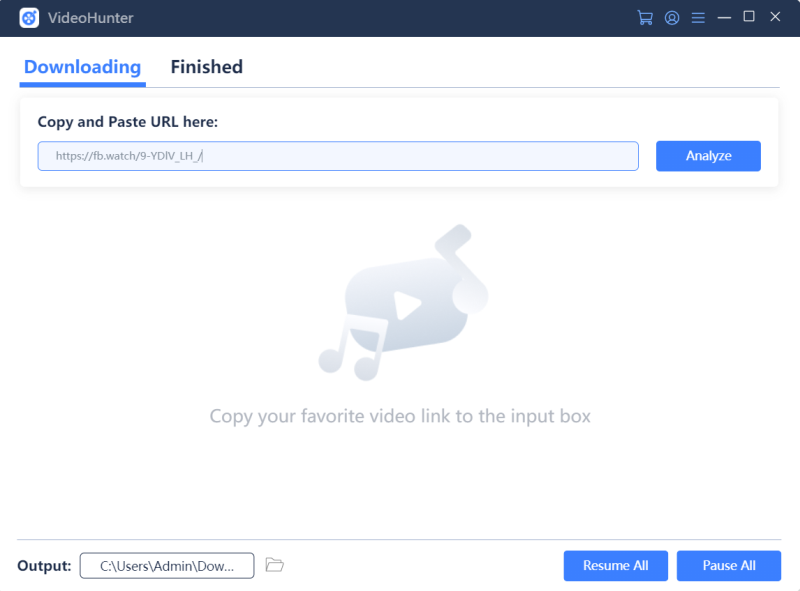 STEP 3. When the conversion is done, there will be a variety of output choice show up for you to select. Choose HD quality or SD as you need, then MP4 format. Finally, hit the icon of "Download" and you can start downloading the Facebook video for offline viewing.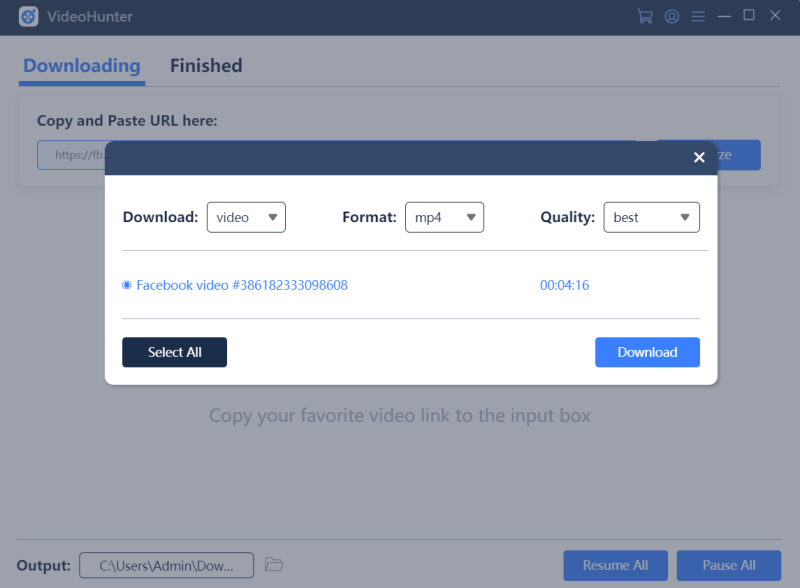 As a professional video downloader, VideoHunter can easily download online videos from Facebook e various streaming media platforms, with almost all the functions you want, and it can perfectly batch download high-quality videos such as 1080p, 4K and even 8K in a few seconds. For more information, please read: VideoHunter Review – The Best Internet Video Downloader.
[Extra Tips] How to Upload Facebook Videos on Mobile/Website
Other than downloading Facebook videos, do you know how to upload Facebook videos in the Facebook mobile app or on its web-based platform correctly? These extra tips will guide you to upload Facebook videos step-by-step.
# On Mobile
STEP 1. Open the Facebook app on your mobile device. Then in the top editing box "What's on your mind?", you can enter the text for sharing.
STEP 2. Tap the "Photo" icon under the box and enter your camera roll for selecting the video you want to upload to Facebook for sharing. After selecting, hit "Done" in the top right corner.
STEP 3. Now you will be navigated to the step for editing the video before sharing it. You can also select to share the video with the public, friends, or the friends exclude some people. After settings, hit "Post" and the Facebook video will be uploaded.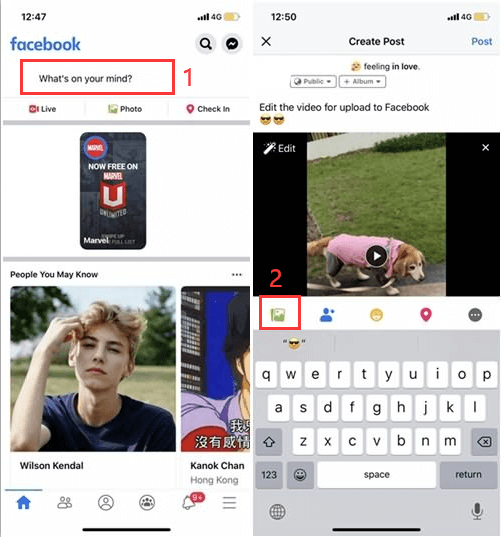 # On Website
STEP 1. Go to Facebook in your browser and log in to your account. Then on the homepage, you can also notice an editing option for you to create a Facebook post.
STEP 2. Press the "Photo/Video" and Facebook will allow you to select the video file you want to share from your desktop.

STEP 3. After the video is uploaded, you can select to post the video as a New Feeds, and also select the people who can view this video post.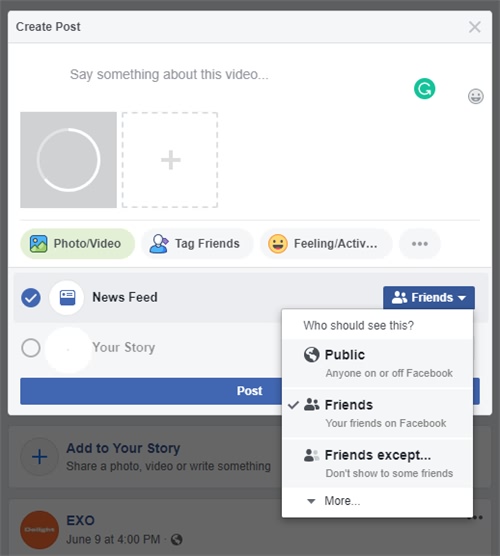 STEP 4. Finally, by clicking the "Post" button, and the video post will be posted on Facebook successfully!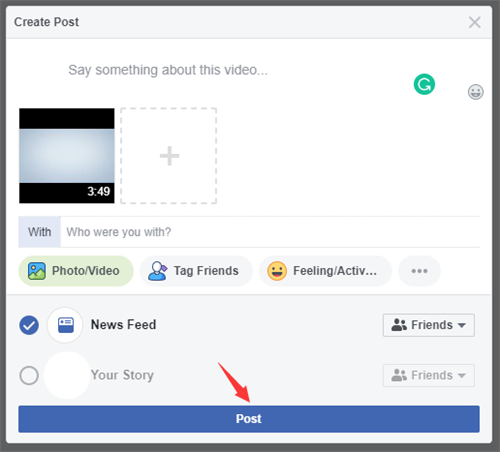 That's all! You get extra tips on how to download Facebook videos and how to upload one for sharing in the platform here in this blog. Facebook is really nice for connecting with different people in the world, no matter those you have already known or others you have never met. This is also the fascinating feature that brings so many users to Facebook.