If you have ever uploaded a video to YouTube, you can notice that you can change the privacy settings of the video to three options - "Public", "Private", and "Unlisted".
Public videos refer to those common videos that can be viewed by every YouTube user.
Private videos only allow the people who you have invited to stream. Also, they would not be showed up in YouTube's search results.
Unlisted videos are those videos that will neither come up in the search results nor in your YouTube channel. Those people with the video link can stream it freely, even they are not invited or have no YouTube account.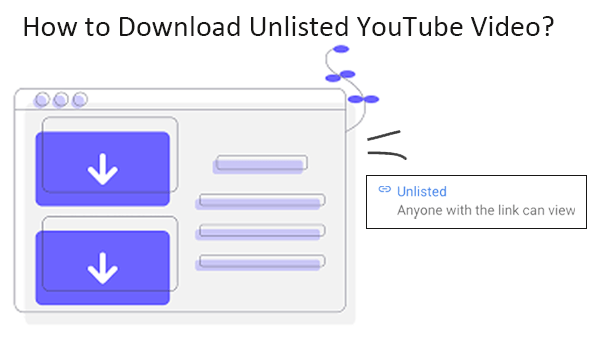 So actually, unlisted YouTube videos are invisible public videos, and they can still be viewed by everyone who owns the link. But some people want to download unlisted YouTube videos because they are afraid of losing the video URLs by accident. The best way to do it is to use the best YouTube downloader to help.
CONTENT Recommended: Best Unlisted YouTube Video DownloaderHow to Download YouTube Unlisted VideosSomething You Should Know about Unlisted YouTube Videos
Recommended: Best Unlisted YouTube Video Downloader
To download YouTube public videos in 720p or 1080p on mobile devices, you can subscribe to YouTube Premium for enjoying its provided services. But to download YouTube unlisted videos, you have to get the URLs for accessing them at first. Also, YouTube doesn't provide service to download unlisted videos for offline viewing. As a result, you need to turn to a third-party software to help. Here, the best unlisted YouTube video downloader, VideoHunter, is strongly recommended.
VideoHunter supports to download YouTube pubilc/unlisted videos, playlist, and subtitles for offline saving. It performs stably and smoothly, which can even reach 6X faster downloading speed. VideoHunter is regarded as an expert in downloading YouTube videos. More importantly, apart from YouTube, VideoHunter also supports to download videos from 1,000+ sites, including Facebook, Twitter, Instagram, SoundCloud, Vlive, and so on. In the meanwhile, it allows to directly merge subtitles with videos during downloading, which would be relatively convenient for enjoying the playback offline.
VideoHunter A Reliable and High-quality Any Video Downloader for Windows/Mac Download high-quality videos from 1,000+ sites; Download with high resolutions like 1080p, 4K, 8K; Enjoy 6X faster conversion and downloading speed; Encode online video/audio in common MP3, MP4 plain formats; Download music in the best 320kbps; Enjoy simple-designed and ads-free environment. Free Download Free Download
VideoHunter performs well to download YouTube public as well as unlisted videos. But for private videos, VideoHunter still does not supports to save them offline. If you need to get the original or a copy of the YouTube private videos, you can contact the authors for gaining their permission to save the videos directly. This not only also gives respect to the creators but also the best way to encourage more content creators to make unique content and share it with us.
How to Download YouTube Unlisted Videos
You only need several simple steps to download YouTube unlisted videos under the assistance of VideoHunter. Here is a simple tutorial for you to preview the process.
STEP 1. You may have already had the URL address of the YouTube unlisted video. So you just need to open VideoHunter and go to its "Downloader" interface.
STEP 2. Now, directly paste the unliste YouTube video's URL into the downloading frame bar, then also press the "Analyze" button to proceed the conversion.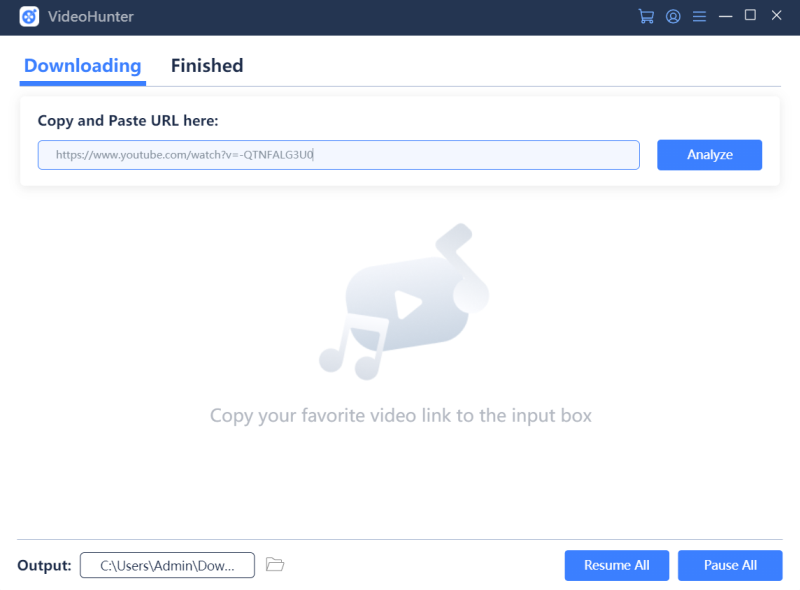 STEP 3. When the conversion finishes, you will get some output choices to encode the unlisted YouTube video. Select the output format and quality you want, then hit the "Download" button to download it immediately.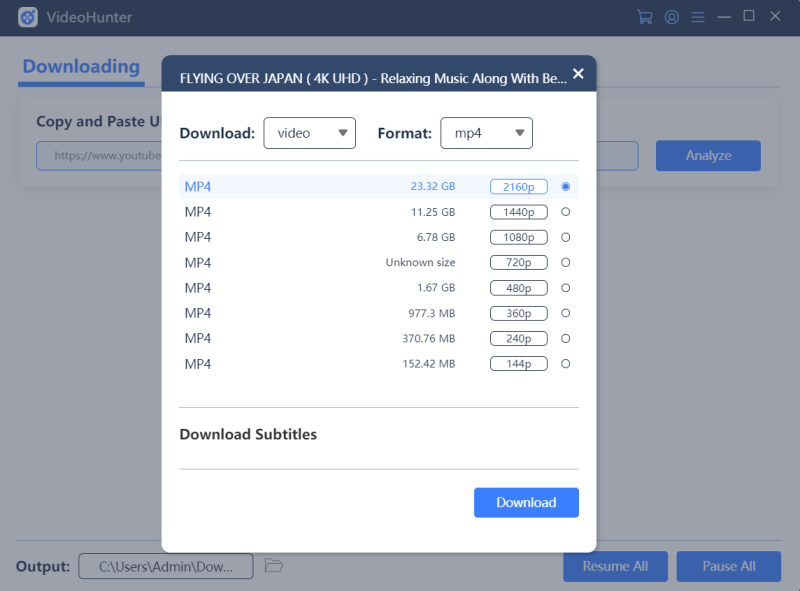 VideoHunter is a lightweight program and its function to help download online videos can be simply learned. With this tool, you can save more YouTube public as well as unlisted videos as your collection for accessing offline at anytime.
Something You Should Know about Unlisted YouTube Videos
What Does Unlisted Mean on YouTube?
In a word, unlisted videos on YouTube means they can only be seen and shared by anyone who has the link. However, your unlisted videos will not appear in the search box suggestion. Sometimes it is a good way to share with specific groups of people who are concerned about relevant topics.
How Can I Download Private YouTube Videos?
Different from unlisted YouTube videos, private YouTube Videos mean only invited YouTubers can see the contents. What's more, YouTube has a very restrictive limit that only up to 50 people can be shared for a private YouTube video. Invitee should also own a Google account and login to watch the video. Most importantly, if you want to download private YouTube videos, you should become an invitee first. Then you can choose a reliable YouTube video downloader to download the content.
You May Like:
[Solution] How to Download YouTube Playlist
YouTube Downloader Not Working? This One Still Works For You!