Although hours of footage are uploaded to YouTube every day, YouTube also removes thousands of videos in a daily route, which may be reported to violate its terms of service or are deleted by uploaders themselves. That's why people are looking for ways to download YouTube videos locally to watch offline, whether for personal backup or other reasons.
So, how to download YouTube videos on Windows/Mac computers, Android, or iOS devices? Just check out this post and pick a preferred method to start.
CONTENT Download YouTube Videos on Mac/Windows Without Premium Download YouTube Videos on Android/iPhone Download A YouTube Video Online Download YouTube Videos Using YouTube Premium Extra Tip: Download YouTube Video to MP3
Download YouTube Videos on Mac/Windows Without Premium
YouTube officially released YouTube Premium, a paid subscription service with offline functions to help download YouTube videos in HD definitions. However, this official download function only allows offline playback on YouTube within a certain period.
Therefore, instead of subscribing to YouTube Premium, you can use excellent YouTube downloaders to download YouTube videos on Windows/Mac. To process this, here are two optimal ways to help.
Using YouTube Video Downloader on Computer (Best Way)
To download YouTube videos on computers, selecting a professional YouTube downloader can guarantee both high output quality and an effortless experience for you.
VideoHunter YouTube Downloader is such a powerful YouTube downloader that can download YouTube videos from links in one shot. Beyond YouTube single videos, the program can also download YouTube playlists or channels only by links. Even if you wish to download YouTube live streams, VideoHunter YouTube Downloader can initiate the batch YouTube video link download at 6X faster speed in a lightning way!
Unlike YouTube Premium, this YouTube video downloader can detect all video definitions the original ones deliver, allowing you to download YouTube videos in HD, 4K, or even up to 8K without quality loss.
Excellent Features of VideoHunter YouTube Downloader
Access All YouTube Content - Download all YouTube videos, playlists, and channels without geo or age restrictions.
Watch UHD YouTube Videos - Best HD, 4K, and 8K definitions to download lossless YouTube videos.
Enjoy Unlimited YouTube Videos Offline - Batch download YouTube playlists at 6X faster speed.
Watch YouTube Movies with Subtitles - Detect and merge subtitles with YouTube downloads automatically.
In the following, please walk through the steps to find out how to download a YouTube video to computer with VideoHunter YouTube Downloader in one shot:
Step 1. Install and Register VideoHunter YouTube Downloader
Install VideoHunter YouTube Downloader on your computer. When you open the program, you will be asked to register an account to log in before accessing the downloader.
Step 2. Copy and Paste A YouTube Video Link
Next, please go to YouTube and access the video, playlist, or channel you wish to download. Copy its link and then paste to the downloading bar in VideoHunter YouTube Downloader. Subsequently, click on the Analyze button to resolve it.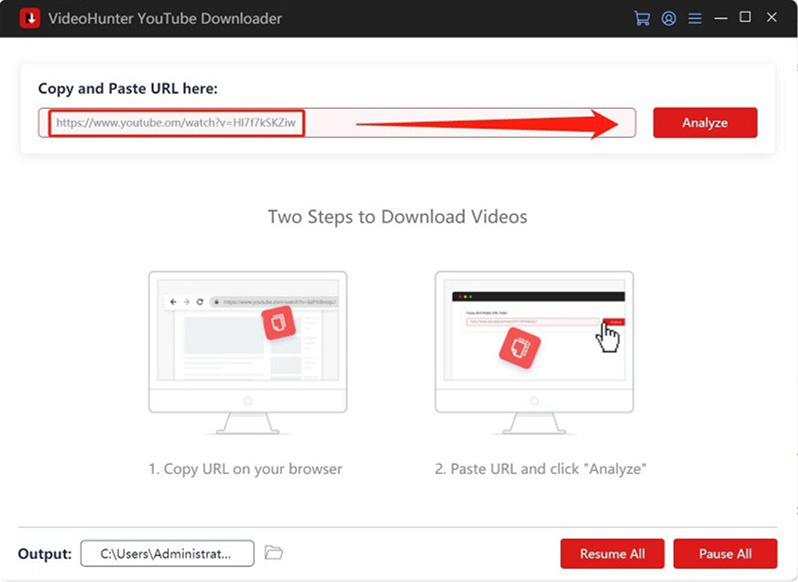 Step 3. Download A YouTube Video to MP4
When the output options pop up in a new window, select the MP4 format and the best video quality. Eventually, simply click on the Download button to download the YouTube video from the link in no time.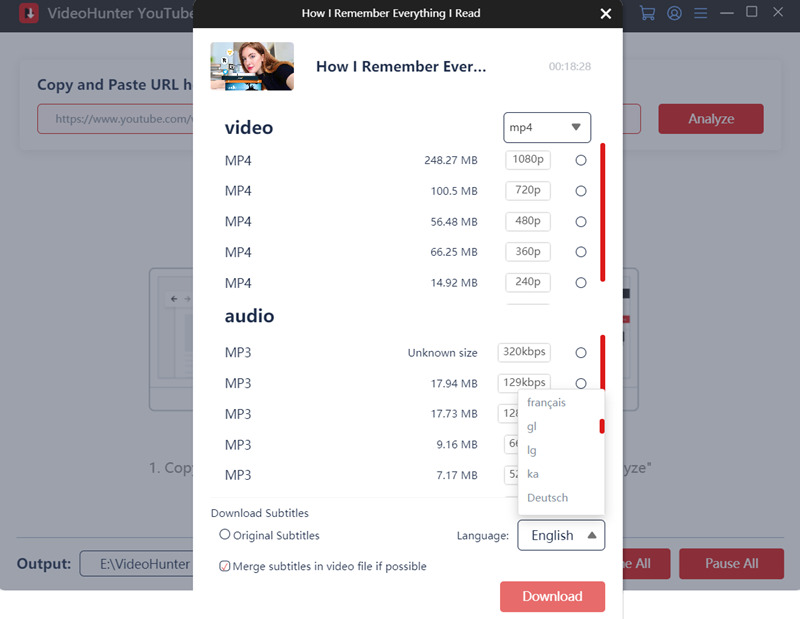 Why VideoHunter YouTube Downloader is the Best Pick
You can also turn to the video guide to clearly learn how to download a playlist from YouTube to computer in VideoHunter YouTube Downloader by easy taps:
You May Also Like:
Best Free YouTube to MP4 Converters: Save Any YouTube Videos Offline Forever
Download YouTube Live Streams: Never Miss the Good Part in A Live Video

Using VLC Player on Windows/Mac (Free but Complicated)
While VideoHunter YouTube Downloader offers 3 video downloads for free per day, VLC media player can download unlimited videos to MP4 for free. It is a cross-platform supported program compatible with Windows, Mac, and also Linux.
As a media player, VLC can't download YouTube videos like using VideoHunter YouTube Downloader, but it's able to extract video files from YouTube and save them on your computer. Do note that this method is a bit complicated and can only download videos of up to 1080p. Now, let's see how to download a YouTube video with VLC step-by-step:
STEP 1. Download and install the VLC media player from its official site.
STEP 2. Go to Media - Open Network Stream and you'll need to paste a video link into the window.
STEP 3. Open YouTube and navigate to the video you want to download. Right-click on it and copy the video URL.
STEP 4. Paste the video link into the Network tab. Then, click Play to proceed.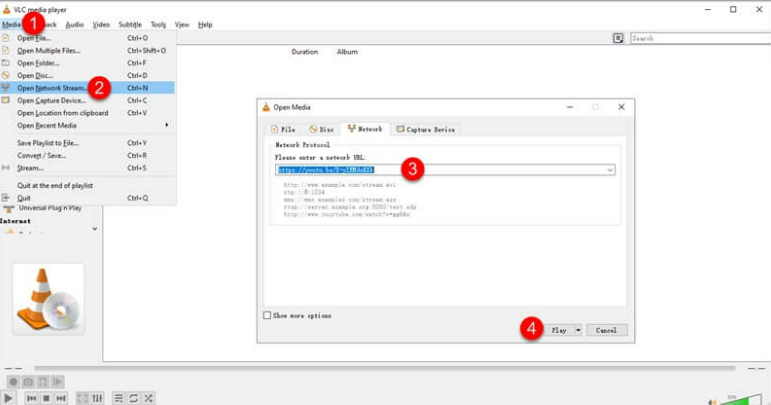 STEP 5. Copy the text here and save it into a new Notepad or TextEdit file as the youtube.lua file.
STEP 6. Go to this location on Windows: C:\Program Files (x86)\VideoLAN\VLC\lua\playlist or on Mac: /MacOS/share/lua/playlist. Then, replace the youtube.lua file with your newly created one.
If this is too complicated, check our post for other methods of using VLC to download YouTube videos.
STEP 7. Now, back to VLC media player and navigate to Tools - Codec Information on Windows or go to Window - Media Information on Mac.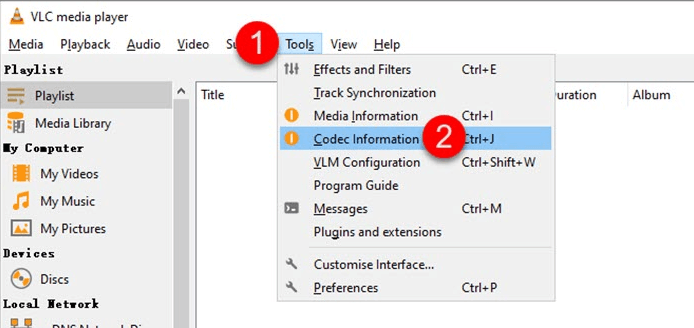 STEP 8. In the Location bar, copy the URL and paste it into your browser.
STEP 9. The video will be playing on the web and you can save the video as an MP4 file to your computer.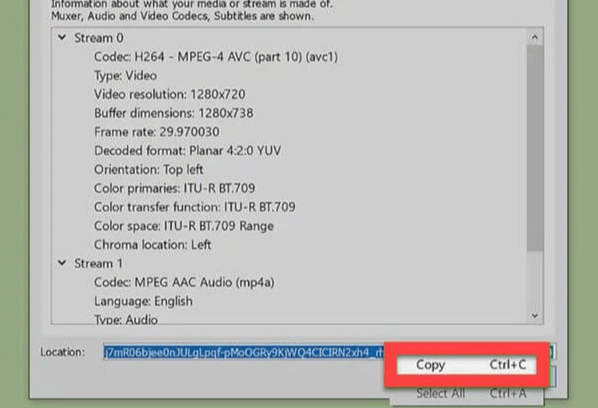 While VLC can download YouTube videos as local files for you, it lacks stability and fails frequently. If you also run into this issue, try the professional one - VideoHunter YouTube Downloader - to download any YouTube video on Mac/Windows with the best quality.
Download YouTube Videos on Android/iPhone
For mobile users, here are two easy ways to download YouTube videos to phone, and more importantly, for free. Now, please walk through the following guidance to master how to free download videos from YouTube to Android and iPhone. They are all easy and workable for you.
Download YouTube Videos on Android for Free
VideoHunter for Android is specially designed for Android phones, providing speedy and free service to download a YouTube video to Android phones in original video quality. Embedded with the built-in web browser, you can directly find any YouTube videos by simply typing in keywords. Like VideoHunter YouTube Downloader desktop version, this application can also detect YouTube playlists and batch download videos for you at once effortlessly!
VideoHunter for Android Download Any YouTube Video For Free
100% safe and free.
Support the highest 8K to download YouTube videos to Android losslessly.
Batch download YouTube playlists to save a lot of time.
Popular MP3, MP4, and WEBM formats are provided to save YouTube downloads.
Please also walk through the guide on how to download a YouTube video on Android with this brilliant YouTube downloader for Android:
Step 1. Run VideoHunter for Android on your device, and directly type in keywords or paste the video link to access the YouTube video you wish to download to Android phone offline.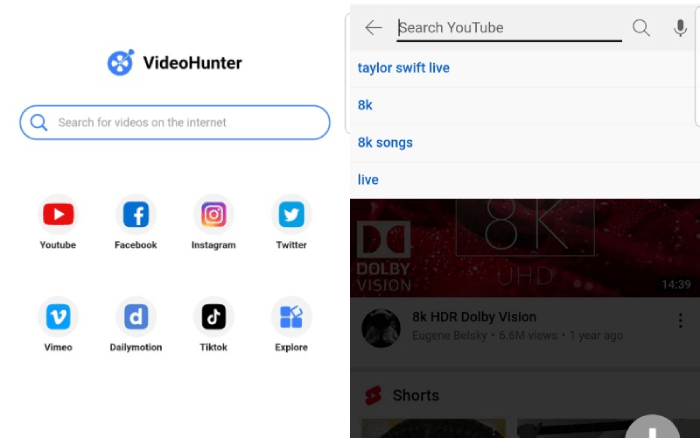 Step 2. Open the video page and tap the Blue download bubble. Subsequently, the application will function to analyze the video for you.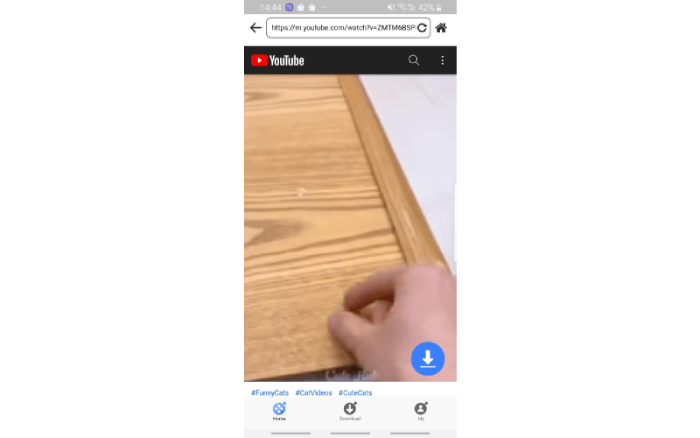 Step 3. When the output options pop up from the bottom, select an output format and quality to download a YouTube video to your Android phone in no time. See more methods on downloading YouTube videos on Android.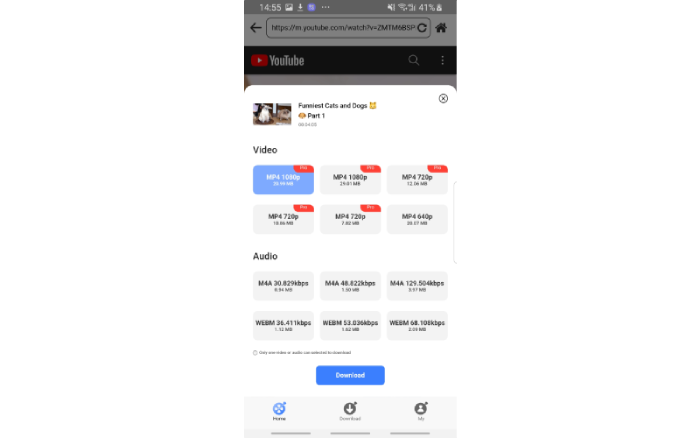 Download YouTube Videos on iPhone/iPad Quickly
On iOS devices, recording your favorite YouTube video is also a trick, though it's time-consuming. Another method is taking advantage of the Shortcut whose Download function can free you from installing third-party apps when downloading YouTube videos on iPhone.
In the following, follow the quick guide and see how to download a YouTube video on iPhone easily:
STEP 1. Tap here to add the Shortcut - Download YouTube to your iPhone/iPad.
STEP 2. Stream a video in the YouTube app or in your browser. Choose the Share button and tap More. You'll see there is a Download YouTube shortcut.
STEP 3. Tap the button and allow the shortcut to connect to YouTube. The shortcut will now automatically fetch data from YouTube and download the video to your Photos.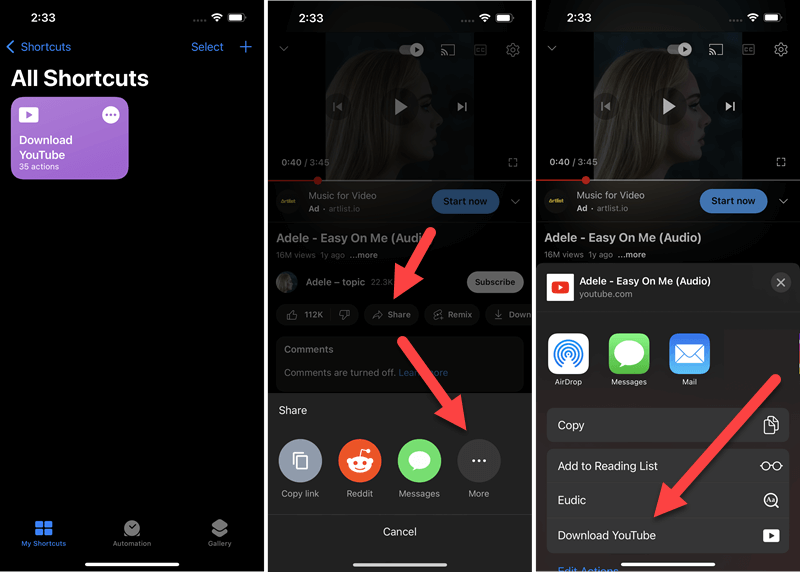 Download A YouTube Video Online
Instead of installing desktop downloaders, many of you would probably consider an online YouTube downloader to save YouTube videos online for free. As online tools are also thriving, there are many helpful downloaders working to help download YouTube videos to MP4 in 1080p online on all devices, including some top-ranking ones:
SSYouTube: offers an easy interface to quickly process YouTube video downloads online by a link.
OnlineVideoConverter: provides a quick speed to complete YouTube video download in MP4 format online.
Y2Mate: downloads YouTube videos to multiple popular formats to play with any media player offline.
Step 1. Copy a YouTube video link first.
Step 2. Turn to the online YouTube downloader you select. And paste the video link to its search bar to resolve it.
Step 3. Select the output format and quality the online downloader provides. Here we go for MP4 and 720p. Simply by clicking on the download button, the YouTube video will be saved offline in no time.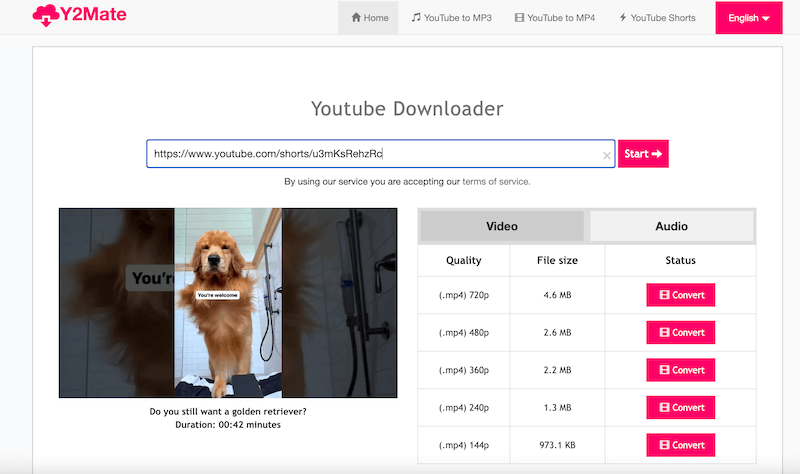 NOTE: These online YouTube downloaders are mostly filled with pop-up ads, which have the risk of bringing hidden dangers like viruses or malware to your device. To download YouTube videos in a safer way, VideoHunter YouTube Downloader offers a 100% secure environment to help. Freely install it and try it now.

Download YouTube Videos Using YouTube Premium
As mentioned, the official YouTube Premium feature also allows you to download YouTube videos for offline streaming. By subscribing to this paid service, you'll be able to unlock extra features including ad-free video streaming, YouTube Music, playback in the background, and the download service. However, pay attention to the following restrictions using YouTube Premium:
The downloads will be available and playable ONLY in the YouTube app.
The offline content can only be kept for 30 days.
If the original video was unavailable or removed, your download would be unavailable after the next sync.
YouTube Premium only supports the best 1080p high-definition quality to download YouTube videos.

NOTE: Want to download videos of your preferred video quality for the best viewing experience? Check our post on downloading YouTube videos in different video qualities like 1080P, 2K, or even 8K.
The download feature is available for mobile devices, Now, let's see how to download YouTube videos with YouTube Premium to an Android phone.
STEP 1. Open the YouTube app on your Android and log in to your YouTube account.
STEP 2. Go to YouTube Premium and subscribe to the service if you have no Premium subscription yet.
STEP 3. Open the video you want to download, and you'll see the Download button below the video.
STEP 4. Tap the Download icon and it will start downloading the video. When done, the icon will appear blue.
STEP 5. To check out the video, tap Library followed by Downloads. You can see all the downloads here.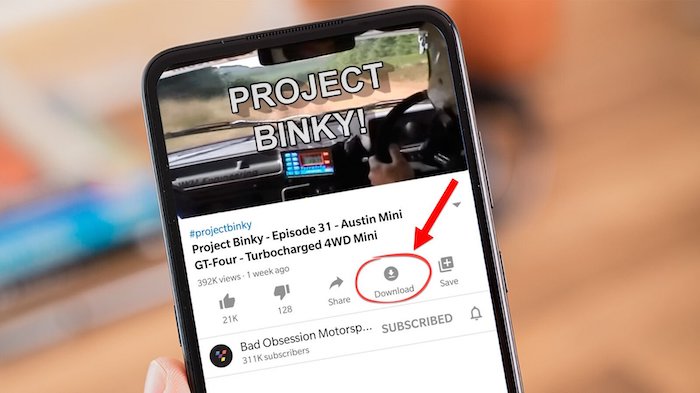 Extra Tip: Download YouTube Video to MP3
For music lovers who wish to extract audio from YouTube videos and save them as local MP3 files, the above methods are actually working to help, too. Here are the detailed guides that show you how to download YouTube music to computers, with 2 different YouTube downloaders: VideoHunter YouTube Downloader and Y2Mate.
Desktop YouTube Downloader - Perfect for downloading music playlists to MP3 at quick speed
VideoHunter YouTube Downloader is also regarded as one of the best YouTube video MP3 download converters, with a powerful ability to grab music from YouTube videos at the best 320Kbps audio quality. To download YouTube music videos to MP3, only 3 easy steps you need to follow:
Step 1. Download and Log in to VideoHunter YouTube Downloader to get the downloader ready.
Step 2. Copy and paste the YouTube video link to the downloader. Tap Analyze to convert the link.
Step 3. Select MP3 and the audio quality you need. Click Download to download YouTube videos as MP3 in no time.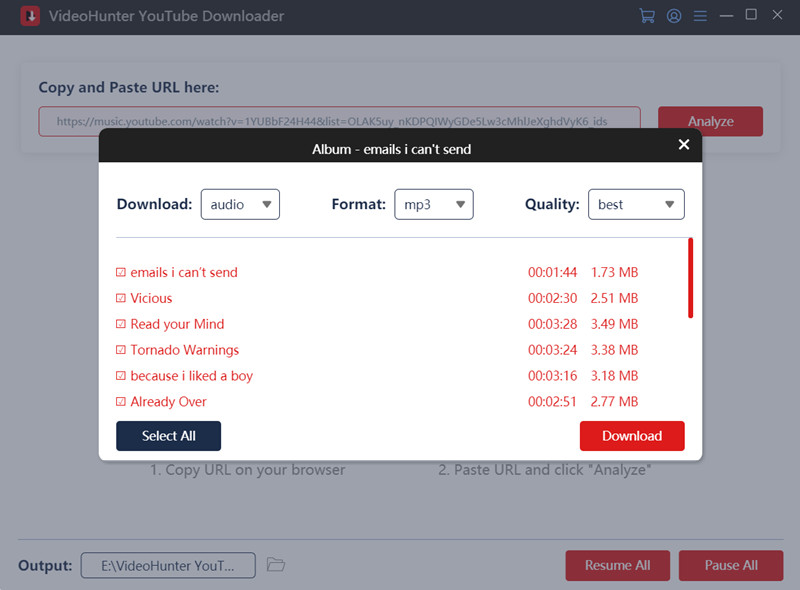 Online YouTube Downloader - Best for downloading one or two music videos to MP3
Y2Mate also supports YouTube to MP3 conversion as it offers MP3 and MP4 formats. However, this online YouTube to MP3 converter doesn't offer a batch download feature, making it only suitable for converting and downloading several YouTube videos to MP3.
Step 1. Prepare the YouTube video link in advance, then go to Y2Mate YouTube to MP3 Converter.
Step 2. Paste the video link to the search bar and click on the Start button.
Step 3. Select MP3 as the output format, and also the quality to save the audio from the YouTube videos offline. For other methods, check our post: Convert YouTube Video to MP3 on PC/Mobile via Different Tools.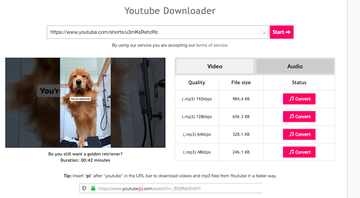 Conclusion
In this post, all reliable methods to download YouTube videos are introduced to you. For desktop users, VideoHunter YouTube Downloader is definitely the most professional and fastest program you shall not miss. But if you only download several videos, both VLC and some online tools are working to help. By the way, downloading YouTube videos on mobiles is also not a big deal with VideoHunter for Android and Shortcuts.
Now, try downloading your favorite YouTube videos and enjoy a smoother playback offline. Enjoy!
Free Download Free Download Free Download