KeepVid, once to be a popular video downloader, had helped a large amount of users to grasp online videos for preserving offline with out-performing functionality. However, as you click into the home page of KeepVid today, you will discover it has turned into an online video/audio editor, with the downloading feature removed. According to many KeepVid reviews, that's because the official has decided to shut down the service to get rid of a variety of attacks.
Hence, if you simply desire a video downloader now, you are sure to find an KeepVid alternative as it no longer provides such function to you. In the following, we have collected the 5 best options for you. Get started to grasp any of them to try now.
CONTENT
Top 1. VideoHunter
Top 2. ByClick Downloader
Top 3. SnapDownloader
Top 4. KeepVid.to
Top 5. KeepVid.works
1. Best KeepVid Alternative to Download Any Online Video
Ranking first place on the list, VideoHunter can definitely be the best choice if you desire all-rounded software available to help you download online videos from all sites. As a one-stop video downloader, VideoHunter is well compatible with 1,000+ streaming sites, and provides high resolutions (up to 8K) for outputting online videos to stream with the best experience offline.
Although KeepVid has been regarded as one of the best YouTube downloaders, VideoHunter even surpasses it in this field, as the software is well compatible with all types of YouTube videos download, including YouTube playlists, channels, private videos, subtitles, etc. Meanwhile, the built-in proxy integration also enables you to bypass regional limitations and download restricted YouTube videos in your regions freely.
Related reading:
Full Review of Videohunter
Key Features:
1,000+ streaming sites supported;
Compatible with high resolutions to output online videos;
Extract music to MP3 320kbps;
Playlists, channels, and subtitles download available;
Acceleration teches applied to ensure 6X faster batch download speed;
100% secure and ad-free in-app environment.
VideoHunter User Guide
Like KeepVid, VideoHunter also delivers the simplest process enabling users to download online videos without hassle. Here guides you how to complete it within 3 easy steps:
STEP 1. Launch VideoHunter and create an account to complete logging in the software.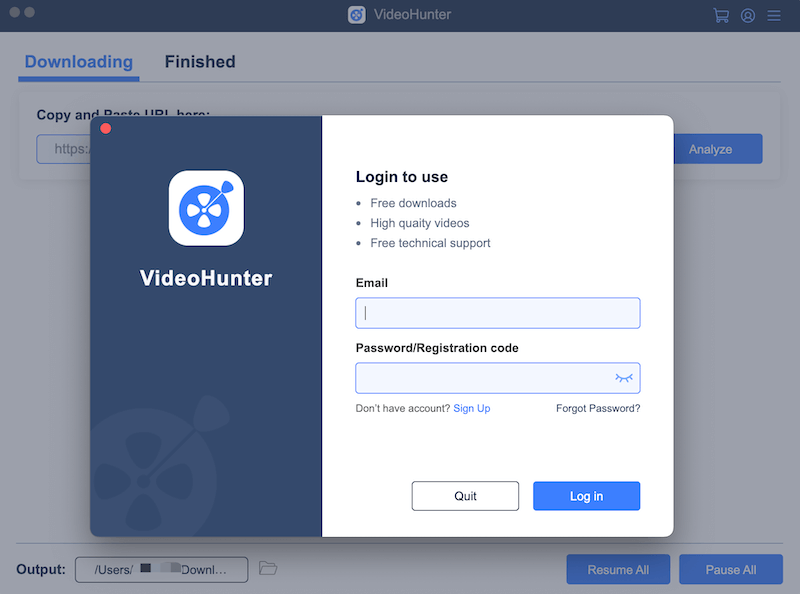 STEP 2. Now, navigate to a supported online site to copy the URL of the video you desire to download. Then paste it to the frame bar in VideoHunter and hit "Analyze" to convert the video.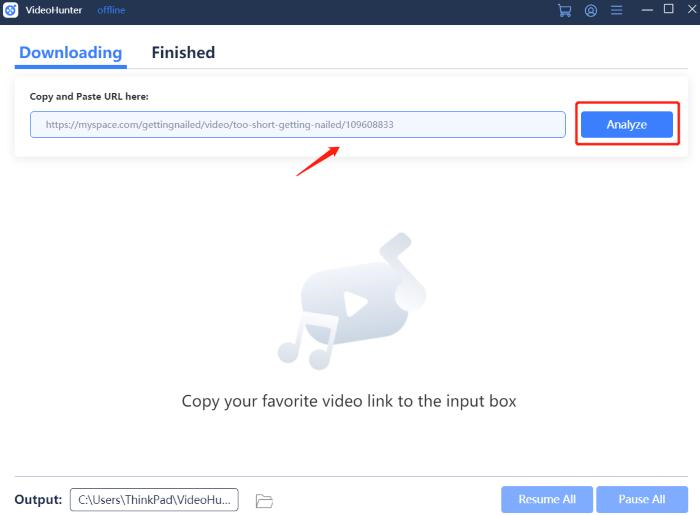 STEP 3. When the output choices pop up in the selection menu, choose the format and quality you desire. Now by tapping the "Download" icon and the online video will be downloaded right away.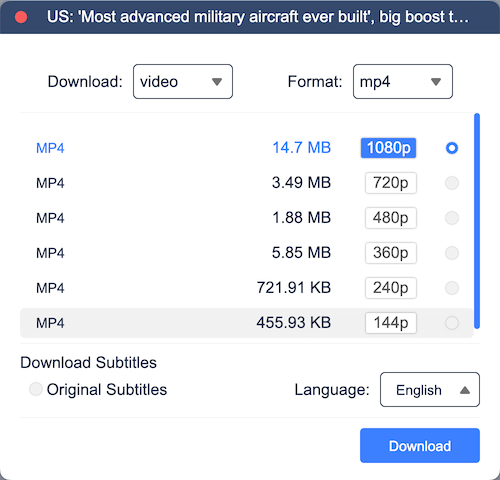 2. Best KeepVid Alternative Software to Download Video on PC
ByClick Downloader is another ideal pick if you are seeking a KeepVid alternative that can provide more output formats for selections. To enable offline video playback to be more convenient and hassle-free, the software is equipped with all mainstream formats for selections, which is able to fulfill your needs of streaming videos on all devices no matter what media players you are using.
The clear instruction on how to use ByClick Downloader has been showed on its software interface. Hence, it is completely simple for every starter to grasp the usage and manage to download online videos without wasting much time getting familiar with the software. Overall, ByClick Downloader is recommended to try if you are desiring to enable video streaming on more devices offline.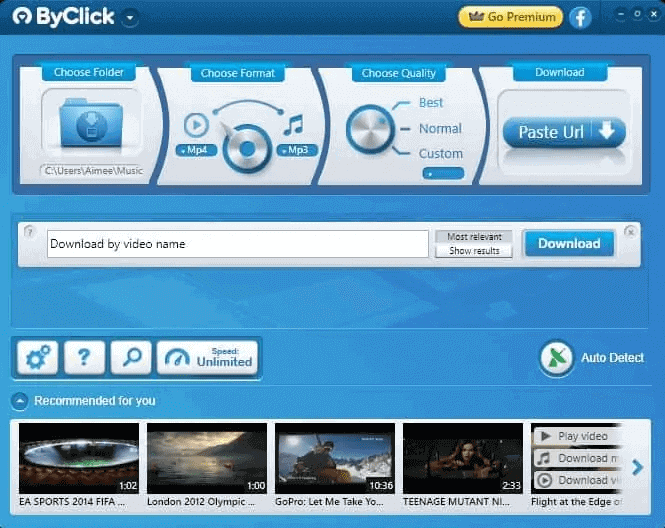 Related reading:
ByClick Downloader Review: Pros, Cons, and Its Alternative
Key Features:
A variety of mainstream formats available for selection;
40+ popular streaming sites supported;
HD, 4K, 8K resolutions available;
Compatible with batch download;
Regular software enhancement to ensure the best user experience.
3. KeepVid Alternative to Download YouTube Videos in HD Quality
If you desire a smarter YouTube downloader as an alternative to KeepVid, SnapDownloader should be the one you shall not miss. The software is equipped with the ability to grasp its online videos to the best 8K resolution, for delivering the theatre-like streaming experience to you.
Instead of the single videos, SnapDownloader also supported to analyze and convert the full YouTube playlists and reads the YouTube video chapters for downloading as separate video/audio files. Like VideoHunter, when the software is set up with its own proxy, it becomes possible for you to save all YouTube videos without missing any of them because of the regional limitations in accessing the resources.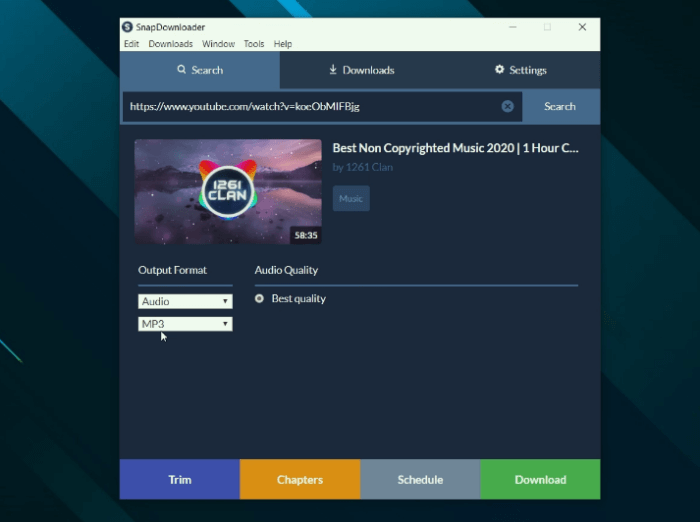 Key Features:
Ensure up to 8K for downloading YouTube videos;
Compatible with mainstream MP3, MP4 output formats;
Available to convert full YouTube playlists at once;
Smart detection to read YouTube video chapters for downloading as separate files;
Proxy setup available to bypass regional limitations;
High speed ensures boosting download efficiency.
4. Best Online Alternatives to KeepVid
Unlike desktop downloaders such as VideoHunter, ByClick, 4K Video Downloader, and SnapDownloader, we also discovered two other KeepVid online video downloaders working like the popular Y2mate, which are both workable to download video online without software installation required. Here simply introduce them to you:
KeepVid.to
Although KeepVid.to is a web-based downloader, it still performs with powerful functionality to download online videos from multiple streaming sites like YouTube, Facebook, and so on. Meanwhile, with the search feature embedded, it is possible for you to directly input keywords and access the videos without switching between sites in a troublesome way. Withe KeepVid.to, you are able to make your online video download experience to be easier and smoother.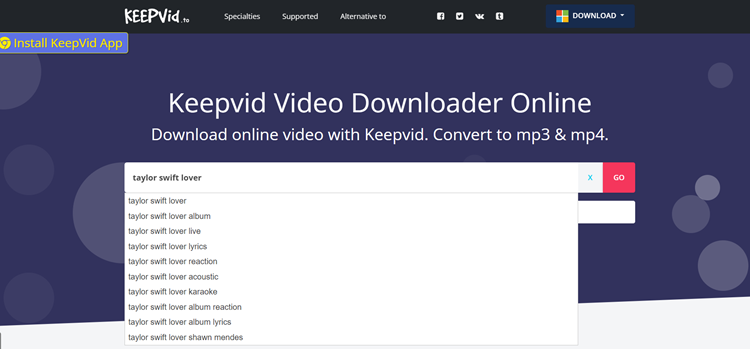 Key Features:
Convenient in-platform search feature embedded to download online videos directly;
Compatible with more video sites;
No software installation required;
No need to register an account to use the service;
Ad-free interface.
KeepVid.works
Although KeepVid.works still requires you to copy and paste URLs for processing online video download successfully, it is still a reliable alternative to KeepVid for its fast speed in processing the conversion and downloading stably.
Like many desktop software, KeepVid.works will provide mainstream formats (MP3, MP4) and optional quality to output the media files as you desire. Although the platform has pop-up ads inserted, but still with the tool, it is possible for you to access the video download service no matter what devices you are using, bringing greater convenience to save your favorite online resources at anytime you want!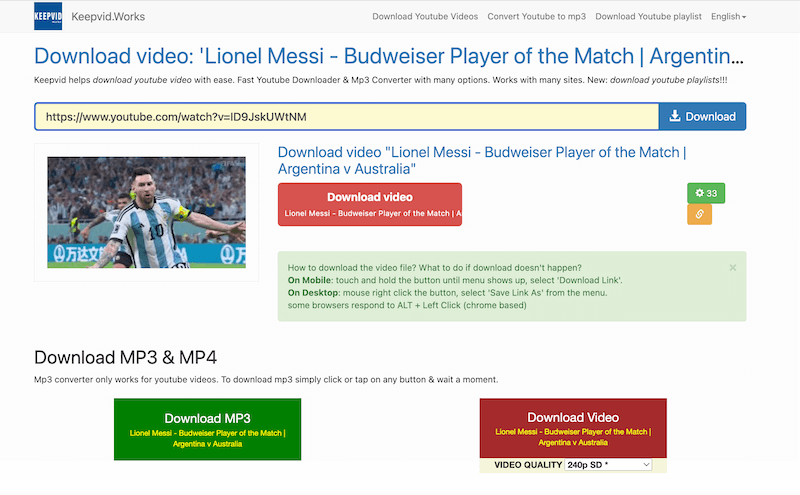 Key Features:
Quick speed to convert and download online videos;
Up to 1080p resolution available to grasp online videos;
Accessible on all devices including both desktops and mobile phones;
Complete free of charge.
Conclusion
Don't worry if you discover KeepVid has removed its video downloader, as you now get 5 workable KeepVid alternatives to help! Simply go through and compare them, then you are able to pick out the most ideal option to boost your video streaming journey! Just give them a try!