Since the launch of
VideoHunter
, it has been selected as many people's top 1 tool to download online videos for offline playback. VideoHunter offers smooth performance and fast downloading speed, which can easily help people to save the videos they need from various mainstream video/music streaming websites. However, nothing would be perfect, and some people encountered different VideoHunter using errors while they tried to download videos with this program.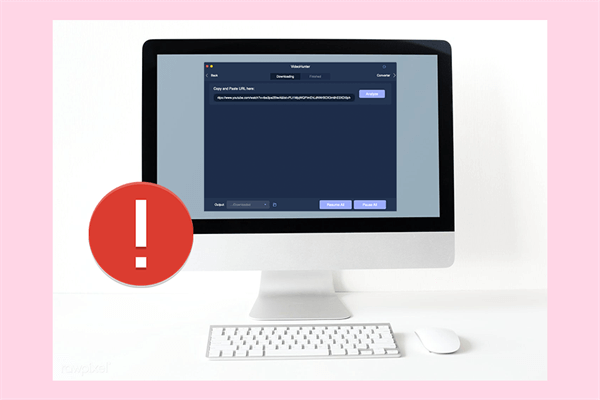 This blog sets for collecting some common issues that users may meet while using VideoHunter, and offers the solutions to figure them out. If you also meet the VideoHunter not working problems, scroll down and find the ways to help you out!
CONTENT
Analysis Failed When Analyze A Video URL
No Network Connection Notification Occurs
No Results Found
Video Is Restricted to Download
Analysis Failed When Analyzing A Video URL
The most common issue that people may meet while using VideoHunter is the analysis failure.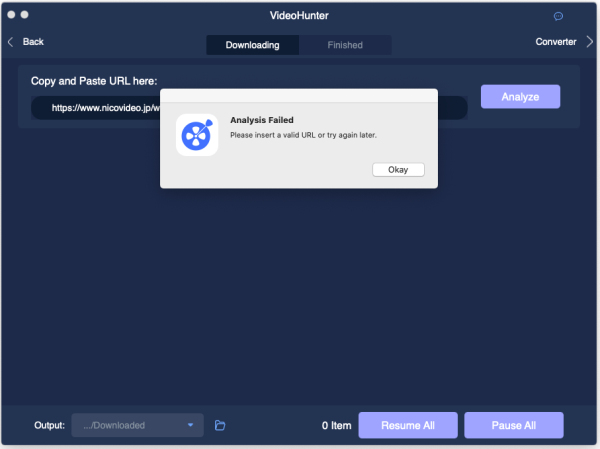 This happens while people paste the URL of the online video into the downloading bar, and click the "Analyze" button for resolving and converting the video. The most possible reason for causing such an analysis failure should be that
VideoHunter hasn't supported to download online videos from this site yet
. In addition, when your device is connected with a
poor network condition
, which is not reliable enough for VideoHunter to run its services, the URL analysis may also fail. Under this circumstance, you may also receive the "Analysis failed" notification. Therefore, to prevent the failure in analyzing a video URL, first, users need to make sure the network condition is good. Furthermore, after receiving such error messages, you can also contact VideoHunter official for checking whether this video site is supported by VideoHunter.
No Network Connection Notification Occurs
Except for the "Analysis failed" notification, another error message that users may receive in most cases should be "No network connection". This is simple to understand. The URL resolving process fails to proceed successfully because of the
poor network condition
. Additionally, for some videos which have been set a
regional limitation
(if you are not in this region, you have no access to stream or download this video), you will also get such a notification when trying to download them in VideoHunter. To resolve this issue, you just need to improve the network performance that your device is connecting to, for example, you can:
1.
Restart your route and connect your device to the Wi-Fi signal again;
2.
Switch your Wi-Fi connection to another faster one;
3.
If you are using a VPN or Proxy service, please make sure the connection is stable and is enough for supporting VideoHunter's downloading service;
4.
Use the IP address that is compatible with downloading the video you need.
NOTE: VideoHunter server goes wrong would also occur in such downloading error. But under this situation, you can only wait for VideoHunter to fix the server for providing service normally.
No Results Found
The situations that would cause the "No results found" issue is similar to the first case – the occurrence of the "Analysis failed" notice.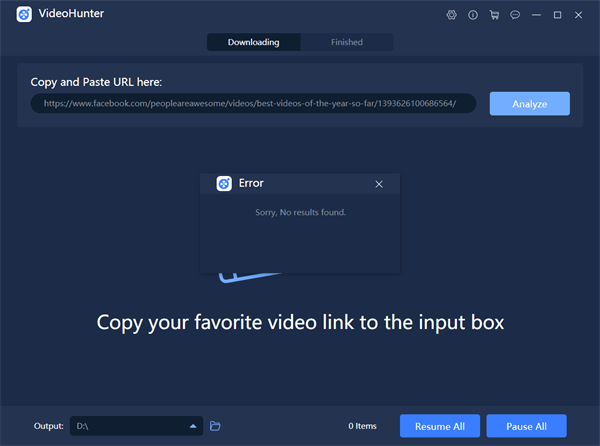 On the one hand, this may happen due to the fact that
the video you are trying to download is not supported by VideoHunter currently
. On the other hand, the
poor network condition
can also lead to this video downloading error. Therefore, you can test your network condition at first. If the Internet signal is stable, you can double-check whether VideoHunter supports the downloads from this site. If not, you can offer a suggestion to VideoHunter official site and the technical team may evaluate it and add the site to the supported list in the near future.
Video Is Restricted to Download
This notification happens during the video is downloading. Normally, the video URL can be analyzed, but when it continues to the downloading process, it will be stuck in the middle, and there is a line of orange words, "Video is restricted to download".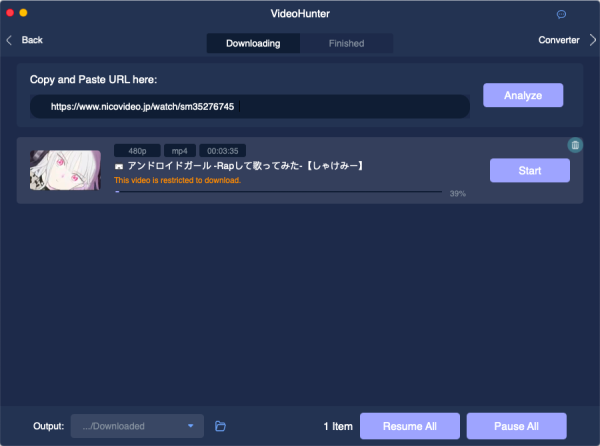 Why is this happening? The occurrence of this download restriction happens when your
network condition is not stable
. This can be seen when you are downloading Dailymotion and Vlive videos. By enabling a stronger network condition, the videos can be downloaded successfully. For
downloading Niconico video
, sometimes this message will pop up too. According to VideoHunter technical team, this is due to an unsolved bug, which is mainly due to the video is not allowed to be downloaded. This problem will be solved as soon as possible. In conclusion, you can notice that the occurrences of these problems are mostly caused by the network condition. Therefore, to use VideoHunter in a smoother way, you need to ensure a better network connection when you try to download online videos with VideoHunter. Once the network condition is improved, VideoHunte will be a really reliable video downloader to help download online videos from various websites. It deserves a try!