Are you a K-pop fans? Vlive, an online live video as well as regular video streaming platform, offers a place for K-pop fans to enjoy the videos of their idols.
Vlive provides very high quality for people to stream videos online, with the best streaming experience. In addition, many Vlive videos also offer multi-language subtitles for fans to understand what their idols are speaking. But the streaming process sometimes will be not fluent enough, because many fans may enter the video room at once, or the network is not good enough. Under this situation, downloading Vlive video with the best downloader can bring the best Vlive video playback experience to you. Hence, to download Vlive videos, I would like to introduce you the greatest video downloader for Vlive, VideoHunter.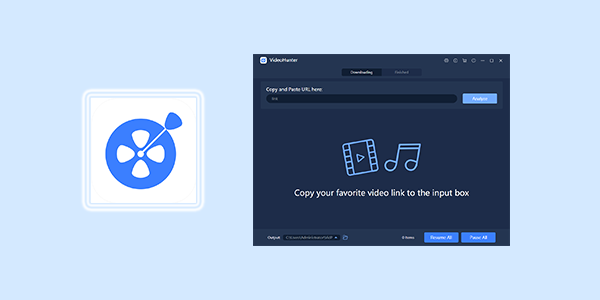 Read Also: How to Download Subtitles from Vlive Video
CONTENT
Part 1. VideoHunter - Best VLive Video Downloader
Part 2. [Guide] How to Download Videos from VLive?
Part 1. VideoHunter - Best VLive Video Downloader
The best video downloader, VideoHunter, doesn't get its name by just saying. Its ability to hunt online videos and download them will be the most fantastic function in the market. VideoHunter has the ability to download online videos from 1,000+ websites, including video streaming sites like YouTube, Vlive, Dailymotion, etc., and social media platforms like Facebook, Twitter, Instagram, and so forth. This great video downloader can be used on different systems, Windows and Mac.
VideoHunter can even do better than you can imagine. For outputting quality, VideoHunter will bring you high definitions, including 1080p, 4K, and even 8K. By default, this HD video downloader only provides MP3, MP4, and WEBM, but if you are requiring for more, a built-in converter is offered inside the program for providing more than 20 formats to choose (this feature is only available on Mac now, but Windows will also be added soon).
And this is it. VideoHunter, the best video downloader, now becomes a reliable Vlive video downloader for you. In the next, we shall begin to see how can we make full use of VideoHunter to download Vlive videos in great quality. You can learn details both from our tutorial video or step-by-step guide in part 2.
[iframe src="https://www.youtube.com/embed/YF-SyMZhT5s" width="600" height="400"]
Part 2. [Guide] How to Download Videos from VLive?
With the simplest interface and clear as well as intuitive settings, VideoHunter can be easily used within only several steps. To download Vlive videos in HD, by mastering these vital clicks, you can get thing done easily.
STEP 1. Install VideoHunter on Computer
First, you can try the free trial of VideoHunter by pressing the appropriate download button provided here to install the program to your Windows or Mac computer.
STEP 2. Copy and Paste Vlive Video URL
Then please open your web browser and head to the platform of Vlive. You need to go to your favorite idol's video. When you click into the video page, copy the URL of the page.
Now please launch the installed VideoHunter, and go to its Downloader for pasting the URL into the download bar. Also click on Analyze button to let the program resolve the URL.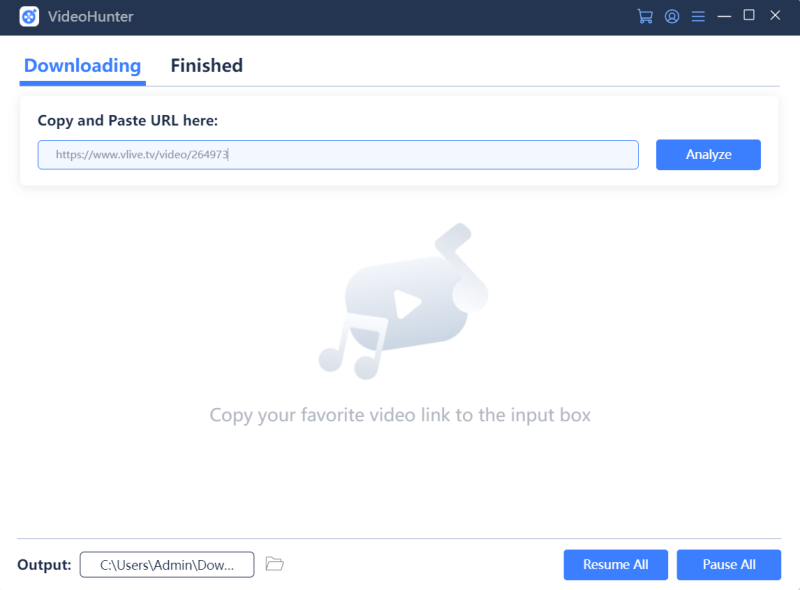 STEP 3. Download Vlive Video with High Definition
After the conversion is done and VideoHunter has analyzed the video URL, just select an output quality as well as format from the pop-up menu. After ticking the choice, also move down to the Download button in the lower right corner of the window. Then hit it for saving the Vlive video offline on your computer for later playback.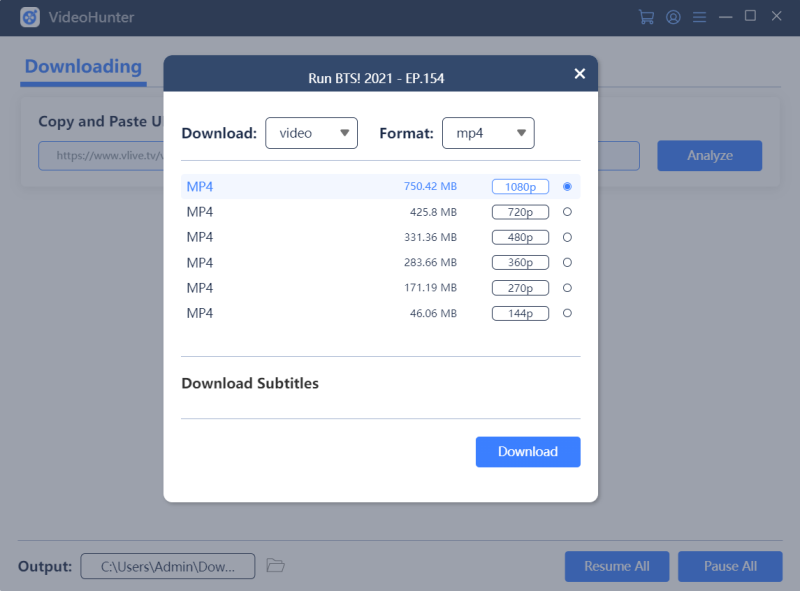 Vlive is a great place, especially for the K-pop fans from around the globe, where they can gain an interaction with their favorite idols. What a fantastic thing! Even the most shining person is in distance, you can still see them on Vlive with the live streaming and recorded videos released by themselves. Like the videos? You can also use VideoHunter for downloading Vlive videos! Enjoy your precious time with your favorite Vlive videos now!