YouTube is such a time killer. My beautiful weekends are gone within a glimpse during the time I'm diving into the playlists of my favorite songs on YouTube. Are you with me? Channel owners even collect some of the same genres as mixed playlists for easy listening, and does such an idea ever pop into your mind - How to download YouTube Playlist to MP3 format for offline listening?
I don't want to stream the playlist all the time especially on my business trip, wasting my expensive mobile data. Therefore, I've devoted myself to the means of downloading YouTube playlist to MP3 files these days, so I can save my favorite songs on my device for offline listening anytime. Here are some recommended YouTube to MP3 Playlist Converters that I tried on my own. You may want to have a look.
CONTENT
TOP 1. VideoHunterTOP 2. ByClick DownloaderTOP 3. SnapDownloaderTOP 4. iTubeGoTOP 5. Keepvid.toTOP 6. YouTube Full Playlist DownloaderWhich One Is the Best YouTube Playlist to MP3 Converter
TOP 1. VideoHunter
VideoHunter is my favorite YouTube Downloader for Playlists, Music Videos, and Movies. It makes it no hassle to download playlist from YouTube as MP3. Better yet, it enables users to download online videos to HD MP4 & MP3 from over 1,000 sites including YouTube, Vevo, SoundCloud, Twitter, Vlive, Niconico, and more.
This is an all-in-one YouTube playlist to MP3 converter with powerful technical support. At the same time, it's really user-friendly to use. It takes less than a minute to analyze and download an online video within 3 simple steps. Before the tutorial, let's have an overall introduction below.
Pros
Enable the YouTube Playlist MP3 Download feature.
Support the high-quality audio output in 320kbps.
Allow bulk downloads for YouTube videos and playlists.
Enable fast download with Hardware Acceleration technology.
Easy to fetch video and audio files in MP4 & MP3 from all channels.
Offer free Andorid version with unlimited downloads.
Cons
Sign up to use.
Free trial for 3 downloads per day.
How to Download YouTube Playlist in MP3 Format via VideoHunter?
Though VideoHunter is a superb and professional YouTube playlist to MP3 converter with advanced technology, it's easy to use with a clear interface. You might as well look it up by following the steps after the setup is completed.
STEP 1. Go to one of the videos in your desired YouTube Playlist, and copy video link by right-clicking on it.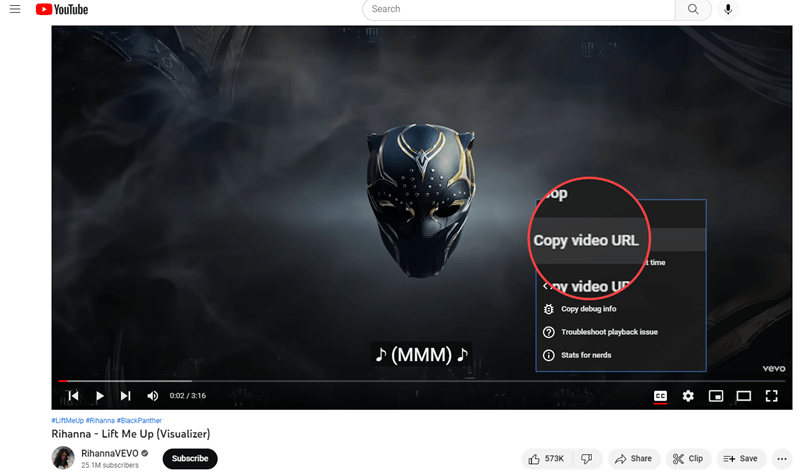 STEP 2. Paste the URL in VideoHunter. A window will pop up asking whether to download a single video or the entire playlist. Sure you want the full list. Just click "Playlist" to proceed. The link will now be analyzing.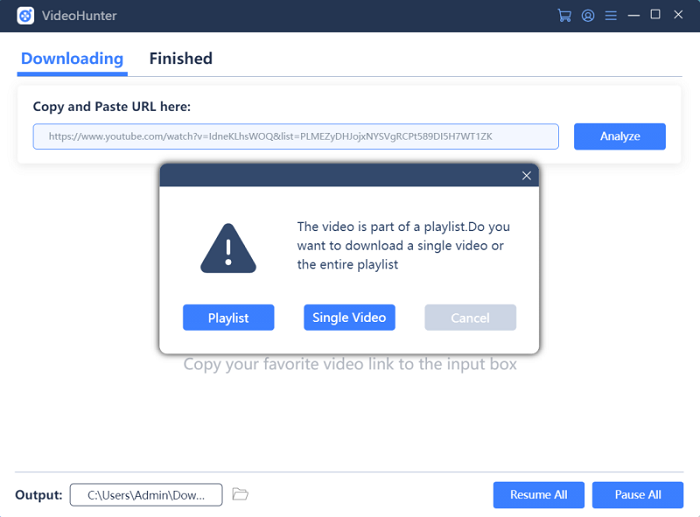 STEP 3. When it's completed, you'll see the results. To download YouTube playlists to MP3, select to download in Audio, and set the format to mp3. There are many options in the dropdown menu for quality. I always stick to the best quality. The program by default selects all songs in the YouTube playlist, you can make your selection and hit the "Download" button to start.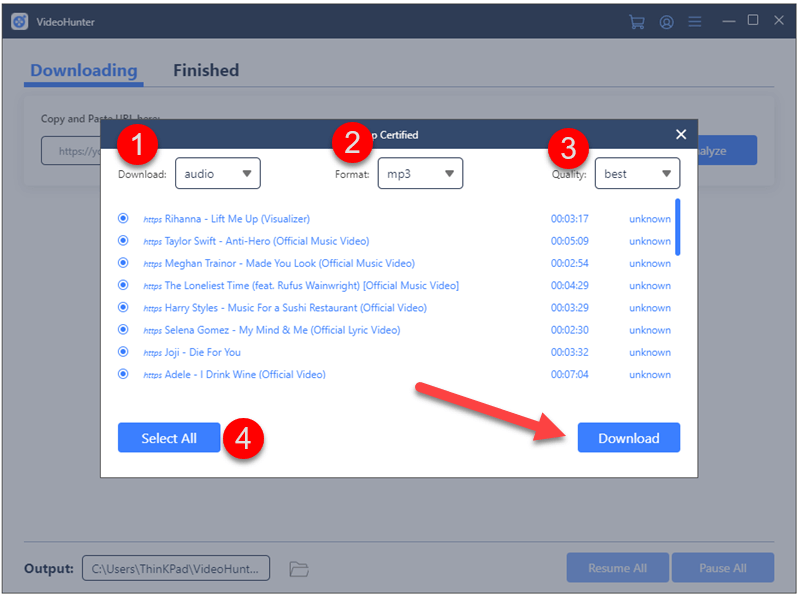 STEP 4. Now, you'll see the downloading process goes on the screen. When done downloading, the YouTube playlist MP3 downloads will be saved to the Finished tab.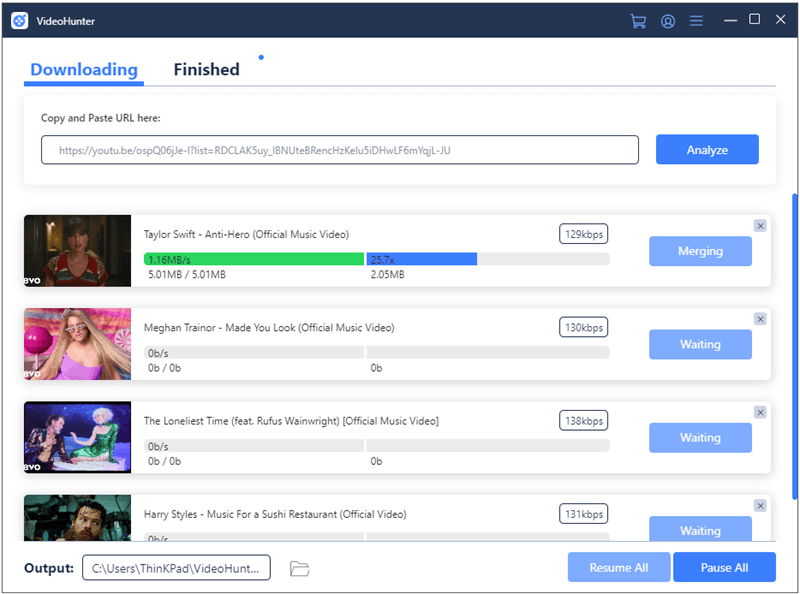 TOP 2. ByClick Downloader
ByClick Downloader is paid YouTube playlist to MP3 converter for Windows and Mac. Desktop users can easily download and install this program onto their devices. ByClick Downloader supports to download videos from YouTube, Facebook, Vimeo, and up to 40 sites. There are various video and audio output options available.
Also, ByClick Downloader offers an auto-detect feature. That is to say, it can automatically fetch the URL and start up the program when you're watching YouTube videos. This may also be a bit troublesome if you're just streaming videos.
Pros
Support full YouTube playlist download.
Support output formats like MP3, MP4.
Support auto-detect and one-click download.
Cons
Paid software.
Expensive to start.
No Free trial.
Only for Windows.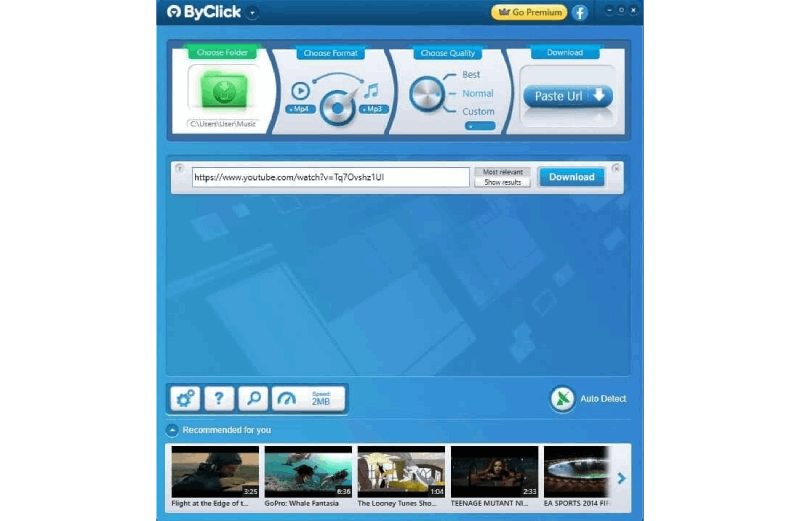 TOP 3. SnapDownloader
Here comes SnapDownloader. This paid software allows users to retrieve and fetch online videos from over 900 sites. Of course, you can use it to download YouTube Playlist to MP3 as well. However, this is a premium feature for buyers.
SnapDownloader works with both Windows and macOS platforms to extract YouTube videos to MP4, MP3, AVI, WMA, AAC, and many other output formats. What's more, the program comes with a built-in trim that enables users to crop the videos.
Pros
Download YouTube Playlists to MP3 from channels.
Provide an in-built video trimmer.
Download Virtual Reality and 360° videos.
Search videos in the program.
Cons
Paid software.
Expensive to start.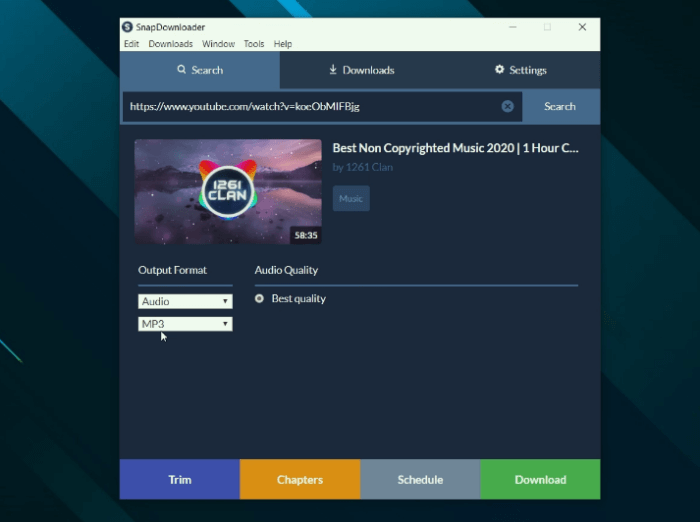 TOP 4. iTubeGo
iTubeGo YouTube Downloader is an alternative to YouTube playlist to MP3 converter. This program merges an online downloader, an in-built trimmer, and website browsers together making it multifunctional desktop software.
The program is said to be able to support 1,000 video-streaming sites and easily download online videos to MP4 and MP3 formats. I like its in-built browser feature to quickly look for the videos I want to download. There is more to explore by yourself.
Pros
Provide an in-built video trimmer.
Provide an online browser inside.
Provide batch downloads from all sites.
Provide a lock feature for private videos.
Cons
Paid to use.
Free trial for 1/3 conversion length only.
TOP 5. Keepvid.to
Desktop software is all paid to use with limited features in the trial version. So, why not try online YouTube playlist to MP3 converter for help? Some of them may agree with you. KeepVid.to provides both an online YouTube Playlist downloader to MP3 and a desktop version.
The online tool can download videos to various digital formats including MP3, OPUS, MP4, AVC from YouTube, Facebook, Instagram, and Twitter. It'll automatically load the results for the video link you paste to it.
Pros
Easy to use on Firefox and Chrome.
Free to use for the online version.
Download YouTube subtitles to .SRT file.
Cons
Lower quality for audio and video output.
Got the page unresponsive sometimes.
No batch downloads.

TOP 6. YouTube Full Playlist Downloader
YouTube Full Playlist Downloader is another online YouTube playlist to MP3 converter tool I used before. This site is quick to extract data from the YouTube link to vdeio and audio formats. However, it takes one after one to analyze YouTube videos in a playlist. That means you have to copy and paste the link for each video in the playlist.
You just need to paste the video link into the box and click the Download button to start retrieving data. Then, YouTube Playlist to MP3 Convert online will display 3 parts - Video, Video without Sound, and Sound Only. Go to the Sound Only part to select an option in desired quality.
Pros
Easy to use on all platforms.
Free to download YouTube playlist to MP3.
Quick cloud decoding speed.
Offer Browser Extension.
Cons
Single download function for YouTube and Facebook.
No batch downloads.
The tool could be banned sometimes.
Unsteady performance.
Fail to fetch videos from time to time.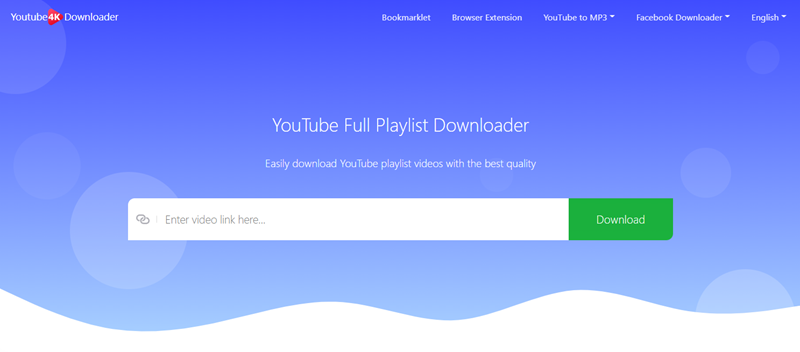 Which One Is the Best YouTube Playlist to MP3 Converter
There are 6 top YouTube Playlist to MP3 converters for your consideration. If you are hesitant to download third-party software, it's good to try online tools and determine whether to go for a more professional desktop version. One advantage of online downloaders is that they can be easily used in browsers on Windows, Mac, Android, and iPhone.
Desktop programs do provide users with better download service in terms of faster decoding rate, stable performance, various site support, batch download feature, and so on. I have had a crush on VideoHunter recently because it enjoys all features above. Also, its free trial version enables daily downloads to three videos, and that's enough for most people. Hesitation makes no progress. You should start with the one you prefer in the first place.