When video streaming becomes a thing that most of you would do in daily life, you may want some convenient tools to download YouTube videos for enjoying offline so that you can get rid of many playback errors that would easily happen because of your poor network connection. So in this article, the 6 best Android video downloaders in 2023 will firstly recommend Android users to have a better video playback experience. Now, check them and select one to try.
CONTENTTop 1. VideoHunter for AndroidTop 2. SnapTubeTop 3. YTD Video Downloader for AndroidTop 4. VidMateTop 5. KeepVidTop 6. Videoder
Top 1. VideoHunter for Android
If you are finding the most reliable app to download YouTube videos on Android, VideoHunter for Android should be the first tool recommended by many users. This best YouTube video downloader app for Android has provided the best quality to download both YouTube videos and audios, with up to 8K video quality and 320Kbps audio option to save the files for having the best playback experience offline.
This best Android video downloader also offers user-friendly functions to download resources from 7 popular streaming websites, then provides the direct download option to convert YouTube to MP4, MP3, or WEBM files on Android SD card for playing in all media players flexibly.
In addition to the app for video download in Android, there is also a desktop version (view VideoHunter full review here) provided to those in need. By the way, by subscribing to VideoHunter, you can access all functions in its Android app for free!
Free Download Free Download Free Download
Pros
Downloads YouTube playlists on Android at once to save time.
Supports the best 8K quality to download online videos.
Offers powerful in-built searching function to find all online videos/audios to download.
Directly saves downloads to Android SD card for playing freely without limitations.
Supports batch downloading online videos at quick speed.
Provides all functions safely and contains no ads.
Cons
The high-quality download options need to pay for the subscription for upgrading first.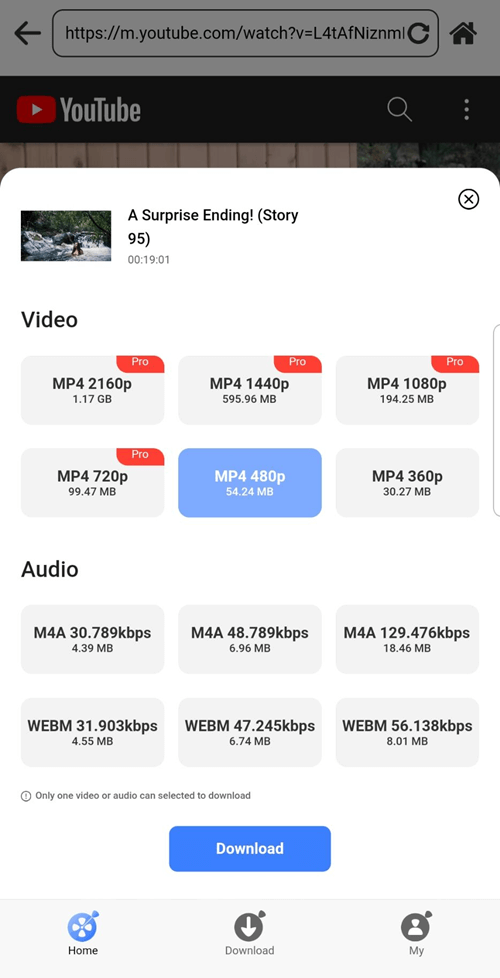 Top 2. SnapTube
The second best Android video downloader you should try in 2023 is SnapTube, which has provided the powerful online video downloading function for millions of users to enjoy video streaming on Android in the simplest way. It always offers a fast downloading speed for you to complete the online video download with easy clicks. Also, you can select from different formats and quality options to save the videos as you like to enjoy the offline playback flexibly.
More than YouTube, you will find SnapTube can also support other popular platforms like Facebook and Instagram. So with one app, you are actually getting the ability to download online videos from more sites to your Android.
Pros
Offers quick speed to download online videos easily.
Provides different format and quality options to download videos on Android.
Supports searching for online videos.
Offers all functions freely without needing to pay.
Supports dark mode for providing a better interface experience for users.
Provides high quality to save downloaded videos/audios for you.
Cons
Ads would keep popping up and you can't remove them at all.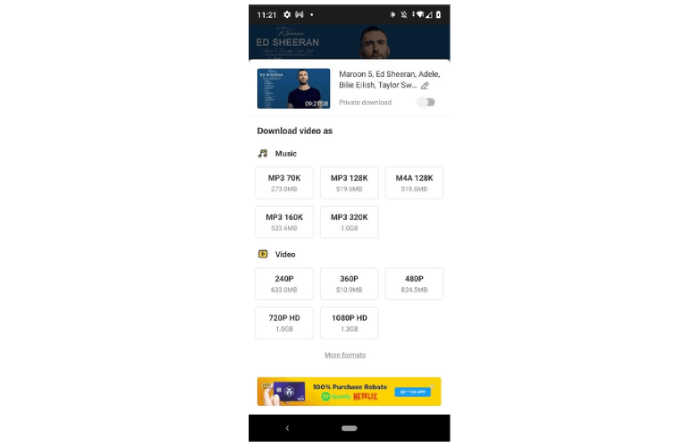 Top 3. YTD Video Downloader for Android
As one of the free tools and also the best video downloader for Android, YTD Video Downloader for Android provides free service for you to download unlimited online videos to enjoy the playback offline without limitations. It supports more streaming sites, including the popular ones like YouTube, Facebook, Twitter, Dailymotion, Instagram, and so on. You can use it to access the online videos and process the high-quality download immediately.
Although it doesn't provide the search function but need to copy and paste the URL, the app is still simple to use. There is also extra function such as the password protection feature letting you to keep the app locked by setting a password. In this way, you can keep your video downloads private and safe. As a result, YTD has become one of the best Android video downloaders that can be trusted.
Pros
Offers user-friendly service to download online videos/audios.
Supports all popular streaming sites.
Allows to lock up the app to protect the safety of the downloaded videos.
Offers different languages for global users to enjoy the download service conveniently.
Offers free service without needing to pay for limiting the downloads at all.
Cons
No in-built search function provided.
The URL analysis will fail sometimes.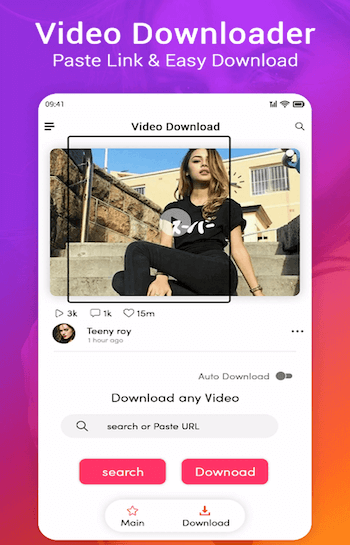 Top 4. VidMate
VidMate is also a popular brand you may have heard before when finding the best video downloader app for Android to try keeping online videos/audios for offline playback. The app provides searching function for you to easily find the online videos for downloading, with the download button provided. There are also different output options offered to select, so you can surely save the online videos/audios in the format and quality settings as you want. Also, VidMate is a free app, which costs no money to use its downloading function. For anyone who wants to download online videos with VidMate, you can enjoy the free services without extra paying at all.
Pros
Offers searching service to access online videos/audios easily.
Provides the download buttons to download online resources convenient.
Supports more streaming websites.
Provides common video formats such as MP3, MP4 to download videos/audios for playing on all devices.
Supports downloading online videos at up to 8K quality.
Cons
There are ads in the app that would affect the user experience.
Doesn't offer the best 320Kbps quality to download MP3 audios.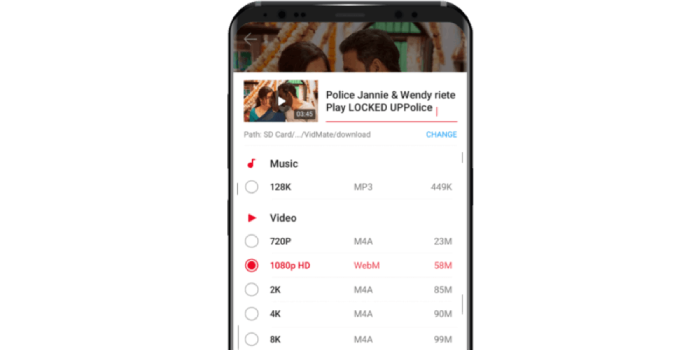 Top 5. KeepVid
Less known by many users,KeepVid also provides reliable function to download online videos from popular sites such as YouTube and Facebook. It is recommended as one of the best video downloader app for Android because of its provided efficient and high-quality service. Simply by pasting the URL to the app, KeepVid will analyze it and provide different quality for you to save the videos on Android in local files of different sizes as you need. You will find it quite simple to use, and fewer ads will disturb your experience, greatly ensuring safety.
Pros
Provides intuitive download functions to download online videos easily.
Doesn't need to pay for using its service.
Contains fewer ads and offers safety download to all users.
Supports to save audio-only files from YouTube videos in good quality for playback offline.
Supports more streaming websites than you can imagine.
Cons
It is less stable than many other apps for video download in Android.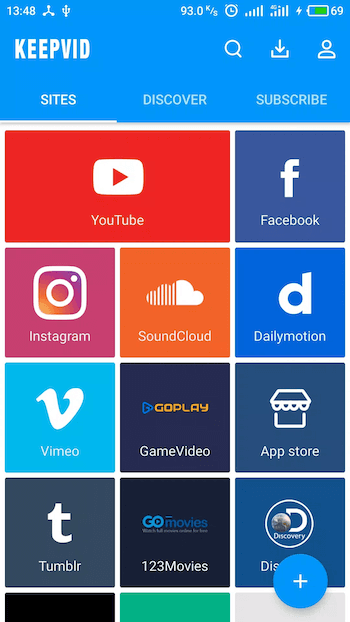 Top 6. Videoder
Finally, let's see Videoder, which is well-known for its powerful ability to process quick online video download service on both Android and PC. Like other apps for video download in Android such as VideoHunter and SnapTube, Videoder also provides the in-built searching function so that you can directly find the resources and process the download directly. When Videoder detects the videos on the page, it will provide the red download buttons for all of the time. Simply choose the one you like and click the download button, output choices will be provided to download the videos to the quality you like.
The downloading speed of Videoder is also fast, and it supports downloading several videos in batch to save time. With all these great advantages, Videoder can also be one of the best Android video downloaders you can choose to install for helping to have better offline video streaming experience on Android.
Pros
Offers quick speed to batch download online videos and save time.
Supports common formats of different qualities to keep videos offline.
Supports more popular streaming websites.
Provides a user-friendly UI for easily using.
Doesn't need to pay any cost for using the service.
Sets in-built browser to search for online videos/audios easily.
Cons
Doesn't support 8K videos download (only up to 4K).
Doesn't support downloading YouTube playlist videos at once.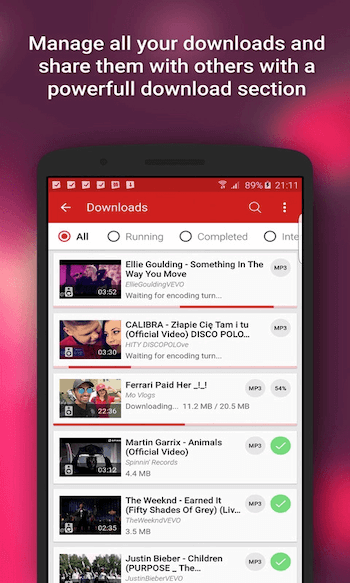 Conclusion
Now, simply compare these 6 best Android video downloaders we have selected to be the best options you can trust in 2023 for helping to have more enjoyable video playback on Android, then select the best one for trying installing it.
Among all of them, I recommend VideoHunter for Android for its higher stability and the efficient download functions like YouTube playlist download to grasp more convenient online video downloads to save time. Now, as the app is free to try, you can install it immediately by clicking the download button here: