On Android, you can discover lots of tools functioning freely to download online videos for you. However, as many applications are developed by unknown organizations or individual developers, you probably want clear guidance on sorting out the best Android video downloader to use.
Therefore, this post will concentrate on the introduction and comparison of the 8 best video downloaders for Android. In order to facilitate a smoother video streaming experience on Android, you can scroll down and read in-depth.
CONTENT
Comparison of 8 Best Android Video Downloader Apps
8 Best Video Downloader Apps for Android
Comparison of 8 Best Android Video Downloader Apps
Before diving down into the detailed introduction of the 8 best Android video downloaders, you can grasp an overview of them and directly turn to the one you feel interested in. The comparison chart is shown below.
Downloading Speed
Output Quality
Supported Formats
Batch Download Feature
Built-in Browser
Overall Rating
VideoHunter for Android
Ultra Fast
Up to 8K
MP3, MP4, WEBM
✅
✅
5/5
SnapTube
Fast
Up to 1080P
MP3, MP4
❌
✅
4/5
YTD Video Downloader for Android
Medium
Up to 1080P
MP3, MP4
❌
✅
3/5
VidMate
Medium
Up to 1080P
MP3, M4A, WEBM, MP4
❌
✅
3.5/5
KeepVid
Medium
Up to 1080P
MP3, MP4
✅
✅
4/5
Videoder
Fast
Up to 4K
MP3, MP4
✅
✅
4/5
InsTube
Fast
Up to 4K
MP4, 3GP, WEBM, AVI, MP3, M4A, WAV, FLAC, PNG, JPG
✅
✅
4/5
Newpipe
Fast
Up to 1080P
MP3, MP4
✅
✅
3/5
8 Best Video Downloader Apps for Android
In the following parts, you can walk through more details about the 8 best video downloader app for Android and how they help to facilitate your online video streaming as well as downloading experience.
VideoHunter for Android - Versatile HD Video Downloader with Super Fast Speed
SnapTube - All-in-one free any video downloader for Android
YTD Video Downloader for Android - Password protected video downloads
VidMate - Effective and user-friendly free video downloader for Android
KeepVid - Free Android video downloader supporting popular streaming sites.
Videoder - Speedy video downloader for Andorid equipped with multi-thread feature
InsTube - Free and safe Android video downloader with frequent updates
Newpipe - Free video downloader app for Android with built-in player equipped
Top 1. VideoHunter for Android
Rating: 5/5
Verdict: download 8K videos and even playlists with speedy performance effortlessly by one click
Ranking as the best video downloader app for Android, VideoHunter for Android stands out from the competition with its especially high definitions provided to encode online video sources. It will offer up to 4K and even 8K definitions to export online videos, ensuring the theatre-like video streaming experience on your Android devices regardless of the screen sizes.
Another sparkling feature of VideoHunter for Android can be its powerful ability to batch process playlists download for you, as not so many Android video downloaders can actually realize it.
When you open a playlist with the built-in browser in VideoHunter for Android, it can detect all video sources contained on the page, then deliver downloading options to batch converting them to regular formats such as MP4, MP3 in no time.
For users who will be highly aware of video quality and also efficiency, VideoHunter for Android is definitely the best Android video downloader you should not miss. You can download it from the Google Play official website.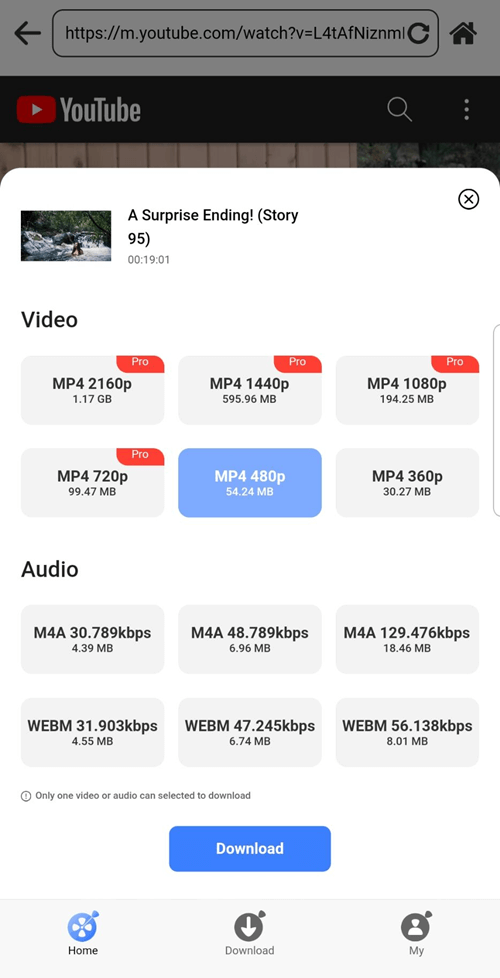 Main Features of VideoHunter for Android
Deliver the highest video definitions at 8K to download online videos for you.
A built-in browser is equipped for accessing all online videos to stream and download videos from Internet effortlessly.
Formats of great popularity, such as MP3 and MP4 are provided for exported downloaded video/audio files.
It is compatible with playlists and channels downloaded to facilitate much higher productivity.
Directly saves downloads to Android SD card for playing freely without limitations.
More popular streaming sites such as TikTok, Pornhub, and more are supported.
Provides all functions safely and contains no ads.
Top 2. SnapTube
Rating: 4/5
Verdict: downloading online videos on Android with the most comfortable interface and smooth performance
SnapTube is well developed and concentrated on providing the most comfortable experience for Android users to download online videos offline. In terms of the bright and clean main feed design, SnapTube has made itself attractive but with clear on-screen instructions for Android users to manipulate the online video download effortlessly.
​​​
What's more, the additional Dark Mode option is also set on the screen, by toggling it on and you can maintain a good app using experience at night, helping to protect your eyes especially when you use it to stream videos online.
Furthermore, its enhanced performance also guarantees that the whole video downloading manipulation in the application is fluent enough and does not get stuck.
If you are looking forward to a video downloader for Android with a simple and comfortable interface and fast download speed, then you can try SnapTube.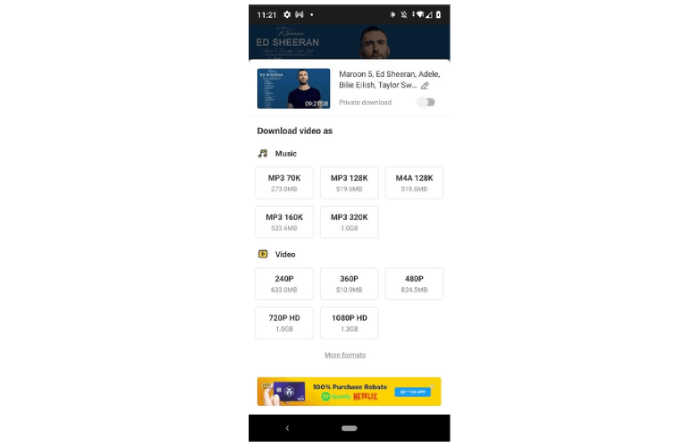 Pros
Offers quick speed to download online videos easily.
Provides different formats and quality options to download videos on Android.
Supports searching for online videos.
Offers all functions freely without needing to pay.
Supports dark mode for providing a better interface experience for users.
Provides high quality to save downloaded videos/audios for you.
Cons
Ads would keep popping up and you can't remove them at all.
Top 3. YTD Video Downloader for Android
Rating: 3/5
Verdict: free download online videos to Android and well manage them offline
The free Android downloader video downloader, YTD Video Downloader for Android can definitely offer quality-guaranteed conditions to download online videos from different streaming sites to Android for local playback like many other applications do, but the most attractive highlight of YTD should be its ability to manage downloaded media within the program.
When you have get the online videos downloaded offline, YTD Video Downloader for Android allows you to password protect them without being accessed by others using your devices. This can protect your browsing and downloading privacy, ensuring a completely safe experience in using the app.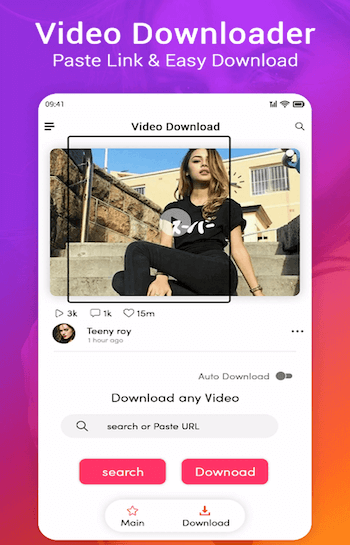 Pros
Offers user-friendly service to download online videos/audios.
Supports all popular streaming sites.
Ensures convenient download managing service and allows you to lock up the app to protect the safety of the downloaded videos.
Offers different languages for global users to enjoy the download service conveniently.
Offers free service without needing to pay for limiting the downloads at all.
Cons
No in-built search function is provided.
Less conversion stability with sudden conversion failures occurred sometimes.
Top 4. VidMate
Rating: 3.5/5
Verdict: free Android video downloader with background playback function equipped
For any of you wishing for the best Android video downloader that can also function as an online video streaming player, VidMate is definitely your rational option. This free video downloader app for Android is attractive for its background playback feature.
Like many other free video downloaders, VidMate is equipped with a web browser to access all online resources to process streaming directly.
But it stands out as you can just leave the video or audio to keep playing even if you switch to another app to use, attracting many users to use the application also as a web player to enjoy streaming media.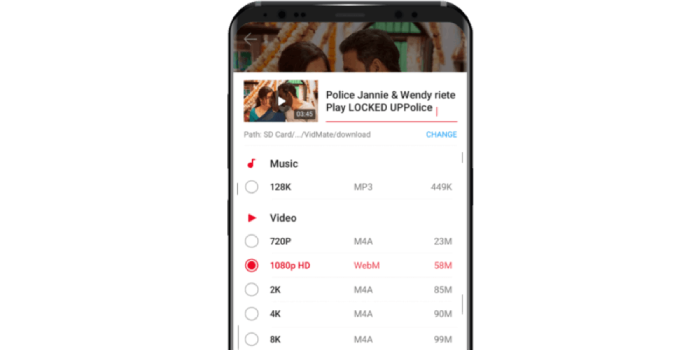 Pros
Offers searching service to access online videos/audios easily.
Also functions as a background player to stream videos/audios without opening the app.
Provides the download buttons to download online resources convenient.
Supports more streaming websites.
Provides common video formats such as MP3, MP4 to download videos/audios for playing on all devices.
Supports downloading online videos at up to 4K quality.
Cons
There are ads in the app that would affect the user experience.
Doesn't offer the best 320Kbps quality to download MP3 audios.
8K definition is not provided.
Top 5. KeepVid
Rating: 4/5
Verdict: downloading online videos from YouTube and more of other popular streaming sites by clicks and speedy performance
KeepVid provides powerful functions for downloading video not only from YouTube, but also from other 27 streaming websites, like Dailymotion, Instagram, Facebook, and so on. Also, featured with hardware acceleration, its batch downloading will help you download multiple videos to save time.
KeepVid will retain good quality by downloading online videos for you. Surprisingly, compared with other Android video downloaders, this one would contain fewer ads, enabling you to have a more enjoyable experience while using it to download online videos/audios to Android.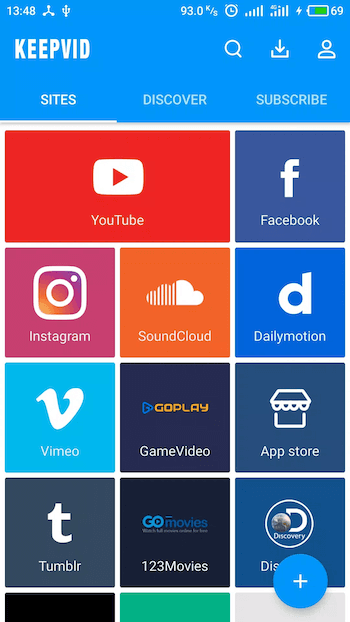 Pros
Provides intuitive download functions to download online videos easily.
Doesn't need to pay for using its service.
Contains fewer ads and offers safety download to all users.
Supports to save audio-only files from YouTube videos in good quality for playback offline.
Supports more streaming websites than you can imagine.
Cons
It is less stable than many other apps for video download in Android.
The video quality can only be retained at HD but not reaching 4K or 8K.
You May Also Like Top 10 YouTube Video Downloader for Android [2023]
Top 6. Videoder
Rating: 4/5
Verdict: one of the fastest and best Android video downloaders working with multi-thread acceleration technique to download online videos quickly for you
Now, let's see Videoder, which is well-known for its powerful ability to process quick online video download services on both Android and PC. A highlight of the application should actually be its speedy performance in working to process batch video downloads at once. The app has adopted the multi-thread technique to ensure the downloading performance can reach multiple times faster.
This is actually what makes Videoder stand out as many users care about efficiency and do not want to waste much time in downloading some online videos of long duration. If you also get this need, Videoder can be the best Android video downloader recommended to you.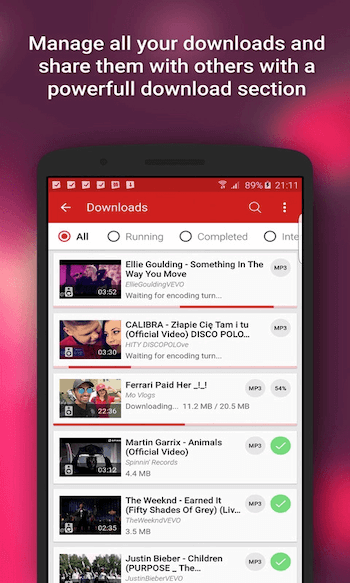 Pros
Offers quick speed to batch download online videos with the multi-thread technique applied and save time.
Supports common formats of different qualities to keep videos offline.
Supports more popular streaming websites.
Provides a user-friendly UI for easily using.
Doesn't need to pay any cost for using the service.
Sets in-built browser to search for online videos/audios easily.
Cons
Doesn't support 8K videos download (only up to 4K).
Doesn't support downloading YouTube playlist videos at once.
You May Also Like 6 Best YouTube Playlist Downloaders for Android [Online/App]
Top 7. InsTube
Rating: 4/5
Verdict: with frequent updates and newly-released versions to improve the services and ensure safe performance to download videos on Android
As one of the best video downloader app for Android, InsTube stands out for its regularly-enhanced performance and can always function stably for you. Fewer download errors and application crashes would happen to InsTube, and problems will be quickly fixed with its up-to-date released versions.
But it has a few ads when opening the app that may annoy you sometimes. If you don't mind this drawback, InsTube is still a good choice when you select your video downloader for Android.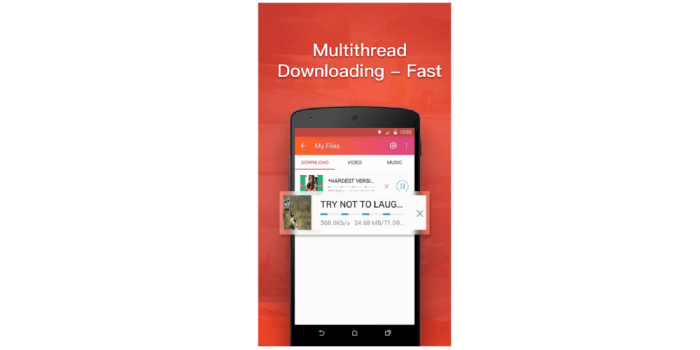 Pros
Provides up to 4K definition to extract videos and save locally.
Reliable speed is ensured to fast download online videos for you.
Supports a built-in browser to access online videos more conveniently.
More than 40 streaming sites are well compatible with the download function delivered by the program.
Cons
Ads will pop up and affect your experience in using the application.
It can be less sensitive sometimes to detect the pasted URL in the app.
Top 8. Newpipe
Rating: 3/5
Verdict: free and open-source video downloader for Android without Ads and featured with a background player and better privacy
The final recommended best Android video downloader you can try is Newpipe, which can directly be accessed and installed from the Google Play Store. Unlike many other video downloader apps for Android, Newpipe doesn't apply official Google APIs but proprietary APIs. This means you don't need a Google account. This also applies to other streaming services supported by NewPipe, such as SoundCloud.
Another surprising feature is that Newpipe enables you to play YouTube videos in the background. Whereas, this function in the YouTube App is only found in YouTube Premium. This means you can listen to audio from YouTube videos while opening another app without a subscription.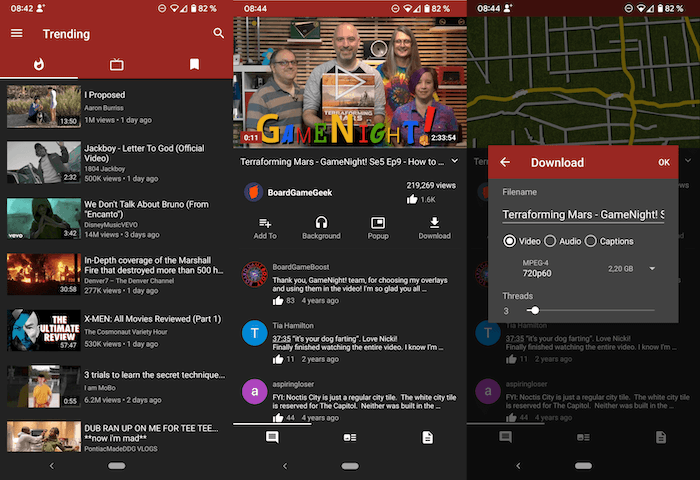 Pros
Access more online videos/audios to download at quick speed to play offline on Android.
Intuitive interface without messy ads like many other applications.
Background music player can function to keep streaming media even if you are switching to another app.
Optimal definitions to download videos and determine your own playback experience freely.
Cons
The search results may miss many media resources newly uploaded on other streaming platforms.
The streaming ability of the application is actually better than its downloading function.
Conclusion
After walking through the 8 best Android video downloaders ranked in the post, have you selected the most rational option for yourself now? For me, VideoHunter for Android better attracts me for its high definitions of downloading options and also efficient performance to process quick playlists download function. Now, you can determine your choice and get started with VideoHunter for Android's official download.