Online video streaming would easily run out of mobile data. Worse yet, the poor network condition would drive you crazy when the YouTube videos just keep buffering all the time. Hence, to have smoother video streaming experience offline, downloading them would be a way to get rid of all annoying streaming errors occurred online.
In this blog, the best 6 YouTube video downloader app will be introduced for Android users to process easy YouTube video downloads on mobile devices, thus enjoying better YouTube video playback even without network connection. Now, compare them and pick the best option to download YouTube videos on Android without hassle!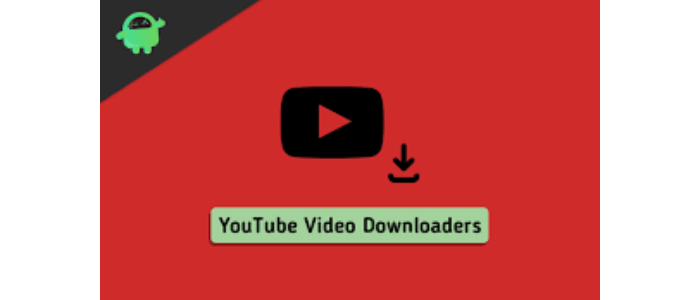 CONTENT1. VideoHunter for Android🔥2. Videoder3. VidMate4. SnapTube5. InsTube6. KeepVid
1. VideoHunter for Android
If you are considering a YouTube video downloader App for Android, VideoHunter for Android will be an ideal pick you should not miss. With multiple resolutions provided, TubeMate enables users to download YouTube videos to Android in 1080p, 4K, and even 8K.
In addition, with the built-in browser, users are available to search and access the YouTube videos in the app directly. Once detecting the video, TubeMate will provided the download icon to process the download. Actually, more than YouTube, other online videos downloads are also able to be processed by TubeMate. For Android users, it is a hassle-free application to download online videos conveniently.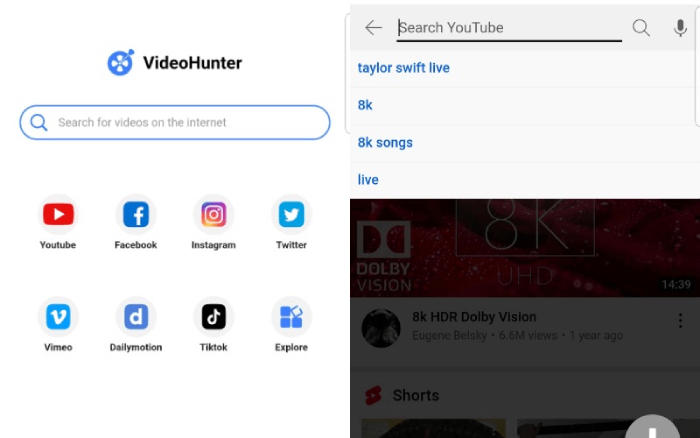 Pros
● Download videos from YouTube, TikTok, FaceBook, Instagram, Twitter, etc;
● Video download in MP4 format with up to 8k quality;
● Built-in browser provided to access all online videos quickly;
● Download the full or partial Youtube Playlist.
Cons
● Video and audio can only choose one;
● Youtube Playlist parsing time is a bit long.
2. Videoder
With an intuitive design, Videoder enables Android users to grasp the YouTube video download service quickly once they get started with the application. The straightforward interface helps users to process the video download with optional formats and quality in personal requirements.
Additionally, the downloading speed provided by Videoder is enhanced, which is able to complete within seconds quickly. For video quality, Videoder offers HD resolutions such as 720p and 1080p to preserve better quality as it can. Hence, users are able to enjoy the nice video streaming experience offline by using Videoder to grasp YouTube videos offline on Android.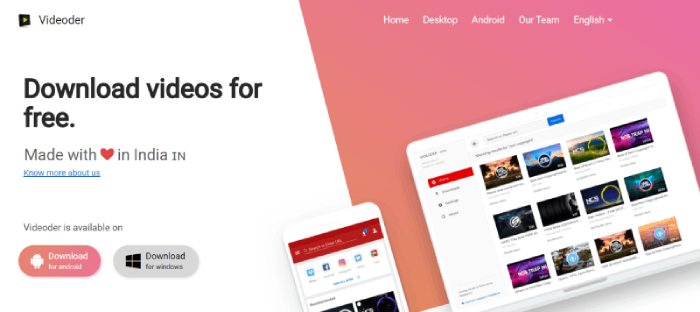 Pros
● Intuitive designed and easy-to-grasp functionality;
● Speedy performance to download YouTube videos offline;
● Option formats and resolutions (HD provided) to preserve videos of good quality for offline streaming.
Cons
.
● The app is filled with ads affecting the user experience;
● Older Android models are not well compatible with the application at all.
3. VidMate
As a user-friendly YouTube downloader app for Android, VidMate enables users to fully take charge of the YouTube video download as they desire on Android. After processing the YouTube video download, the application allows users to control the process by pausing, resuming, restoring, braking, etc. at any time they want.
In addition, the video download is able to be continued with the app running in the background. Hence, users are not required to keep eyes on the downloading process all the time, but simply wait for its completion with other tasks doing on Android!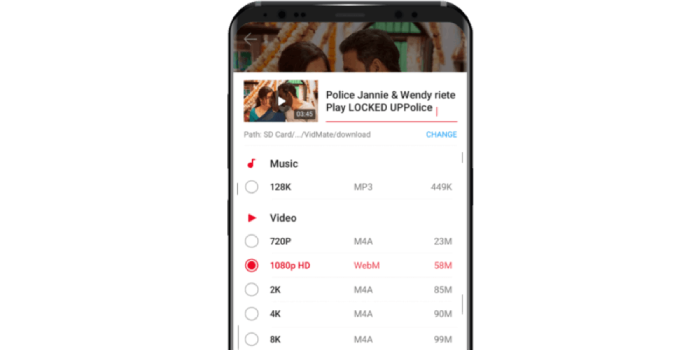 Pros
● Auto-process YouTube video in the background;
● Category classifications provided to sort YouTube videos clearly for accessing;
● Flexibly controls on YouTube video downloads in user demand;
● Great quality available to preserve downloaded YouTube videos on Android;
● Available to export videos to Android SD card in one click.
Cons
● Unavailable to download YouTube playlists or channels;
● The downloading speed would be pretty slow sometimes;
● Pop-up ads contained in the user interface.
4. SnapTube
To increase the YouTube video/audio compatibility, this YouTube downloader app for Android, SnapTube offers the most mainstream MP3 and MP4 formats to output the downloaded media files with good quality preserved. More than YouTube, SnapTube also lists other popular video streaming sites, available for users to download online videos for offline streaming on Android devices.
With a simple intuitive interface, users are available to process the video download within several clicks but at a quick speed, greatly saving much time.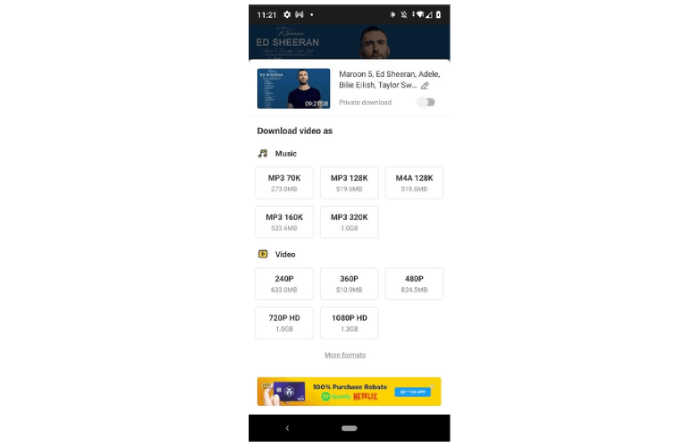 Pros
● Clear user interface available;
● Ads-free in-app environment to deliver user-friendly video download service on Android;
● No plug-in required to install;
● 100% secure without adware or malware contained.
Cons
● YouTube video download service will be restricted in some regions such as China and India;
● Unavailable to download YouTube videos higher than 1080p.
5. InsTube
As an out-performing YouTube downloader app for Android, InsTube also attracts Android users with its convenient services to download YouTube videos offline. With the lightweight design, the application won't take up much storage on your device. Meanwhile, for the high-quality HD or UHD YouTube videos, InsTube is available to keep better quality as it could to preserve the content for boosting enjoyable playback experience offline on Android.
Likewise, you are able to access other video sites on its interface directly and process the video download without hassle. With InsTube, you are actually getting an all-video-downloader for Android other than a simple Android YouTube downloader.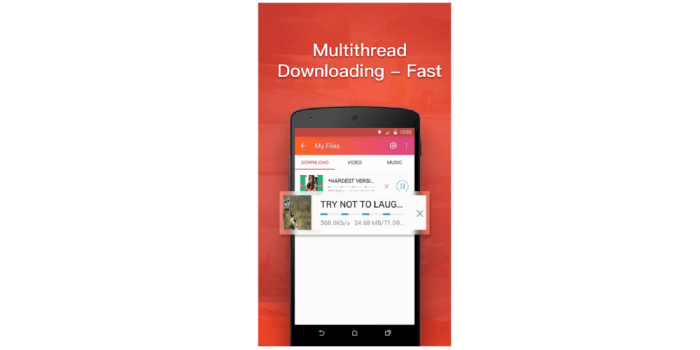 Pros
● Available to download online videos from YouTube and more popular sites;
● Clear interface and intuitive functionality to download YouTube videos;
● HD and UHD YouTube videos download supported;
● Great downloading speed provided regardless of your network condition.
Cons
● Ads would frequently pop up to interrupt your download process;
● Hard to catch the clipboard identifier icon on the screen.
6. KeepVid
The final handy YouTube downloader app for Android is KeepVid, which provides powerful functionality to download online videos from YouTube and other 27 streaming sites without hassle, including those popular platforms such as Dailymotion, Instagram, and so on.
Additionally, the efficient batch download feature is also a reason enabling KeepVid to be a popular Android YouTube downloader among most Android users. By processing multiple YouTube videos download at the same time, users are able to save much time waiting for the download to complete one-by-one. Moreover, with the 4K resolutions provided, the offline video streaming quality can also be guaranteed.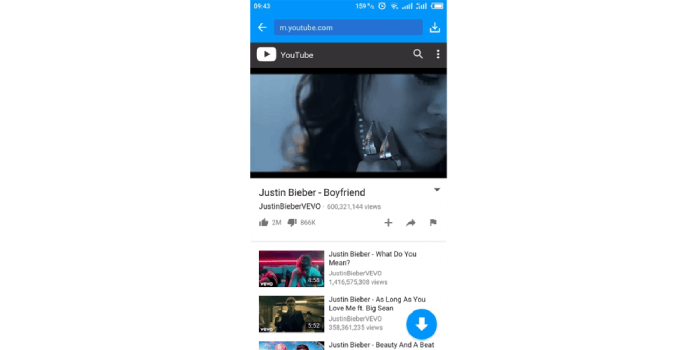 Pros
● Available to download YouTube 4K videos on Android at original quality;
● No ads interrupting the download process;
● No size limit restricted to download YouTube videos;
● Multiple video streaming sites supported.
Cons
● Sometimes the video downloading speed would be quite slow, especially while processing the batch download.
Conclusion
With these 6 best YouTube downloader app for Android, you are able to enjoy ads-free video streaming offline without encountering any online playback issues anymore. Now, simply pick your favorite option to download YouTube videos for offline enjoyment!