On Instagram, you can browse the timeline and discover many amazing videos shared by others. For sure, you will have certain times wishing to download Instagram videos to phone as personal collections. However, to our disappointment, Instagram is not equipped with the direct download feature, which means that you will need help from a third-party Instagram video download app to help.
Therefore, this post has prepared 3 sorts of Instagram video download apps for Android and iPhone to download Instagram video MP4 with easy manipulation. Please scroll down and read if you need help, too.
CONTENT How to Download A Video From Instagram on Android How to Download Instagram Video iPhone Online How to Record and Download Instagram Videos to Phone
How to Download A Video From Instagram on Android
First, let's come across the best method to process Instagram video downloads on Android devices. As you can notice, there are optimal Instagram video download apps available to process a free download service and save online videos from Instagram to an Android SD card as local files - VideoHunter for Android is one of them.
Newly launched in this year, VideoHunter for Android has oriented users who wish for an effortless solution to save online media as common digital files for streaming or storing locally for easier access. With the high definitions (best at 8K) to export online videos, you can surely save the videos you like from streaming sites in lossless quality.
As one of the best Instagram video downloader apps for Android, you only need to follow pretty simple manipulation to download Instagram videos to phone in batch at fast speed. Once the application detects the Instagram video shown on the page, the download function will be activated for you to proceed to download it in no time.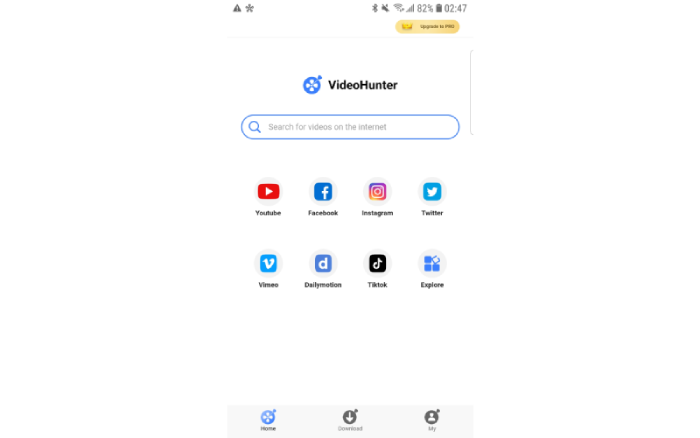 Overall sparking features of VideoHunter for Android:
The program delivers a one-stop solution to download online videos from Instagram, YouTube, Facebook, Twitter, Vimeo, Dailymotion, and TikTok.
The search function is equipped to discover online videos with keywords typed in easily.
Auto-detection is embedded to deliver direct video download by lighting up the download button.
The encoders of the most popular such as MP3, M4A, WEBM, and MP4 are provided.
The best 8K definition is provided to export videos to give you the best video streaming experience.
The batch download feature has ensured higher productivity as you can process up to 4 downloads at once.
The handy experience provided by VideoHunter for Android delivers an easy-using manipulation process to download Instagram videos on Android. In the following, please walk through the guidance and follow to download Instagram videos to your phone with this powerful Instagram video download app for Android:
Step 1. First, please install VideoHunter on Android and run the application. On the main feed, directly select Instagram to access the timeline and browse the Instagram video you wish to download on Android.
Step 2. Once discover the Instagram video you are interested in, open the page of the post, then VideoHunter will auto-detect the video. Meanwhile, the download button will light up to blue. Now, please tap it to convert the video in no time.
Step 3. Next, once VideoHunter has completed the video analysis, the format selection menu will pop up from the bottom. Please select the encoder and definition. Subsequently, tap Download to download Instagram videos to phone as a local collection.
How to Download Instagram Video iPhone Online
You may discover it a bit harder to find an Instagram video download app for iPhone from the App Store. Actually, replacing installing an Instagram video download app, it is strongly recommended for you to use some free online tools to process the Instagram video download without third-party applications installed.
When there are countless online Instagram video download apps, w3toys can function in an easy way to download Instagram video to iPhone for you. The only process you will need is to copy and paste the Instagram video link to the search bar provided on the main feed of w3toys, then it will resolve the link and delivers exporting options for you to select. Here guides you to the appropriate manipulation to control Instagram video downloads utilizing the w3toys online tool:
Step 1. On iPhone, please launch a browser and direct to w3toys.com.
Step 2. Subsequently, open a new tab and turn to Instagram. Once you access the Instagram video, please click on the share button to copy its video link.
Step 3. Switch to w3toys and directly paste the link to the search bar. Once w3toys detects it, the analysis will initiate.
Step 4. When w3toys provides the download option for you, please tap Download and confirm to save Instagram videos to your phone in no time.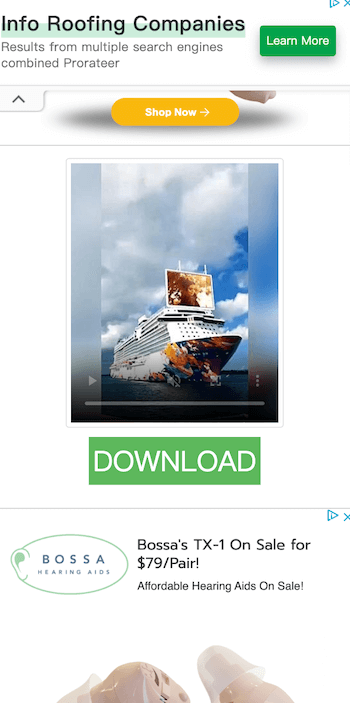 Nevertheless, the webpages of w3toys contain pretty much ads that would disturb your video download process a lot. In addition, unlike VideoHunter for Android, which provides optimal exporting options to select, you get only one option (without output formats and encoders available to select personally) to save the Instagram video offline.
How to Record and Download Instagram Videos to Phone
Regardless of the device systems, an effortless method to download Instagram videos to phone is by recording them. The recorded videos will be stored in your camera roll, making it easier for you to find them back for playing to have fun. As a majority of phones are equipped with a built-in recording feature, here will simply show you the manipulation of recording Instagram videos to store locally without utilizing any third-party Instagram video download app:
Step 1. Please open Instagram and log in to access the video you wish to save to the device camera roll.
Step 2. Swipe down the Control Center and tap the recording button to proceed to record the screen (please remember to play the video after tapping to initiate the screen recording process).
Attention: You can directly add the recording function to Control Center in Settings >> Control Center.

Step 3. Once the Instagram video ends playing, swipe down Control Center and tap the button again to stop the recording. Subsequently, the recorded Instagram video will directly be saved to your camera roll.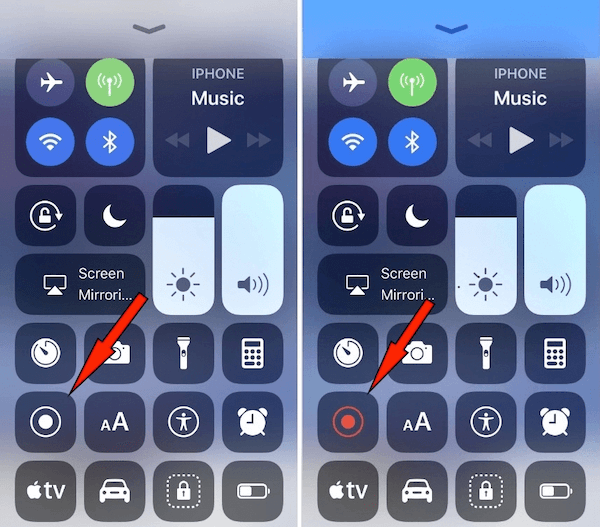 Final Words
Surely, taking a reliable Instagram video download app like VideoHunter for Android definitely helps an easier process to download Instagram videos to phone. However, for iPhone and other systems without Instagram video download apps compatible, online tools and recording methods can help. Please check the post again and compare it to get the best solution to save your favorite Instagram videos. Enjoy!