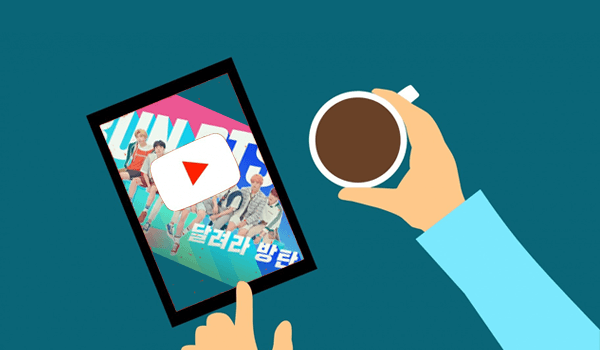 BTS is the world famous K-pop boy band, who gained huge success in western countries such as the United States. They are occupying the music market in all over the world. This year, their newly-released album gained a shinning record on all music charts, including the authoritative Billboard. Their single, Dynamic, even reached No.1 on Billboard music chart, which made BTS became the first K-pop team to reach the place.
BTS won many fans from different countries, and people are desiring to know more about BTS members. To meet fans' demands, a variety of BTS, Run BTS, was released for people to get more familiar with 7 amazing boys. On both YouTube and VLIVE, you can find Run BTS episodes and enjoy them with good quality. But if you want to save them offline for more fluent playback, today's blog will bring you the help! Let's have a look!
CONTENT
Part 1. Top 7 Episodes Picked by ARMY
Part 2. How to Download Run BTS from YouTube Using URL
Another Approach to Download Run BTS - VLIVE
Part 1. Top 7 Episodes Picked by ARMY
If you are the first time to watch Run BTS and wonder which are the most amazing ones, here is a list you can turn to. In the following, the top 7 episodes of Run BTS are picked by ARMY (the nickname of BTS's fan group). You can start watching Run BTS by seeing the most popular episodes loved by their fans, and you may probably know what BTS can become so famous around the world.
Episode 23 - BTS members hold activities with puppies together. So you can not only see how cute the puppies are but also the members' kindness and their different sides while staying with little animals.
Episode 24 - This episode will be funny. BTS members are led to the zoo at night and they don't know about this schedule at all. It means that they are going to have an unknown adventure and only can follow the guides given by the staff. Because of the unknown stuff, it will be funny to see how BTS members act during the process.
Episode 32 - This episode is a Christmas edition. During this activity, BTS members have to protect their pigdolph from being stolen by one of the members. It will be funny to see how they question each other to speculate who is the real thief.
Episode 41 - BTS in this episode will play the "Whisper Game", which is a funny and popular game in Korean variety show recently. Members need to put on headphones and then guess what the other member is saying.
Episode 83/84/85 - BTS are hanging out to pool for playing water sports together. You will see how to encounter with the challenges and break them. Members are really funny and you will sure to entertain by watching these episodes.
Part 2. How to Download Run BTS from YouTube Using URL
YouTube only offers download service to YouTube Premium subscribers and this service is currently available on mobile phones. To download Run BTS episodes from YouTube for playing back on desktop, a YouTube Downloader is needed, and VideoHunter can bring you the help.
VideoHunter offers outstanding and convenient online video downloading service, and you only need several very basic steps to save Run BTS episodes to your desktop with original quality for offline playback.
VideoHunter A Reliable and High-quality Any Video Downloader for Windows/Mac Unlimited Downloads Available Provide HD/4K/8K Output Quality Support Videos from 1,000+ Sites Provide Extra Built-in Video Converter Enable 6X Faster Downloading Speed Convert Music to MP3 Easily Free Download Free Download
# Tutorials to Download YouTube Run BTS Episode
STEP 1. Firstly, you need to download and install VideoHunter to your desktop. Sometimes you may need to turn off the antivirus software while installing it (you can turn on after the installation). VideoHunter is completely safe to use and no virus or malware would be installed to your device so don't worry.
STEP 2. Go to YouTube and find the Run BTS episode you need to download for offline viewing. When you access the video, copy its URL and than paste to VideoHunter's downloading frame bar inside "Downloader". Then, click the "Analyze" icon.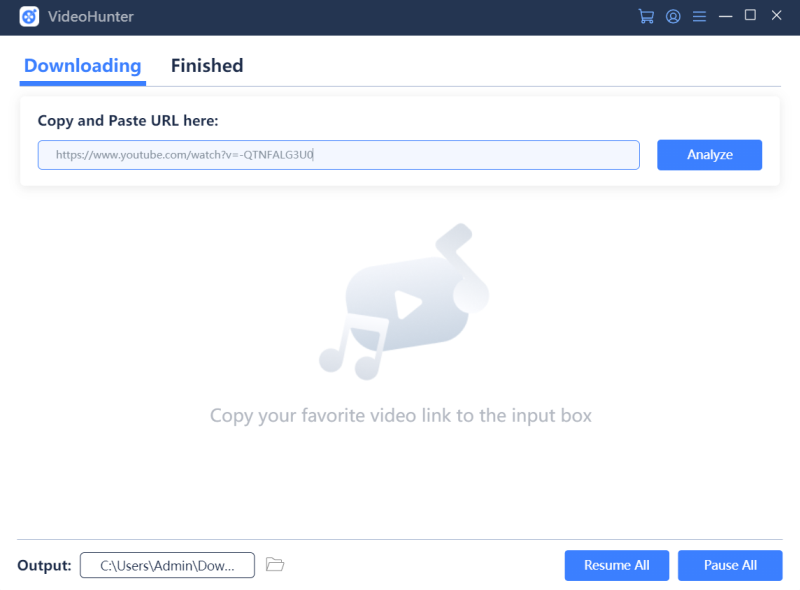 STEP 3. When the output choices provided to you, select format as well as quality for saving the Run BTS episode. Finally, hit the "Download" icon to get the video offline.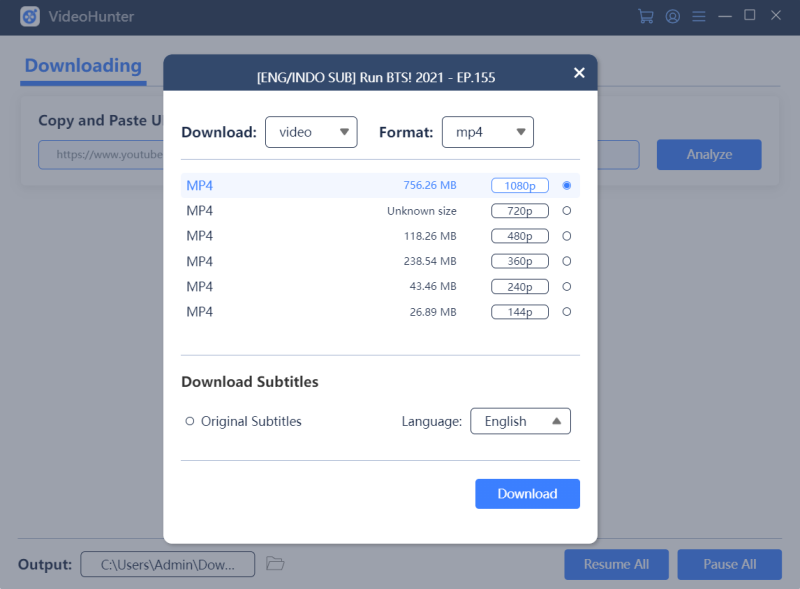 Full Guide on How to Download Run BTS Videos for Offline Playback
Another Approach to Download Run BTS - VLIVE
Except for YouTube, you can also find original Run BTS episodes released on VLIVE, which is a platform provided for K-pop idols to interact with fans through live video streaming. You also get two ways to download Run BTS episodes from VLIVE on different devices.
# Using Mobile Phones
STEP 1. Install VLIVE app on your mobile device. Then run the program and search for the Run BTS episode you want to download.
STEP 2. When the video is opened, click the three-dots icon on the top right corner of the video playback window.
STEP 3. Tap "Save to My" option from the drop-down menu. Then the Run BTS episode will begin to be downloaded.
STEP 4. When the episode completes downloading, the video will be saved to "My" > "Saved Videos". Find the video here and enjoy the playback offline!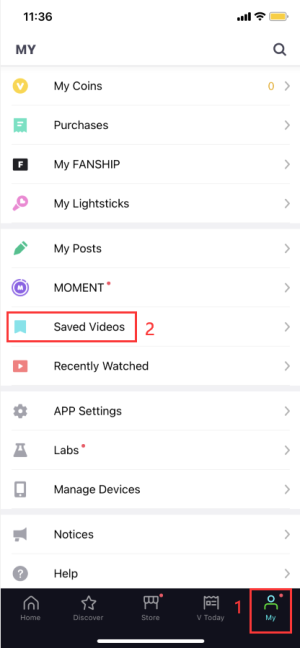 # Using Desktop
VideoHunter supports to download videos from not only YouTube but also other 1,000+ platforms, including VLIVE. In other words, VideoHunter is also a VLIVE Video Downloader which can help you save VLIVE videos released by your favorite K-pop idols. Likewise, you just need to get the URL of the VLIVE Run BTS episode, then the remaining steps are simple as introduced above. Try it now!
NOTE: Because Run BTS is originally released on VLIVE, so the quality provided here will be better. You can download the episodes to desktop with 1080p on desktop.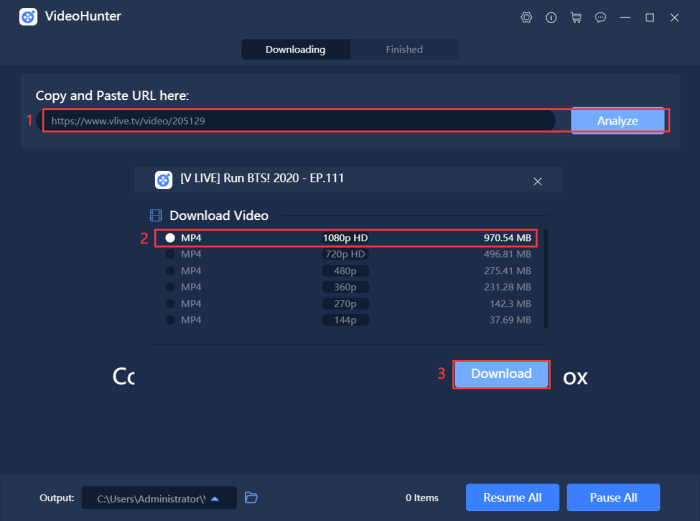 No matter you are a fan of BTS or not, watching Run BTS for gaining fun and know more about this group of world famous boys is a good way to entertain. You can see the inner sides of BTS members through their daily casual life. Maybe you will be the next ARMY after watching Run BTS!