On YouTube, you can discover many latest released and free music resources other than videos. However, this music content is not available to you in MP3 form for playback outside the app even if you've already got a YouTube Premium subscription.
Understandably, such playback limit set by YouTube is to protect content creators' work. But in fact, if the creator has granted you permission to download their works, tools like YouTube to MP3 converter should help you save a playable MP3 local file and provide ideal results. You can even leverage the converter to pull up YouTube content in 320kbps high-quality audio.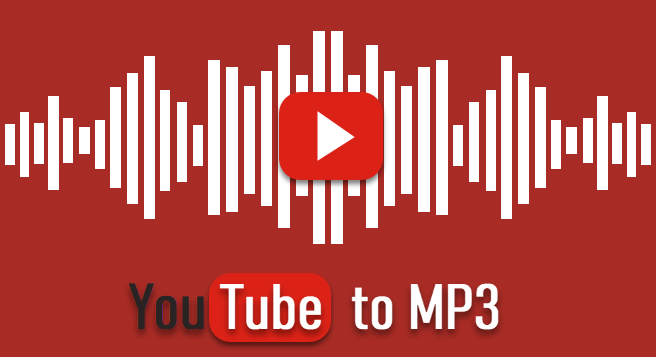 On the market, you are now possible to find various options to convert YouTube to MP3 320kbps based on the device you are using. But choosing the right tool can be a challenging task. To save you time and energy, we've tested and collected the top 6 options to use on different devices:
For desktop users: VideoHunter, ByClick Downloader
For mobile devices users (cross-platform users): Y2mate, YTMp3
Browser add-ons (Firefox and Chrome): YouTube mp3, ClipConverter
These 6 YouTube to MP3 320kbps converters shows outstanding ability to output YouTube music at MP3 with detailed sound information retained. Besides output quality, stability, speedy performance, and security are also the key factors that we care about.
Additionally, we will focus on features such as bulk downloads that help ensure download efficiency. The maximum time limit for downloading content on YouTube is an important feature that we value. Now, let's keep reading to get an overview of the 6 best YouTube to MP3 320kbps converters.
CONTENTTOP 1. VideoHunterTOP 2. ByClick DownloaderTOP 3. Y2mate TOP 4. YTMp3TOP 5. YouTube mp3 - FireFox Add-onTOP 6. ClipConverter - Chrome Extension
TOP 1. VideoHunter
VideoHunter ranks first place if you are considering a stable and secure YouTube to MP3 320kbps on Windows and Mac. With a clear and intuitive user interface, you can quickly see how simple and smooth the download process is going to be. Simply copy and paste the YouTube video link to the download box, and VideoHunter can instantly detect and analyze the link, offering to download the specific YouTube video for you.
Different quality options are also provided for selection to balance file size in the output as well. If you choose to convert YouTube video to MP3, the maximum bitrate reaches 320 kbps. In addition, to boost the conversion efficiency of YouTube content, VideoHunter can also handle both YouTube playlists and YouTube channel downloads, thus users are able to achieve a whole music playlist or channel conversion to MP3 320kbps with just one click.
Read more: How to Convert YouTube to MP3

VideoHunter also employs hardware acceleration tech, which makes it possible to speed up the YouTube conversion to 6X or even much faster but consumes less of your computer CPU. Also with the built-in proxy setup, users will find it possible to convert all YouTube videos or audio to MP3, and MP4 regardless of the regional limitations.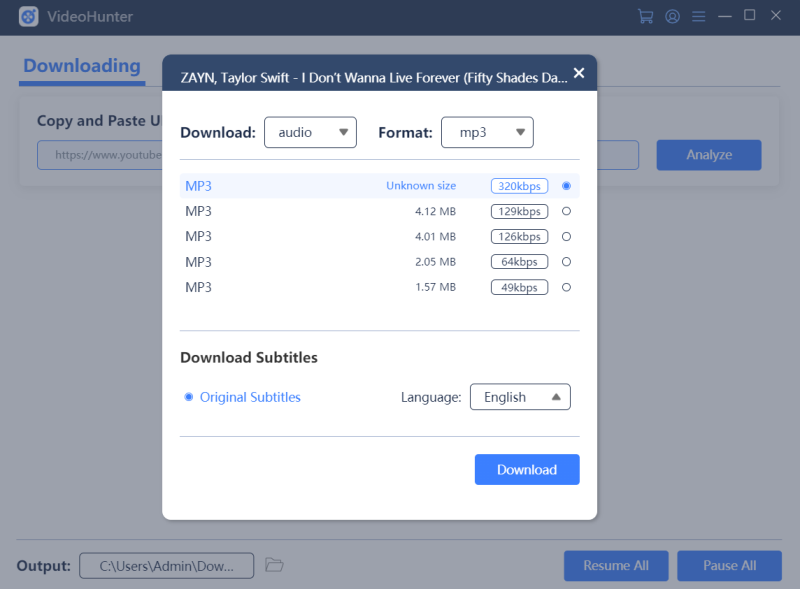 Pros and Cons of VideoHunter
Pros
Compatible with YouTube and other 1,000+ streaming sites;
Convert YouTube to MP3 320kbps and other audio quality;
Batch converting playlists and channels supported;
Up to 8K resolution for downloading YouTube videos;
In-Built Proxy to bypass regional limitations to convert all YouTube resources to MP3, MP4;
Accelerated to 6X faster ripping speed;
Long YouTube videos download available;
100% secure in-app environment without adware, malware, or virus.
Cons
Require registering an account to use the provided functions;
Only 3 free videos available to download every day.
TOP 2. ByClick Downloader
More than YouTube, ByClick Downloader is also compatible with other streaming platforms, enabling users to download online videos from all sites with only one single software. As ByClick Downloader is extremely professional in YouTube video downloading, it is able to offer nice experience to convert YouTube to MP3 and also other streaming formats with the best quality. For sure, you are able to select 320kbps to extract audios from YouTube for enjoying offline without hassle!
Also, as ByClick Downloader is designed with an intuitive interface with clear instructions, it would be simple for users to convert YouTube to MP3 320kbps within only several simple clicks. Like VideoHunter, it is also compatible with YouTube playlist download to make the task simple.
Hence, if you have the need to download multiple YouTube videos, and care about ease of use, ByClick Downloader is also an efficient YouTube to MP3 320kbps converter you should not miss.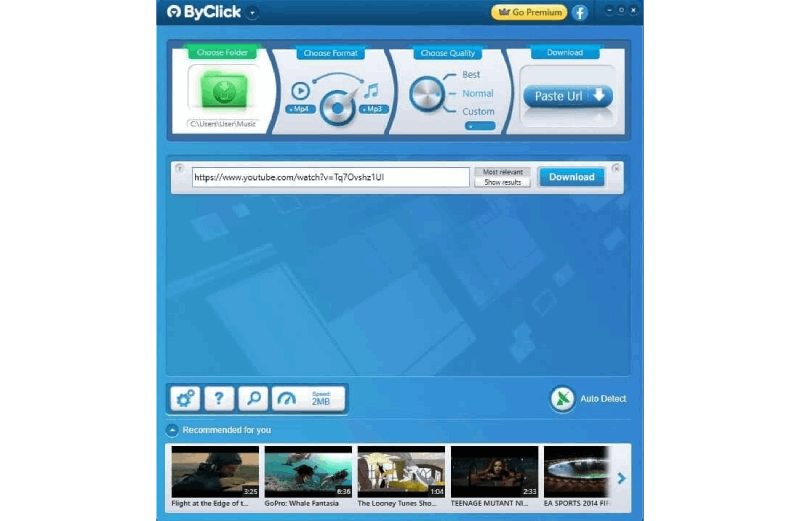 Pros and Cons of ByClick Downloader
Pros
Multiple audio quality options ranging from 64kbps to 320kbps available;
YouTube playlist and batch conversion features supported;
More mainstream formats provided to output YouTube videos and audios;
No in-app pop-ups;
Intuitive interface and functionality.
Cons
The downloading speed can be slow some while;
Only compatible with Windows systems.
TOP 3. Y2mate
Instead of using a desktop software, an online YouTube to MP3 320kbps converter brings greater convenience, especially for those who prefer using mobile devices to convert YouTube to MP3 for offline listening. For this purpose, Y2mate can be your ideal choice.
Although the webpages of Y2mate contain ads that would affect your conversion experience, its quick speed to process the YouTube to MP3 conversion can still be appreciated. Simply by pasting the YouTube video URL to the frame bar and hit the "Start" icon, the video can be converted to MP3 with 320kbps as you desire.
Pros and Cons of Y2mate
Pros
No requirement to install software on devices;
Compatible with all mainstream devices and browsers:
Available to select quality to convert YouTube videos;
Speedy performance ensured.
Cons
Ads contained on the webpages;
Unavailable to convert YouTube playlists or channels;
No batch conversion feature to process multiple downloads at once.
TOP 4. YTMp3
Another online YouTube to MP3 320kbps converter you shall not miss is YTMp3. With an intuitive interface, users are able to grasp the usage of the platform without wasting much time. YTMp3 even embeds the search function on its homepage, with which users are available to directly search for the YouTube videos for processing the MP3 conversion by clicking on the "Download" button provided.
It won't take a long period for YTMp3 to complete the conversion, but there will have ads embedded on the webpages that may interrupt your conversion experience unexpectedly.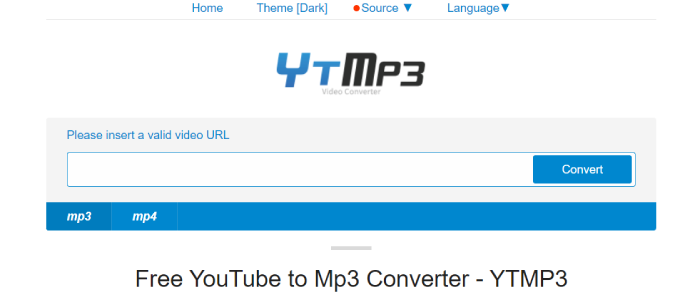 Pros and Cons of YTMp3
Pros
No account registration or software installation required;
Available to search for YouTube videos to convert directly;
320kbps provided to deliver the best audio quality;
Fast conversion speed.
Cons
Ads interred on the web pages;
While process the conversion, an apk will be downloaded on your device;
Unavailable to process batch conversion efficiently;
An apk will be installed while tapping the convert icon to process the video searching or conversion.
TOP 5. YouTube mp3 - FireFox Add-on
For desktop Firefox browser users, an add-on named YouTube mp3 is able to bring you more efficient help to convert YouTube to 320kbps even without turning to an online converter page or installing an extra software. By adding the browser add-on to Firefox, you are able to find the MP3 download icons added to all YouTube videos immediately.
You won't be navigated to other pages but is able to process the YouTube conversion right on the page without hassle. YouTube mp3 has brought the most convenient for Firefox users to convert YouTube to MP3 320kbps in quite a simple way.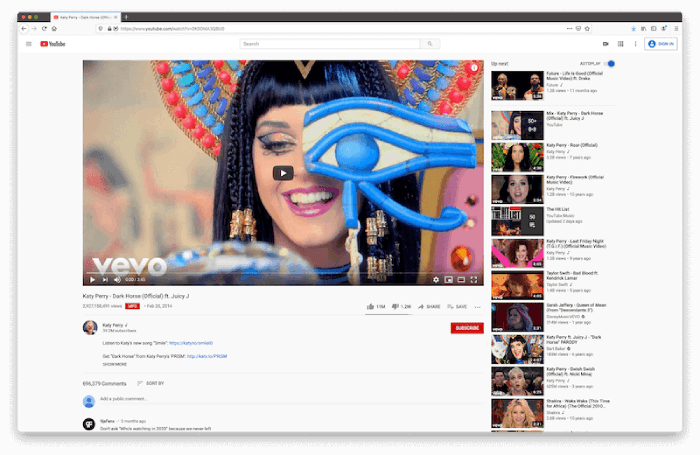 Pros and Cons of YouTube mp3
Pros
Automatically adding download icons to all YouTube videos;
The best 320kbps provided;
No requirement to navigate to webpages or install software to process YouTube conversion;
Lightweight size no more than 1 MB.
Cons
Only compatible with Firefox browser;
Some videos may fail to provide the download icons to convert to MP3;
The conversion would be unstable sometimes.
TOP 6. ClipConverter - Chrome Extension
For Chrome users, ClipConverter also provides a powerful add-on available for you to convert YouTube to MP3 320kbps. When it is installed to your browser, there will be both MP3 and MP4 options provided under the video for you to download the content offline. As the ClipConverter add-on is completely secure, it won't bring any adware or malware to your desktops and brings harm to your data privacy.
Additionally, ClipConverter add-on is also compatible with Firefox and Safari. Hence, you are able to install it on these two browsers for converting YouTube to MP3 320kbps as well.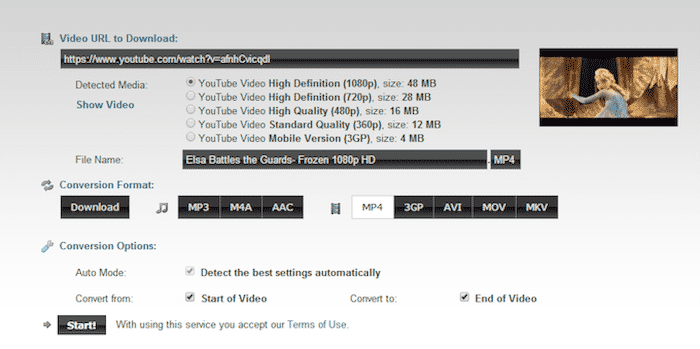 Pros and Cons of ClipConverter Add-on
Pros
100% secure without adware or malware bundled;
Both MP3 and MP4 download options added;
Inclusive format options support;
Able to cut or trim YouTube video before converting to MP3;
Edit ID3 tags before saving as MP3 file;
Compatible with mainstream browsers, including Chrome, Firefox, and Safari.
Cons
The conversion takes longer time to process;
The download option doesn't appear in some videos at all. (such as video labeled as Music)
The conversion may fail sometimes.
NOTE: To convert YouTube videos via ClipConverter, you should first navigate to download the TemperMonkey Add-ons and then install the ClipConverter script. When the script is installed successfully, you can see the ClipConverter download icon beside the subscribe icon.
Conclusion
To conclude, based on different user demands, your ideal YouTube to MP3 320kbps may be different. For those considering a stabler YouTube converter with efficient playlist or channel download functionality, VideoHunter is absolutely the best choice. But for mobile users who are not available to install a desktop software, online tools bring greater convenient for them to convert YouTube to MP3 320kbps.
Instead, if you don't want to install a software or navigate between web pages at all, installing a browser add-on will directly add download icons to all YouTube videos for processing the direct YouTube conversion.
Hence, simply based on your requirements and select the best pick for yourself to convert YouTube to MP3 320kbps easily!