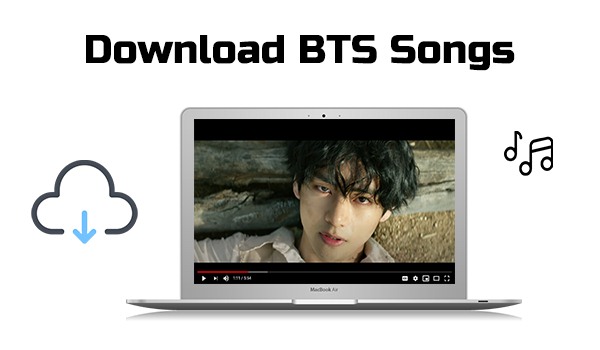 Debut in 2013, the K-pop boy band, BTS, has successfully made their way to invade the western music market in the past years. In 2020, BTS has made a legend for the K-pop industry, which peaked the Billboard 200 twice with their released albums, February's Map of the Soul: 7 and November's BE.
When BTS continues on growing a large number of fans all over the world, today's post is about to introduce the ways to download BTS songs to MP3 from online music streaming platforms such as YouTube, SoundCloud, Vlive, and so forth for enjoying offline. Please scroll down and read.
Related Reading: Easily Download Run BTS for Offline Playback CONTENT Part 1. Where to Find and Download BTS Songs?Part 2. Best Solution to Download BTS Songs and Albums to MP3Part 3. A Must-listen Playlist of BTS Songs (Updated)
Part 1. Where to Find and Download BTS Songs?
In fact, you are available to enjoy all BTS songs from online platforms without installing third-party software. Normally, these platforms would launch an official way to download BTS albums for listening offline as well. Let's check.
# 1. YouTube
YouTube is the largest video streaming platform in the world, which will collect all the latest released songs from all artists. You can search for any BTS songs on YouTube with its powerful search engine. Despite this, fans can also subscribe to the BTS YouTube channel for receiving the latest updated videos released by the official. If you subscribe to the YouTube Premium service, you also get permission to have BTS songs downloaded for offline enjoyment.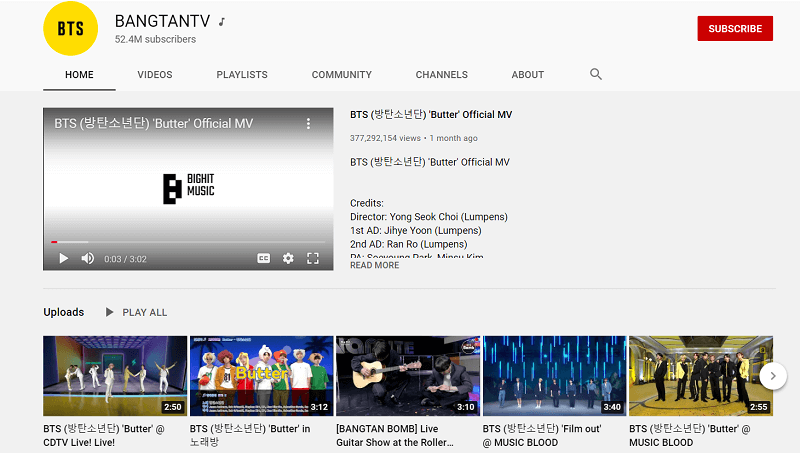 # 2. SoundCloud
SoundCloud stands for a music tracks sharing platform. No matter for some self-created tracks, or singles released by famous singers such as BTS, people can discover many resources on SoundCloud. Likewise, if the songs are given the download options, people can directly save them to MP3 for offline playback, which empowers a more flexible music listening experience.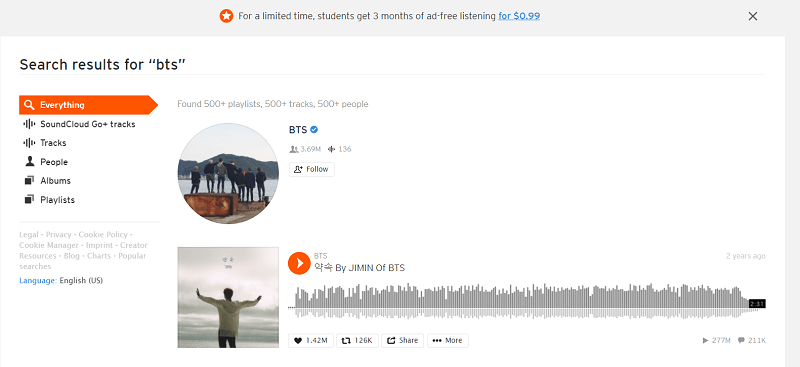 # 3. Vlive
Although Vlive is a live streaming platform to connect fans and K-pop idols, some special music resources such as live shows can be discovered on this platform. If you discover some unique BTS music or videos on Vlive, you can directly navigate to the platform and enjoy them online. For mobile app users, some music or video clips are also permitted to download offline. So you can enjoy them without a network connection after downloading.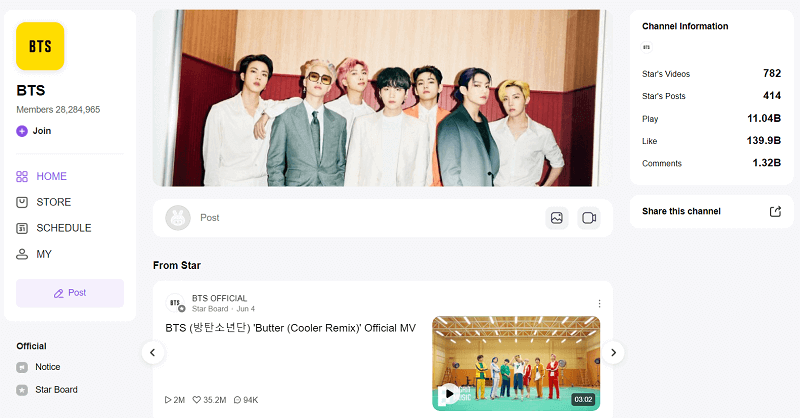 Part 2. Best Solution to Download BTS Songs and Albums to MP3
Even the above-introduced platforms offer ways to download BTS songs for offline streaming, they all have certain limitations. For example, YouTube users have to subscribe to the Premium plan and only get permission to download BTS albums using the mobile app while tracks from Soundcloud don't come with a download option, and there has no way to get the songs downloaded offline...
Here we get a recommended solution to download BTS songs and albums to MP3 from different platforms at once, which is to use VideoHunter, a professional video/music downloader of 2021. But why select VideoHunter? These are some advantages that it can bring to you:
* Multi-platforms supported: VideoHunter is compatible with all mainstream video/music streaming platforms such as YouTube, SoundCloud, Vlive, and so forth. So it can assist people to download BTS songs from these platforms in one program.
* High-quality audio outputs: VideoHunter supports the best 320kbps to output online music in mainstream MP3 format. With the best audio quality and universally supported format, people can enjoy BTS songs with an awesome experience.
* Smart detecting feature: VideoHunter can analyze the music URL with fast speed, and it could smartly handle the conversion as well as downloading process with swift speed.
* YouTube playlist download: Instead of downloading single YouTube music one by one, VideoHunter is available to download YouTube playlists in one-shot, being more time-saving.
* Intuitive interface: Provided with an intuitive main feed, VideoHunter is easy-using and it would be friendly for every new user to quickly get started. VideoHunter simplifies the downloading process but maintains the service at its best state.
Now, please follow me and check how I use VideoHunter to download BTS albums in the fastest way (I will take downloading a BTS YouTube playlist as an example).
NOTE: This download method also applies to downloading BTS songs from SoundCloud, Vlive, and other music or video websites as long as you have the song link.

# Step 1. Copy BTS Ablum URL
First, please go to YouTube with your web browser and search for the BTS album or playlist you are about to download. Open a single included in the playlist and copy its URL from the address bar.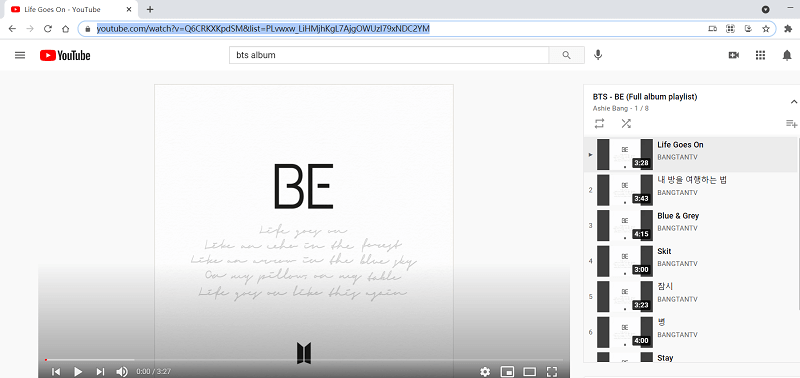 # Step 2. Paste BTS Album URL to VideoHunter
After downloading VideoHunter, please launch the software program on your computer. After entering its main feed, directly paste the URL of the BTS album to the downloading bar. Subsequently, click on the Analyze button aside from the bar, and VideoHunter will resolve the URL right away. In the pop-up notification window, select Download Playlist.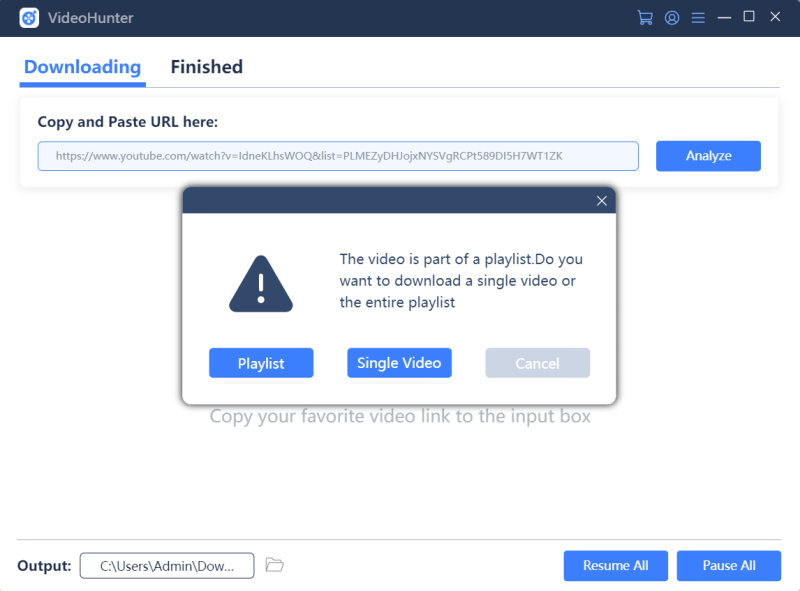 # Step 3. Select BTS Songs to Download
When the output options provided in a pop-up window, you should select Audio for outputting the BTS songs to MP3 format. Then, select the Best quality (320kbps) and check the songs you want to download offline. Subsequently, click on the Download button and all the BTS songs will be added to the downloading list.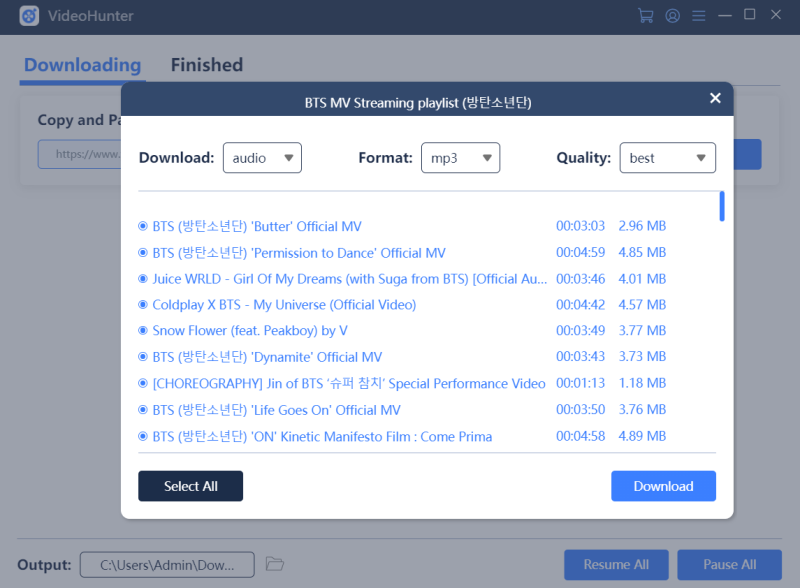 # Step 4. Enjoy BTS Songs Offline
After completing downloading all BTS songs, the tasks would be moved to the Finished section. Navigate to it and access the songs by clicking on the Open icon. Then you are available to enjoy the downloaded BTS MP3 songs offline without any restrictions.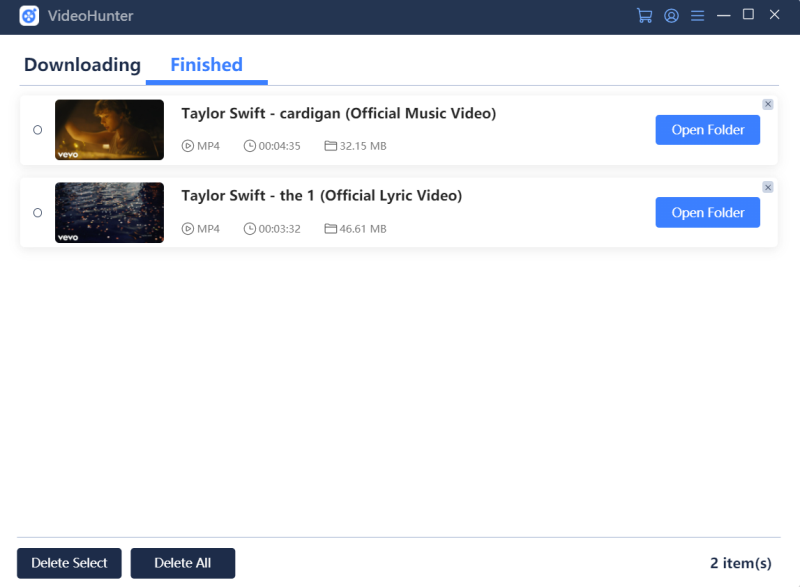 Part 3. A Must-listen Playlist of BTS Songs (Updated)
# 1. Dynamite
(Released on August 21, 2020)
Dynamite is BTS's 2020 popular single, which was fully recorded in English. The song utilizes an upbeat disco-pop feeling, accompanied with other music elements like funk, soul, and bubblegum pop. With the aim to comfort people during the COVID-19 pandemic, Dynamite has brought lots of positive energy to people. It gained great success, which has become the first song of BTS to peak the Billboard Hot 100.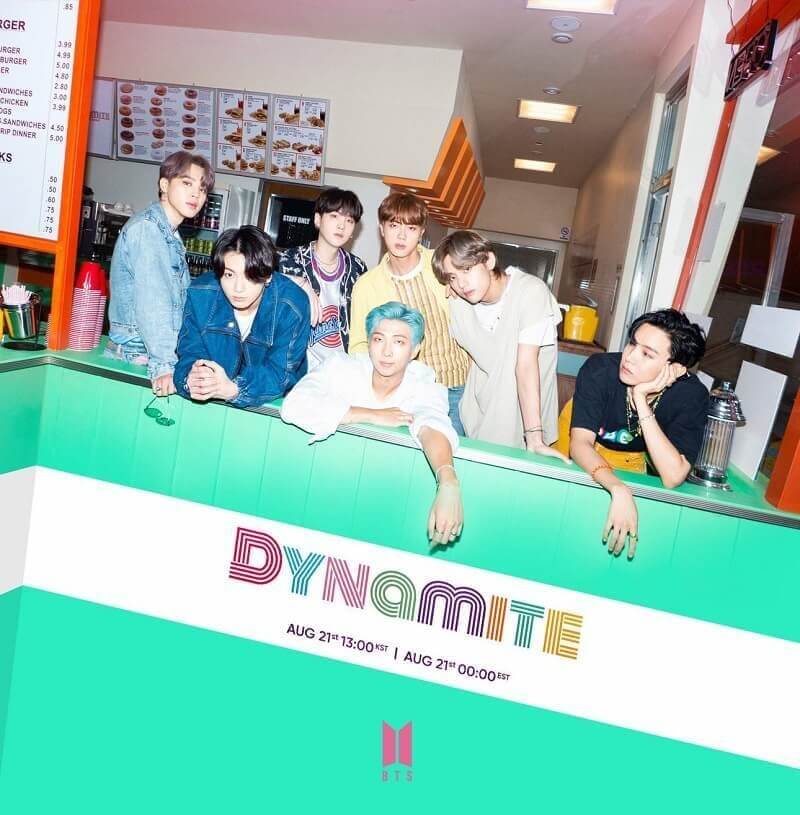 # 2. Blood Sweat & Tears
(Released on October 10, 2016)
The lyrics of BTS's Blood Sweat & Tears target to express the pain of paying for addictive love. The song is mixed with moombahton, trap, and tropical house, accompanied with dancehall and reggaeton. Blood Sweat & Tears contributed to BTS's first No.1 song on Gaon Digital Chart. In addition, its Japanese version also won the No.1 place on the Oricon Singles Chart.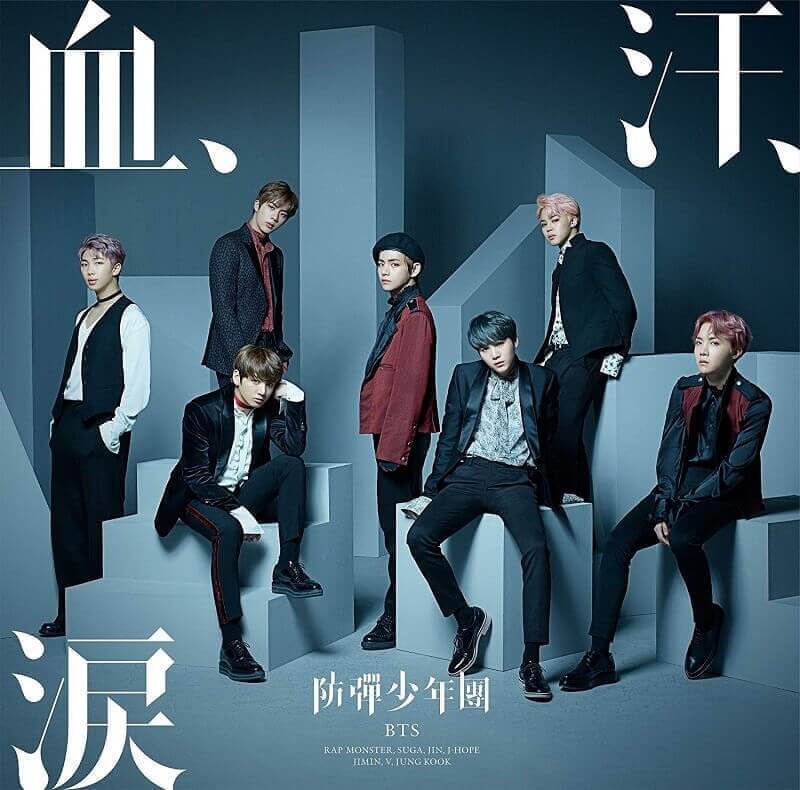 # 3. Boy with Luv
(Released on April 12, 2019)
The meaning of Boy with Luv stands for "A Poem for Small Things". Instead of performing the song only by BTS, this time they invited a famous American female singer, Halsey to participate in the featuring part. With the lively and attractive rhythms, Boy with Luv quickly received positive comments from fans and music lovers around the globe. The music video of Boy with Luv became the most-viewed YouTube music video on YouTube in 24 hours. It has brought countless recorders for BTS, though many of them were later broken by Dynamite.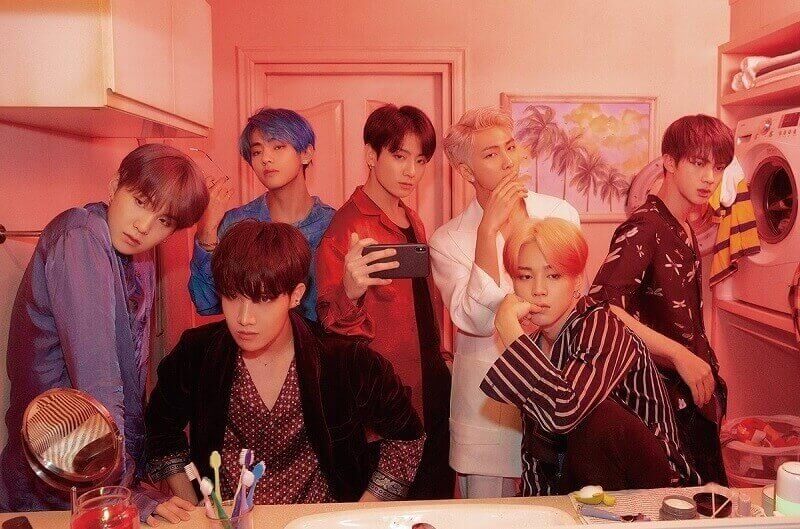 # 4. FAKE LOVE
(Released on May 18, 2018)
FAKE LOVE is a lead single released before the album, Love Yourself: Tears (2018). The dark production and mixed electric sound of the song quickly attracted both music lovers and critics, which offered positive reviews for it. Since the release, FAKE LOVE quickly climbed on all Korean and even American music ranking lists. As of 2019, FAKE LOVE ranked No.1 on Korean Gaon Digital Chart, meanwhile, No.10 on the US Billboard Hot 10, started BTS's development in the western countries.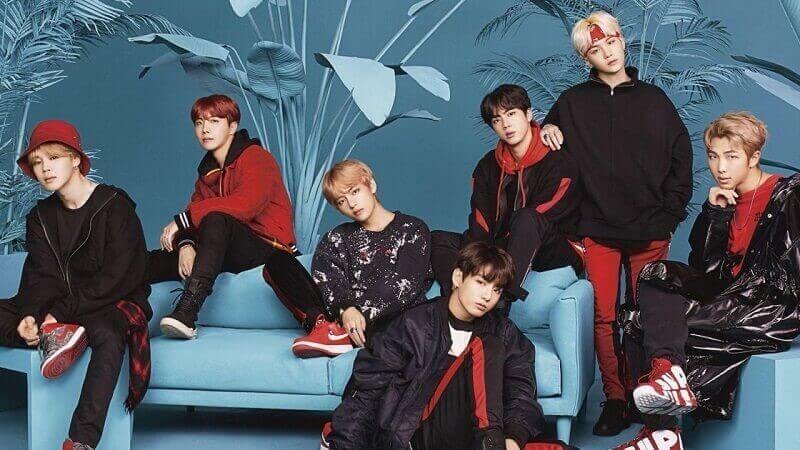 # 5. DNA
(Released on September 18, 2017)
Being an EDM and pop song, DNA is a song released by BTS that would easily get audiences addicted to it. From the production, lyrics, rhythms, and performance, DNA performs greatly and received a high reputation. The success of BTS also spread to music charts in other countries with the help of DNA, which made them the first time to enter the US Billboard Hot 100 (at 67) and the UK Singles Chart (at 90).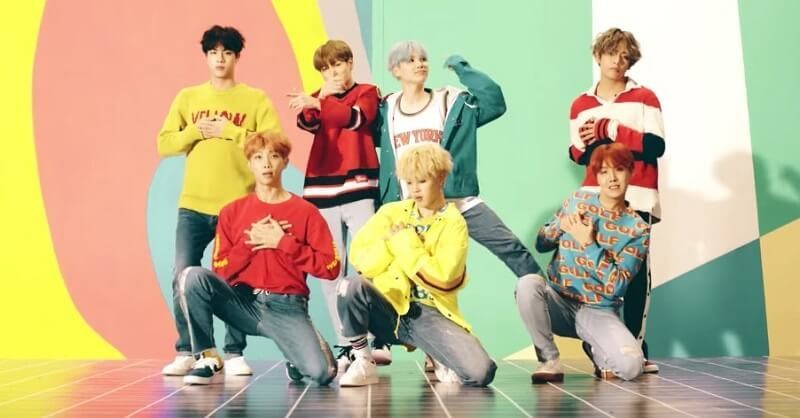 # 6. Spring Day
(Released on February 13, 2017)
To convey the feeling of loss, grief, longing, and life moving on, Spring Day is a warm song, which was created with the help of rock instrumentation. It is based on alternative hip hop and a pop-rock power ballad, for better expressing the moods and feelings. Spring Day received both high reputation and commercial success in both home and abroad. Till now, many people still enjoy listening to Spring Day when they feel though in life.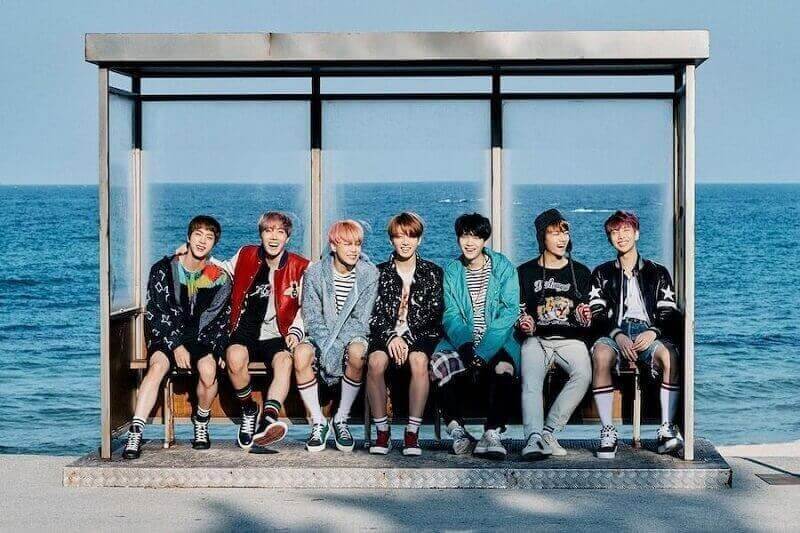 # 7. MIC Drop
(Released on November 24, 2017)
The creation aim of MIC Drop is to celebrate BTS's hard road and the unexpected great targeted achievements since its debut. The song is added hip hop leanings, also showing the exciting and bright future of the band. From its beat, musical styles, and performance, MIC Drop can catch both audiences' eyes and ears, which is also attributed to its popularity and success.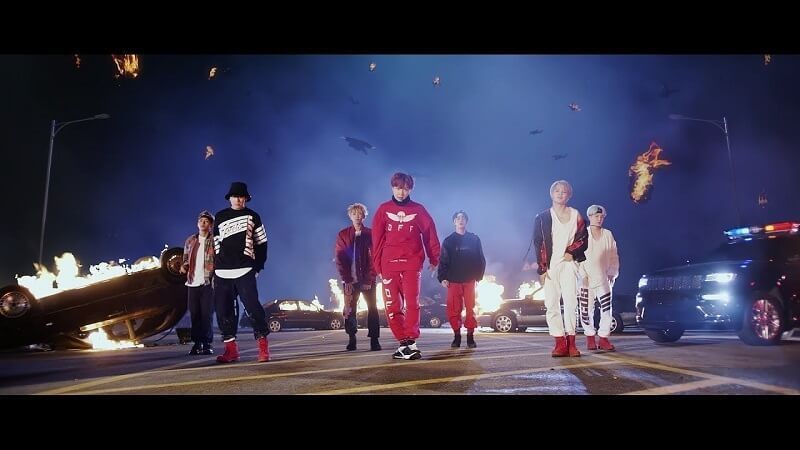 # 8. I Need U
(Released on April 29, 2015)
As a lead single for the third extended play The Most Beautiful Moment in Life, Part 1 (2015), I Need U brought a commercial contribution to BTS in the early period - which was awarded as the double-platinum by RIAJ. I Need U also marked a milestone for BTS because it brought the first time for them to receive a win from South Korea's TV music show.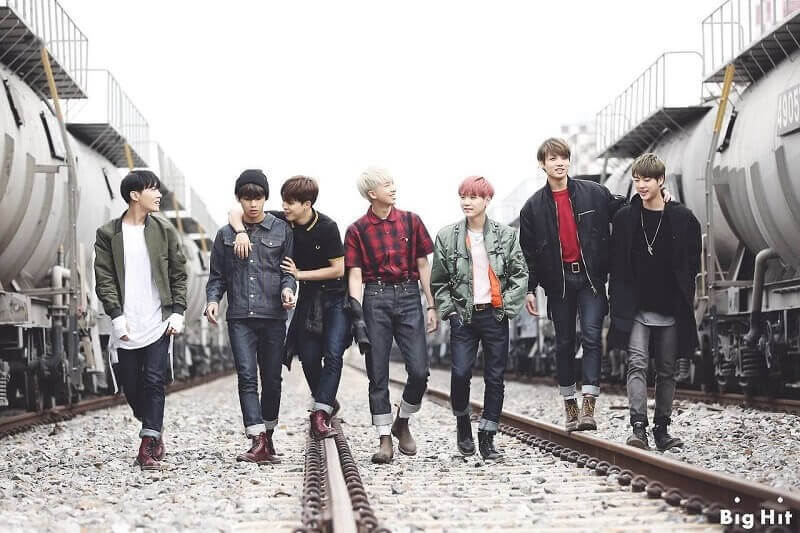 When we are looking forward to listening to more awesome music tracks released by BTS, it is wonderful to find a workable solution to keep their songs for offline listening. With the help of the powerful music downloader, VideoHunter, things will get much easier and more convenient. Hope you also receive impressive energy from BTS's great songs. Enjoy!