In today's digital age, it's no surprise that people have a strong penchant for watching funny videos. The sheer joy and laughter they bring make them a very popular form of entertainment. That's why so many funny video sites are so popular now.
If you're someone who enjoys a good laugh, you're in luck! In this guide, we'll introduce you to six funny video sites with different features that are guaranteed to make you laugh out loud. In addition, we'll show you how to download these funny videos directly to your local device so you can pull them out whenever you need them when the network is not good.
CONTENT Top 6 Funny Video Sites to Download Funniest Videos Best Funny Video App to Download Any Video Clips
Top 6 Funny Video Sites to Download Funniest Videos
In this part, we will list 6 of the funniest video sites to download funny videos. Now, please read on and select the lovely one to watch funny videos.
#1 YouTube
✨Features: Vast user-generated funny videos with a large community
YouTube is a global video-sharing platform that has become synonymous with online video content. It hosts an immense collection of videos, including free movies, TV shows, and a vast array of funny content. Users can find and download funny videos with YouTube Premium on almost any topic, ranging from comedy sketches, pranks, funny animal videos, and humorous vlogs, to stand-up performances.
YouTube's popularity stems from its massive user base, allowing both amateur and professional creators to share their funny videos with a wide audience. Additionally, YouTube offers features like comments, likes, and subscriptions, enabling users to engage with their favorite creators and content.
With its extensive user base and vast content library, YouTube is a go-to destination for finding hilarious videos.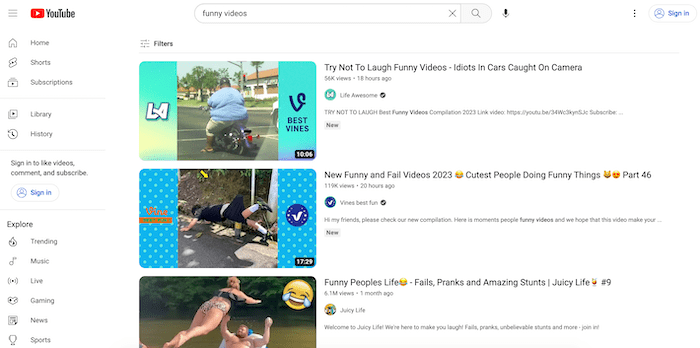 #2 Funny or Die
✨Features: High-quality funny videos with renowned comedians, featuring an interactive voting system
Funny or Die is a unique comedy website that blends user-generated and professionally produced content. It is known for featuring high-quality funny videos, sketches, and parodies, often starring famous comedians, actors, and musicians.
What sets Funny or Die apart is its interactive voting system. Users have the power to rate the videos with a "Funny" or "Die" button, determining whether the content will continue to be featured. This voting system adds an element of community participation, allowing users to influence the popularity of videos and shape the content on the site.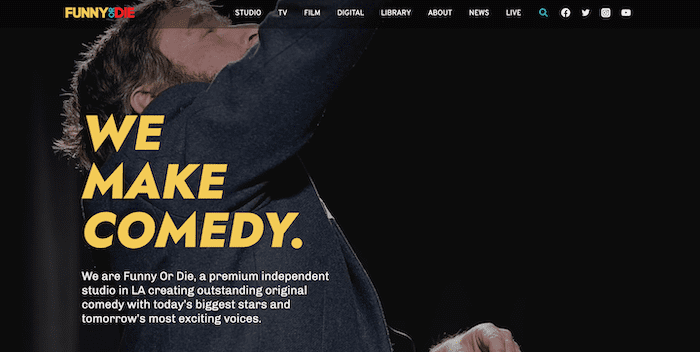 #3 Funny Junk
✨Features: User-generated funny content with videos, pictures, and memes
Funny Junk is an online community that offers a wide range of entertaining content, including funny videos, pictures, GIFs, memes, and jokes. Users can browse through different categories and collections of humorous content shared by the community.
One notable feature of Funny Junk is the ability to rate and comment on the content, fostering interaction and discussion among users. The platform also features a voting system where users can determine the popularity of posts, ensuring that the funniest and most popular content rises to the top.
#4 9gag
✨Features: Social media platform with curated and user-generated funny content
9GAG is a social media platform and website focused on funny and entertaining content. It combines user-generated and curated content, including funny videos, memes, GIFs, and humorous images. 9GAG allows users to explore various categories and sections to discover content that aligns with their sense of humor.
One distinctive aspect of 9GAG is its emphasis on community engagement. Users can upvote, comment on, and share content, creating an interactive and lively community of users who enjoy sharing laughter and engaging in discussions.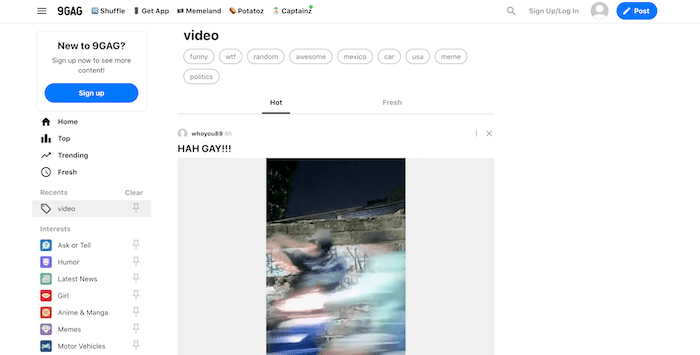 #5 Dailyhaha
✨Features: Daily updates of funny videos, jokes, and pictures
Dailyhaha is a website dedicated to delivering daily doses of humor through a variety of content, including funny videos, pictures, jokes, and comics. It provides a wide range of funny videos sourced from various platforms, ensuring there's always fresh and amusing content to enjoy.
Dailyhaha updates its collection regularly to keep visitors entertained with new funny videos and humorous material. The website's focus on daily updates distinguishes it by consistently providing a stream of laughter-inducing content.
#6 Dailymotion
✨Features: Alternative platform for funny videos with diverse content
Dailymotion is a video-sharing platform that encompasses a broad range of videos, including a section dedicated to funny and entertaining content. While Dailymotion is not exclusively focused on funny videos, it offers a diverse selection of humorous content uploaded by users and professional creators.
Users can explore different categories or utilize search filters to find funny videos, sketches, pranks, stand-up comedy performances, and more. Dailymotion provides an alternative platform for discovering and enjoying funny videos online, catering to a wide range of interests beyond just humor.
Best Funny Video App to Download Any Video Clips
Now that you have an overview of these 6 funny video sites, you might be wondering how to download these humorous videos to your local device. If you want to download all the different funny videos with one click and enjoy it offline at your convenience, you need to resort to a reliable video downloader, among which VideoHunter is the best choice.
VideoHunter can help you download YouTube to MP4 without YouTube Premium if you don't want to pay for its subscription. Besides, with it, you can download any funny video by just simply copying its URL and you can effortlessly store them on your local device for endless laughter.
With this professional tool, users gain the ability to download videos from a plethora of sources, including but not limited to YouTube, Dailymotion, Twitter, and many others.
Free Download Free Download Free Download
Key Features of VideoHunter
Wide Compatibility - It supports over 1,000 video streaming sites, allowing you to download videos from popular platforms such as YouTube.
Batch Download - You can download multiple videos simultaneously, allowing unlimited downloads and efficient management of multiple tasks.
Fast Download Speed - It accelerates the download process with a stable internet connection, achieving up to 6X faster speeds for quick downloads.
Original Quality - It preserves the original quality of the videos, ensuring the same HD 1080p, 720p, or 480p resolution as available in Premium content.
With the excellent features above, you can effortlessly save your favorite funny videos from these platforms with VideoHunter. Here's how:
Step 1.Install and launch VideoHunter on your computer. Create your new account and log in.
Free Download Free Download Free Download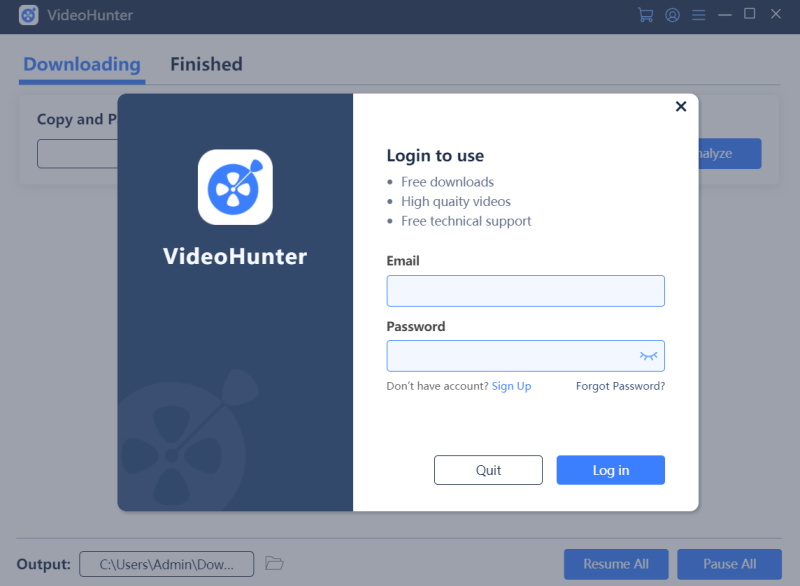 Step 2.Visit the online funny video sites and copy the URL of the video you want to download.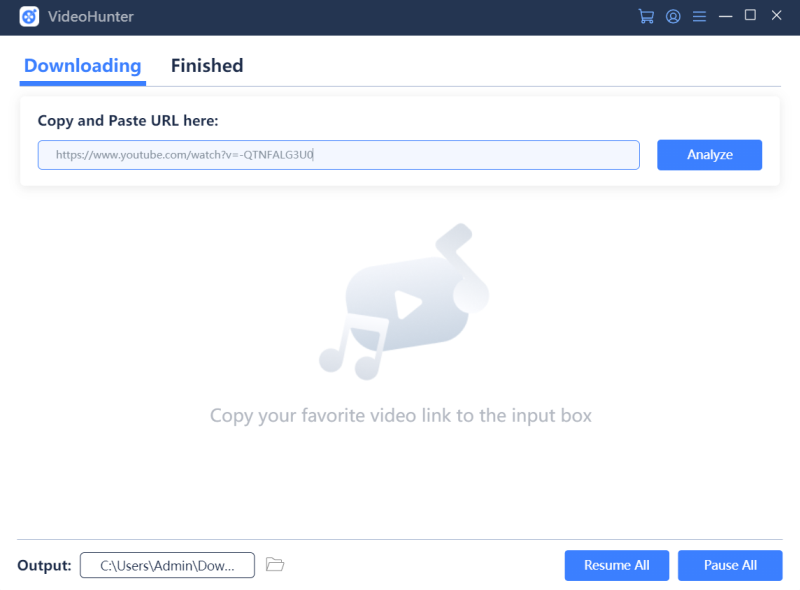 Step 3.Choose your preferred format and quality, then click "Download" to save the funny videos instantly.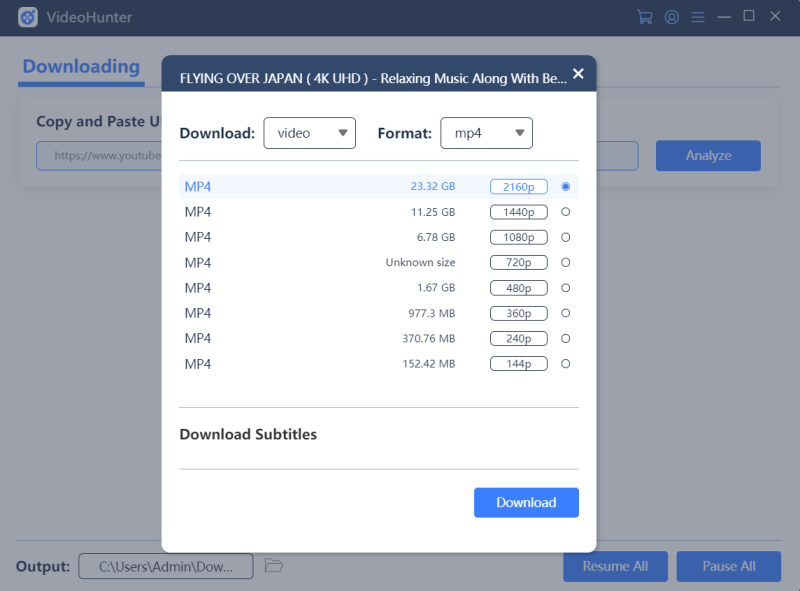 Conclusion
Now we have finished introducing each of the six funny websites above, describing the different features of each platform; we also told you how to easily download the funny videos from these websites to your local area in an effective way to enjoy them offline anytime. You can choose your favorite funny sites and easily download and share the funny content on them.
So, get ready to embark on a journey through the world of comedy and keep the humor at your fingertips. Download VideoHunter to get started now!