Watching movies is a popular way to relax and entertain, but it can be costly to pay subscription fees for multiple streaming apps. However, you can get access to all kinds of free movies on Youtube. It boasts a collection of free, ad-supported movies in different genres, ranging from classic dramas, horror movies, kids movies to comedies.
In this article, we will comb through and present a list of the top 10 free movies on YouTube that deserve watching. In addition, we will provide guidance on how to find free full-length movies on YouTube and download them for offline viewing.
CONTENT10 Best Free Movies on YouTube
#1 L.A. Confidential (1997)
#2 The Best Years of Our Lives (1946)
#3 Tokyo Godfathers (2003)
#4 Minari (2020)
#5 Red River (1948)
#6 Freaks (2018)
#7 The Naked Gun (1988)
#8 Ip Man 2 (2010)
#9 Arrival (2016)
#10 Scary Stories to Tell in the Dark (2019)How to Find Free Full Length Movies on YouTubeExtension Tip: How to Download YouTube MoviesConclusion
10 Best Free Movies on YouTube
After browsing free YouTube movies with different genres, we have selected the 10 best free movies on YouTube according to their online ratings. Hope you can find a movie appealing to you.
#1 L.A. Confidential (1997)
Rotten Tomatoes Rating: 94/100
✨Genre: Crime, Drama, Mystery
🎬Director: Curtis Hanson
⏳Run Time: 2h 16m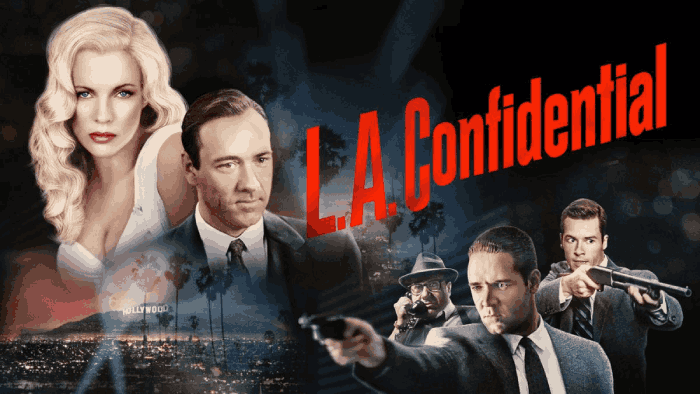 L.A. Confidential is our first recommended free movie on Youtube, which is about classic American neo-noir crime set in Los Angeles during the 1950s. Three police officers with different personalities and motives, played by Kevin Spacey, Russell Crowe, and Guy Pearce, investigate a complicated murder case which entwines them into a web of corruption, scandal and deceit.
Being known for its brilliant cinematography, twisting plots and vivid acting of the cast, the film won two Academy Awards, Best Supporting Actress (Basinger) and Best Adapted Screenplay.
🎞Watch it here
#2 The Best Years of Our Lives (1946)
Rotten Tomatoes Rating: 93/100
✨Genre: Drama, Romance, War
🎬Director: William Wyler
⏳Run Time: 2h 52m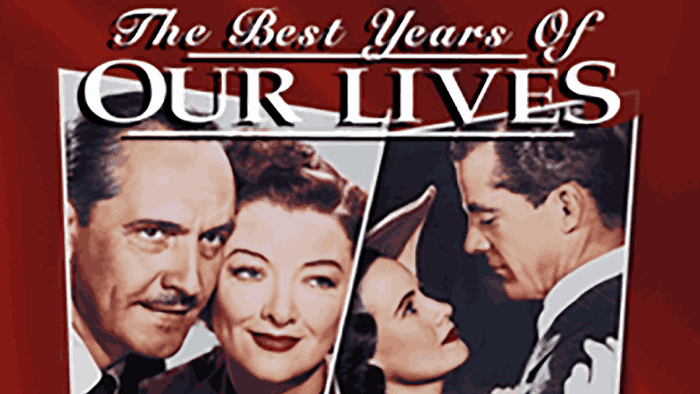 If you are interested in themes about war and returning veterans, The Best Years of Our Lives is a classic movie that you shouldn't miss on YouTube for free. It follows the experiences of three World War II veterans as they return home and start civilian life.
They encounter different challenges in careers, families and health. The movie was critically acclaimed for its realistic and sharp portrayal of veterans' issues, winning seven Academy Awards.
🎞Watch it here
#3 Tokyo Godfathers (2003)
Rotten Tomatoes Rating: 91/100
✨Genre: Animation, Comedy, Adventure
🎬Director: Satoshi Kon
⏳Run Time: 1h 30m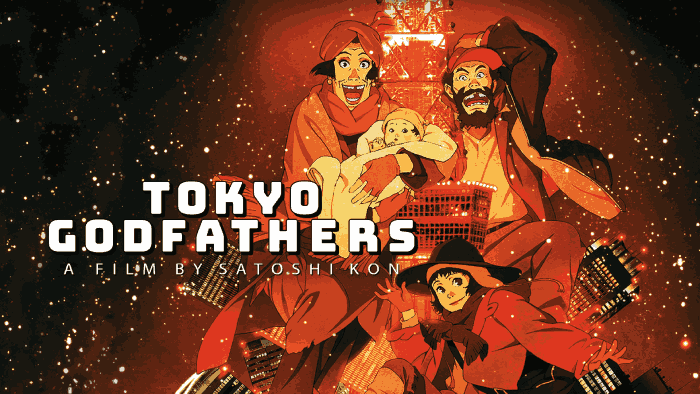 Tokyo Godfathers is one of the best Christmas movies on YouTube deserves watching. It is an animated movie telling the story of three homeless people forming a makeshift family. While searching for food in the trash on Christmas Eve, they find an abandoned baby and plan to return the baby to its parents.
Along the way, they find some secrets and get to know each other better. The interesting animation style, twisting storytelling and heartwarming relationship must attract you.
🎞Watch it here
#4 Minari (2020)
Rotten Tomatoes Rating: 87/100
✨Genre: Family Drama
🎬Director: Lee Isaac Chung
⏳Run Time: 1h 55m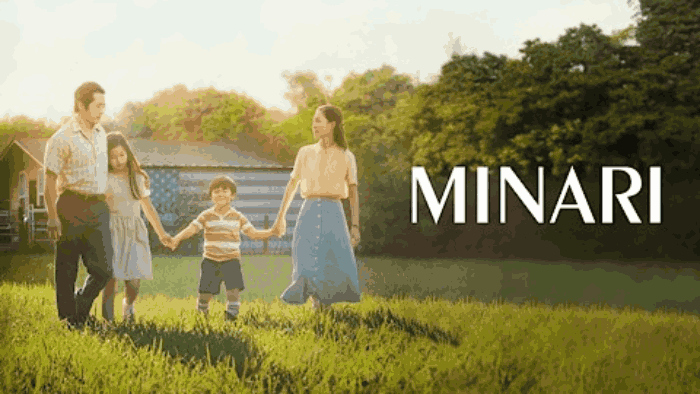 Minari is a tender and warm family drama following the life of a Korean-American family when they move from California to an Arkansas farm to pursue their own American Dream. The film records how the family explore their new life and resiliently overcomes the challenges of growing Minari, a Korean herb.
If you are looking for insightful script, refined portrayal of immigrant life and natural performances, Minari should be your must-watch free full length movie on YouTube.
🎞Watch it here
#5 Red River (1948)
Rotten Tomatoes Rating: 87/100
✨Genre: Western, Drama, Adventure
🎬Director: Howard Hawks
⏳Run Time: 2h 13m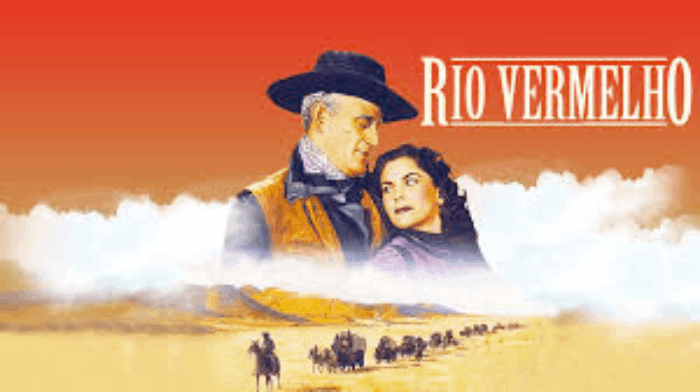 Red River is a classic western film, showing an adventure story about a cattle baron named Thomas Dunson who sets out on a cattle drive from Texas to Kansas along the Chisholm Trail. The most dramatic and captivating plot exists in the conflict between Thomas Dunson and his adopted son, Matthew Garth. Besides, the depiction of dangerous landscapes in Western America also deserves watching.
🎞Watch it here
#6 Freaks (2018)
Rotten Tomatoes Rating:86/100
✨Genre: Sci-fi, Mystery & thriller
🎬Director: Adam B. Stein, Zach Lipovsky
⏳Run Time: 1h 45m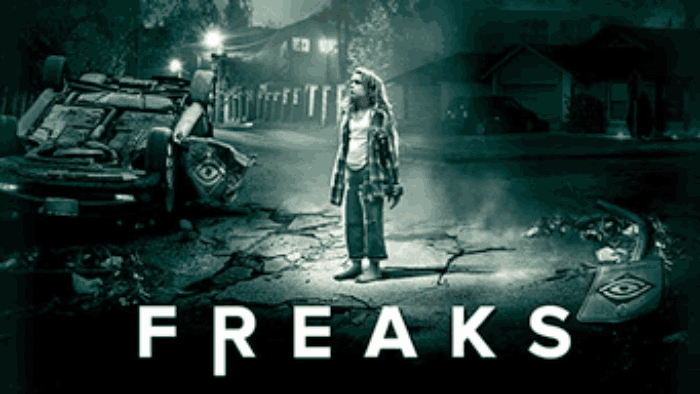 Freaks is a science fiction movie that follows the story of a 7-year-old girl named Chloe, who was locked away in a dilapidated house by her overprotective father. She believes that the outside world is a dangerous place until a stranger tells her what's happening outside.
Then, she gradually discovers the truth about the family and her extraordinary power. It's known for the suspenseful plot and poignant exploration of human emotions.
🎞Watch it here
#7 The Naked Gun (1988)
Rotten Tomatoes Rating:84/100
✨Genre: Comedy, Action
🎬Director: David Zucker
⏳Run Time: 1h 25m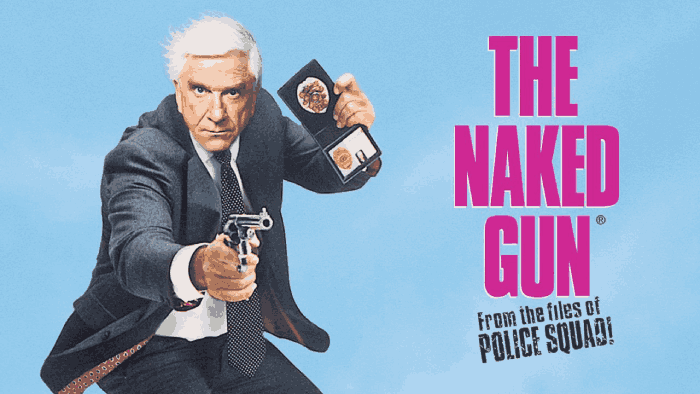 The Naked Gun is a classic comedy following the story of a bumbling detective, Frank Drebin. He tries to stop a terrorist plot to assassinate Queen Elizabeth II during her visit to Los Angeles.
If you are a fan of slap-happy comedy, you should watch this movie. Its fast pace, interesting acting, hilarious gags and one-liners must make you laugh and make your day.
🎞Watch it here
#8 Ip Man 2 (2010)
Rotten Tomatoes Rating:84/100
✨Genre: Action, Biography, History
🎬Director: Wilson Yip
⏳Run Time: 1h 48m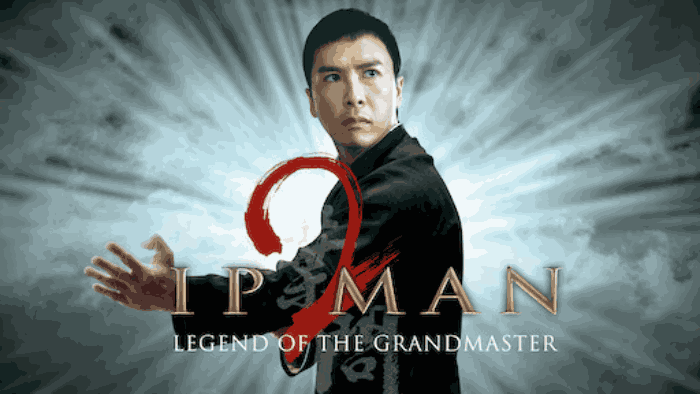 If you're a big fan of action movies, Ip Man 2 is a must-watch free movie on YouTube. Ip Man 2 is a film about the martial art, Wing Chun. It follows the life of Wing Chun grandmaster Ip Man and his experiences establishing a martial arts academy in Hong Kong.
His contests with the local master of Hung Ga martial arts and the British boxing champion Taylor "The Twister" Miller add excitement to the movie and showcase the expectational choreography.
🎞Watch it here
#9 Arrival (2016)
Rotten Tomatoes Rating: 82/100
✨Genre: Drama, Mystery & Thriller, Sci-Fi
🎬Director: Denis Villeneuve
⏳Run Time: 1h 56m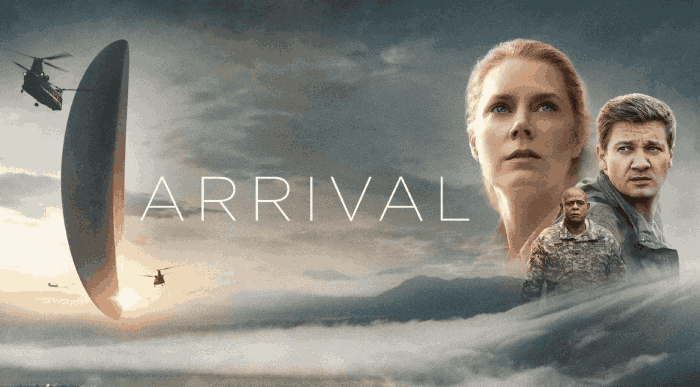 Arrival is a science fiction movie based on the short story named Story of Your Life written by Ted Chiang. A linguistics professor leads a team of investigators to communicate with extraterrestrial lifeforms when twelve spaceships land on Earth.
The team risks their lives to figure out the aliens' intentions. After watching it, you will have a deeper understanding of language, communication, human relationships and nature.
🎞Watch it here
#10 Scary Stories to Tell in the Dark (2019)
Rotten Tomatoes Rating:72/100
✨Genre: Horror, Mystery, Thriller
🎬Director: André Øvredal
⏳Run Time: 1h 51m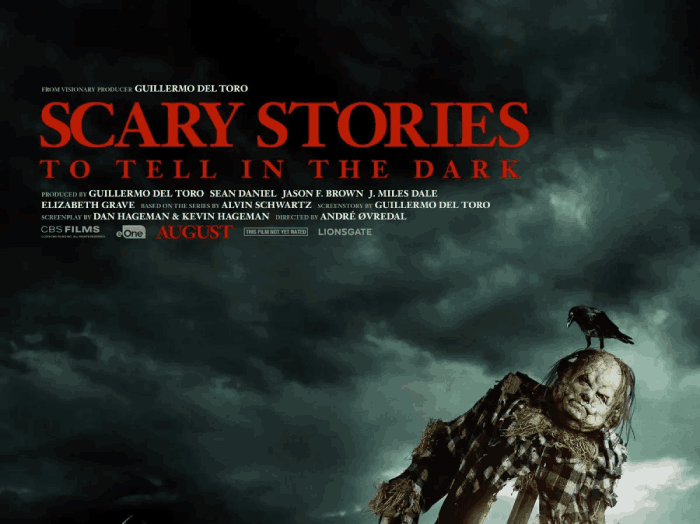 When it comes to free horror movies on YouTube, Scary Stories to Tell in the Dark is one that deserves watching. The movie is based on the children's book series of the same name. It is about a group of teenagers on Halloween 1968 finding a book full of horror stories. They discover that these stories are becoming real and they have to stop these evils.
Its chilling atmosphere, vivid special effects and suspenseful storytelling must appeal to horror movie lovers.
🎞Watch it here
How to Find Free Full Length Movies on YouTube
The above free movies on YouTube are not classified to each corresponding genre menu, they are just part of YouTube's sizable video collections. In that sense, you need some methods to help you find free full length movies on YouTube efficiently.
One direct method is to use the FILTERS option while searching. If you type the name of a movie, you will probably find your search results are different in full title, length, uploading date, type, etc. The video can be simply movie clips, short trailers or reviews.
Therefore, to get your desired free movie quickly, you can apply filters on search results to show the movie only and select the duration to show long videos.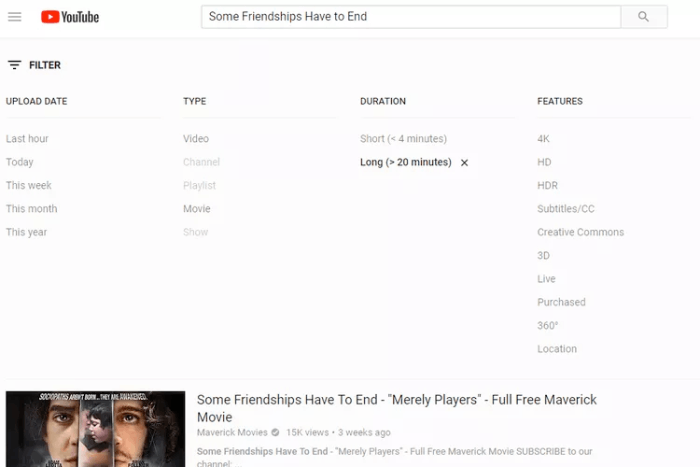 Another practical method is going to the Movies & Shows section on the YouTube's main interface and clicking on the "Free with Ads" tab where you can find some free ad-supported movies officially provided by YouTube. Here, you can browse and select some free full length movies.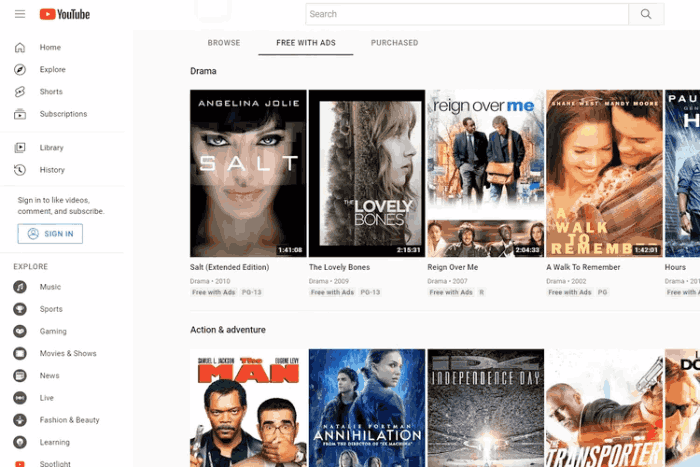 NOTE: If you encounter a "Video unavailable" message or the note "The uploader has not made this video available in your country", it means that the YouTube video is not available to watch for free in your region. In this case, you can use a VPN to change your IP address. Once you've changed your proxy to the United States, you should be able to access the video and watch it for free.

Extension Tip: How to Download Free Movies on YouTube
Some cinephiles may want to download those free movies on YouTube for offline playback on any device. However, only YouTube movies that have been purchased can be downloaded. In order to complete this task, you can resort to a reliable and professional YouTube video downloader. You can check this 2023 ranking of best YouTube video downloaders to select one tool that fits you.
We recommend you try VideoHunter YouTube Downloader, compatible with both Mac and Windows. It is a powerful and easy-to-use tool that allows you to download Youtube videos, movies, playlists and a range of other videos, such as short funny videos shared on platforms like Vevo, TikTok and Twitter.
With its help, you can easily and quickly download several free movies on YouTube in the highest quality HD 1080p. Then, you can enjoy them in your family cinema, on your TV and any other devices.
Here are some features of VideoHunter YouTube Downloader.
Convert YouTube videos in high quality
VideoHunter supports downloading YouTube videos in HD 1080p, 2K, 4K and 8K resolution to satisfy different needs. The original quality will be preserved to ensure a brilliant viewing experience.
Customize subtitles with ease
It has a built-in subtitle extractor that enables you to extract YouTube video subtitles as text. Better still, you can merge subtitles into video files before you start to download.
Ensure high downloading speed
The downloading speed can be up to 6X faster. To make the downloading process smoother, it also supports batch download to prevent you waiting.
Boast built-in proxy settings
The built-in proxy setting is now available in the Windows version. It can overcome the restrictions of videos that are not available in your region, so that you can download them without hassle.
STEP 1. Launch VideoHunter YouTube Downloader
Download and install VideoHunter YouTube Downloader. It works on Windows 11/10/8/7/XP/Vista and macOS X 10.12 or higher. Then, launch the program and log in.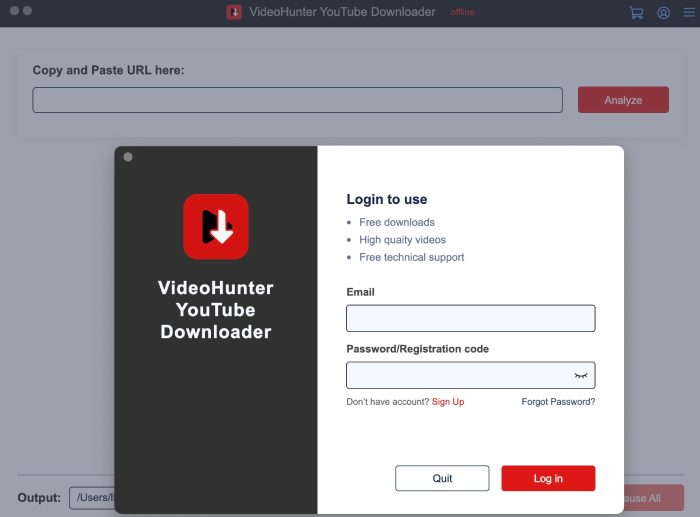 STEP 2. Extract the YouTube Movie Link
Navigate to the free movie on YouTube and copy its link and paste it to the download bar. Then, click on the "Analyze" button.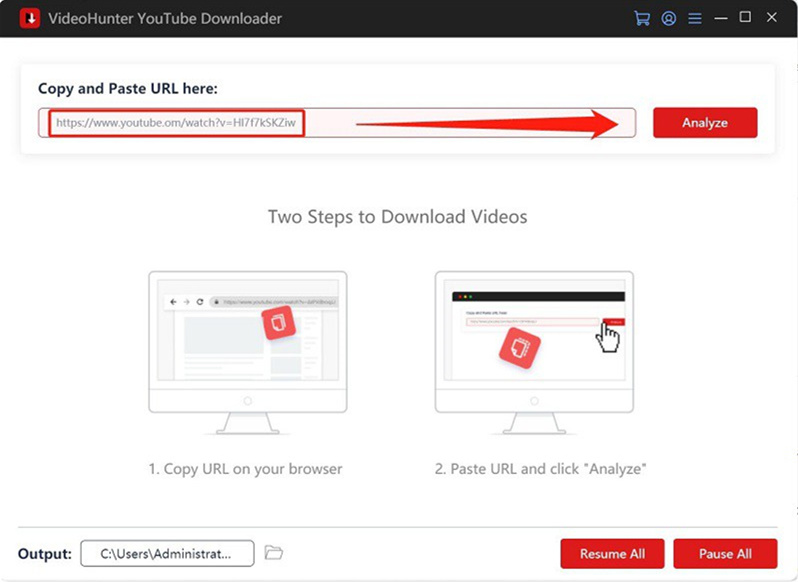 STEP 3. Download the Movie to Desktop
Once the URL conversion is done, choose the output format and quality for your downloads. Finally, click the "Download" button and save it to your selected path.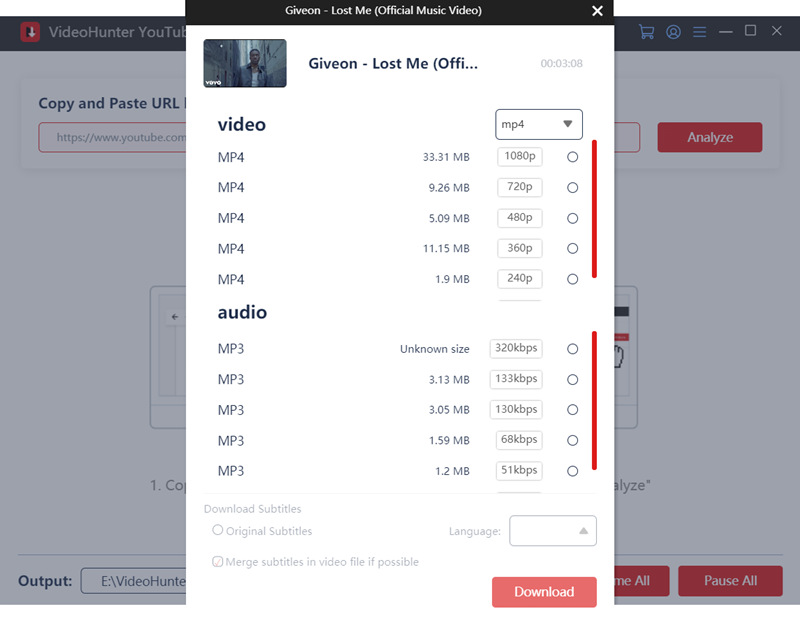 Conclusion
YouTube is a popular platform with millions of video content including free movies, TV shows, music and so on. With some handy tips and tricks, you can make the best of it. In this article, we recommend the 10 best free movies on Youtube and offer guidance on how to find such free full length YouTube movies easily.
However, if you want to download them, using a third-party tool is the quickest solution. VideoHunter YouTube Downloader can help you download movies to high-quality and common-format files. Its intuitive interface, ultra-fast downloading speed and customization options make it an excellent choice.