Feeling bored at home and scrolling through YouTube? Why not watch free full-length movies on YouTube? YouTube isn't just about funny puppy videos and tutorials; it's also a treasure trove of free movies waiting to be discovered. The best part? All you need to do is endure a few ads here and there.
We've done the hard work for you and curated a list of the top 10 best free movies available on YouTube in 2023. From horror to romance, comedy to family flicks, our selection covers it all. These movies have taken the world by storm in recent years, and we're thrilled to present them to you. So, without further ado, let's dive into a world of cinematic delight!
Note: If you want to enjoy these free movies without ads, consider downloading your favorite films with YouTube video downloaders to let you save any movies you like directly to your devices.

CONTENTS 10 Best Free Movies on YouTube Bonus tips: Watch YouTube Movies Offline for Free
10 Best Free Movies on YouTube
Now, let's delve into our lineup of the 10 Best Free Movies on YouTube. Each of these films brings its own unique charm and entertainment, promising an enjoyable viewing experience. From thrilling plots to heartening narratives, let's explore the world of these gems.
#1. Winchester (2018)
Genre: Horror, Mystery, Thriller, History
Rating: PG-13
Runtime: 1h 39m
Director: The Spierig Brothers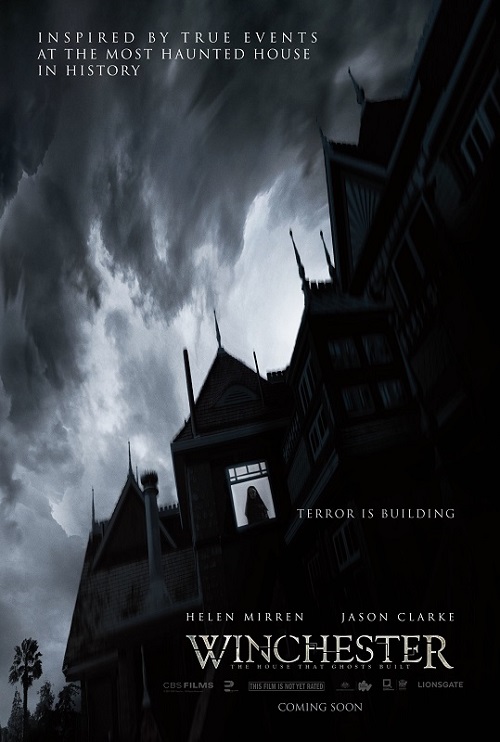 Watch it here
Winchester is one of the best free horror movies on YouTube. It follows Sarah Winchester (Helen Mirren), who is haunted by spirits due to her husband's gun empire. She builds a never-ending mansion to placate them. Dr. Eric Price (Jason Clarke) assesses her sanity, encountering terrifying supernatural events. He uncovers a tragic past, realizing the hauntings are real.
The film explores guilt, grief, and the toll of violence while blending horror and mystery.
#2. Train To Busan (2016)
Genre: Horror, Action, Thriller, Humanity
Rating: TV-14
Runtime: 1h 58m
Director: Yeon Sang-ho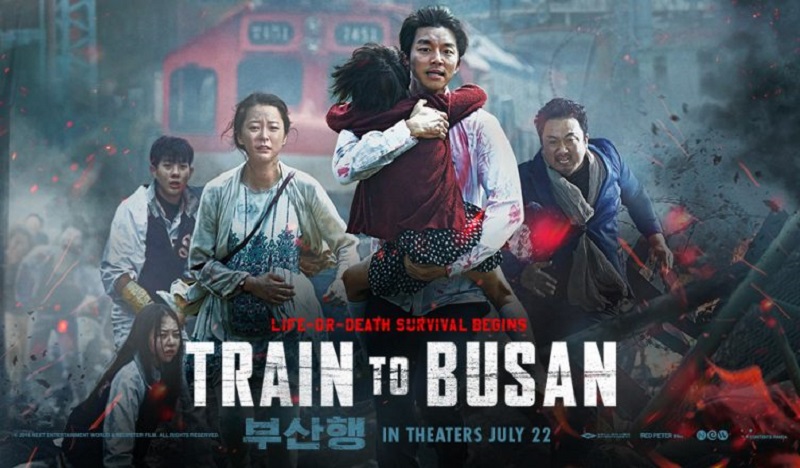 Watch it here
Train to Busan, one of the best free horror movies on youtube, is a South Korean zombie thriller. Seok-woo, a work-focused father, accompanies his daughter Soo-an on a train to Busan to see her mother. As the journey begins, a zombie outbreak engulfs South Korea. The train becomes a battleground as survivors fight for their lives. Seok-woo, Sang-hwa (a brave husband), and a high school baseball team struggled against a backdrop of rapid infection and societal collapse. Sacrifices are made as they reach Busan, only to find it a complete disorder.
#3. Just My Luck (2006)
Genre: Romance, Comedy, Fantacy
Rating: PG 13
Runtime: 1h 42m
Director: Donald Petrie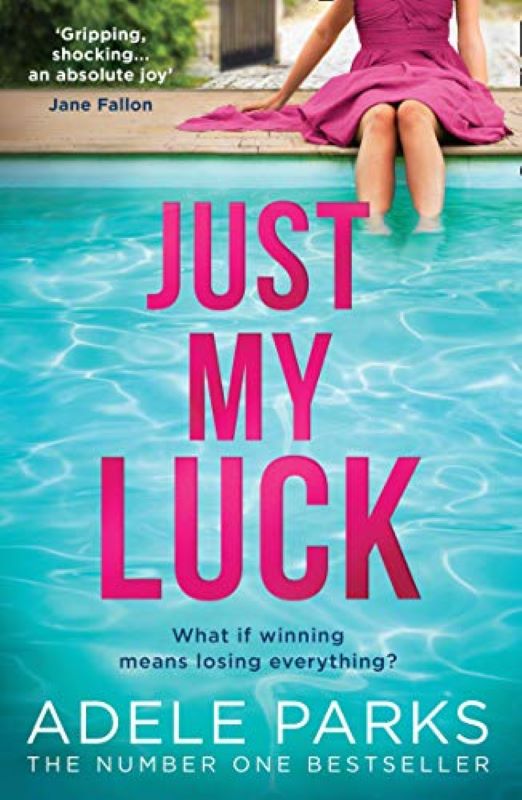 Watch it here
Just My Luck is one of the best romantic movies on YouTube (free). It follows the life of Ashley Albright (Lindsay Lohan), a lucky young woman whose fortune changes when she kisses a stranger, Jake Hardin (Chris Pine), at a masquerade party. Their fortunes are accidentally swapped, and Ashley's good luck starts to dwindle while Jake's luck takes an upswing. Amid humorous and awkward situations, Ashley and Jake learn to appreciate life's uncertainties. Over time, they develop feelings for each other, leading to Ashley's plan during a public event.
Note: If you don't want to watch YouTube movies free with ads, use VideoHunter YouTube Downloader to download movies from YouTube on PC and mobile devices and enjoy smooth offline viewing!

#4. Fat Chance (2016)
Genre: Inspiring, Romance, Comedy, Christian
Rating: PG 13
Runtime: 1h 15m
Director: Micah Caronna
Watch it here
Fat Chance, now available on YouTube for free, is a heartwarming romantic Christian comedy about Alison, an overweight dental assistant. She falls for her friend Justin online, using a friend's photo in her dating profile. Spending the summer together, she juggles her true self and the persona she's created. When the truth comes out, both must confront their insecurities and learn self-acceptance. Based on a true story, the film explores love and the power of lies, and it blends romance and comedy in a touching tale of self-discovery and acceptance.
#5. Toilet - Ek Prem Katha (2017)
Genre: Hindi, Comedy, Drama
Rating: N/A
Runtime: 2h 35m
Director: Shree Narayan Singh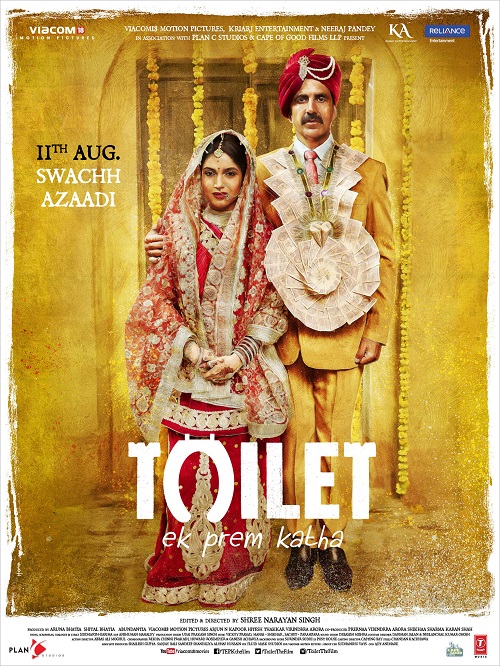 Watch it here
Toilet: Ek Prem Katha is a Hindi satirical comedy-drama, available on YouTube for free. Keshav, played by Akshay Kumar, battles traditional beliefs when he marries Jaya, who leaves him due to his home's lack of a toilet. Determined to win her back and challenge societal norms, Keshav campaigns for proper sanitation facilities. The film highlights the struggle for hygiene and the importance of addressing social taboos. Through humor and drama, it addresses vital issues in rural India while advocating improved sanitation and women's rights.
#6. Inside Out (2015)
Genre: Kids & Family, Animation, Adventure, Comedy
Rating: PG
Runtime: 1h 35m
Directors: Pete Docter, Ronnie Del Carmen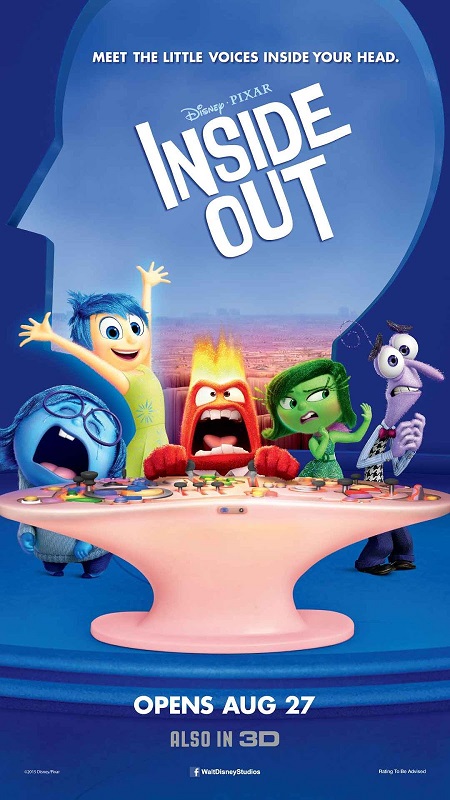 Watch it here
Inside Out is the one of the best animated movies for kids and families on YouTube. It follows Riley, an 11-year-old girl, through the personified emotions in her mind: Joy, Sadness, Fear, Anger, and Disgust. When Riley moves to a new city, her emotions struggle to adapt. Joy and Sadness get lost in her mind's maze of memories. As they try to return to the control center, Riley's emotional landscape becomes chaotic. Through their journey, the film explores the complexity of emotions and growing up, ultimately highlighting the importance of embracing both joy and sadness in a person's life.
#7. Charlotte's Web (2006)
Genre: Animation, Kids & Family, Adventure, Comedy
Rating: G
Runtime: 1h 37m
Director: Gary Winick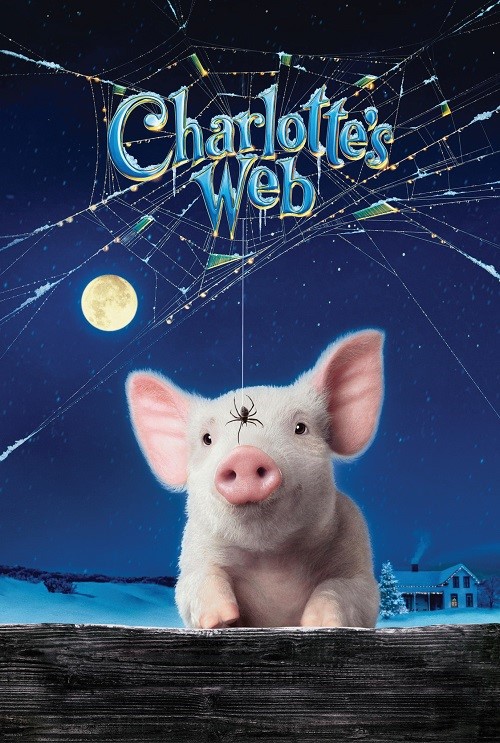 Watch it here
Charlotte's Web is one of the most classic free animated movies you can find on YouTube, perfect for kids & families. It centers on Wilbur, a pig, and Charlotte, a spider who befriends him in a barn. When Wilbur is deemed destined for slaughter, Charlotte spins messages praising Wilbur's virtues in her web to save him. The barn animals rally to help, leading to Wilbur becoming a sensation. Charlotte's health declines as she lays eggs, sacrificing herself for Wilbur's future. The film highlights the themes of friendship, sacrifice, and the cycle of life while conveying the power of words and compassion.
#8. In Time (2011)
Genre: Sci-Fi, Action, Thriller
Rating: PG-13
Runtime: 1h 49m
Director: Andrew Niccol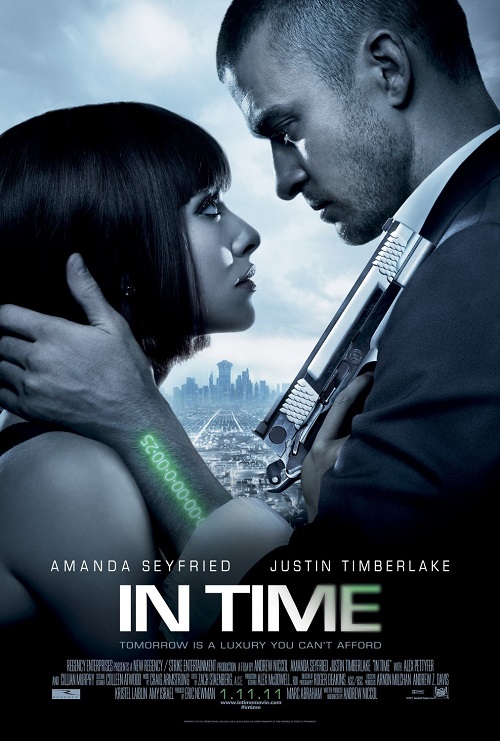 Watch it here
In Time is one of the best sci-fi movies you can find among YouTube free movies. It is set in a future where people's lifespans are currency. Time is literally money, and the wealthy can live forever while the poor struggle to survive each day. Will Salas, played by Justin Timberlake, receives a windfall of time and becomes entangled in a conspiracy. He teams up with Sylvia, played by Amanda Seyfried, to challenge the unjust system. The film explores themes of class disparity, societal critique, and the value of time, unfolding as a high-stakes pursuit against the clock.
#9. The Foreigner (2017)
Genre: Hollywood, Action, Thriller
Rating: R
Runtime: 1h 53m
Director: Martin Campbell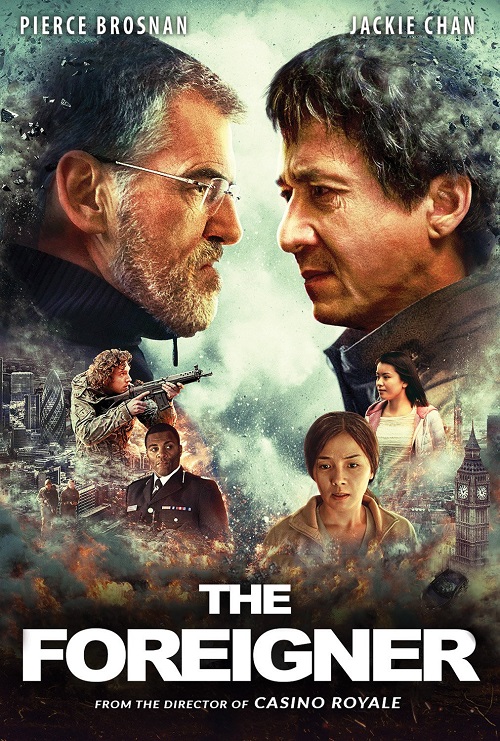 Watch it here
The Foreigner is a Hollywood action movie and now you can watch a free full version on YouTube. It follows Quan Ngoc Minh (Jackie Chan), a London businessman seeking revenge for his daughter's death in a terrorist bombing. As the police fail to provide answers, Quan relentlessly pursues the Irish Deputy Minister, Liam Hennessy (Pierce Brosnan), believing he has ties to the perpetrators. Quan's skills as a former Special Forces operative resurface as he engages in a tense cat-and-mouse game with Hennessy.
The film explores themes of vengeance, political intrigue, and the depths a father will go to avenge his daughter. It combines action with a complex narrative of secrets and motivations
#10. All Quiet on the Western Front (1979)
Genre: War, Drama
Rating: TV-14
Runtime: 2h 30m
Director: Delbert Mann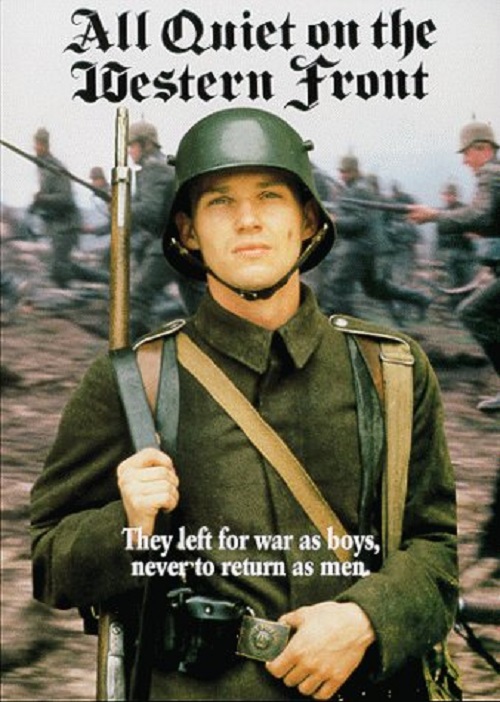 Watch it here
All Quiet on the Western Front is one of the highest-rated war movies in 2022 on YouTube (free). It is an old anti-war film based on the novel and it depicts the harrowing experiences of German soldier Paul Bäumer (Richard Thomas) during World War I. The film follows his journey from enthusiastic enlistment to the brutal realities of warfare on the Western Front.
It portrays the physical and emotional toll of battle, highlighting the loss of innocence, camaraderie, and the psychological scars left on soldiers. This adaptation of Erich Maria Remarque's novel offers a somber exploration of the futility of war and its impact on young men caught in its devastating grip.
Bonus tips: Watch YouTube Movies Offline for Free
The movies recommended above are gems waiting to be watched. But beware of glitches and buffering while streaming them online on YouTube. The fix? Download for smooth watching. And guess what? Use VideoHunter YouTube Downloader – fast downloads, no YouTube Premium needed. Ready for a bonus? Dive into these tips for offline enjoyment.
Download Any YouTube Movies for Smooth Playback
VideoHunter YouTube Downloader enriches your YouTube movie adventure. The software can download YouTube movies to HD 1080p, 2K, 4K, and even mesmerizing 8K resolutions for offline viewing. It can also download YouTube subtitles to help you enjoy movies with clear subtitles. With 6x faster speed, the app downloads multiple movies at the same time, be they free or paid movies, the app can save them in full length, bringing you uninterrupted, high-quality viewing pleasure.
NOTE: You can have a free trial of VideoHunter YouTube Downloader to download 3 videos in up to 480p quality per day.

Attractive Features of VideoHunter YouTube Downloader
Download Movies and YouTube Playlists without Premium
VideoHunter YouTube Downloader lets you download free or paid YouTube videos without YouTube Premium. Simply paste the YouTube link, hit "Analyze," and within seconds, access a range of video/audio qualities. Download the whole list or select specific items as needed, hassle-free.
Access Private or Unlisted YouTube Movies
With VideoHunter YouTube Downloader, you can easily download private and unlisted YouTube movies with their links. Grab even those unlisted gems by just copying and pasting their links.
6X Faster Performance
Experience lightning-fast movie downloads with VideoHunter YouTube Downloader's 6X faster performance. With this fast download speed, the app helps you download any YouTube movies you want to watch in record time.
Effortless Batch Downloads
Want to save your collection of classic movies offline? VideoHunter YouTube Download helps you with its batch download feature. Once a video link is parsed, click "Download," and let the software batch download multiple videos.
Unlock Geo-restricted YouTube Movies
Incorporate built-in proxy settings in the Windows version. By bypassing regional restrictions, VideoHunter YouTube Downloader ensures successful downloads of blocked videos, making content accessible no matter where you are.
How to Download Any YouTube Movie You Like
Step 1. Click the download button below to install VideoHunter YouTube Downloader.
Step 2. Copy the URL of the YouTube movie you want to download. Paste it into VideoHunter YouTube Downloader's input bar. Click Analyze to initiate the process.
Step 3. Select your preferred output format and quality for the downloaded movie.
Step 4. Click Download to kickstart the process. Then you can click Open Folder to enjoy your movies!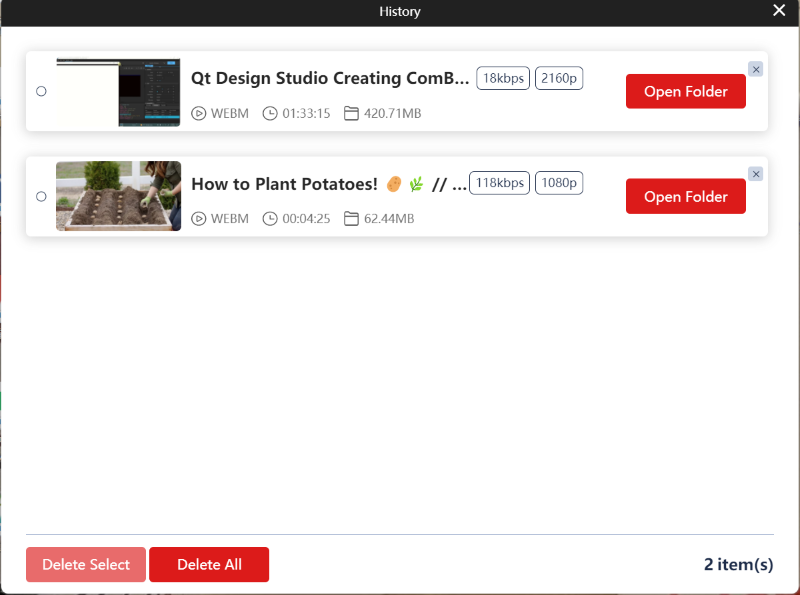 Conclusion
This is the basic intro of 10 best free movies you can find on YouTube. From thrills to romances, epic battles to stories of inspiration, this selection encompasses a wide array of genres. Whether you're an adult, a curious kid, or a family looking for shared moments, these films cater to diverse tastes. Prepare to immerse yourself in these free YouTube movies.
But wait, if bothersome ads disrupt your experience, why not use VideoHunter YouTube Downloader to download free YouTube movies for smooth offline viewing? It preserves original quality and subtitles, supports 6x faster downloads, and handles batch downloads smoothly, erasing any time constraints. The world of cinema awaits, uninterrupted. Let's make every cinematic moment unforgettable!