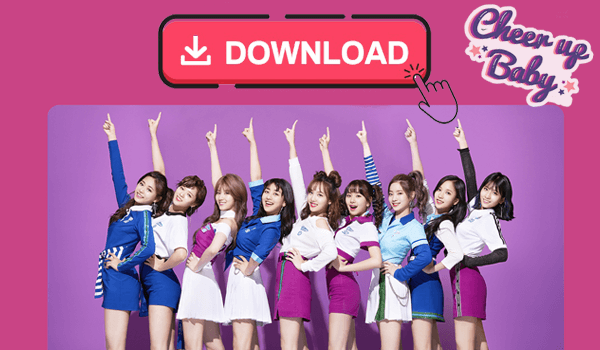 TWICE is a K-pop girl group formed by JYP Entertainment, which has 9 members, including Nayeon, Jeongyeon, Momo, Sana, Jihyo, Mina, Dahyun, Chaeyoung, and Tzuyu. They debut in 2015, and just after 1 year, in 2016, they topped the chart with their single "Cheer Up", winning two large annul awards in South Korea. Since then, TWICE gained many fans around the world and every time when they comeback, they can get good records.
Recently, TWICE came back with their latest album "Eyes Wide Open". The newly released music video ranked highly on YouTube's trending section. Do you also want to enjoy TWICE songs for seeing why they can be so popular and attractive? Follow me to enjoy their new album!
CONTENT [Review] TWICE 2nd Album "Eyes Wide Open"[2020 Update] TWICE Korean Title Track ListHow to Download TWICE Songs and Music Videos without Quality Lost
[Review] TWICE 2nd Album "Eyes Wide Open"
"Eyes Wide Open" is the second official studio album of TWICE, with up to 13 songs contained in the track list. This album was released on the week of TWICE's 5th debut anniversary. So it holds great meaning to both members and fans.
Members like Jihyo, Sana, Dahyun, Chaeyoung, and Nayeon also participated in writing the lyrics of some songs of the album, which make fans hold high expectations to them. The main single of "Eyes Wide Open" is "I Can't Stop Me", which can clearly show the retro concept (also known as "vintage inspired") with the synth notes contained in the song.
The dance performance of "I Can't Stop Me" also shows TWICE's excellent stage performing ability, with high-pitch song singing and meanwhile, the sophisticated delivery. This song can also reveal TWICE's energy as they used to be, even though it is filled with retro concept. Mixing these factors together, you can see a really enjoyable stage performance brought by TWICE.
[2020 Update] TWICE Korean Title Track List
Except for this new single, TWICE has many representative songs that are widely listened by audiences from all over the world. Here is the list of the main singles of all their albums. You can enjoy them and probably you could find out why TWICE is so popular around the world.
1. Like OOH-AHH(OOH-AHH하게)
Album: The Story Begins
Release date: Oct 19, 2015
Views: 381M
2. CHEER UP
Album: PAGE TWO
Release date: Apr 24, 2016
Views: 414M
3. TT
Album: TWICEcoaster : LANE 1
Release date: Oct 23, 2016
Views: 552M
4. KNOCK KNOCK
Album: TWICEcoaster : LANE 2
Release date: Feb 19, 2017
Views: 268M
5. SIGNAL
Album: SIGNAL
Release date: May 15, 2017
Views: 256M
6. LIKEY
Album: twicetagram
Release date: Oct 30, 2017
Views: 483M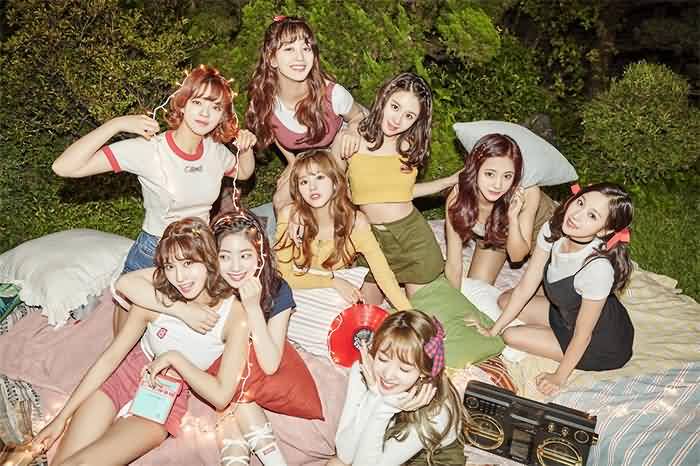 7. Heart Shaker
Album: What is Love?
Release date: Dec 11, 2017
Views: 347M
8. YES or YES
Album: YES or YES
Release date: Nov 5, 2018
Views: 275M
9. The Best Thing I Ever Did
Album: The year of "YES"
Release date: Dec 12, 2018
Views: 382M
10. FANCY
Album: FANCY YOU
Release date: Apr 22, 2019
Views: 359M
11. Feel Special
Album: Feel Special
Release date: Sep 23, 2019
Views: 289M
12. MORE & MORE
Album: Album: MORE & MORE
Release date: Jun 1, 2020
Views: 206M
13. I CAN'T STOP ME
Album: Album: Eyes wide open
Release date: Oct 26, 2020
Views: 108M
**14. CRY FOR ME
**Album: Album: CRY FOR ME
Release date: Dec 17, 2020
Views: 7.2M
How to Download TWICE Songs and Music Videos without Quality Lost
After listening to several TWICE songs and see their performances, do you also be attractive by these charming girls? Why not download TWICE songs or music videos with high quality for enjoying the songs offline better? You can also use these downloaded music videos to learn singing and dancing following TWICE!
To download TWICE songs and music videos without losing the quality of the original videos, you need a professional video downloader to help. Here VideoHunter is recommended. It performs with quick speed and high quality to save music videos from YouTube without hassle. It will be a good choice for you to get TWICE songs for offline playback.
VideoHunter A Reliable and High-quality Any Video Downloader for Windows/Mac Over 1,000 sites supported; 1080p, 2K, 4K, and 8K resolutions available; Easy to handle downloading process; Built-in converter with 20+ output formats supported; Subtitles download available; YouTube playlist download available. Batch download feature allows you to save several tasks at once. Free Download Free Download
# Details of How to Download TWICE Songs in VideoHunter
Step 1. Copy TWICE Song's URL
First, please direct to YouTube and search for the TWICE song you'd like to download. You can also copy the URL from the above sharing TWICE YouTube video.
Step 2. Convert TWICE Song in VideoHunter
Please run VideoHunter, then directly enter the Downloader interface for inserting the URL of TWICE song into the downloading bar. Subsequently, tab the Analyze button for converting the song immediately.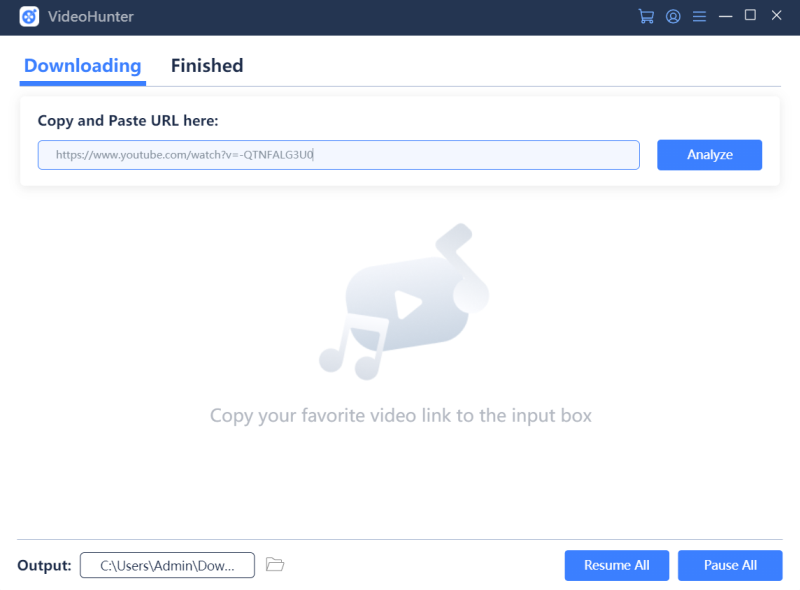 Step 3. Download TWICE Song
When VideoHunter presents the output options to you, select video/audio format as well as the quality for saving TWICE song to have a convenient offline playback. Just click Download to start the downloading process.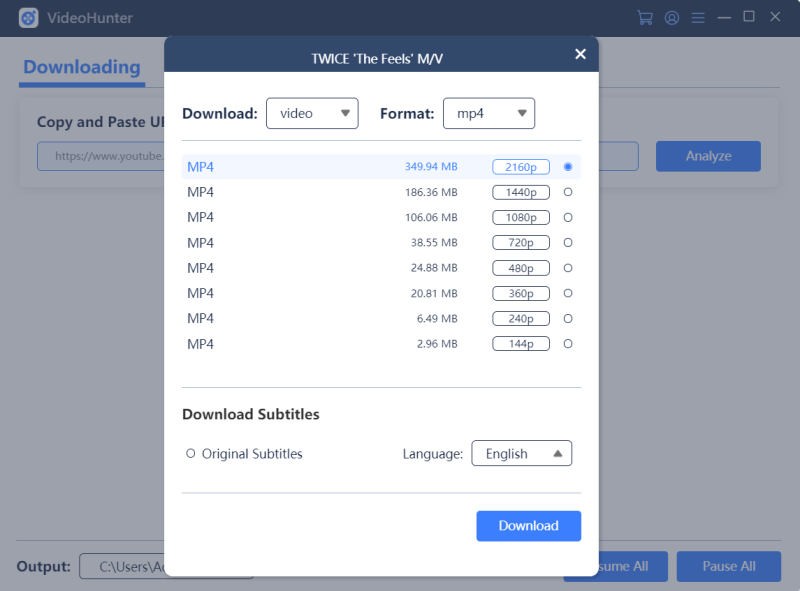 Step 4. Get Downloaded TWICE Song
After the download is completed, you can find the output songs in Finished section. By clicking Open Folder and you can reach the local file stored on your desktop for enjoying high-quality offline playback!
With VideoHunter, you can not only download TWICE songs, but also other latest music videos you'd like for having a fluent playback offline. It will bring you the simplest operation process to get your wanted music saved! Grasp it now!
See How to Download TWICE Songs with the Highest Quality