Picture this: You've created an amazing YouTube playlist that includes many videos you really like, and you want to download all of its videos. But how? YouTube doesn't offer an official playlist download feature. For Android users, that's where YouTube video downloaders for Android come into play.
In this article, we'll focus on Android users' needs and use two useful tools to show you how to download YouTube playlists on Android phones. Let's get started!
CONTENT How to Download Entire YouTube Playlist on Android APK (Free & Easy) How to Download Entire YouTube Playlist on Android via Online Tool
How to Download Entire YouTube Playlist on Android APK (Free & Easy)
While YouTube Premium offers a download feature, you need to pay a monthly fee to access this feature. And you still have to download videos from a playlist one by one manually, which is effort-consuming. To streamline this process, a YouTube downloader app with a batch download function becomes essential. Here comes VideoHunter for Android, the best YouTube playlist downloader for Android users. It not only saves you time, but also allows you to download your favorite YouTube content offline for free.
VideoHunter for Android is a versatile video-downloading tool that supports video downloads from various popular apps, notably YouTube. Its key feature is the wide range of content it supports, including shorts, full playlists, and entire channels. Moreover, VideoHunter for Android offers an array of features, such as batch downloading, a fast download speed, and support for multiple output formats (MP4, MP3, and more), making it the go-to choice for downloading videos.
Attractive Features of VideoHunter for Android
Effortless Playlist Downloads: Download entire YouTube playlists within a few clicks.
Wide Range of YouTube Content: Playlists, channels, shorts, and long videos...You name it, VideoHunter for Android save it.
Audio Extraction Hassle-free: Easily extract audio tracks from YouTube music playlists.
Lightning-Fast Downloads: Batch download a YouTube playlist at a fast speed.
Flexible Formats and Quality: Support formats like MP4, WEBM, MP4, and M4A and various resolutions from 480P to 8K.
Two User-Friendly Download Methods: Save YouTube playlists using the built-in web player or by simply copying and pasting the URL.
How to Download YouTube Entire Playlist via VideoHunter for Android
VideoHunter for Android offers two easy methods to save entire YouTube playlists onto your mobile phone. Here, we'll use the URL method as an example.
Step 1. Copy and paste the URL of a YouTube playlist into VideoHunter for Android's search bar. Once the URL is analyzed, a window displaying the playlist will pop out.
Step 2. Select your preferred video formats and resolutions. (You can also extract and download audio from the YouTube playlist.)
Step 3. Choose which videos from the playlist you want to download. You can opt for the entire playlist or specific videos of it. Then, click Download to initiate the process.
Step 4. Access the Downloading window to check the download process. Once the downloads are complete, you can find them in the Finished window.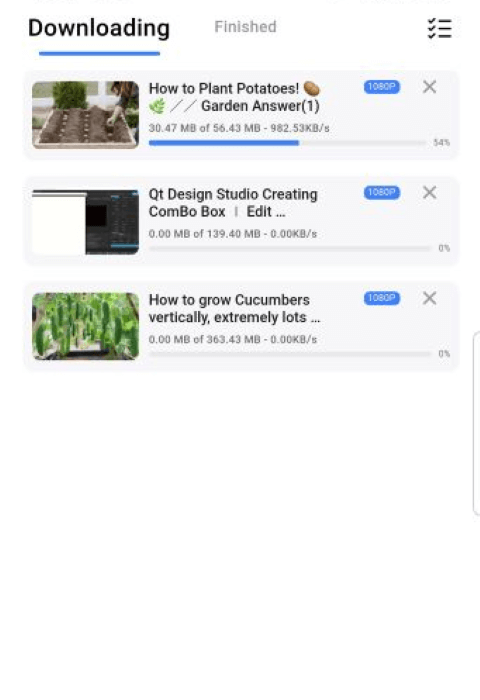 How to Download Entire YouTube Playlist on Android via Online Tool
If you only need to download videos from a YouTube playlist occasionally, consider online YouTube downloaders for Android. They are 100% free and accessible from any device with an internet connection.
However, it's important to note that most online tools lack a batch download function for playlists. This means you need to put in significant time and effort if the playlist you want to download contains multiple videos. You'll have to repeat the downloading process for each video individually.
NOTE: If your YouTube playlist has a large number of videos, I recommend using VideoHunter for Android. Its batch download feature eliminates repetitive steps and significantly speeds up the process.
Steps to Download An Entire YouTube Playlist on Android Online
Step 1. Go to YouTube and copy the URL of the YouTube playlist you want to download.
Step 2. Visit Youtube4k Downloader.com. Paste the URL of the YouTube playlist to the online tool. Click Download.
Step 3. Select video quality and click Download to save videos from the YouTube playlist.

Conclusion
When it comes to downloading YouTube playlists, mobile phone users have 2 choices. For occasional users or small playlists, online YouTube downloaders do the job.
But, when your playlist grows or you want to save time and effort, there's a clear winner: VideoHunter for Android. With its batch download feature and lightning-fast speed, it's the ultimate choice to download a full YouTube playlist in clicks. Don't waste time one by one, choose VideoHunter for Android and enjoy the ease of downloading playlists in a breeze!