When YouTube has taken up a large proportion of market share and attacks more people to utilize in daily lives, it also pushes the development of YouTube downloaders, the tools oriented for downloading videos from YouTube as regular video/audio files for locally storing.
In today's post, let's concentrate on those helpful online YouTube downloaders for Android, which are all reliable to assist Android users to safely download YouTube videos to their devices. Now, dive into reading in-depth.
CONTENTTop 1. Y2mateTop 2. ClipConverter.ccTop 3. Flvto Top 4. YMP4Top 5. noTubeTop 6. SaveFrom.netExtra Tool: VideoHunter for Android
Top 1. Y2mate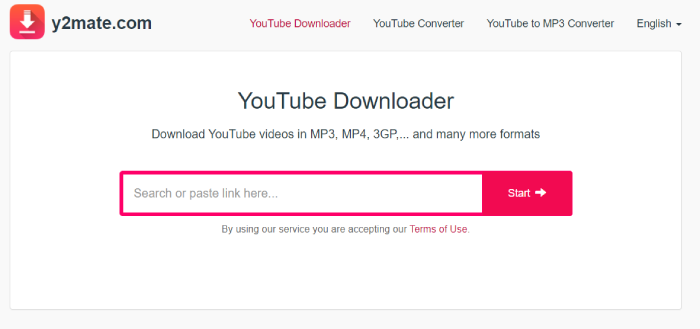 The first ranking online YouTube downloader for Android can be Y2mate. The service has embedded YouTube's search function with its downloading bar, by entering video keywords and you can directly access the YouTube videos, with download buttons provided. The analysis, converting, and downloading speed of Y2mate are all functioning in a speedy way.
The only downside of the online YouTube downloader should be its messy ads. Even while proceeding the video download by clicking on the Download button, ads would pop up, which could interrupt your experience greatly.
Pros
It offers fast speed to proceed YouTube videos searching, analyzing, converting, and downloading reliably.
The most popular encoders MP3 and MP4 are provided with optimal quality to download.
Search function is equipped to quickly access YouTube videos for downloading.
Cons
Too many listing ads and pop-ups on the webpages.
It doesn't support downloading YouTube playlists and channels at all.
Only provide high definition at 1080P.
Top 2. ClipConverter.cc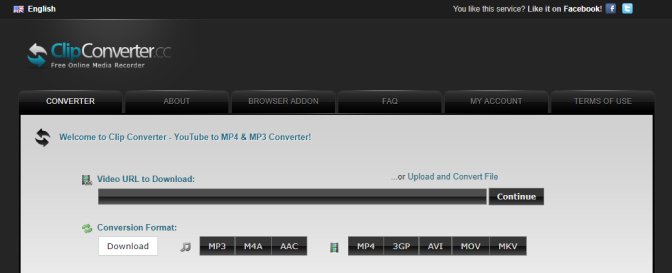 ClipConverter.cc works more than a simple online YouTube downloader as it is compatible with the ability to download online videos from other popular media sites, including Facebook, Vimeo, and more. You only need to copy the video URL and paste to the search bar on ClipConverter.cc and select the encoder for exporting it, then the YouTube downloader will initiate the conversion and offers optimal quality selections for downloading the video.
It would take minutes to complete the conversion, but you will surprisingly discover that ClipConverter.cc offers up to 4K for exporting YouTube videos!
Pros
Offer multiple popular encoders to export YouTube videos on Android.
It is compatible with YouTube and other popular media sites like Facebook.
The highest video definition reaches 4K.
Less ads are contained.
Cons
The conversion speed would be slower.
It doesn't support batch download but can only convert one YouTube video each time.
Top 3. Flvto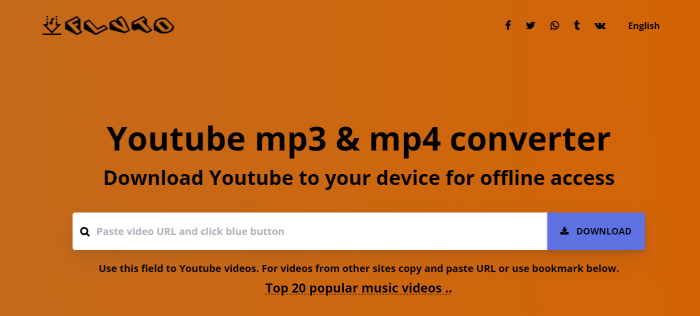 Flvto is a simply-designed online YouTube downloader for Android, taking only 3-step manipulation to help Android users download YouTube videos without installing Android app at all. You get two options to download YouTube videos on Flvto - by searching for videos with the provided searching bar, or simply paste the video URL and proceed the video analysis in no time.
Despite this, Flvto also develops an extension for desktop Chrome users to unlock a more effortless YouTube video download experience online. Therefore, according to what devices you are utilizing, you may select different methods to download YouTube videos with Flvto.
Pros
3 ways are provided to download YouTube videos online.
The performance of the service can run at quite a quick speed.
Offer both SD and HD resolutions and the best 320kbps to download YouTube videos or music.
MP3, M4A, MP4, WEBM, and MHTML encoders are provided to select freely.
Cons
Each tap on the webpage would pop up an advertisement.
Top 4. YMP4

The upcoming ranking online YouTube downloader for Android is YMP4. It is a registration-free platform, requiring no account setup to access the YouTube download service on Android. Although it provides fewer encoder options than some other downloaders, the most popular selections MP3 (for audio) and MP4 (for video) are retained. When the tool is oriented for YouTube video download, it has enhanced with fast speed to initiate the analysis and completes the download within a short period for you.
When getting tired of copying and pasting URLs to proceed the conversion on Android, you can directly type in words on the search bar, then YMP4 will deliver the video results matching the YouTube top 20 videos for you to proceed the download. YMP4 also facilitates higher efficiency in downloading YouTube videos online.
Pros
Support searching for YouTube top 20 videos matching the keywords to proceed the download directly.
It performs at quick speed to convert and download YouTube videos.
Users are not forced to register accounts to utilize the services.
High definition and audio bitrate are offered to ensure high-quality streaming offline.
Cons
It only provides MP3 and MP4 to download YouTube videos.
The tool has pop-ups that could interrupt your video downloading manipulation.
Top 5. noTube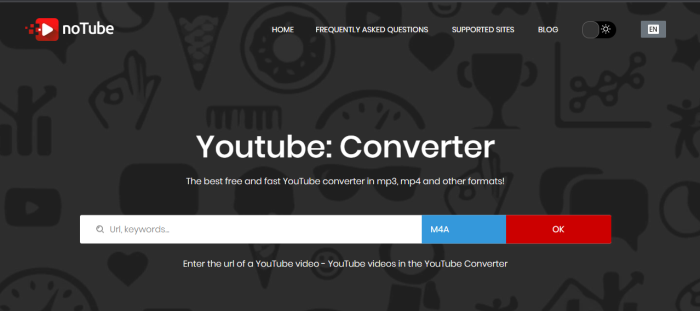 Now, let's see noTube. As an effortless online YouTube downloader for Android, the tool has provided quite simple manipulation, allowing Android users to download videos from YouTube with the encoder and quality they wish. Once entering keywords or URL into the search bar, noTube allows you to select an encoder (HD version provided for MP3 and MP4 encoders) before proceeding the video searching and URL resolving.
However, there won't be further options provided for you to select an accurate definition or bitrate to export the analyzed YouTube video. More than YouTube, noTube also supports downloading online videos from other popular media sites, including TikTok, Facebook, Instagram, Twitter, and more.
Therefore, with noTube, you are actually accessing a multi-functional video downloader on Android than a simple online YouTube downloader!
Pros
It is capable with YouTube and more popular media sites.
Provide the encoder and high-quality version to export YouTube videos from the startup.
Searching function is provided to access YouTube videos on the webpage directly.
The conversion speed is speedy.
There are no pop-up ads (but with some listing ads on pages).
Cons
No accurate definitions and bitrate provided to select downloading YouTube videos.
It is unavailable to batch convert more than 1 YouTube video at a time.
Top 6. SaveFrom.net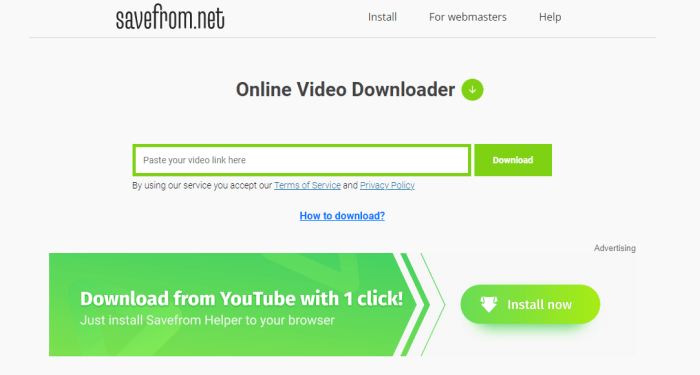 Finally, SaveFrom.net is also recommended for Android users, as the tool also provide excellent online YouTube video download function for Android, without application installed at all. Simply by pasting video URL to SaveFrom.net, it will function in no time and complete the conversion with multiple output options for you to select.
Furthermore, it offers a tricky method to download YouTube videos even more simply - simply by utilizing "ssyoutube.com" replacing the original "youtube.com" domain, you will automatically be turned to the video conversion page on SaveFrom.net. It would be a more effortless method that prevents Android users from switching between platforms on the devices.
Pros
Provide quite simple paths to download YouTube videos easily.
HD definitions are offered to download YouTube videos offline.
It will run with speedy performance to improve efficiency.
Cons
Sometimes the website will be turned down and the service is not accessible.
High-definition video outputs are not provided with audio.
It is unavailable to download YouTube channels or playlists.
Extra Tool: VideoHunter for Android
Get annoyed by the messy ads and low-definition outputs? Replacing seeking an online YouTube downloader for Android, please consider VideoHunter for Android, a professional YouTube downloader for Android, providing the best YouTube video download experience on Android phone.
Now, let me explain why VideoHunter is professional explicitly here:
High definition encoders - for YouTube videos, this YouTube video downloader App can provide up to 8K definition to export them offline.

Great download efficiency - support analyzing YouTube playlists, channels, and downloading subtitles at once.

6X faster batch download - speed up the batch video download to 6X faster, in that it greatly improves productivity.

1,000+ sites supported - despite YouTube, the program also supports downloading online videos from other 1,000+ sites at high definitions effortlessly.
Built-in proxy integration - bypass the regional restrictions to download all YouTube videos blocked in your countries.
How to Download YouTube Videos With VideoHunter for Android
It takes only 3 simple procedures to download online videos from YouTube with high definitions utilizing VideoHunter for Android. The following manipulation guide is provided to you.
Step 1. When you have installed VideoHunter for Android, please run it and log in using a VideoHunter account. New users need to sign up for one to access the download function.
Step 2. Search the YouTube video you want to download in the built-in search engine or copy the link of the video on the YouTube page.
pStep 3. Please wait for a moment and VideoHunter for Android will provide the download button and definition options for you to select. Choose the option and tap Download to initiate the download in no time.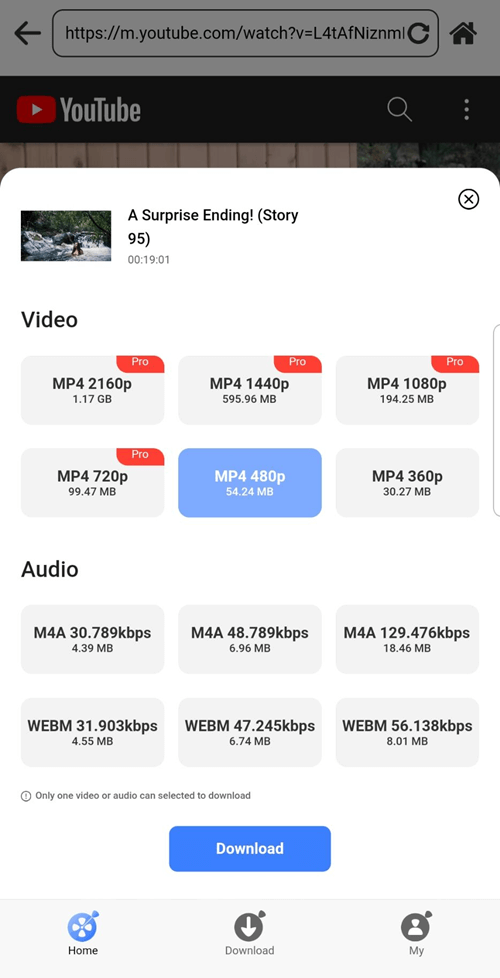 Conclusion
In conclusion, when these online YouTube downloaders for Android provides speedy and convenient service to download videos from YouTube at ease, they have downsides, for instance, they are mostly embedded with messy ads, and they are not available to download playlists or channels at all.
As a replacement, VideoHunter can offest these disadvantages and download high-definition YouTube videos for you.