YouTube Shorts create a revolutionary way for people to entertain themselves and discover more fun with short-form videos. Compared to the general videos, YouTube Shorts keep fingers swiping up and down with laughter. However, how to download YouTube Shorts of your favorite videos? Since YouTube doesn't offer a YouTube Shorts download option, people are looking for a feasible way to work it out.
Luckily, you are reading this post. I'm going to show you 5 workable YouTube Shorts Downloaders across all platforms including Windows, Mac, iPhone, iPad, and Android. Now, you may want to check out the following and pick up a preferred way to give it a shot.
CONTENT
Can You Save YouTube Shorts with Premium
How to Download YouTube Shorts Videos on Windows & Mac
How to Download YouTube Shorts Videos on Android & iPhone
Can You Save YouTube Shorts with Premium
The answer is NO. Only if you are the creator of YouTube Shorts videos, you are allowed to download your Shorts videos in YouTube Studio. YouTube currently doesn't roll out the YouTube Shorts download service even if you have a Premium subscription. While you're browsing through amusing Shorts videos on YouTube, you may notice that there are icons for you to like, display, share or leave a comment for the video. However, there is no Download button, so you cannot save YouTube Shorts videos even with Premium.
It's still unknown whether YouTube will enable the YouTube Shorts download feature for Premium users in the future. Yet, there are actually some YouTube Shorts Downloaders for Android, iPhone, Windows, and Mac. If you're looking for ways to download YouTube Shorts to MP3 or MP4, let's go over the workarounds below.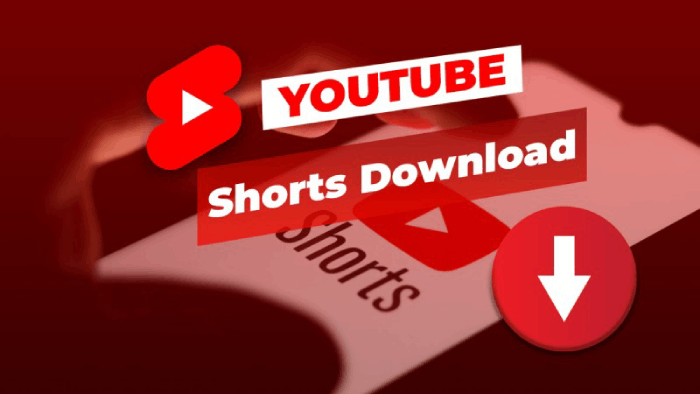 How to Download YouTube Shorts Videos on Windows & Mac
If you want to download a batch of YouTube Shorts videos, you may want to do it on your Windows or Mac computer to avoid running out of device storage and mobile data. There are online free YouTube video downloaders and professional desktop software to choose from. Now, get your best pick below.
YouTube Shorts Downloader for Desktop
VideoHunter is an all-in-one online video downloader, which also offers the YouTube Shorts download service for computers. This program is the best YouTube downloader to remove DRM protection and download all content from YouTube with ease, including vertical videos, unlisted videos, private videos, 360° VR videos, and so on. To familiarize yourself with VideoHunter, let's take a look at its highlighted features.
High-Quality Output - VideoHunter enables users to download YouTube Shorts to MP3 and MP4 of high quality. It can keep the video quality from 8K, 4K, 2K, HD 1080p, and 720p, as well as the audio quality of up to 320kbps.
Batch Download - The software allows multithread downloading tasks at the same time, so users can download as many favorite YouTube Shorts as they want to store locally on Windows and Mac.
Ultra-Fast Service - With marvelous acceleration technology, VideoHunter ensures an ultra-fast online video download service of up to 6X faster than other tools.
Playlists & Channels - Apart from YouTube Shorts, VideoHunter makes it possible to download the entire YouTube playlist and channel. You can save all of your favorite videos just in case they become unavailable someday.
Easy-to-Go Interface - VideoHunter offers a user-friendly interface for newcomers to easily download online videos. All you need is to paste the video link and let the software do all the work automatically.
1,000 Sites Supported - Better yet, VideoHunter supports more than just YouTube. The support list covers over 1,000 online video sites including TikTok, Instagram, Twitter, Facebook, and more.
Now, let's see how to download YouTube Shorts videos via VideoHunter. It takes only 3 steps to fulfill your download needs.
STEP 1. Copy the Video Link
You need to download and install VideoHunter on your computer. After launching it, you'll see the clean interface. Now, you need to go to YouTube and stream the Shorts video you want to download. Then, click the Share icon followed by Copy.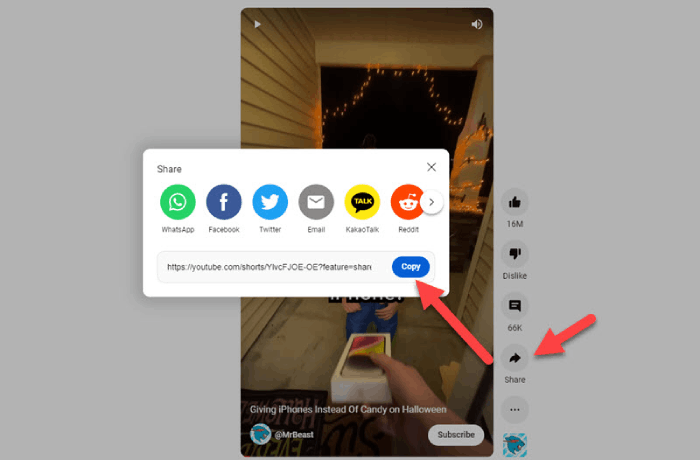 STEP 2. Choose Video Output
Back to VideoHunter, paste the link in the bar, and click the Analyze button to start fetching and decrypting the YouTube Shorts video. It may take a few seconds to pop up download options for you to choose from.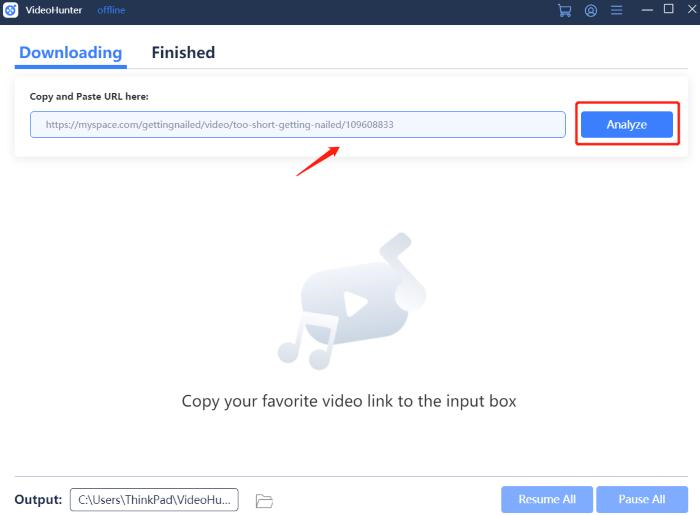 STEP 3. Download YouTube Shorts
Then, you'll see a window of video options in MP4 of multiple resolutions. The output video quality is based on the source video. After picking a preferred option, click Download to start downloading the YouTube Shorts video. You can keep updated with the process in the interface. When complete, the video will be saved to the Finished tab.
YouTube Shorts Downloader Online
If you prefer a YouTube Shorts downloader online, there are many choices over the internet. What's good about online tools is that they offer an online YouTube download service free of charge. Better yet, online tools work on any device with any browser.
However, drawbacks are inevitable, such as poor video quality, slow downloading speed, and unstable performance. To help you sort out the best YouTube downloader, there are two free online YouTube Shorts downloaders from which you can take advantage of.
1. SaveTube

SaveTube is a free online YouTube Shorts downloader 1080p video quality supported. The tool enables users to save YouTube Shorts video in MP4 from 144p up to 1080p and download YouTube Shorts to MP3 from 64Kbps to 320kbps. It's easy to use without an account login required.
However, SaveTube only works for YouTube Shorts and cannot download horizontal videos from YouTube. Moreover, you may have to be bothered by many ads when using this ad-based free service. This online tool also fails to fetch some YouTube Shorts videos due to its unstable service.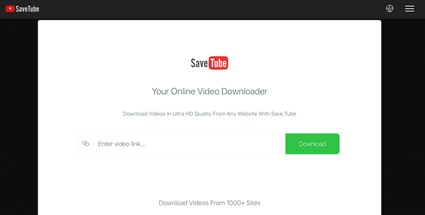 2. SHORTSNOOB
SHORTSNOOB is another free YouTube Shorts to MP4 downloader for any browser, including Google Chrome, Firefox, Edge, Opera, and others. This online downloader can download YouTube Shorts videos to MP4 and M4A, but it cannot download YouTube Shorts to MP3. Also, the video quality can reach from 144p to 1080p as SaveTube does.
This online tool is quite easy to use and user-friendly without annoying ads. Just simply copy and paste the video link of the YouTube Shorts into the bar. The sites will auto-detect the URL and start extracting data from YouTube. All the process is done over the cloud, and you just need to pick up a preferred video option of high resolution. However, the video quality option with sound supports only up to 720p, and the 1080p version will be mute.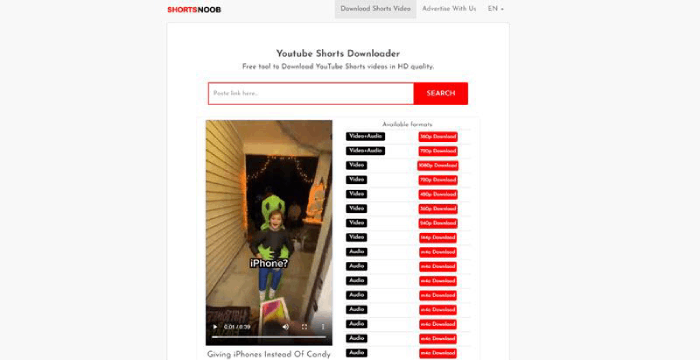 How to Download YouTube Shorts Videos on Android & iPhone
If you're more of a mobile user than a desktop person, there are also workable ways respectively for Android and iOS devices. It's just as easy as doing it on the computer. Now, you might as well grasp the idea below.
YouTube Shorts Downloader for Android
VideoHunter for Android is an all-in-one video downloader for 7 sites, which includes a YouTube Shorts downloader for Android phones and tablets. This app enables you to download YouTube videos to MP3 and MP4 at a fast rate. Depending on the original Shorts video, the output quality can be kept in high resolutions like 1080p, 4K, and 8K.
It embeds with an in-built web browser for you to directly access and download online videos with ease. Also, you can choose to save YouTube Shorts to an SD card so that it's able to free up the device storage on Android. What's better, you can download the entire YouTube playlist if necessary. Now, you may want to learn how VideoHunter for Android works out.
STEP 1. Download the apk file and install VideoHunter for Android on your device.
STEP 2. Launch this YouTue MP4 converter app and tap on the YouTube icon to visit the site.
STEP 3. You can directly search for the YouTube Shorts video without logging in to your YouTube account.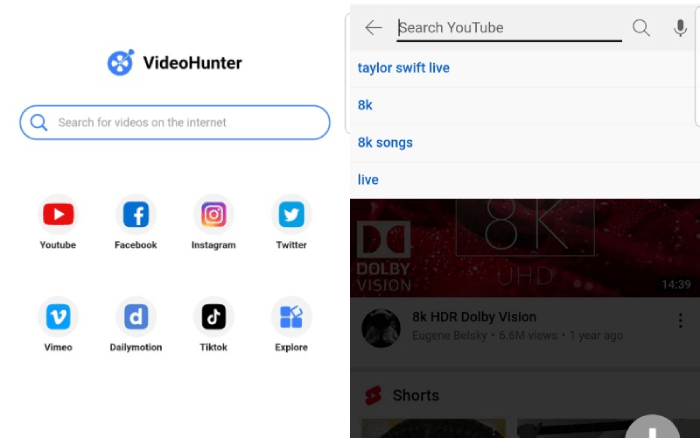 STEP 4. Tap the Blue Download icon when streaming the video. It'll start fetching data from YouTube.
STEP 5. When done, you'll see both video and audio options to choose from. Pick a desired option and tap on the Download button at the bottom. It takes no time to download YouTube Shorts videos on your Android.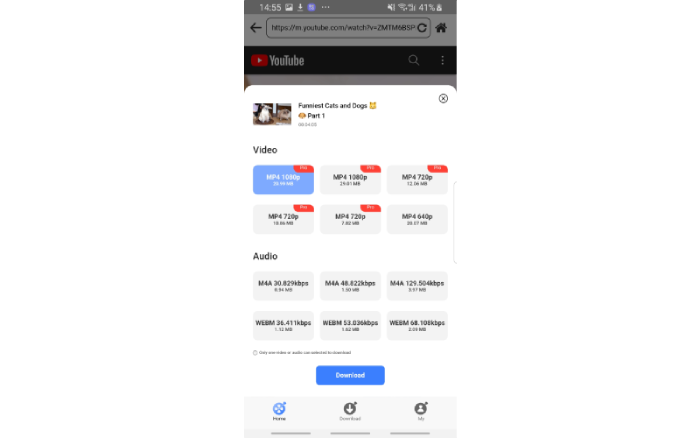 YouTube Shorts Downloader for iPhone/iPad
If you're an iPhone or iPad user, you may find no YouTube Shorts downloader apps in the App Store. Since video downloaders are prohibited by Apple, you may need a tricky way to download YouTube Shorts on iPhone and iPad. If your device is running iOS 12 and later, there is actually a YouTube Shorts downloader shortcut available. The detailed tutorial is introduced as follows.
Note that if you're running iOS 11 or later, you may need to use online YouTube Shorts downloaders on the Readdle app so as to download Shorts videos from YouTube.
STEP 1. Add Shortcut - Download YouTube to your iPhone or iPad.
STEP 2. Open the YouTube app and watch the Shorts video you want to download.
STEP 3. Tap the Share button and then More to bring up the YouTube Shorts downloader shortcut.
STEP 4. Tap the shortcut and it'll start decrypting the video URL and download the video to your iPhone/iPad.
Conclusion
This is the full guide on how to download YouTube Shorts videos on Windows, Mac, Android, iPhone, and iPad. You definitely will get what you're looking for in this post. It's always easy with online YouTube Shorts downloaders. However, online tools are a bit unstable and support only SD video quality. If you want to enjoy a stable YouTube Shorts download service to download MP4 and MP3 of higher quality, just don't miss VideoHunter.