YouTube introduced short videos in 2021 and enables users to upload videos up to 60 seconds, which include all types of videos like comedy, technology, cute animals, etc. However, it now doesn't offer any download function for us to stream these interesting videos offline (except your own videos that have been uploaded to YouTube Studio).
Is it still possible to download videos from YouTube Shorts? Actually, it's feasible with the assistance of some powerful third-party YouTube downloaders. In this article, you will get several ways at once to help you download YouTube shorts to PC and mobile. Have a look!
CONTENT1. How to Download My Shorts from YouTube?2. How to Download YouTube Shorts on Windows/Mac3. How to Download YouTube Shorts on Android4. How to Download YouTube Shorts on iPhone5. Extra Tips: How to Search YouTube Shorts Videos You Like
1. How to Download My Shorts from YouTube?
As introduced, YouTube strictly prevents people from downloading the videos without gaining permission from the owners. But for your own videos uploaded to YouTube Shorts, it offers a direct way for you to download them offline again. Here shows you how to do it.
Step 1. Open YouTube in your web browser and then sign in to the platform with your own account.
Step 2. After that, click your profile icon and select to go to YouTube Studio. Here all your uploaded YouTube videos are listed, which is a great place to find some original videos that have been removed from your mobile.
Step 3. Click "Content" to see the full list of the uploaded videos. Now just find the video you have uploaded to YouTube Shorts section and you need to download offline again, then click the three-dots icon and there will be the "Download" option provided.
Tip: Those regular YouTube videos can also be downloaded in this way.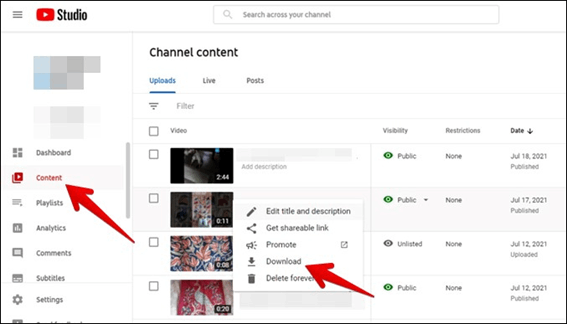 2. How to Download YouTube Shorts on Windows/Mac
Another more convenient way to download any content from YouTube is to use a powerful YouTube video downloader. VideoHunter outperforms many YouTube downloaders on the market for it provides full support to download all types of YouTube videos offline, including the YouTube Shorts videos, regular public, private, and also unlisted videos at once. To increase efficiency, VideoHunter can analyze and download YouTube playlists, channels in just one click, and it will also speed up the downloading speed by default to let people download YouTube videos in batch at 6X faster speed. As a result, if you have a batch of YouTube Shorts videos you want to download offline, VideoHunter would be a better choice.
Key Features:
Supports the most widely-used video/audio formats such as MP3, MP4, WEBM to download YouTube Shorts videos.
Also supports other 1000+ websites to help people download any online videos they like.
Offers the best quality, including 720p, 1080p, 4K, and even 8K to download YouTube videos.
Allows to convert YouTube playlist and channel in one click to download videos in batch.
Provide the subtitle merging function to add the subtitle files with videos and download at once.
Sets the built-in proxy settings to download all YouTube videos without regional restrictions.
Speeds up the conversion to 6X faster speed and saves time.
How to Download YouTube Shorts Videos in VideoHunter
Step 1. Sign in VideoHunter
When you have installed VideoHunter on computer, open the software and you will need to create a VideoHunter for signing in. If you have created one on its website before, directly use it to sign in. Then you will turn to the downloader home screen.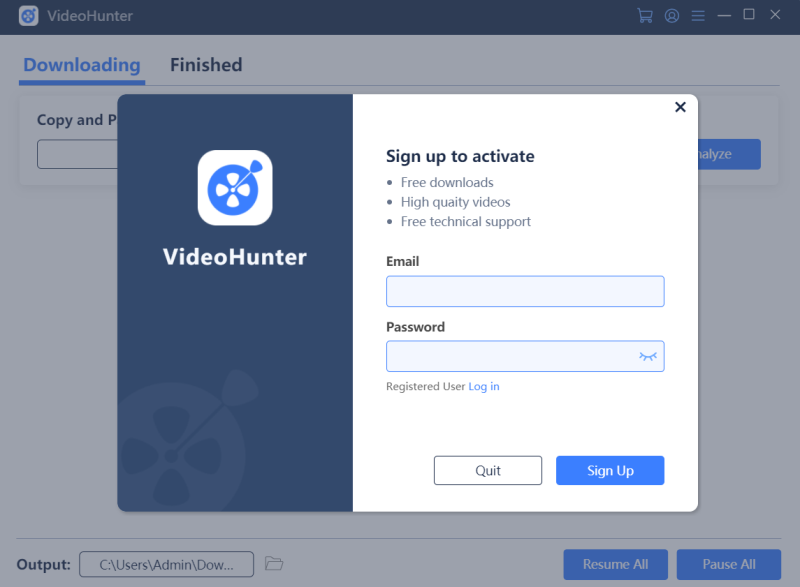 Step 2. Copy and Paste YouTube Shorts Video URL
Now, you can open YouTube in the web browser and go to the YouTube Shorts section to find the videos you want to download offline. When you find any of them wanting to save, just copy its URL and paste to the search bar on VideoHunter downloader's page.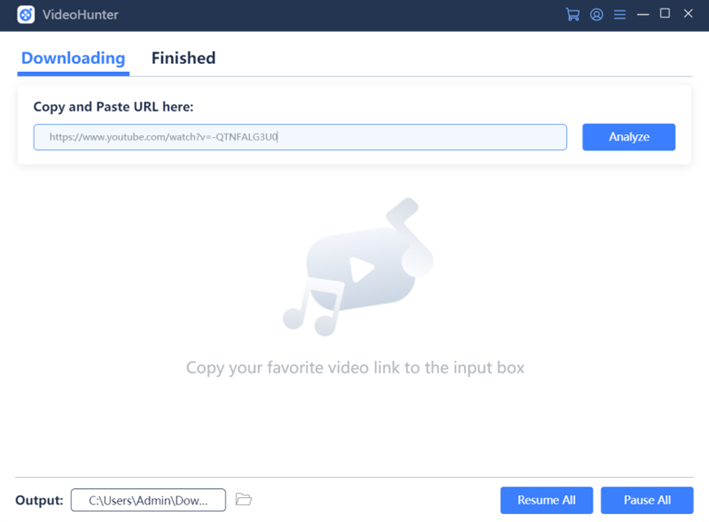 Step 3. Analyze YouTube Shorts Video URL and Select Output Option
When you have pasted the URL, click "Analyze" and the output options will be provided in seconds. Then you can select the format and quality, and also subtitles to download the YouTube Shorts video based on your needs.
Step 4. Download YouTube Shorts Video Offline
After selecting the output format and also quality to download YouTube Shorts video offline, just press the "Download" button, then VideoHunter will immediately save it to the computer for you.
3. How to Download YouTube Shorts on Android
Because VideoHunter is only compatible with Windows and Mac systems, if you are an Android user, you would need to install YouTube App for Android to directly download YouTube Shorts videos with its in-built feature. Although YouTube doesn't provide the direct download function on its website for desktop users, it still offers a way for Android users to do it. Just follow the steps below to download any YouTube Shorts videos with YouTube App for Android officially.
Step 1. Install the YouTube App on your Android first. When you open it, go to the YouTube Shorts video you want to download on Android and play it.
Step 2. On the playback window, click the channel icon. In the YouTube channel, you need to select the "Video" tap and find the YouTube Shorts video you just played.
Step 3. Now, click the three-dots icon on the YouTube Shorts video, then you will find the "Download" button is provided. Click it and select the video quality you want to save it offline. By pressing the "DOWNLOAD" button now and the video can be downloaded offline.
Step 4. When YouTube finishes downloading the short video for you, you can find it the "Downloads" section in your library.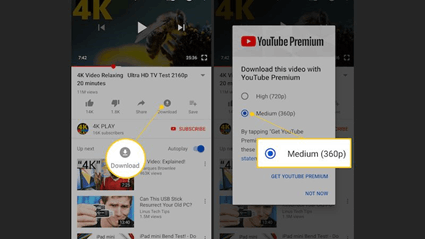 However, although the official YouTube App offers the download function for people to save YouTube videos offline, the available quality will be quite low (even lower than 480p), and not all the videos can be downloaded (only if the owners have set the download options for you). As a result, sometimes you may still turn to other YouTube video downloader for Android such as TubeShorts or 4K Video Downloader for Android to help. In those downloaders, you only need to find the YouTube Shorts video and copy its URL to process the download within clicks just like using VideoHunter on desktop. They are also easy to use.
4. How to Download YouTube Shorts on iPhone
For iPhone users, it is a pity that it will be hard to find some YouTube video downloaders just like on Android. As a result, it is recommended for iPhone users to try online YouTube downloader to download YouTube Shorts videos offline. SaveTube offers a fast YouTube video downloading function, letting you easily download YouTube Shorts and other videos without installing software. Unlike many other free online YouTube video downloader, which would provide very low or fixed quality options to save the videos from YouTube offline, SaveTube offers the best 4K to make sure high-quality video streaming offline.
However, SaveTube will have some limitations that you should pay attention to:
There are ads on the website affecting the YouTube video download experience.
The video conversion failure would always happen.
Playlist download is not supported.
It only offers WEBM to download YouTube videos in 4K (only 1080P for MP4).
Without the worry above, SaveTube is still an easy-to-use online tool. Now you can easily see how to download YouTube short videos using SsveTube on iPhone.
Step 1. Firstly, you need to go to YouTube and copy the URL of the YouTube Shorts video you need to download on iPhone.
Step 2. Open a new window and go to SaveTube. By pasting the URL to the search bar, it will automatically convert the URL for you.
Step 3. When the output options are provided, select your needed quality and format, then by clicking the "Download" button, the YouTube Shorts video can be downloaded offline on iPhone immediately.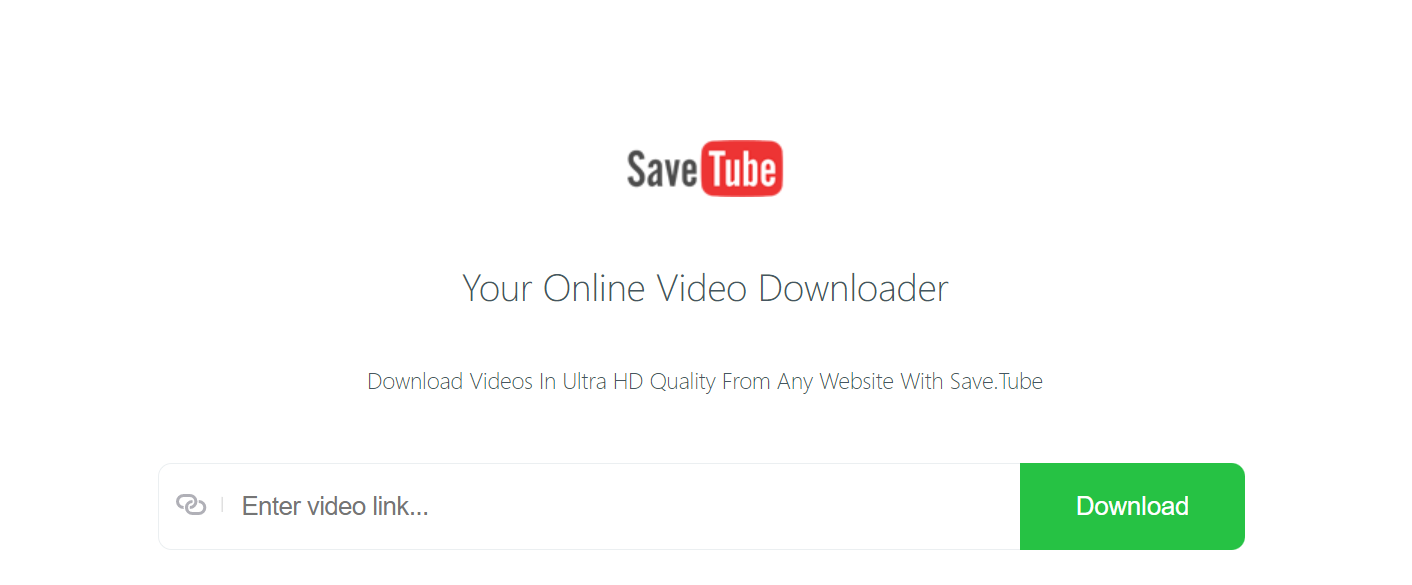 5. Extra Tips: How to Search YouTube Shorts Videos You Like?
When there are millions of short video clips uploaded to YouTube Shorts, YouTube provides the hashtag feature to help people classify the videos to different categories. As a result, to quickly access the YouTube Shorts videos you like, just use hashtags smartly. For example, by typing in "/hashtag/shorts" behind YouTube.com in the address bar to access the YouTube Shorts video list, or use "#shorts + keywords" to quickly search for the short videos of the categories you care about the most.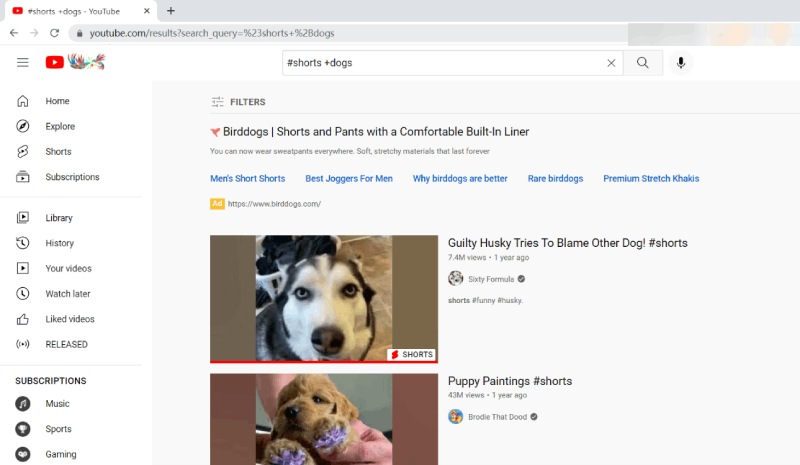 Conclusion
When YouTube doesn't offer a direct way to download YouTube Shorts videos on desktops, VideoHunter will be the best choice because it provides high efficient service to download any video contents from YouTube in very high quality. On mobile, using YouTube App, third-party downloaders, or online tools are all able to help. Now, just try the most convenient method and download the YouTube Shorts videos you like offline easily.