If you consider to download YouTube music for easier and more convenient playback offline on Android, you will find many workable tools to help. But among all of them, here has collected the 6 best YouTube to MP3 downloader for Android users to select, helping you to get the best services and better enjoy YouTube audios on Android devices. Now, you can have a look.
CONTENTTop 1. VideoHunter for AndroidTop 2. VidMateTop 3. YMusicTop 4. SnapTubeTop 5. TubeMateTop 6. YTD Video Downloader for Android
Top 1. VideoHunter for Android
The highest ranking YouTube to MP3 converter should be VideoHunter for Android. Except for its attractive YouTube MP4 converter features for Android, VideoHunter for Android also shows great ability in converting YouTube music to MP3. From the high audio quality it could offer to the fast speed to process the YouTube playlists download on Android, the app can provide a user-friendly experience for you.
Also, by converting YouTube to MP3 using VideoHunter for Android, you can directly get the MP3 YouTube audio files saved to your Android SD card instead of listening within the app, which can make the playback more flexible and convenient.
TIP: VideoHunter for Android is free to try now! Download the best YouTube video downloader app to try on your Android immediately:
Features:
Supports batch download YouTube playlist to MP3 at once.
Offers more output formats such as MP3, MP4, and WEBM to download YouTube videos and audios.
Supports to download video/audio from YouTube,TikTok, Facebook, and other 1,000+ websites.
Directly saves downloaded MP3 audios to SD card for playing freely using any player.
Provides the highest 8K quality to download online videos.
Contains no ads in the app and is free to use.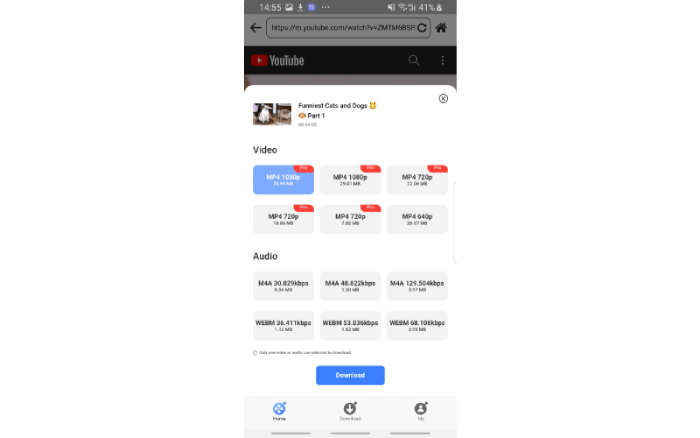 Desktop Version for Windows/Mac: VideoHunter Full Review
Top 2. VidMate
When it comes to VidMate, it is another reliable YouTube to MP3 downloader you can trust to download YouTube videos as MP3 files on Android easily. It provides a search function like VideoHunter for Android, so you can directly search for the YouTube videos you like within the app, and there will be the download button provided.
Simply click button provided below the video, then the output formats will be provided. Just choose MP3 and the quality you like, and the YouTube videos can directly be downloaded to MP3 to save on Android offline. Although it doesn't offer high audio quality up to 320Kbps, you can still get a good music playback experience at 128Kbps as it can offer.
Features:
Provides the direct download buttons to download YouTube to MP3 in one click.
Offers different quality to download online audios.
Supports more video/audio streaming websites.
Provides the best 4K quality to download online videos.
The user interface is friendly for everyone to use.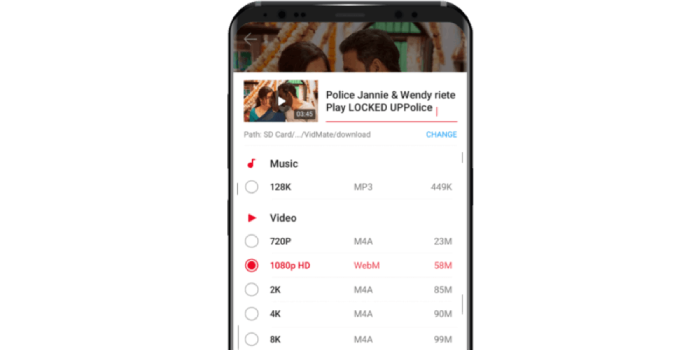 Top 3. YMusic
With YMusic, you can enjoy convenient YouTube music playback both online and offline. You can use it to directly access the YouTube songs you like for playback online. It also provides the music download service for you to download YouTube to MP3 for enjoying offline. With the download buttons provided, you can use this YouTube to MP3 downloder for Android for free to convert YouTube music to MP3 at anytime without any subscription. There will provide different quality choices so you can save the music in the settings you like, with metadata kept offline.
Features:
Provides fast converting speed to save YouTube in MP3.
Offers the best 320Kbps by default to convert YouTube to MP3.
Keeps the YouTube music metadata for saving the songs offline for convenient managing.
Provides searching function to find all YouTube songs to stream online as well.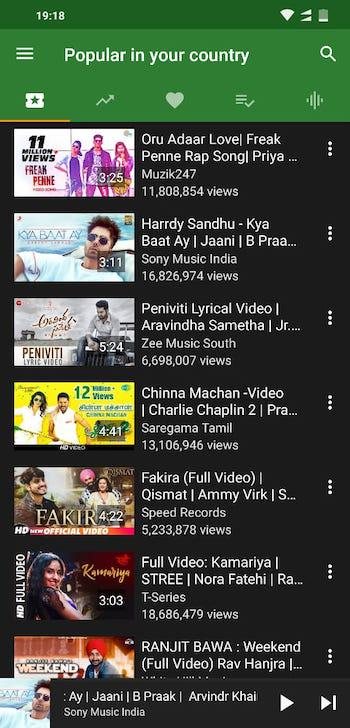 Top 4. SnapTube
Another popular YouTube to MP3 downloader for Android you should not miss is SnapTube. For many users, SnapTube has offered a fast and easy downloading service to let them download videos from YouTube and save in MP3 format just by very easy clicks. When there is also the share button provided, you can also choose the video you like to share with others within the app.
Also, SnapTube offers a private download mode, so you can check the safe YouTube to MP3 download process while using the app. Although there are still ads contained in SnapTube, it is still safe to use.
Features:
Offers user-friendly UI to provide a smooth YouTube to MP3 downloading experience.
Provides the private download function to ensure safe service.
Supports downloading YouTube videos in quick speed.
Provides the share button to let you share the videos directly within the app.
Supports more video sites than YouTube.
Provides the best 320Kbps to download YouTube to MP3 for a better playback experience.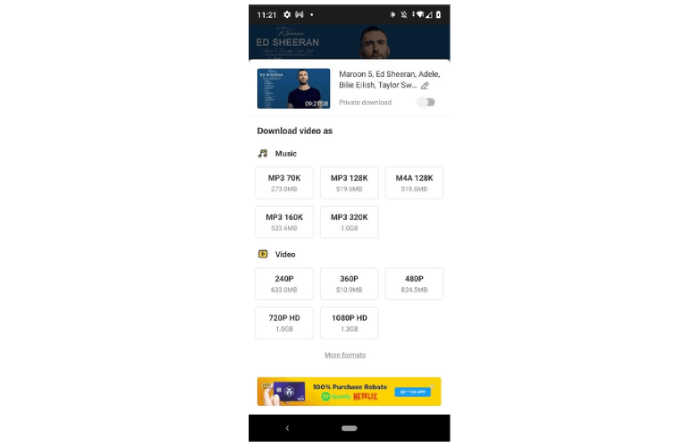 Top 5. TubeMate
TubeMate Video Downloader is also a good YouTube to MP3 downloader app for Android you can install for free use. With the powerful and convenient services provided by it, you can easily download YouTube videos as MP3 files on your Android devices for playback without network connected at all. You won't find it hard to use because the user interface has been designed in a simple way. When TubeMate offers different output formats (such as MP3, M4A, AAC, OGG, WEBM) and qualities, you can always save YouTube videos in the way you like.
Features:
Offers different formats and qualities to download YouTube videos.
Provides a user-friendly UI for searching, streaming, and downloading YouTube videos easily.
Supports high audio 256Kbps quality to save YouTube in MP3 format.
Offers fast downloading speed.
Provides downloading service completely for free.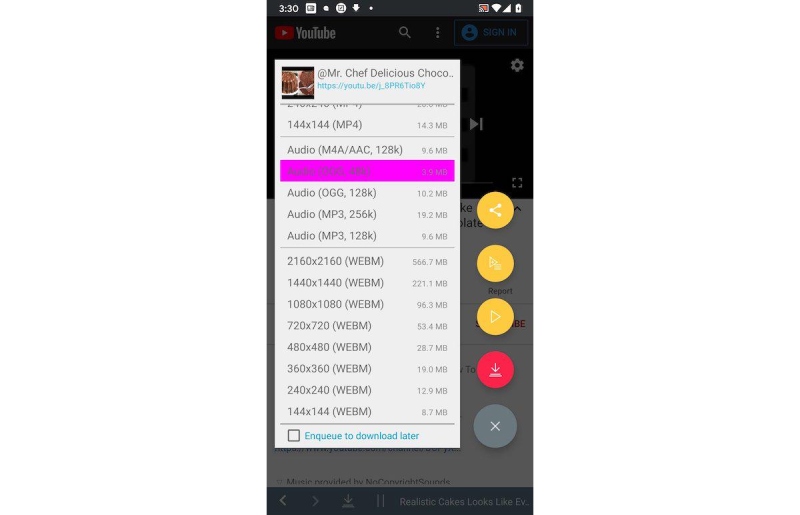 Top 6. YTD Video Downloader for Android
The last recommended YouTube to MP3 downloader for Android that will provide friendly service to save YouTube videos as MP3 files is YTD Video Downloader for Android. It won't limit your download times, so you can use the app to save any YouTube video as you like. It provides multiple languages, so users from all over the world can enjoy the convenient YouTube to MP3 download function provided by the YTD. By downloading YouTube music as MP3 on Android, you can enjoy the playback flexibly offline from today!
Features:
Quickly copy and paste URL to download YouTube videos to MP3 easily.
Offers different common formats to download YouTube videos in the quality you like.
Supports unlimited downloads from different video streaming sites.
Allows to protect video downloads with passwords.
Offers different languages for users from all over the world to use conveniently.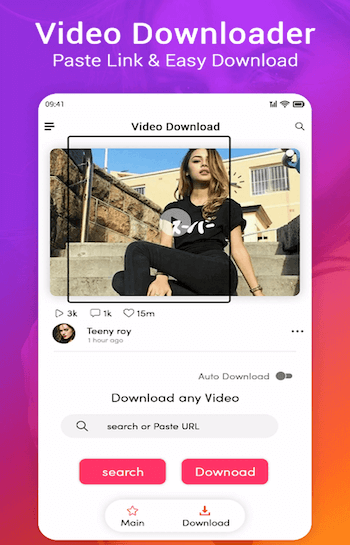 Conclusion
On Android, there are actually many free YouTube to MP3 downloader apps that you can use to download YouTube videos as MP3 files for playback offline easily. Compared to all of them, VideoHunter for Android performs better, no matter from its quicker and more professional download performance, and also the efficient playlist download that many other apps can't provide.
As a result, if you want to get YouTube videos downloaded in MP3 format more quickly on Android, VideoHunter for Android can be the first choice for you. Now, freely try the app on Android: