When YouTube video streaming has been a trending demand in around the world, you probably desire a free YouTube video downloader to grasp the online resources as local collections for preserving offline. Hence, as there are countless tools appearing on the market, the blog has collected the 7 best apps to download YouTube videos (all platforms included) without paying a penny. Now, get started and grasp any of them.
CONTENTHow to Choose the Best YouTube Video DownloaderBest Way to Download YouTube Videos on Desktop3 Top Free YouTube Video Download Apps for Android/iOS3 Best Online Free Video Downloaders for All Devices
How to Choose the Best YouTube Video Downloader
Before going through the best free YouTube downloaders introduced in the blog, let's first grasp how we define the "best" pick. From the testing, we will mainly concentrate on the following aspects to help sort out the 7 best options for different devices:
1. Stable performance: Many YouTube video downloaders are not able to analyze the YouTube video URLs properly but always give a failure notification. Hence, stabler performance and higher conversion rate should be important factors defining whether it is a good YouTube video downloader.
2. High output quality: To ensure the best streaming experience offline, whether the free YouTube video downloader can provide high video as well as audio quality to output YouTube videos should be the thing you need to pay attention to.
3. Speedy performance: For users who get high demands for downloading a bulk of YouTube videos, efficiency such as the speedy performance, playlists/channels download feature will be the key point to help save time.
4. Secure in-app environment: When many free tools may contain ads or malware, causing danger to your device or personal info security, the safety of the YouTube video downloader app is an essential thing we should consider while selecting them.
Best Way to Download YouTube Videos on Desktop
The best recommended free YouTube video downloader for Mac and Windows desktops is absolutely voted for VideoHunter. The software delivers the powerful ability to download YouTube videos, with the compatibility to detect and output video resources at the best 8K resolution. Meanwhile, it is able to boost higher efficiency by supporting the playlists/channels conversion and batch download functionality at 6X faster speed.
In addition, VideoHunter is equipped with more advanced features such as the in-app proxy to bypass restrictions and download all YouTube videos without regional limitations. More importantly, VideoHunter is free for all registered users! Simply by signing up and logging in via the VideoHunter, you are able to enjoy the free download services provided by this advanced free YouTube downloader. Get started via the software now:
Highlighted Features of VideoHunter
Compatible with 1,000+ streaming sites, including YouTube;
Available to output videos at up to 8K resolution;
Mainstream formats such as MP3, MP4, etc. supported;
Batch conversion feature provided to download videos, playlists, and channels from YouTube as well as other platforms efficiently;
In-app proxy setup available to bypass YouTube regional restrictions;
Subtitles downloading and merging features are both provided;
Ads-free and 100% secure in-app performance ensured;
Free download quotas available for registered users.
The brief guide here will simply guide you through the process of downloading YouTube videos via VideoHunter on Windows/Mac desktops:
STEP 1. Once well-install VideoHunter, launch the software and create a new account for logging in to access the downloader.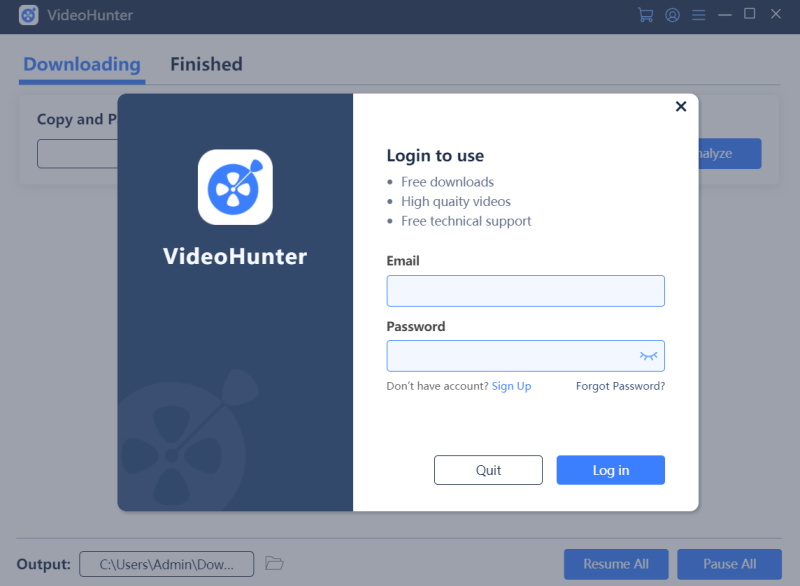 STEP 2. Now, directly go to YouTube and copy the URL of the video you desire to download. After pasting to the downloading frame bar in VideoHunter, tap "Analyze" to convert the video.
NOTE: If you are analyzing a playlist URL, you will get a notification to double-check downloading the playlist or a single video based on your need.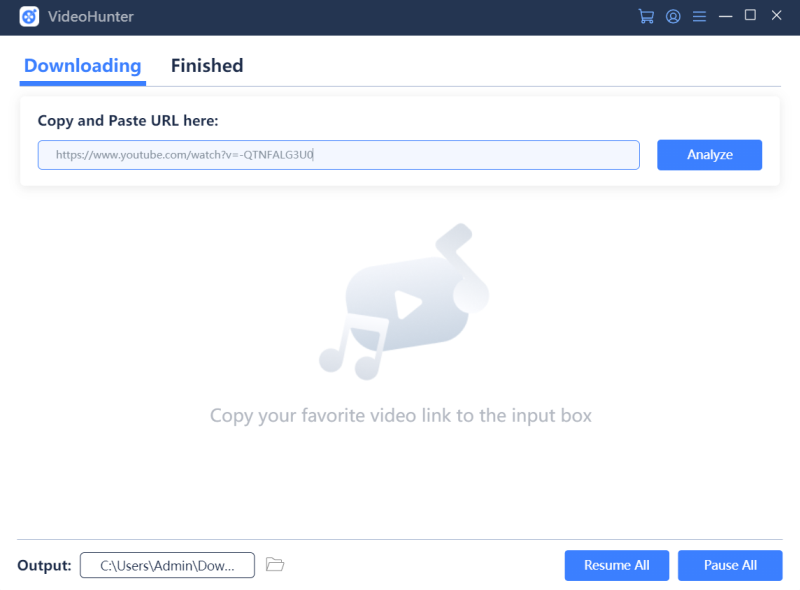 STEP 3. When VideoHunter completes the conversion and provides the output format as well as quality for you to select, just choose the option you prefer, then hit the "Download" button to download it offline right away!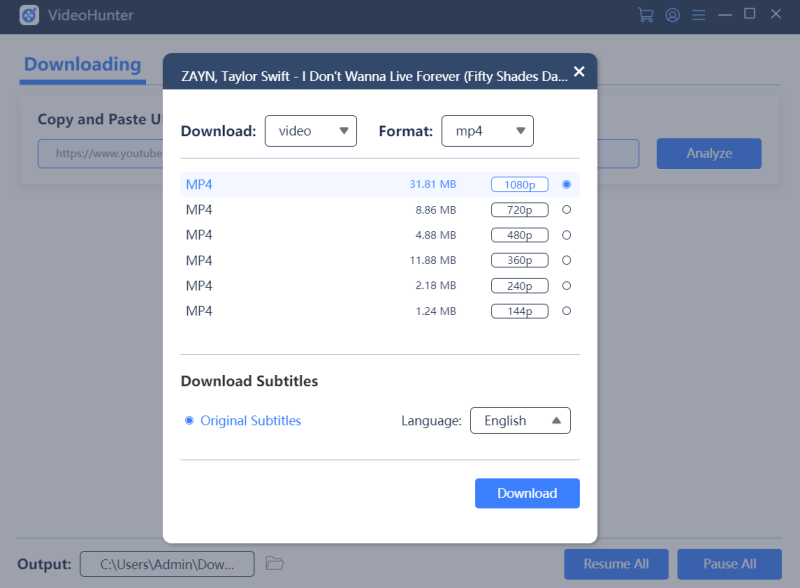 3 Top Free YouTube Video Download Apps for Android/iOS
Now, let's also grasp the 3 best free app to download YouTube videos on Android or iOS devices.
Top 1. VideoHunter for Android
The most recommended Android app to process free YouTube download should be VideoHunter for Android. Unlike many other Android APKs that are only compatible with single YouTube video download, VideoHunter for Android is compatible with a whole YouTube playlist conversion, thus better improves the efficiency. For quality, it will deliver 8K at maximum like the desktop version to ensure a nice streaming experience offline. From the quality, performance, stability, and security, VideoHunter for Android is selected as the best way to download YouTube videos on Android.
Free DownloadFree DownloadFree Download
Features of VideoHunter for Android
Available to convert and download YouTube playlists and videos in batch;
Compatible with high-resolution video detection and processing the download without quality loss;
Acceleration teches ensured delivering fast but stable downloading service;
More popular streaming sites supported;
Integration with a built-in browser to access and download YouTube videos efficiently.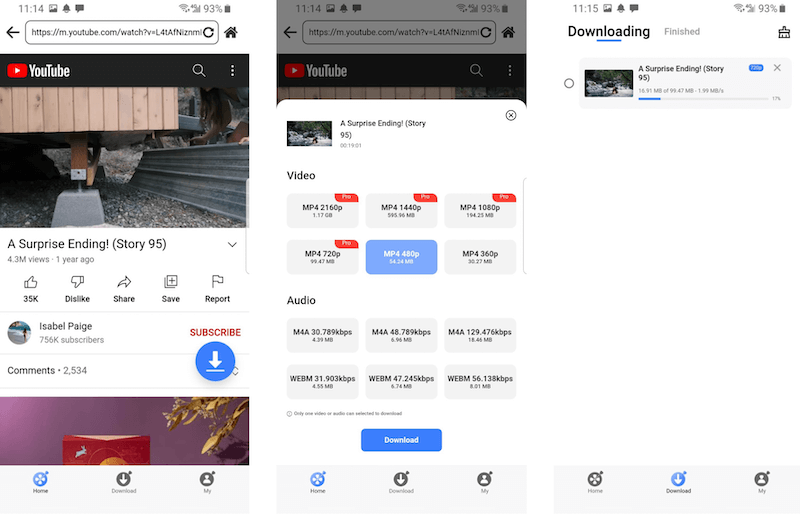 Top 2. Snaptube
Another popular free YouTube video download app you shall not miss is Snaptube. With over 50 streaming sites supported, you are actually getting a more powerful video downloader that is able to help you save online resources from more than YouTube. Although it is not possible to reach the highest 8K as VideoHunter can do, it still provides 4K resolution to ensure a nice streaming experience offline.
Additionally, with an intuitive interface designed, you will find Snaptube quite easy to get started. You are able to process the YouTube video download simply by searching for the video titles via its searching feature. The convenience Snaptube can bring is also a highlight making this free YouTube video downloader attractive.
Features of Snaptube
Optional quality options ranging from 144p to 4K provided;
Over 50+ sites supported;
Intuitive interface for easier online video download operation;
100% safe to try;
Absolutely free of use.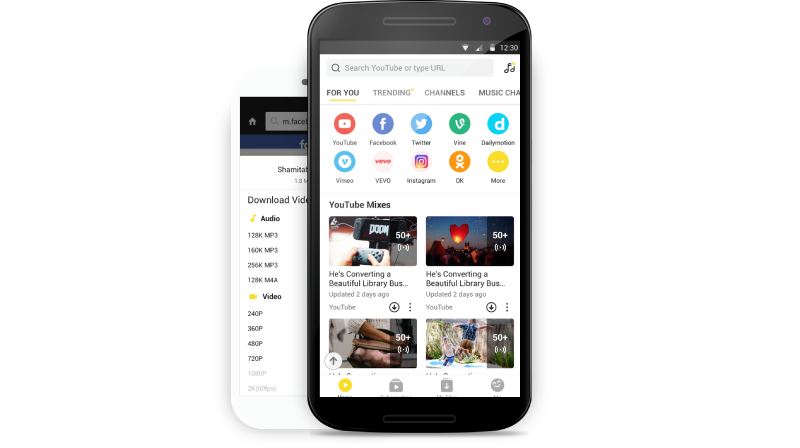 Top 3. VidMate
Don't miss VidMate if you are looking for a free YouTube video downloader to process free YouTube downloads in the simplest way. Although the app contains ads within the platform, it is still safe to trust, with the speedy performance to grasp online videos from YouTube and more streaming platforms for you.
When you open a YouTube video page, VidMate is able to detect the embedded video in the page and provides the download icon for you. Tap it to convert and you are available to select downloading it via the resolution you prefer. The service provided in VidMate is free for usage, making it one of the best apps to download YouTube videos on mobile devices.
Features of VidMate
Easy to get started with;
Optional formats and quality options provided;
Built-in search functionality to access YouTube and other online videos quickly;
Auto-detection available to download YouTube videos efficiently;
No account registration required;
Entirely free to use.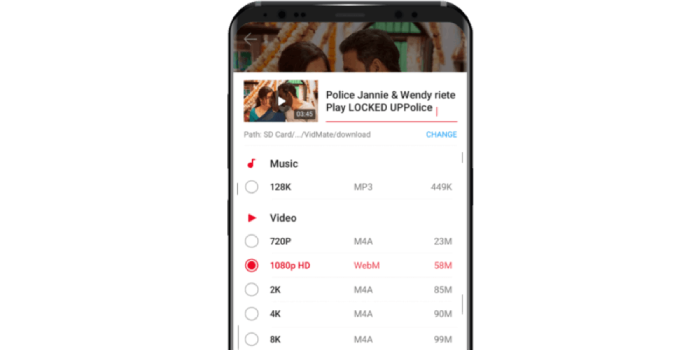 3 Best Online Free Video Downloaders for All Devices
Instead of finding compatibility software or applications for different systems, you are also able to select the online free YouTube video downloader that can be used on all devices to process free YouTube downloads. Here recommends the 3 best options with details.
Top 1. Y2Mate
With an easy-to-grasp interface, Y2Mate provides efficient help to process free YouTube download without software installation required. You are possible to input keywords or URLs to convert and download YouTube videos without hassle. Fast speed is asked an important reason for its popularity, which greatly saves your time and increases the conversion success rate, too. Although there are ads on the platform, you can still enjoy the speedy feature to save your favorite YouTube videos with this free YouTube downloader on all devices.
Features of Y2Mate.com
Fast converting speed equipped;
Built-in search feature provided;
Optional formats and quality to download YouTube videos;
Available to output and upload the YouTube downloads to Dropbox or Google Drive.

Top 2. SSYouTube
As a web-based free online YouTube video downloader, the so-called SSYouTube YouTube Video Downloader is available on devices of all systems to save videos from YouTube with SD and HD quality as you desire. Simply by pasting the YouTube video URL to the platform, you are available to get the converted videos in different formats for downloading offline. Unlike Y2Mate, this online free YouTube downloader doesn't come with any ads that would affect your experience. You will grasp an enjoyable process while using it to download YouTube videos offline.
Features of SSYouTube
SD and HD options to download YouTube videos as you like;
Mainstream formats available for selection;
All popular browsers supported;
Workable on devices of all systems.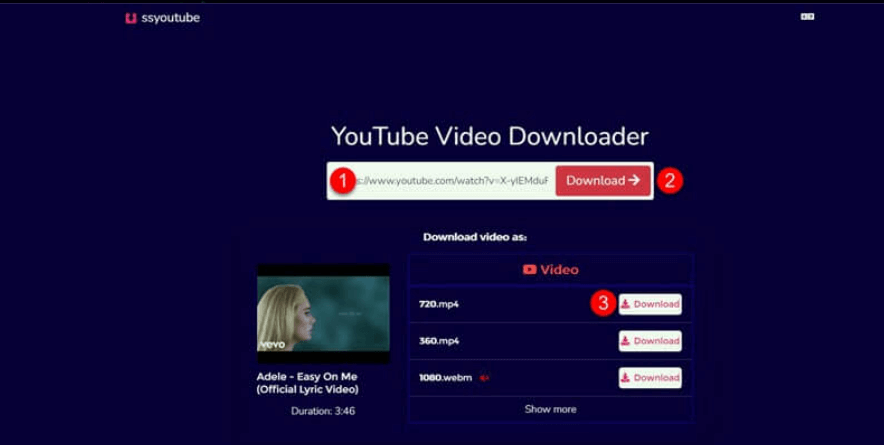 Top 3. SaveFrom.net
The final recommended online free YouTube video downloader is SaveFrom.net. With the powerful functionality developed, SaveFrom.net works more than a simple YouTube downloader, but with the ability to grasp online videos from more streaming sites like Facebook, Instagram, and so on. Although it is only compatible with MP4 format, you will find its ability to perform the conversion at quite a quick speed and also decent quality. All in all, it is one of the best free YouTube downloader you can give a try.
Features of SaveFrom.net
Unlimited downloads from YouTube and more streaming sites;
The most widely-used MP4 format supported;
Compatible with all mainstream web browsers such as Chrome, Firefox, Safari, etc.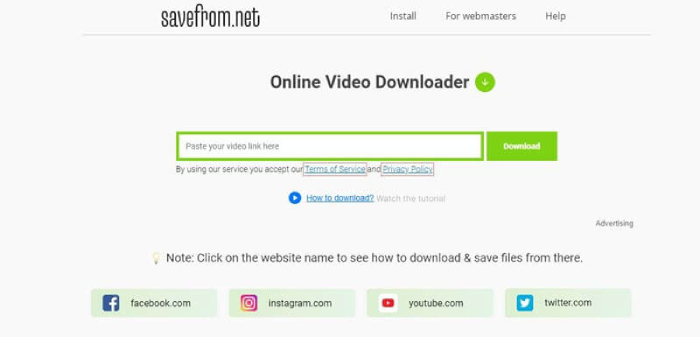 After going through the introduction of all free YouTube video downloaders, you are possible to compare them and select the best option based on the device system you are using. As they are all free to use, you will not cost a penny for grasping YouTube videos to enjoy offline. Now, pick your ideal tool and give it a try!