As the world's largest video-sharing platform, people can entertain themselves on YouTube through their mobile phones or computers, or search for learning videos to increase their abilities in certain aspects. But if you want to keep useful or interesting videos on your devices for a long time and watch them at any time, what measures can you take?
In fact, a YouTube video downloader can help you make it. But how do you make an optimized decision among the multiple YouTube downloaders? Don't worry, this article has compiled the 7 best free YouTube video downloaders for you. Read it carefully, and you will find the optimized one.
Reasons Behind My Selection for These Free YouTube Video Downloaders
It is well known that software on computers or mobile devices is largely more reliable than web-based tools. Because of the freedom of creating a website, any person or organization can build a website on the knowledge they have acquired.
Such websites are supposed to solve problems for users, but in fact, they may steal their privacy and spread computer viruses. The situation is even worse with free websites. So you can find this article only recommends 2 web-based YouTube downloaders that are highly recommended by many users.
But the downloaders recommended in this article basically do not suffer from the problems described above. Their merits outweigh their flaws. And the free YouTube Video downloaders recommended in this article were selected based on the following features.
Supports various download formats.
High-quality video and audio output.
High-quality video and audio output.
Supports batch download.
Stable and high-speed download performance.
Supports saving videos to online drives such as Google Drive, OneDrive, and so on.
Note:
Only the tracks which the original authors have enabled downloads will generate a download icon for listeners to save the tracks for offline playback. Also, users can only download single tracks instead of the whole playlist at once.
CONTENTTop 1. VideoHunter (Windows & Mac)Top 2. ByClick Downloader (Windows)Top 3. BTCLOD (Web-based)Top 4. BigConverter (Web-based)Top 5. Allavsoft (Windows & Mac)Top 6. Documents by Readdle (iPhone)Top 7. VideoSolo Online Video Downloader (iPhone & Android)Conclusion
Top 1. VideoHunter (Windows & Mac)
VideoHunter is a general-purpose video downloader that is compatible with Windows and macOS. To be more specific, VideoHunter is able to analyze 1000+ video URLs and successfully extract video resources and download them to your computer. If you want to acquire massive videos quickly, the software's ability to batch download – playlists download and channel download – can save you lots of time and energy.
You don't need to worry about the quality of downloaded videos. VideoHunter can download videos of up to 8k quality, which depends on the original videos. As for some other detailed features, such as subtitle download, multiple output formats, high sound quality, etc., these are the basic functions of the software.

Pros
An any video downloader that supports 1000+ sites such as YouTube, TikTok, Instagram, Facebook, SoundCloud, etc.
It is well-featured and easy to use.
No amount limitation for the video download.
Full support for YouTube downloads such as downloading YouTube private videos, YouTube channels, unlisted YouTube videos, etc.
It enables you to download YouTube videos longer than 2 hours, which outperforms most YouTube downloaders in the market.
No ad pop-up windows.
Cons
It offers a free trial, and you can download 3 videos per day.
How to Download YouTube Videos to MP4 with VideoHunter
Step 1. Download VideoHunter and launch it on your computer
Step 2. Copy video URLs from YouTube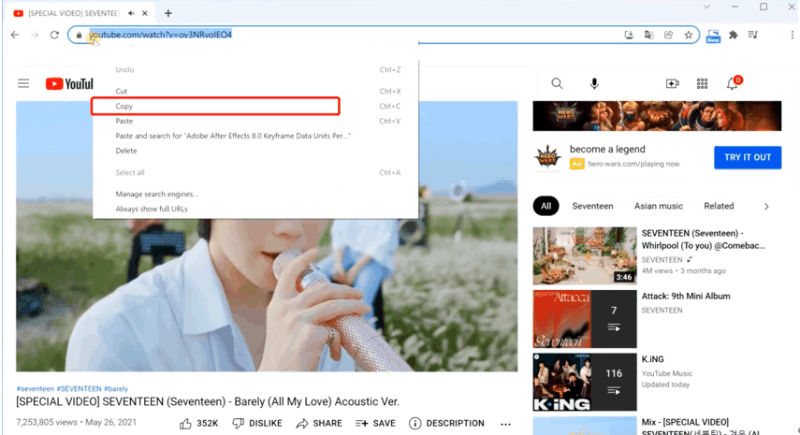 Step 3. Paste the link into the search bar and click the "Analyze" icon. VideoHunter will begin to parse the link.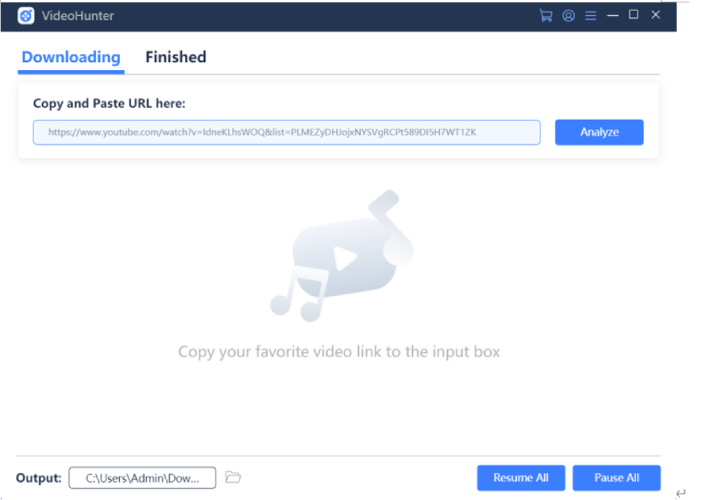 Step 4. When the analysis is done, you can set up the output quality and select subtitles in SRT or TTML files. Finally, click the "Download" button to start downloading.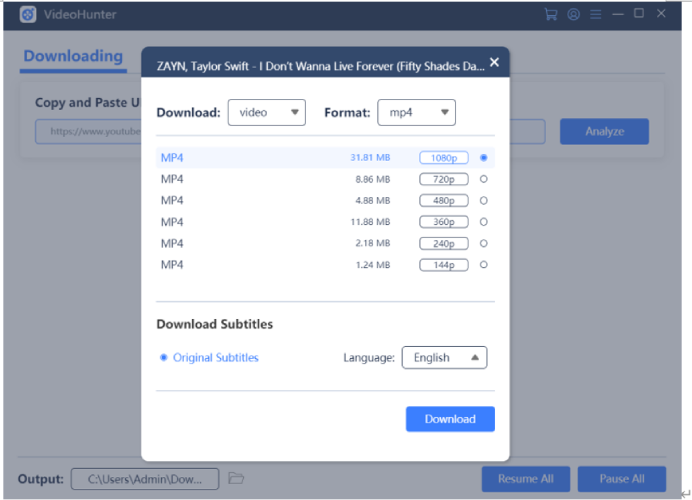 Step 5. After the download process finishes, you can click the "Finished" option to watch the video offline.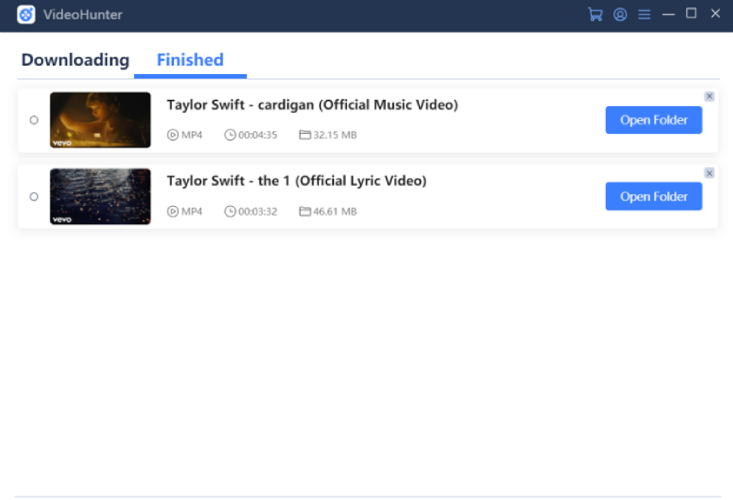 Top 2. ByClick Downloader (Windows)
ByClick Downloader works on Windows and it can download from YouTube, Facebook, Instagram, and other 40+ video sites. It comes with many features such as multiple downloading, playlists downloading, HD & 4K quality, etc. And similar to VideoHunter, it has a fast download speed.
Also, if you want to seek an mp3 downloader with keeping ID3 tags, you can try it. ByClick Downloader will automatically attach the name of the artist and title for every downloaded mp3.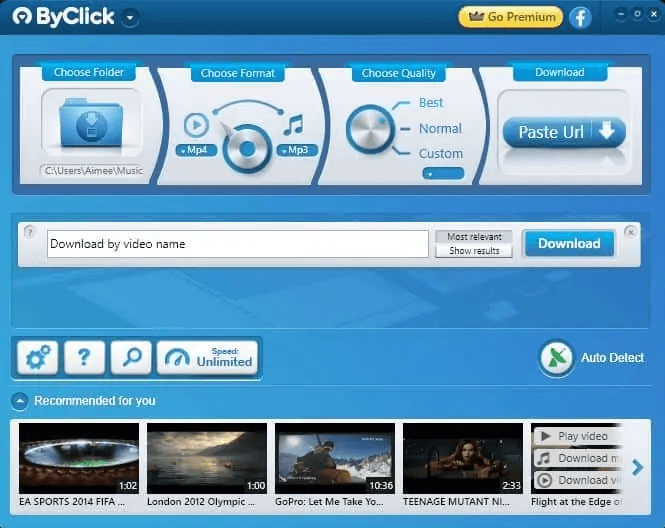 Pros
It supports 40+ sites and high-quality videos download.
It can download YouTube playlists and channels.
It supports downloading videos longer than 1 hour.
Cons
Its interface is outdated.
It does not support Mac and Linux.
It is not free.
Top 3. BTCLOD (Web-based)
BTCLOD is the best web-based online YouTube video downloader that is specialized in downloading video and audio from YouTube. It enables you to download anything that you can find from Youtube, whether that's audio, MP3, playlist, or video. And it is fast in parsing and downloading audio and video. If you're focused on downloading videos from YouTube, BTCLOD is a site you should try.

Pros
It is stable and easy to get started.
It supports downloading any audio and video from YouTube.
It can analyze quickly and has a high download success rate.
Cons
It supports only 5 audio or video free downloads per day.
It supports the simultaneous download of two resources per day.
The trial version is only available for download within 15 minutes.
It is not ad-free.
Top 4. BigConverter (Web-based)
BigConverter is a free online Youtube video downloader for pc and mac. It is a web-based downloader as well. It can also analyze video or audio sources from YouTube video links and download them to supported MP3/MP4/WEBM/MKV format in seconds. And compared with other web video downloaders, BigConverter doesn't require an account, which is convenient. But if you want to download playlists from YouTube, BigConverter is not the most optimized downloader because it is not equipped with the feature.

Pros
It is free, stable, and easy to use.
It is fast in analyzing and downloading video and audio.
It does not require account registration.
Cons
It is not packed with the function of playlists downloading.
There are only four conversion formats: MP3, MP4, WEBM, and MKV.
It is not ad-free.
Top 5. Allavsoft (Windows & Mac)
Allavsoft is also an application that can download audio and video in bulk from 1000+ streaming platforms. It is compatible with Windows and macOS. With this software, you can analyze multiple video URLs simultaneously and download videos with a quality of up to 4K. And if you want to download the audio with ID3 tags saved, you can also use Allavsoft.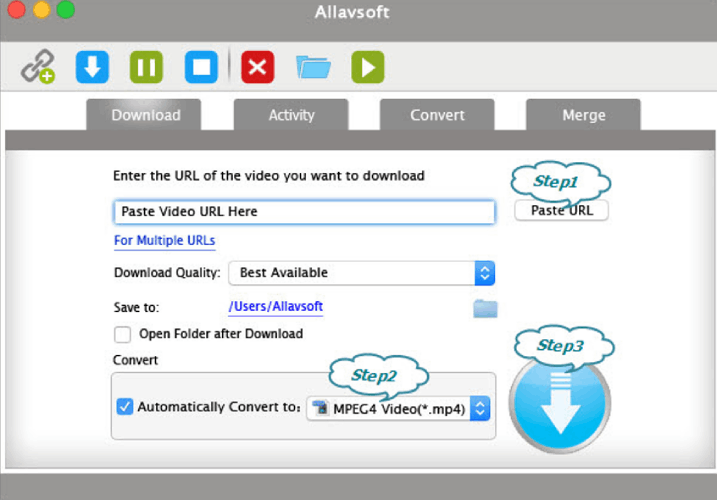 Pros
It can parse multiple URLs at the same time.
It boasts various video and audio output formats.
Its download speed can be set manually.
Cons
It is not free.
Its interface is out of date.
Slow video resolution and download speed.
It doesn't support the quality of 8K.
The steps of downloading audio are tedious. It requires downloading the video first and then converting it to audio.
Top 6. Documents by Readdle (iPhone)
Documents is a file manager for Apple users that can save and manipulate everything from text files to media files. But it can also be seen as an audio and video downloader for iPhone and iPad.
Documents boasts a powerful built-in browser to quickly download mp3, videos, books, and literally anything from the Web. Private browsing is also there to respect your privacy.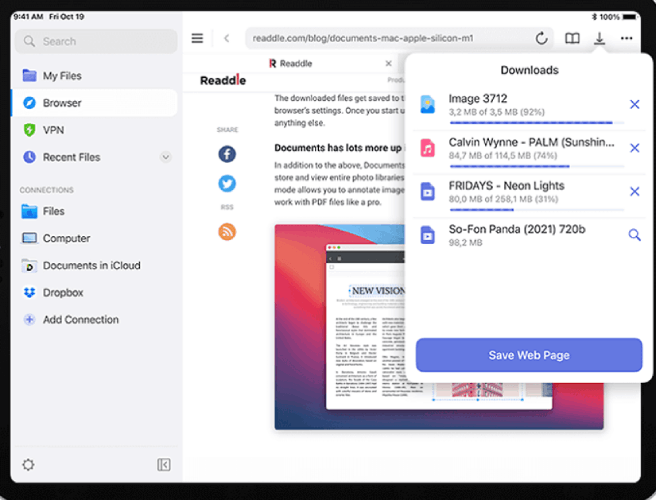 Pros
It has a simple interface and is easy to use.
It has a simple interface and is easy to use.
It can serve as a cloud storage application.
Cons
It can serve as a cloud storage application.
Sometimes audio and video sniffing and downloading are not successful.
Top 7. VideoSolo Online Video Downloader (iPhone & Android)
VideoSolo Online Video Downloader is an online video downloader that can be loaded on mobile phones and computers. It can enable you to download videos from YouTube and other video platforms to your iPhone or Android phone in a quick way.
As long as you enter the webpage of VideoSolo, you can download your favorite videos from YouTube by a few copy and selection tabs. Although it is a web-based YouTube video downloader, it still supports a selection of different output formats and the ability to download subtitles.

Pros
It is safe and handy.
It supports various output formats and video quality.
It is ad-free.
Cons
It is not totally free when you want to download videos in quality higher than 480p.

Conclusion

That is a brief introduction to the 7 best YouTube video downloaders. You can choose a desktop application and a web-based video downloader according to your preference, so you can always download your favorite audio and video to your devices. For example, VideoHunter and VideoSolo Online Video Downloader are a good fit. Not only are they fully functional, but their interfaces are clear and simple. In such a context, you can finish the video download in a very short time. To find more fun from videos, you can try this match!

You May Like:
YouTube Downloader Not Working? This One Still Works for You!
4 Methods to Convert YouTube to MP3 in 320kbps [2022]