Vimeo is a popular platform today, which allows people to upload and stream high definition videos online. The best thing provided by Vimeo is that it allows people to upload videos with 1280 x 700 high quality, and even higher. While uploading, Vimeo will also save both versions, one for high-definition video, and the other is the video in common quality. So when users need, just switch to the high-definite video and they can enjoy a really good streaming experience.
But when people want to get rid of the poor network condition and enjoy Vimeo videos better offline, are there any way can help? Surely, this can be figured out using a brilliant Vimeo video downloader, which is VideoHunter.
CONTENT
Vimeo Video Downloader for Windows and Mac
How to Download Vimeo Videos
Vimeo Video Downloader for Windows and Mac
VideoHunter is a great video downloader for not only Vimeo, but also other 1,000+ platforms. With such high compatibility, VideoHunter has helped lots of users to convert and download their needed online videos for playing offline better. Let's go further to see what highlighted features can VideoHunter brings to us.
# 1. Fast downloading speed and safe platform
The most important factor for many people to choose a new program should be the security. VideoHunter is a 100% safe app without adsware, malware, or virus, and it highly protects people's privacy, without accessing or disclosing any. At the same time, it ensures the fastest downloading speed by enabling an acceleration mode inside the program. So no much time would be wasted in using VideoHunter.
# 2. Various output qualities and formats to choose
VideoHunter allows people to choose different mainstream formats and extremely high quality for downloading their favorite online videos. To save the media content, MP3, MP4, and WEBM are offered. High definitions like 1080p, 2K, 4K, and 8K will also be provided to users.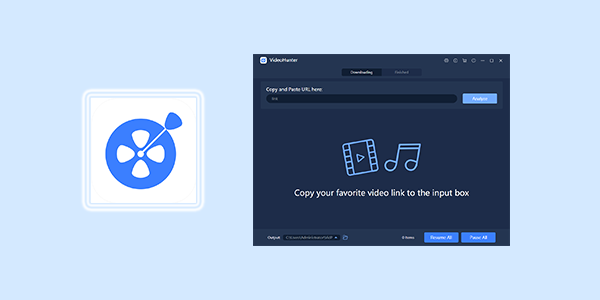 # 3. A built-in video converter set to help
For people who require to convert the downloaded online videos/audios to their devices for media players to play, a built-in converter is set to help, providing more than 20 formats as well as different device presets to choose. Although this function is now available on Mac only, Windows will also add it soon.
How to Download Vimeo Videos
Now, follow my pace and check the way to download Vimeo videos in high definition with VideoHunter.
STEP 1. Firstly, you have to go to Vimeo for copying the URL of the video. So open your browser and turn to Vimeo. When access the Vimeo video you like, get its URL.
STEP 2. After getting the Vimeo video URL, navigate to VideoHunter program and click into its Downloader (for Windows, you will directly enter the downloader page after launching it). Then, also hit the "Analyze" button beside the program to start converting the Vimeo video.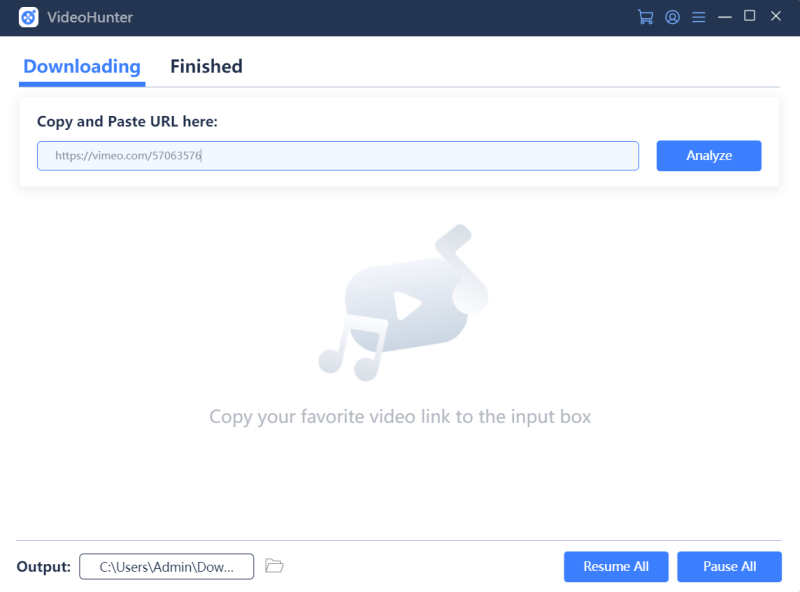 STEP 3. When the output options are provided to you, directly choose the satisfied format and quality for saving your Vimeo video. Finally, by pressing the "Download" button and you can get it saved on your desktop.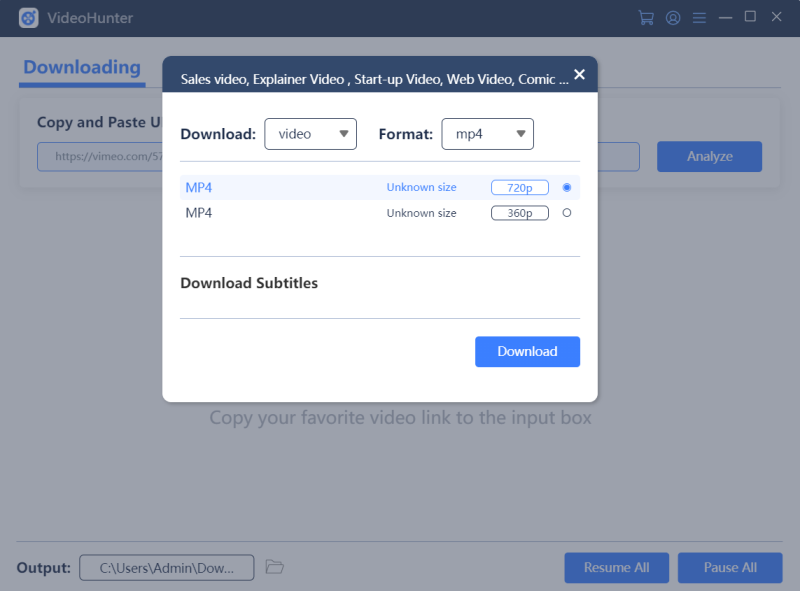 Alright, you get a high-quality way to download Vimeo videos on Windows/Mac. When you find any favorite and high-quality Vimeo videos, just use VideoHunter for downloading them!