People may be upset that they can't download YouTube videos because the YouTube downloader is not working. There are annoying cases like the YouTube download option not showing and YouTube waiting to download but unresponsive. To solve the YouTube not downloading videos issue, some may resort to another third-party tool but the YouTube video downloader is not working as well. So, what to do now? Go on reading and you'll find out the reasons and solutions in this post.
CONTENTPart 1. Why Is YouTube Downloader Not WorkingPart 2. What to Do If You Can't Download YouTube VideosPart 3. Tutorial on How to Download YouTube Videos without PremiumPart 4. FAQs on YouTube Not Downloading Videos
Part 1. Why is YouTube Downloader Not Working
There are quite a lot of possible causes that lead to YouTube not downloading videos on desktop/mobile devices. Therefore, it's hard to come to any conclusion. We've searched and collected all the culprits on the Internet. Now, you may want to check them out and see which one results in YouTube videos not downloading offline for you.
Reasons
Descriptions
YouTube Issues
1. YouTube service is temporarily down with some YouTube errors.
2. You didn't sign in to an active Premium account.
3. Your Premium membership is canceled or expires.
4. The YouTube video is unavailable due to removal.
5. The YouTube app is not up to date with the latest version.
6. You reach the supported device limits of YouTube Premium.

Copyright Protection
1. A copyright-protected video is not allowed to be downloaded from YouTube.
2. The uploader doesn't open the download option for his YouTube videos.

Network Connection
1. Your internet connection is dodgy and unstable.
2. Your mobile data is running out.

Geographical Availability
1. You're now out of the range of the YouTube service.
2. YouTube is not available in your current country or region.
3. The YouTube video is blocked in your place.

McAfee/Firewall 
1. The YouTube downloader is not working if blocked by McAfee software.
2. YouTube is blocked by your Firewall.

Part 2. What to Do If You Can't Download YouTube Videos
The easy workaround is to use the best YouTube downloader. Better yet, it can download YouTube videos even if you don't subscribe to YouTube Premium. Then, you'll never run into the YouTube app not downloading videos issue.
VideoHunter enjoys a great reputation thanks to its stable and professional download service which attracts millions of users across the planet. This powerful video downloader works to download the whole library of YouTube including videos, playlists, channels, Shorts, 360° VR videos, private videos, long videos, and so on. Better yet, it allows you to download copy-protected music videos as well.
Take a Quick Look at Its Marvelous Features
More than 1,000 Sites - Not only YouTube, VideoHunter supports over 1,000+ sites like Facebook, Twitter, TikTok, Weverse, Pornhub, XHamster, Redtube, etc. The support list is getting longer every day.
High-Res Video Quality - Based on the original video, VideoHunter can save YouTube videos in MP4 at 480p, 720p, 1080p, 2K, 4K, and up to 8K. You can enjoy seamless and detailed video playback at any time.
Best Audio Quality - Meanwhile, you can convert online music or videos to MP3 at 128kbps, 256kbps, and up to 320kbps from YouTube Music, Dailymotion Music, SoundCloud, TED, and so on.
Multiple Download Tasks - VideoHunter allows batch download for online videos from the same or different sites at the same time. It takes no effort to build up your personal video library.
6X Fast Download Speed - With its edge-cutting hardware acceleration, the download process can go up to 6X faster than its counterparts. Your favorite videos are flying to you in no instant.
Subtitle Downloader - It's also easy to download uploaded subtitles or auto-generated closed captions of different languages from a YouTube video to SRT files.
Full Compatibility - VideoHunter's dedicated app is available for download on Windows 11/10/8/7/XP/Vista, Mac OS X 10.12 or higher, and Android 7.0 and above.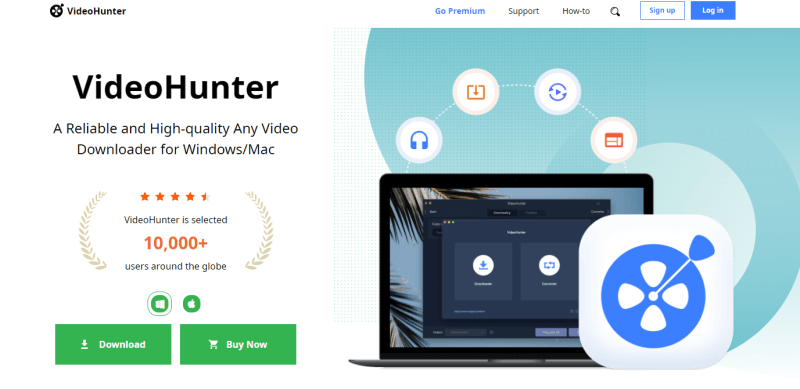 New Version Notice: VideoHunter now also releases a dedicated YouTube Downloader that supports comprehensive YouTube downloading features. This light-weight downloader will be a better choice if you only need to download YouTube videos to your device. Click to learn more about its sparkling features now.

Part 3. Tutorial on How to Download YouTube Videos without Premium
If your YouTube app is not downloading videos, you'd better give it a shot at VideoHunter. This intuitive software is easy to use without YouTube Premium. If your third-party YouTube video downloader is not working, VideoHunter is also the best alternative to consider. Now, let's get to know how to download YouTube videos in 3 steps.
STEP 1. Install VideoHunter YouTube Video Downloader
First off, you should give it a click on the button above to download and install VideoHunter to your Windows, Mac, or Android. Then, launch it and you may want to change the output folder if needed.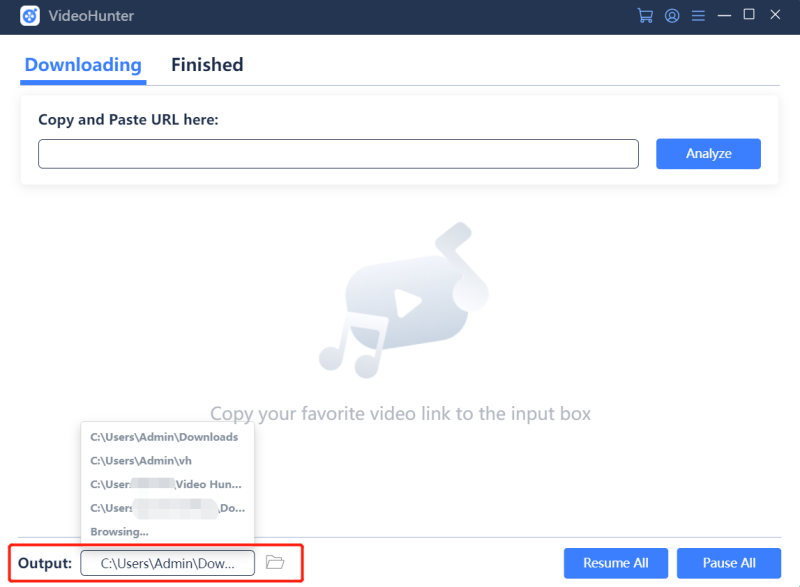 STEP 2. Copy the Link to the YouTube Video
Simply a video URL will get it to work. You thus need to copy the video link from YouTube. You can also copy a playlist/channel link to batch-download all the videos. Then, go back to VideoHunter and paste the link into the bar. Now, click "Analyze" to fetch video data from YouTube.

STEP 3. Download YouTube Videos with Ease
When it's done, you'll need to choose the output format and quality to proceed. Next, hit the "Download" button to download YouTube videos to your device. Now, all is done.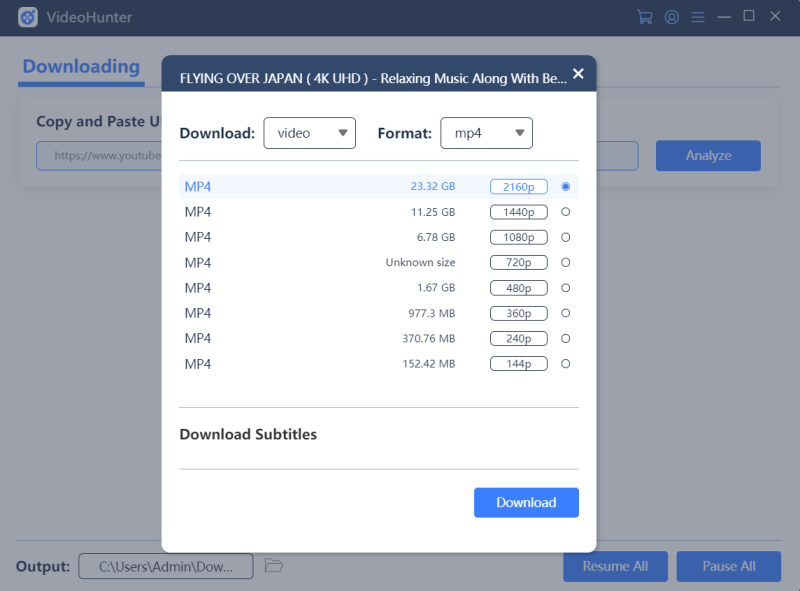 Part 4. FAQs on YouTube Not Downloading Videos
If you can't download YouTube videos, the previous parts will help you out. However, if there are lingering questions in your mind, the following FAQs will make it out for you.
Is There a YouTube Downloader that Works?
Actually, Google has been cracking down on YouTube downloaders. That's why people find their YouTube downloader not downloading anymore. Luckily, VideoHunter has been stable and workable all the time. The VideoHunter team really sticks to doing a good job.
Is Downloading YouTube Videos Illegal?
It depends. As a rule, it's legal to download YouTube videos for personal purposes, charity, and education. However, it's illegal if you try to use these YouTube videos to earn money without any authorization from the uploader.
Why Can't I Download YouTube Videos on My Laptop?
You can't download YouTube videos using the YouTube app on a laptop or desktop, because the download feature of YouTube Premium is available for mobile devices only. However, there are some Windows or Mac video downloaders that make it possible among which VideoHunter stands out as the best YouTube partner.
What to Do if YouTube Keeps Waiting to Download on iPhone?
Some users reported that there is a problem that YouTube keeps waiting to download on iPhone but YouTube videos are not downloading offline at all. In this case, you can use an online video downloader for help if you want to download YouTube videos without software.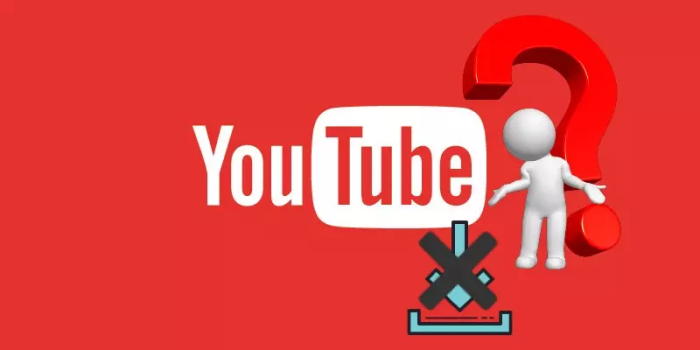 To get out of the YouTube downloader not working problem, a reliable and stable video downloader like VideoHunter is definitely a great helper. It enables you to download the whole catalog from YouTube with high quality. Better yet, it can download online videos from other 1,000+ sites. Now, get down to it and download all your favorites in no instant.