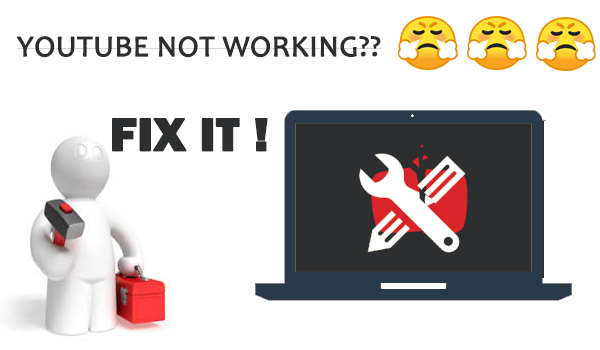 YouTube is the world's largest video hosts, providing users with a large number of videos for online streaming easily. Many people rely on YouTube in their daily life, from working purposes to entertainment. So it would be so frustrated and annoying when YouTube is not working properly. In this blog, you can get some helpful tips to fix the issue on desktop, before throwing away your devices.
Read Also: 7 Common YouTube Errors You May Meet
CONTENT
1. Check Internet Connection
2. YouTube Suffers from A Outage
3. YouTube Is Not Available in Your Country
4. YouTube Not Working in Web
5. YouTube App Not Working
#1. Check Internet Connection
First, when you fail to open YouTube on your devices, please check the connection of your network for seeing if it is enabled or stable enough. When the network condition is too weak, YouTube would fail to load any content for you to stream. In addition, the video streaming may be lower to a low quality when you play it online. So when YouTube is not opened or working properly, please go to the Internet settings page for checking if your device is connected to a reliable network.
#2. YouTube Suffers from A Outage
Sometimes YouTube may turn down because of technical error, and under this situation, this problem can only be fixed by YouTube official. For checking if YouTube is suffering from a outage or not, you can go to social media platforms for seeing if the YouTube not working problem just happens on you or everyone. There are also some third-party tools offer service to check the website's condition. You can use them to make sure if YouTube outage happens.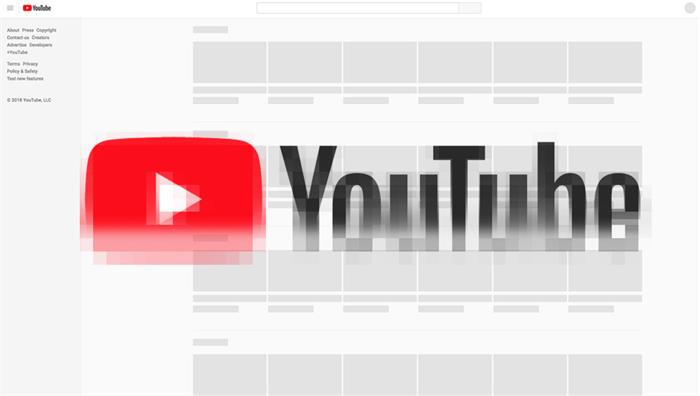 #3. YouTube Is Not Available in Your Country
Some YouTube videos will be set area restriction while uploading by YouTubers. So when you are visiting a YouTube video which is banned playing back in your country or area, you will receive playback error message saying that this video is not available for you. To fix this, you can change the location through Profile > Location and stream the video again.
Read Also: Extra Ways to Watch Blocked YouTube Videos
Likewise, YouTube also sets restriction in using its services in certain areas. So when you find you can't access the platform, seemingly YouTube not working, please make sure YouTube is available in your country. For example, Chinese netizens can not access YouTube because YouTube is not available in Mainland China.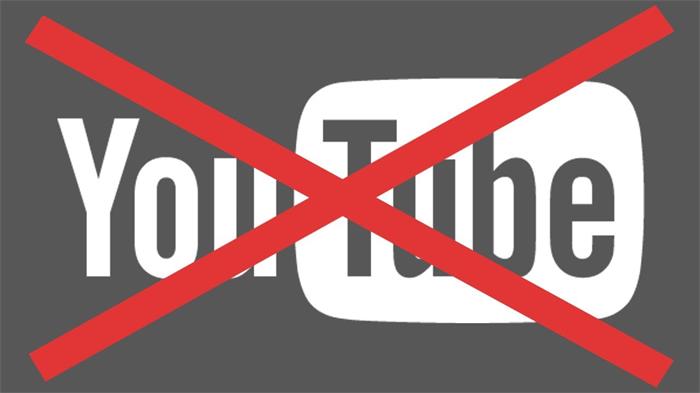 #4. YouTube Not Working in Web
If you are using YouTube web platform and you suddenly find that YouTube is not working anymore in your web browser, you can try to fix it with these simple methods.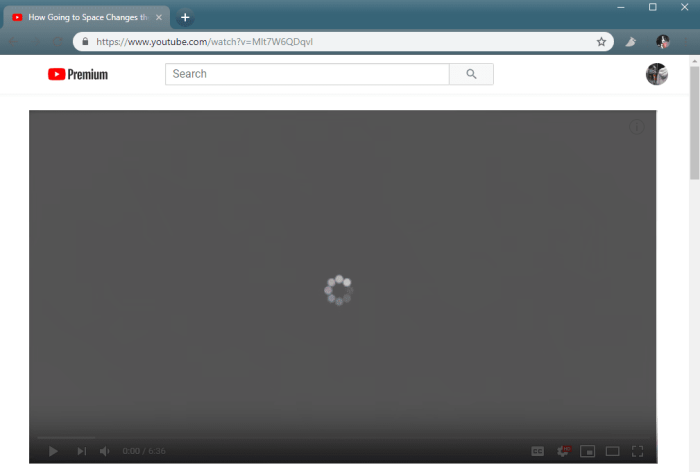 # Clear Browser Cache and Cookies
When your web browser stores too much cache or cookies data, YouTube may be down because these data go corrupted. So by clearing them can help to solve some web browsing errors, including YouTube not working.
# Remove Bad Extensions
Sometimes the added bad extensions would be the reason to mess up the normal functions of your browser. So you can check whether you have installed sometime useless or fishy extensions to your browser. By removing them you can get YouTube worked again.
# Update Web Browser
Old versions of web browsers can cause unexpected errors because of the compatibility. So if there is a new update and you haven't completed it yet, try to update the browser version for seeing if the YouTube not working issue can be fixed.
# Check JavaScript
Making sure that the JavaScript of your web browse is enabled for YouTube can ensures the normal running of the platform. So when YouTube is not working, check if the JavaScript for it has been turned off. If yes, enable it on again for seeing if YouTube can perform normally again.
Here is a guide to check if you have enabled JavaScript for YouTube on Google Chrome.
Step 1. Open YouTube in Google Chrome browser, then hit the security icon on the address bar for selecting Site settings.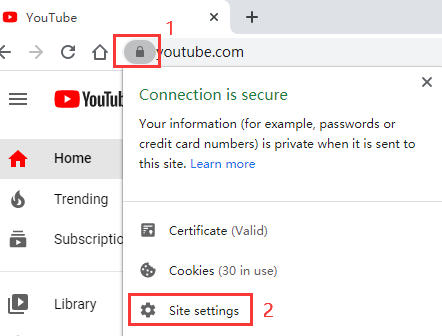 Step 2. Then find JavaScript from the list, and select Allow for enabling it for YouTube.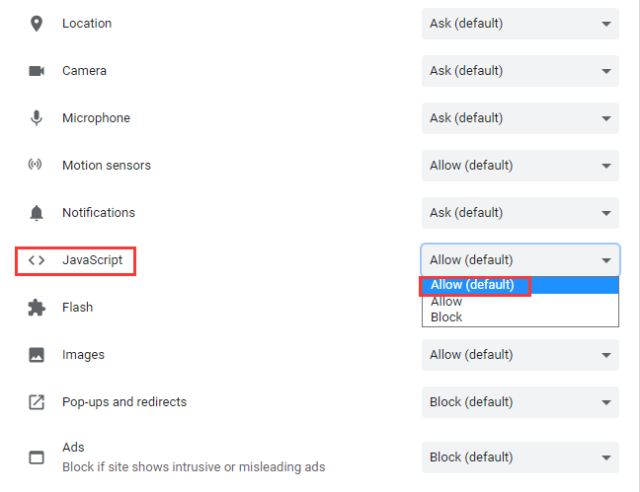 #5. YouTube App Not Working
If you are used to using YouTube app on potable devices and find it not working some days, see if these fixes can help you solve the problem.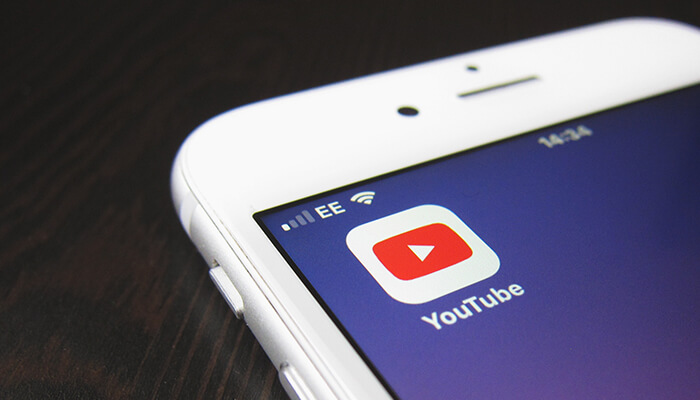 # Update YouTube App
First, please check if there are any updates of YouTube on your system. If yes, try to update the application because the YouTube not working may cause because of some incompatibility. In the latest version, some bugs will fix as well.
# Check Device Storage
Running YouTube app on portable devices requires certain storage space to store the cache and cookies for making sure the app can run smoothly. So when YouTube app is not working suddenly, check whether the storage is run out on your devices. You can try to free much space and run YouTube again to see if the problem can be fixed.
# Check Mobile Data
Some people may forget to enable mobile data for running YouTube app, so it just fails to function when your devices are not connecting to Wi-Fi. By going to Settings for enabling the mobile data for YouTube can help fix the issue easily.
# Clear App Data
Likewise, too much cache and cookies stored for the YouTube will corrupt the normal functions of the program unexpectedly. So just go to Settings for clearing the app data may help solve the issue.
YouTube has been a useful platforms provided with so many video resources. Making sure its performance can help us greatly. When YouTube is not working for you, try these methods to see if the problem can be fixed.