YouTube is almost the most commonly-used video streaming platforms today, with video resources of all categories. YouTube provides really excellent video playback experience for people to indulge themselves in the video world and enjoy the content they like. Unexpectedly, except for the most-frequently occurred YouTube playback error, there are other common YouTube errors that may affect people's video streaming experience. Today, we collect the most common ones that we may meet and also the ways to fix them. Read the blog now!
CONTENT Part 1. YouTube Black Screen ErrorPart 2. YouTube No Sound ErrorPart 3. YouTube Video Is Not Available in Your CountryPart 4. YouTube 500 Internal Server ErrorPart 5. YouTube Error 503Part 6. YouTube Error 400Part 7. YouTube Error 429
Part 1. YouTube Black Screen Error
When you access a YouTube video on the platform and is ready to stream it online, you click into the video page and just wait for it to start playing. However, instead of showing the content, the screen of the video turns dark with an error message showing that "An error occurred, please try again later". This this the YouTube black screen error. This is another frequently met YouTube video error that may be caused by:
Poor network
Improper browser extensions
Cookies or cache corrupted
Device problems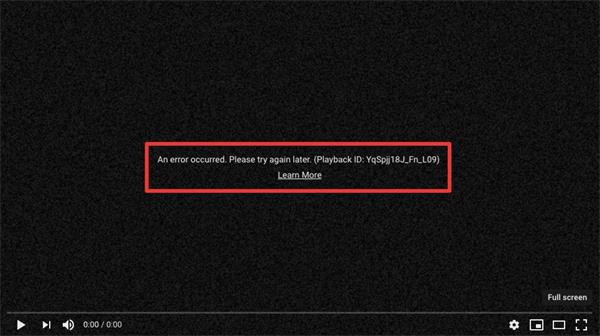 Accordingly, the best way to fix YouTube black screen errors contain the following methods:
Switch to a faster network connection;
Remove some extensions from your browser and try again;
Clear the cache data as well as cookies of the web browser or YouTube App;
Delete YouTube App and then reinstall it again;
Reboot your device.
Part 2. YouTube No Sound Error
Some people find that the YouTube videos fail to play the sound even you have turned on the system voice and adjust the volume to be the highest level. Such error should be "YouTube No Sound Error", which may result from:
An outdated browser version
Incompatible multimedia players installed
Copyright music used in the video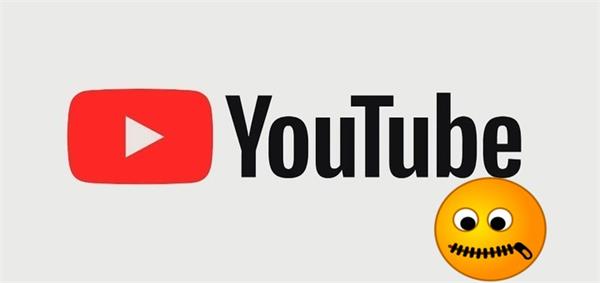 When you encounter with YouTube no sound error, the first thing you should check is whether your device has turned on the mute mode or the volume setting is at its lowest level. If not, try these methods to fix the error:
Update your web browser, Flash Player, or YouTube App to be the latest program versions;
Close or delete other multimedia programs that have been installed on your device;
Check whether some antivirus or firewall software has blocked the third-party content.
Part 3. YouTube Video Is Not Available in Your Country
When you want to watch a YouTube videos that are uploaded for certain regions' people to watch, you may easily get the notice "This video isn't available in your country" or "The video contains content from ...(the uploader), who has blocked it in your country on copyright grounds". The reasons for such playback error are simple to understand, which include:
The playback regions of this video is restricted;
YouTube bans it in some regions because of local regulations.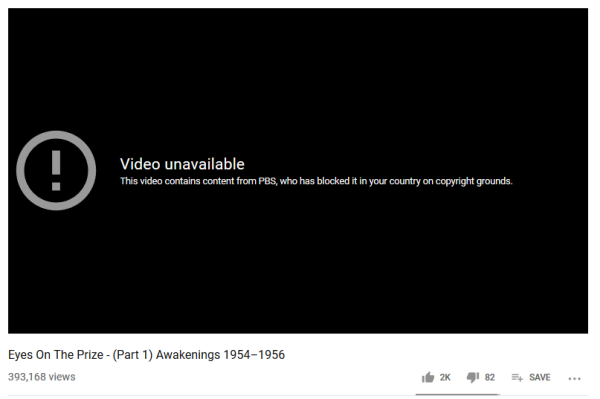 But there are still ways to get these videos available for playing again, they include:
Use VPN or Proxy services to change your IP address;
Change your current region in YouTube settings.
The way to change the YouTube region is provided here as well:
STEP 1. Click on your profile image and select "Location" option.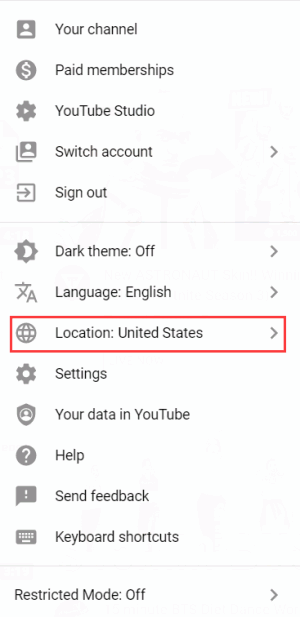 STEP 2. From the list, select the location where the YouTube video is available.
STEP 3. Back to refresh the video page and the video can be streamed directly!
Part 4. YouTube 500 Internal Server Error
If you land on YouTube and find that the platform is down with an error message "500 Internal Server Error". It seems that something wrong with YouTube's internal server, but sometimes you will find that not all users encounter with such issue at the same time. But the cause or this error message is unique, which is that the YouTube server is down for a while.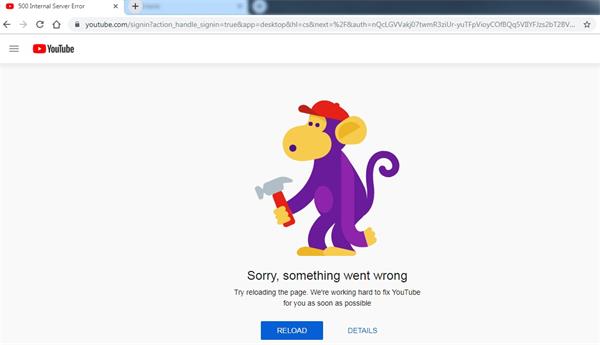 Actually, the way to fix such error is unique as well, which is to wait for the service recovered by YouTube official. But when you find that other users have recovered from such error but you still fail to enter the main page of YouTube, you can try these methods to help:
Refresh the page by pressing F5 button on your keyboard;
Clear the cache data and cookies of your browser and then go to YouTube again;
Try streaming the video later;
Clear the cache of YouTube App or delete and reinstall the app again.
Part 5. YouTube Error 503
YouTube hasn't explained the main cause of the YouTube error code 503 to the public, but it seems that this error would probably show up when there are too many users try to pour into the website or streaming videos, so that the server is overloaded and fails to perform properly.
To avoid YouTube error 503, you can use these methods to give it a try:
Download the YouTube video with VideoHunter for playing offline;
Connect to a faster network and try to play the video again;
Refresh the page and see if the video can be streamed again;
Play the video at later time to avoid the high video streaming volume.
Part 6. YouTube Error 400
The error code 400 is common when there have some problems related to a bad request. Therefore, when YouTube presents the 400 error code to you, it means your device has sent a request that is failed to be accessed by YouTube properly.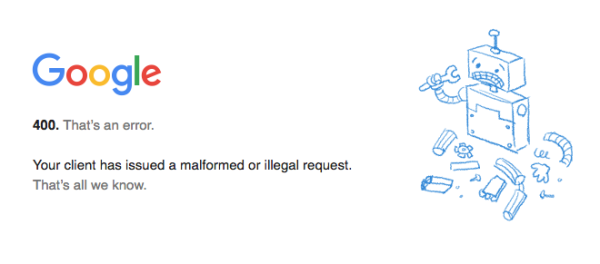 There are actually effective ways to solve YouTube 400 errors. Here are some helpful methods you can try:
Clean the cache data and cookies of your web browser or the YouTube App;
Disable your browser extensions and try again;
Switch to a faster network connection and refresh the video page to stream the video again;
Use incognito mode for going to YouTube and stream the video;
Delete your web browser or YouTube App and then reinstall them again for trying.
Part 7. YouTube Error 429
The last common YouTube error code should be 429. You may receive such notification "HTTP Error 429: Too Many Requests" when you try to stream videos on YouTube. The possible causes of such error are:
Too many requests sent at once;
The IP address is blacklisted by YouTube.

To fix this error, you and try these methods to help:
Try to send request to YouTube later and more slowly;
Change the VPS Protocol;
Restart your router and connect the device to the network connection again;
Force using IPV4.
That's all today's blog want to share. Although there would be different YouTube errors that you may encounter with in the future, by taking this guide, you can easily solve them without hassle. An ultimate tip to get rid of all YouTube errors is to download YouTube videos with a reliable YouTube Video Downloader in advance. Then you can have an ads-free and errors-free playback experience offline!