When you access YouTube, some errors might occur and you can get error messages like "YouTube an error occurred please try again later" or "YouTube an error has occurred". Reporting the error to YouTube is a solution. But, hey! Why not try to fix these common YouTube errors by yourself when waiting for the YouTube support team to resolve the errors?
Not all YouTube errors only can be resolved by YouTube. YouTube errors occur due to many different reasons. Some are caused by YouTube. Others can be attributed to your device, connectivity, and browser, which can be fixed by yourself. In this post, we will summarize 5 common YouTube errors and explain why they occur and how to fix them.
CONTENT
What is YouTube Error Code
How to Solve YouTube Errors
FAQ: How to Report Errors to Youtube
What is YouTube Error Code
When you access YouTube, you may find you can't log in to your account and upload your videos, or, the YouTube video is not playing. These playback, video-uploading, and logging errors can boil down to YouTube error codes.
In most cases, when one of these errors occurs, the page will present you with an error message and code. Different error codes represent different types of YouTube errors. If you report this error to YouTube, YouTube Help will rely on the error code to identify what the error is and fix it.
YouTube errors are triggered for different reasons. But there are common reasons leading to any of them.
Corrupted cache data and cookies - An overloaded YouTube or device cache can be a hurdle in playing videos.
Outdated device or app - Devices and apps are updated regularly to solve their internal bugs. If you don't update them in time, these bugs will also cause playback or uploading errors.
Unstable WiFi - When you watch or try to play a video, a slow or unstable Internet connection can lead to a YouTube playback error. Especially if the video is played at high resolution, like 1080p, it will take more time or fail to load the video.
How to Solve YouTube Errors
Now that you've learned some common reasons why you keep getting YouTube errors, the next step is to fix them so you can enjoy your videos. Before fixing these YouTube errors with specific methods, you can first have a try at the following universal methods to fix the error:
Clear the cache and cookies of the browser or your device.
Update or re-download the browser. Switch to another browser like Firefox or Microsoft Edge.
Log out and log into your YouTube account.
Upload or re-download the YouTube app.
Turn on the automatic date and time setting.
Disable WiFi connection and reconnect it with your device.
Make sure your WiFi connection is stable.
Reconnect with other WiFi. Switch to the cellular data connection.
If the methods above don't work for you, then the YouTube error you run into should be fixed by a specific method. Common YouTube errors include YouTube errors 503, 500, 410, 400, and 150. Jump to the certain part to find out the method that works for you.
Fix YouTube Error 503 - Service Unavailable
Videos can be unavailable due to many reasons, one of which is YouTube Error 503. The 503 error can occur in your browser, computer, or even on your smartphone. It typically appears due to a range of factors, such as overloaded YouTube servers, routine YouTube maintenance, long playlist queues, and connection timeout. No matter which reason it is, when this error happens YouTube will fail to handle your video request and thus presents you "there was a problem with the network".
YouTube error 503 can be solved within hours. So there is no need to worry much about it. But you can still have a try at the following methods to fix it by yourself:
Refresh your page to see if the video can be streamed. It is a temporary issue that YouTube fails to respond to your request. Therefore, you can reload the page to resend the request.
Play the video later to avoid the high video streaming volume. As the world's second most visited website, YouTube is down from time to time as the server is too busy to handle every request immediately. So when you run into YouTube Error 503, don't panic. Just try to play the video later when there are fewer people visiting the platform.
Connect to a faster network and try to play the video again. Slow and spotty WiFi connections also lead to video playback errors. To fix it, reconnect your device with another WiFi connection or switch to cellular data.
Delete Videos from Watch Later List. When you are playing a watch later list and the list is too long, YouTube may fail to load your video. Then you can just play the video you want to watch or delete some videos from the watch later list.
Fix YouTube Error 500 - Internal Server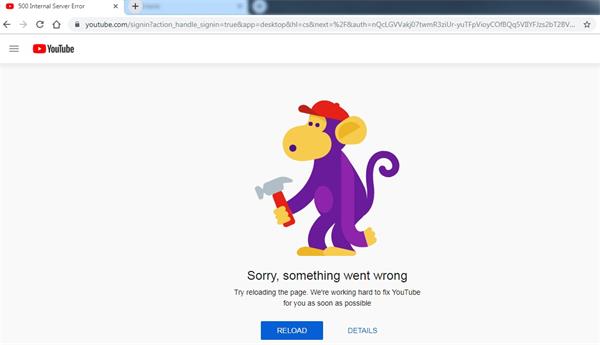 When you receive YouTube error 500, an error message like "We're working hard to fix YouTube for you as soon as possible" will appear on the page and the app won't show any videos. This is because YouTube is down for a while as it is taking some security measures to solve issues. The exact reasons are unknown. But this error does stop you from accessing videos. The YouTube error might be temporary or require a few days to be fixed.
Considering that YouTube error 500 is a server-side error, the most effective method is to wait till YouTube fixes it completely. It is up to the YouTube server site to identify the bugs and decide how to fix the error. But when waiting for it to solve the problem, you can also follow the methods one by one to try to fix it and identify whether its cause is server-related.
Switch to another browser. To identify whether the YouTube error 500 is caused by the YouTube internal server, you can log into YouTube on other browsers like Firefox and Microsoft Edge. If you still fail to access YouTube, YouTube Error 500 is a problem for YouTube.
Clear the cache and cookies. After YouTube is used for a period, a large amount of cache and data may accumulate and cause issues. Therefore, you can clear the cache and data to see whether this helps.
Update your browser to the latest version. The outdated version of YouTube and your device will have bugs. Uninstall and reinstall Chrome.
Tips: If you have tried the solutions above but still failed to fix it, and don't want to wait for YouTube to fix it, you can watch YouTube videos by downloading them with VideoHunter YouTube Downloader.
Fix YouTube Error 410 - Network Issue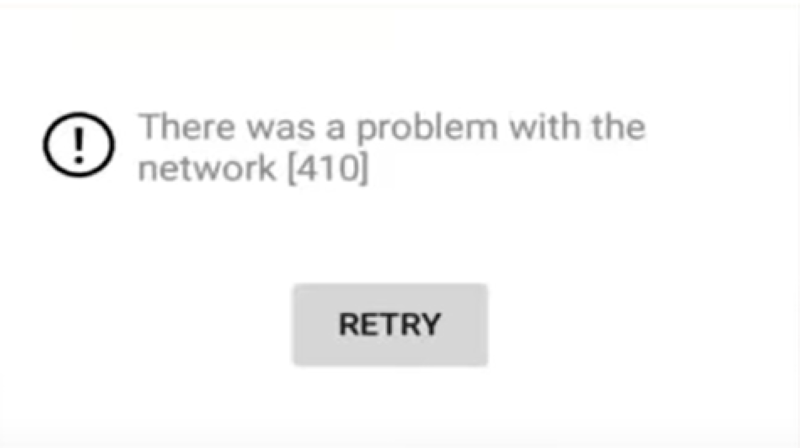 When you play a video but receive a "there was a problem with network" error message, you run into YouTube error 401. This YouTube error typically occurs on Android and iOS devices. The most common cause of YouTube error 410 is connectivity issues. But it could also be caused by other factors.
To fix such errors, you can follow the commonly used solutions related to WiFi connection.
Adjust the video quality. If the video you try to play is high (like 1080p), the high resolution could bring video buffering troubles. Therefore, you can lower its resolution to a low one (like 360p or 480p).
Switch to Data Mode. If you're not sure whether the internet connectivity is stable, you can turn on the data to check if you can successfully play a video on YouTube. If so, that means your WiFi connection has a problem.
Logout and Login again to your account or update your YouTube app. When the above methods can't fix YouTube error 401, you can try to update or reinstall YouTube on your devices.
Fix YouTube Error 400 - Client Issue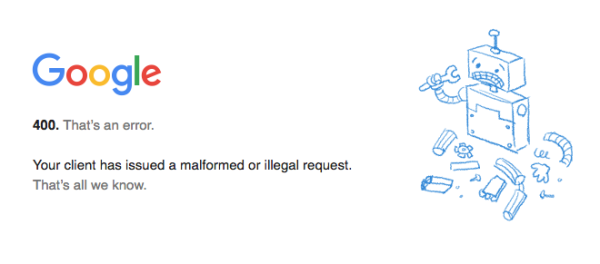 When the page appears "there is a problem with the server", it means you receive YouTube error 400. YouTube error 400 is a client-side error. It indicates the request you sent to the website server can't be reached since something wrong exist on your side. Such errors happen on both browsers and Android, but mostly on Android devices.
YouTube error 400 is typically caused by insufficient memory on your phone, outdated YouTube and browser, or an internet connection. After trying the common methods we mentioned before, you can take a look at the following common fixes for YouTube Error 400:
Reconnect Internet Connection. First, make sure your device connects with wifi. If yes, then check whether the wifi you reconnect is stable. You can also switch to data mode and try to play the video again.
Clear the cache of the YouTube app or your device. Open the app, navigate to Settings, and find the Clean Cache option. If clearing the cache from the YouTube app doesn't help, you can go to the settings of your phone, and free up some space.
Reload the page. If the wifi is nothing wrong, then you can reload the page. Sometimes, the browser or app may take a while to work out. In this case, you can refresh the page or leave it unused for a while to enhance the working speed of your browser.
Update the YouTube app and your device. This method can fix bugs caused by your outdated YouTube app and device so that they won't stop you from playing videos.
Fix YouTube Error 150 - Playback Error
YouTube Error 150 is typically encountered when you are playing an embedded video on sites other than YouTube. It also has several reasons. The most common one is that the video's owner does not allow it to be played on embedded players. Or the video is banned, copyrighted, or requires age verification.
The best solution to fix the YouTube playback error is to watch the video on YouTube directly. If finding the video on YouTube sounds troublesome for you, you can open a browser tab and log into your YouTube account, and reload the page with the embedded video to see if this works.
Tips: Another convenient method is to copy the URL of the embedded video and paste it into VideoHunter YouTube Downloader. The tool can download videos quickly so that you can watch YouTube videos immediately.
A Brief Review on Five Common YouTube Errors
| | | |
| --- | --- | --- |
| YouTube Error Code | Stand for | Explanation |
| 503 | Gateway Timeout | The busy server can't respond to your video request. |
| 500 | Internal Service Unavailable | The YouTube internal server is unavailable currently. |
| 410 | Network Error | Poor or spotty internet connection leads to playback error. |
| 400 | Client-related Error | There are issues caused by your device, connection, and browser. |
| 150 | Playback Error | The embedded video isn't allowed to be played outside of YouTube. |
Conclusion
Due to problems brought by the YouTube server, Internet connectivity, and your device, you might encounter video playing and uploading errors when using YouTube. In most cases, these errors will appear with the YouTube error code and message. To fix the YouTube error, you either report it to YouTube or wait for the platform. Or you can use the methods we mention above to try to fix them by yourselves. But if you really want to watch the video (like movies and TV shows) right now, you can also use VideoHunter YouTube Downloader to download the video and enjoy them without disruption.
FAQ: How to Report Errors to Youtube
If the methods introduced above don't work for you, you can also report the error to YouTube. Here's how to file a YouTube error report:
Sign in to your YouTube account. Click your profile picture. Choose Send Feedback from the drop-down menu.
A window will pop up to ask you to describe the issue you meet. Describe what error you encounter and include specific details like your device and solutions you've tried to fix it. And upload the screenshot of the page occurring with the YouTube error. In this way, the platform will be better informed of what error appears and can help you fix the error quickly.
After this, click Send so the error will be reported to YouTube.