When YouTube has defined videos' visibility by applying both licensing agreements and uploader's setting preference, it can be obviously disappointing when you get the streaming error "Video Unavailable". So how to watch blocked YouTube videos without any restrictions when we desire to?
Actually, it is absolutely possible for us to access YouTube blocked content in other ways, like turning to a reliable YouTube video unblocker to help. Hence, this article will introduce 5 easy ways to guide you on how to watch a YouTube video blocked on copyright grounds. Now, check them and try!
CONTENTUnblock YouTube Videos Offline Using the Best YouTube Video Unblocker🔥How to Watch A YouTube Video Blocked in My Country Via VPNHow to Unlock YouTube Videos Via ProxyHow to Watch A Copyright-Blocked Video on YouTube Using Google Translate
Unblock YouTube Videos Offline Using the Best YouTube Video Unblocker
Considering how to watch blocked YouTube videos without limitations, the easiest and most straightforward way is to download and save it as a local video file. You will need extra help from a professional YouTube video unblocker to process this. Here recommends VideoHunter YouTube Downloader to you.
As one of the best YouTube downloaders, VideoHunter YouTube Downloader is able to deliver the most professional help to download YouTube videos in a quality-guaranteed but hassle-free way. Especially for those blocked videos, the software is equipped with a built-in proxy setup, enabling you to bypass all regional limitations and grasp them at up to 8K resolution to enjoy offline smoothly.
Despite being a reliable YouTube video unblocker, VideoHunter is also considered the best Windows and Mac video downloader for other of its great features as follows:
Extremely high output quality: VideoHunter YouTube Downloader supports various output qualities ranging from high to 1080p, 4K, and even 8K. (The output quality would greatly depend on whether the original video provides)
YouTube playlists and channels download supported: The software also empowers powerful ability to analyze a whole YouTube playlist or channel at once, enabling you to grasp all blocked videos contained in a list and download them simultaneously.
Download in plain formats: MP3 and MP4 are available to save the downloaded videos for having flexible playback on different systems or players.
Strip music and subtitles from videos: VideoHunter can work to convert videos into a common audio file in 160kbps/320kbps. Moreover, saving subtitles in different languages is also available.
6X faster speed to download videos: VideoHunter provides the fastest speed to download YouTube HD videos simultaneously.
User Guide on How to Unblock YouTube Videos Via VideoHunter
Now check for the 3 simple steps on how to watch a blocked YouTube video offline by downloading it using VideoHunter. It's quick and easy to do even if you've never used a downloading tool before.
Step 1. Copy the restricted YouTube video link from YouTube's official platform first.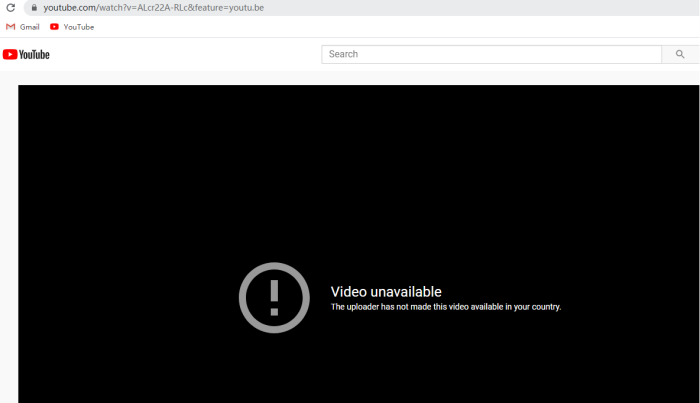 Step 2. Launch VideoHunter and log in via your account. Once access the interface of the downloader, paste the URL of the blocked video to its frame bar and tap "Analyze".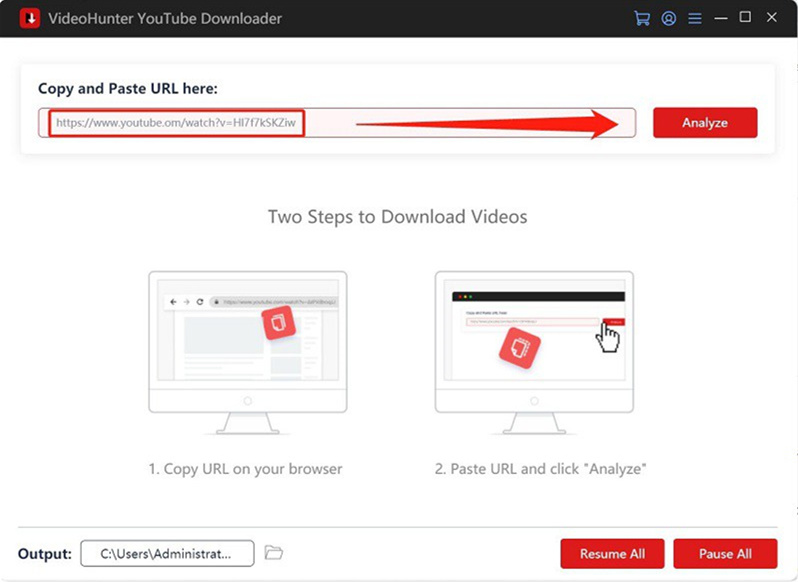 Step 3. VideoHunter YouTube Downloader will then process the URL analysis for you. In just seconds, it will offer the output choices to let you select your preferred format and quality to download the blocked YouTube video offline right away.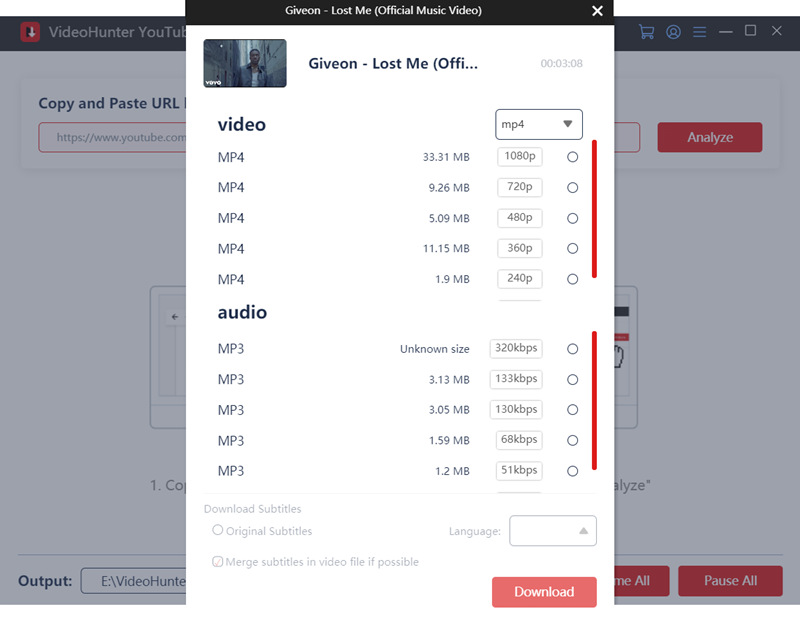 You May Also Need: How to Download YouTube Videos without Any Software for Free?

How to Watch A YouTube Video Blocked in My Country Via VPN
YouTube recognizes the country or region where the user is located through the IP address. Using a VPN is able to help you mask the IP address and turn it to be anonymous while surfing the net. In this way, it will naturally be able to remove the video's regional restrictions, and then you can watch restricted YouTube videos online without limitation.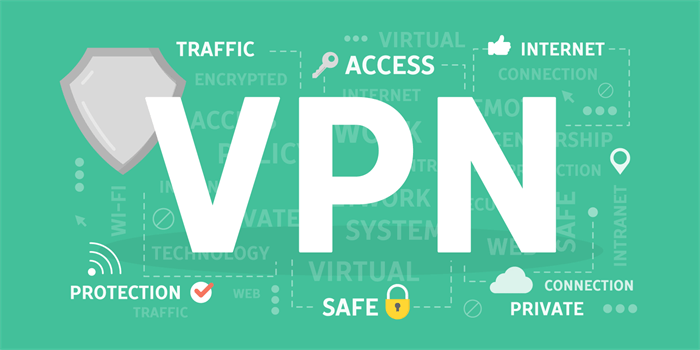 Here's how to watch a blocked video from YouTube with the help of a VPN.
Step 1. Select a suitable VPN provider and get a subscription. Download and install the corresponding VPN client or app for your device.
Step 2. Connect to a server in the appropriate country or region. For example, if you're trying to unblock Japanese content, connect to a JP server.
Step 3. Make sure your traffic is being routed through your VPN. Then open up your VPN app and toggle it on to make your VPN activate for your internet connection.
Step 4. Navigate to the blocked YouTube video you want to watch and enjoy it now.
NOTE: If the video is allowed in your chosen region, the video should start playing immediately. If it doesn't, you might need to change the regional settings of the VPN.

How to Unlock YouTube Videos Via Proxy
Like using a VPN, if you are considering how to watch blocked videos on YouTube by changing your IP address, proxy service can also be a good choice to try. Unlike VPN, which mainly helps to hide your IP address, proxy setup is a kind of server application that will fake your IP address, letting YouTube recognize your location as the one your proxy service has connected to.
Although setting up proxy would result in slower network performance, it does help to unlock YouTube videos and enable you to access those restricted playback in your countries. Now, also grasp the way on how to watch a blocked YouTube video with the help of proxy:
Step 1. Install and register a proxy service on your device first.
Step 2. Enable proxy, and select an IP you desire to connect.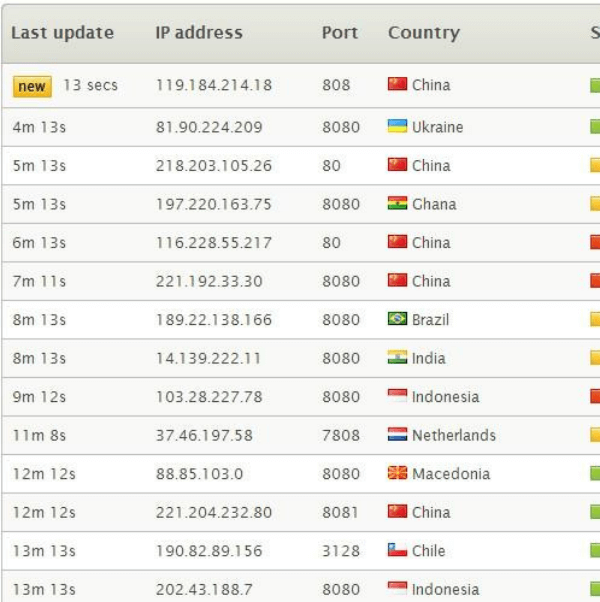 Step 3. Once the proxy service is connected, your IP address has been changed. Then you are able to access blocked video on YouTube and stream them without limitations now!
How to Watch a Copyright Blocked Video on YouTube Using Google Translate
This is a tricky way to watch YouTube unlocked videos online - using Google Translate. You may wonder, how this small feature offered by Google can help to bypass regional limitations and watch a blocked YouTube video?
Actually, the Google search engine would like to show the search results based on the languages you use to browse the net. Hence, when you switch to the foreign language version and search for YouTube videos in this way, Google will automatically show you the foreign results, thus successfully bypassing the country restrictions to access and load the blocked YouTube videos.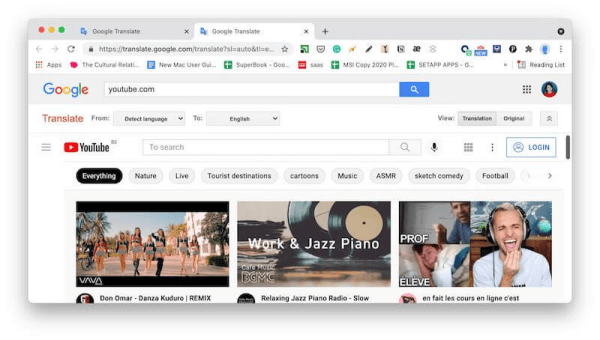 But the problem in using this method to watch YouTube blocked videos should be the fact that you have to know about foreign languages, in order to read the results and type in keywords. But still, you are able to take full advantage of the "Translate this page" feature offered by Google Chrome to view the site in the languages you know.
However, some users reported that this method sometimes just didn't work, because the search video results didn't 100% match the original sources. By comparison, VideoHunter is still a better way as you only need to get the URLs, then you are able to download all of them offline!
If you are still wondering how to watch a blocked YouTube video, these 4 methods are all the mainstream solutions that are able to help. More importantly, they are all easy to grasp! Now, take any of them and enjoy a limitation-free YouTube video streaming experience both online and offline!