YouTube clips were first introduced by YouTube in 2021, a new way of sharing part of your favorite videos with friends. Though YouTube Premium currently doesn't allow you to download YouTube clips, there are excellent YouTube clip downloaders that work like a charm.
Moreover, YouTube clips are between 5-60 seconds long. If you want to download part of a YouTube video longer than 60 seconds, this post also includes the best YouTube video cutter online to make it easy to download specific part of YouTube video as you wish. Now, don't waste any time, and let's go over the 3 methods here to sort out the best YouTube video click downloader.
CONTENTHow to Download YouTube Clips with the Best Video QualityHow to Download Part of YouTube Videos Online and FreeHow to Download a Part of a YouTube Video Using RecorderFAQs About Downloading YouTube Clips
How to Download YouTube Clips with the Best Video Quality
VideoHunter enjoys a great reputation and popularity from all walks of life with its edge-cutting video download service. This professional video downloader is able to download clips, long videos, Shorts, playlists, channels, etc. from YouTube to HD MP4 or MP3 without any restriction. Better yet, it supports the best output quality of up to 8K and 320kbps to ensure the best playback on any device. To get a better idea, let's see what else it can do for you.
It accelerates the download process up to 6X faster than ever.
It allows unlimited downloads of multiple online videos at the same time.
It can download subtitles in different languages as text or merge them with the video.
It supports over 1,000 video sites including YouTube, Twitter, TikTok, Pornhub, and so on.
It comes with a built-in proxy setup for you to bypass region codes in your country.
It works for Windows, Mac, and Android devices with an intuitive user interface.
Now that you learn the functionality of VideoHunter, it's time to get down to downloading YouTube clips. The whole procedure is totally foolproof and easy to follow. Now, let's get started.
STEP 1. Download and Install VideoHunter
Click the Download button below to get VideoHunter for your device. Then, launch it after the installation is completed. Now, you need the URL of a YouTube clip to get it to work. Simply copy the YouTube clip URL shared with you or create one on your own. Next, paste the link into the address bar on the interface.
STEP 2. Choose Desired Video Quality
Click the Analyze button and let VideoHunter fetch the YouTube clip over the cloud. According to the source, video quality can go up to 8K resolution. When you see a popup list, choose a preferred video quality and video format and hit the Download button.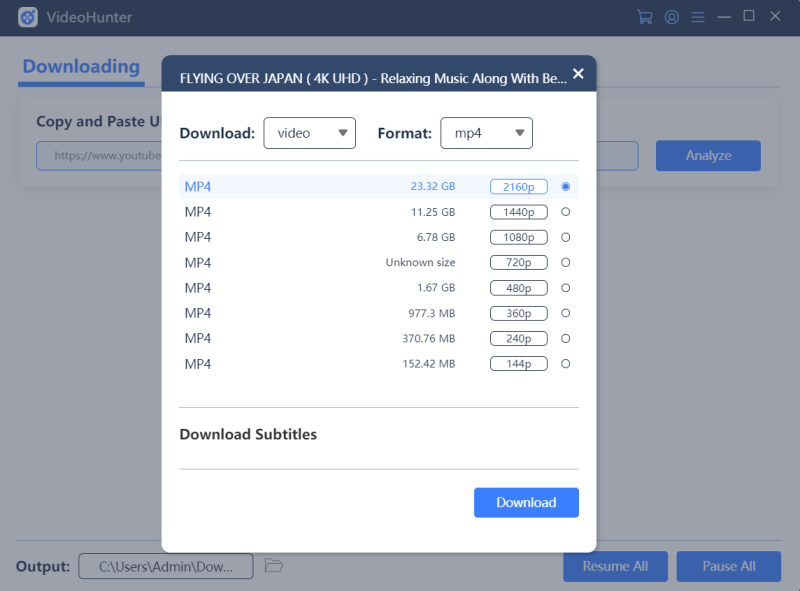 STEP 3. Enjoy Free Playback without Ads
Now, you can keep updated with the download progress on the interface. When the downloads are completed, they'll be transferred to the Finish tab. You can click Open Folder to view the YouTube clips and watch them offline easily.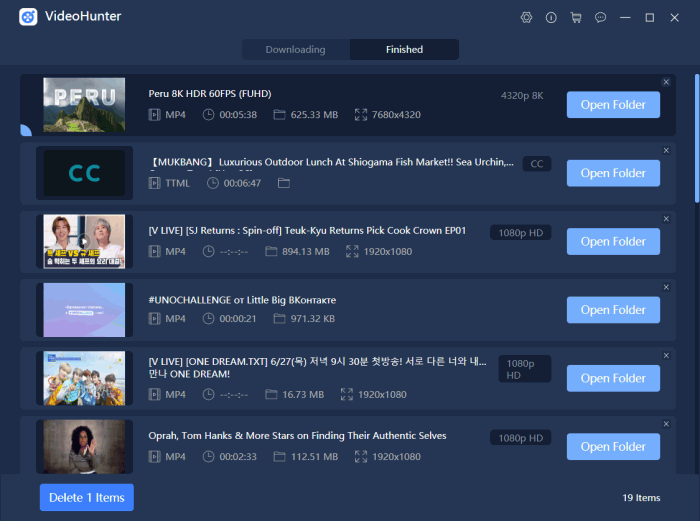 How to Download Part of YouTube Videos Online and Free
Or, if you're looking for the best YouTube video cutter online, you can use this YouTube video cutter and download a part of YouTube videos with custom length. This web-based download service is totally free and compatible with all operating systems. What's better, it allows unlimited downloads of over 900 video sites as it claims.
Also, it offers quick access like bookmarklet and Chrome extension. However, it can only download a clip from YouTube of up to 1080p and gets banned sometimes on account of violating YouTube's copyright terms. In addition, though it allows you to cut a certain part of a YouTube video, it seems to fail from time to time. To learn how it works, let's go on reading.
STEP 1. Copy the link to the YouTube video you want to download.
STEP 2. Visit the YouTube video cutter on the web and paste the video URL into the bar. The online tool will automatically start extracting the video source from YouTube.
STEP 3. Now, you can toggle the length bar or directly type in the time to set it as Start time and End time.
STEP 4. Then, scroll down to choose video clip quality and click Cut and Download to save the YouTube clip to your local storage.
How to Download a Part of a YouTube Video Using Recorder
Also, another workable way is to screen record and download a part of a YouTube video if you happen to stream and play it again. This works great, especially for long YouTube videos like concerts, lectures, and shows. In this part, I am taking VideoSolo Screen Recorder as an example.
This is a one-stop recorder for all kinds of scenarios with real-time annotation and post-processing editors. What I really like about it is that it can preserve the lossless video and sound quality of YouTube videos and export the YouTube clip to popular formats. Well, let's see how it performs the magic.
STEP 1. Download and install VideoSolo Screen Recorder on your Windows or Mac computer.
STEP 2. Run the software from your desktop and select Video Recorder to proceed.
STEP 3. Customize the recording to suit the screen of the YouTube video.
STEP 4. Toggle off the microphone while turning on the system sound.
STEP 5. Open the YouTube video and click the REC button to start recording part of a YouTube video. When done, click the button again to stop recording. Then, you can edit the video before saving it to the computer.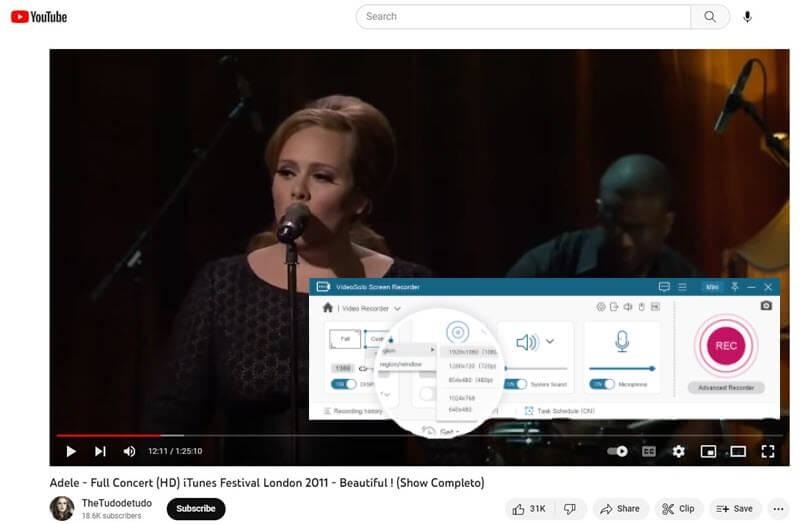 FAQs About Downloading YouTube Clips
After reading so far, do you have some unsolved questions in your mind? The following collects some of the most frequently asked questions about YouTube clips. You may want to check them out for a clear thought.
How to Create A YouTube Clip
YouTube clips are a relatively new feature that YouTube rolled out in July 2021. It's useful when you just want to share a clip of a YouTube video with friends, so they can know the exact part you like. This is a default feature that is already enabled for YouTube watchers.
To create a YouTube clip, you just need to select the Clip button on the watch page and add a description of max 140 characters. Then, toggle the preview bar to set the length to max 60 seconds. Now, click Share clip to generate a clip link. However, you should know that some creators may set restriction for others to create clips. In this case, you can try the 3 methods above to download part of YouTube video HD without hassle.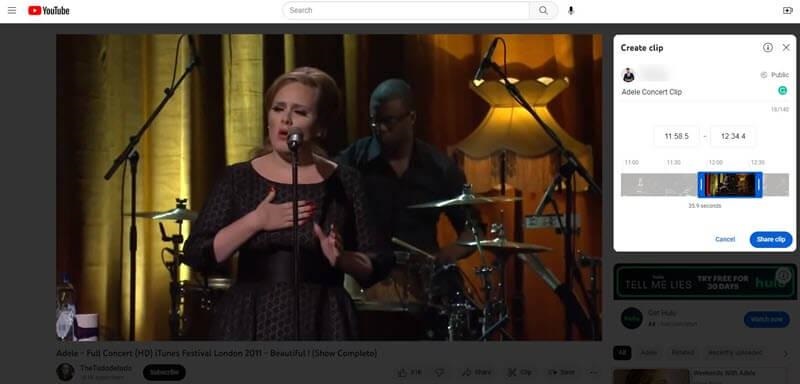 Can I Download YouTube Clips
Officially, YouTube Premium doesn't allow you to download YouTube clips. However, it's hard to say whether this feature will be released in the future. Luckily, you can try VideoHunter or other online YouTube clip downloaders to download part of a YouTube video for your liking. However, you should know that the clips cannot be used for commercial purposes without the authorization of the creator. Or, you may get into some trouble.
Can I Download a Certain Part of a YouTube video to MP3?
What if I just want to download a certain part of a YouTube video to MP3? That's a piece of work as well. The methods above are all possible to convert the audio of a YouTube video to MP3 format at up to 320kbps. However, online YouTube video downloaders may fail to convert music videos or videos containing copyrighted soundtracks. In this case, you should turn to a professional video downloader.
Conclusion
Going so far, you may already get your best pick in the post. An online YouTube video cutter is a good helper for free. However, they always come with limited functionality. If you want to get the best video quality out of a YouTube clip, VideoHunter is definitely the best YouTube downloader for you with a more stable and professional download service like high-res quality output, batch download, 6X speed, 1,000+ sites supported, and so on. Give it a shot and you're into it for sure.