When modern users of popular social media platforms like Facebook are more likely to share content in the form of video, you probably wish to prepare a Facebook video downloader app as there haven't been equipped with the download function on Facebook yet. Therefore, this post has provided a review of the 6 best Facebook video downloader apps for Android and iPhone for you. Please scroll down and read if you need one.
CONTENT Top 1. VideoHunter for Android🔥 Top 2. FastVid Top 3. Video Downloader for Facebook Top 4. MyVideoDownloader Top 5. MyMedia Top 6. HD Video Downloader Final Verdict
Top 1. VideoHunter for Android - Our Pick
The highest-ranking Facebook video downloader app for Android today can no doubt be VideoHunter for Android. Why? Evaluating from exporting video quality, time-saving manipulation, and service security, the application all functions the best.
VideoHunter for Android delivers the highest definition of 8K quality to export downloaded online videos from Facebook and 6 more popular streaming platforms, allowing you to enjoy the cinema-like video streaming experience even on Android. Furthermore, it supports the batch download feature and will speed up the process to improve higher productivity, greatly facilitating efficiency and saving both your time and effort in downloading a bulk of Facebook videos at once.
Meanwhile, unlike most free apps covered with messy pop-ups or on-screen advertisements, VideoHunter for Android delivers ad-free services without leaving a piece of ad interrupting your experience. From all these aspects, VideoHunter for Android can be a considerable Facebook video downloader APK you will not miss.
Features:
Provide the best at 8K definition to export online videos.
Support 7 popular streaming platforms such as Facebook, YouTube, Instagram, Twitter, Vimeo, Dailymotion, and TikTok.
Directly search and browse online videos with the built-in searching feature.
YouTube playlist and batch download feature are both supported.
It offers fast speed to improve higher productivity without sacrificing your time.
The app is maintained under the ad-free condition to deliver a friendly and secure user experience.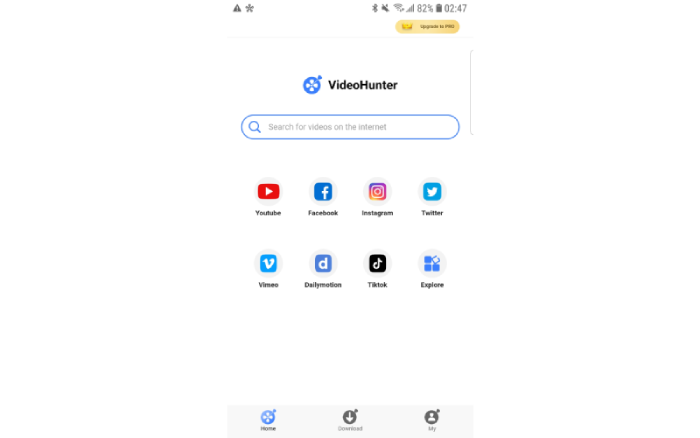 Top 2. FastVid
The second top Facebook video downloader app is FastVid. It provides a more accurate video download because you are asked to input the video link for converting directly! Copy and paste the Facebook video URL to FastVid and tap to phrase it. Both the SD and HD definitions are offered for you to download in no time.
Like VideoHunter for Android, FastVid also provides a built-searching feature to help you log in and access Facebook videos to download directly while browsing the timeline. The download option will be equipped for each detected video. Therefore, it will be an effortless experience with this brilliant Facebook video downloader for Android.
Features:
No login is required to download Facebook videos
There are 3 optimal methods to download videos from Facebook in the application
HD definition is provided to save Facebook downloads locally
Built-in secure browser is equipped for improving efficiency and safeguards video download manipulation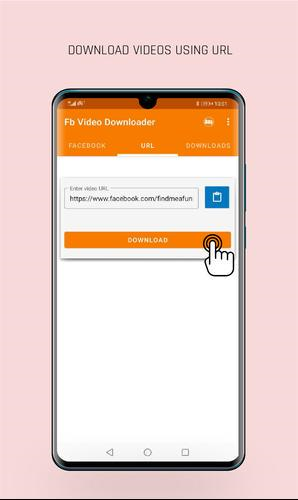 Top 3. Video Downloader for Facebook
If you are an iOS user and wish for a Facebook video downloader app for iPhone, Video Downloader for Facebook can definitely be a rational pick. Even though it is a free Facebook video downloader app that takes no charge to manipulate the video download directly, the performance it delivers can reach a professional level. From its stunning fast speed to HD downloads, you obtain both high productivity and great quality ensuring to save any Facebook video as you wish. Although it is oriented for Facebook only, you will enjoy a great experience while utilizing it. More importantly, it won't hide any service taking potential charge, which is entirely free for you!
Features:
Only very easy manipulation is needed to download Facebook videos.
Support HD definition to export Facebook downloads.
A built-in searching function is provided.
It supports the batch download feature to facilitate a faster video downloading process.
The universally-utilized MP4 encoder is offered.
It can run smoothly on iOS devices of the latest systems.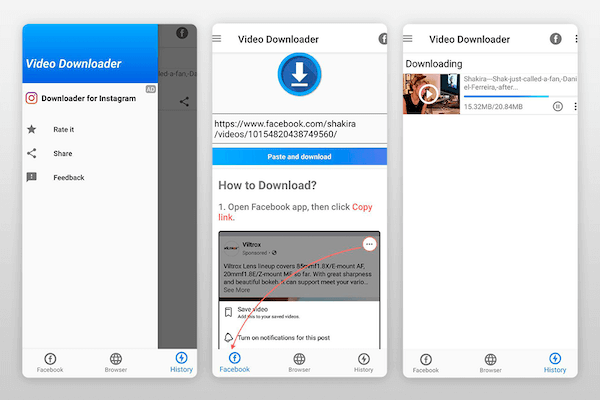 Top 4. MyVideoDownloader
Another efficient Facebook video downloader app to download Facebook videos effortlessly you shall not miss is MyVideoDownloader. By being well-designed with a clear user interface, it makes it easier for every new user to quickly be familiar with the application functions from the very beginning once get started with it.
You can use it as a player to explore and stream Facebook videos, and download them whenever you need. With such an easy-using Facebook video downloader APK, Android users can find the Facebook using experience to be even more convenient than they can imagine!
Features:
It can help explore, stream, and download Facebook videos within one app.
Instantly sharing Facebook videos and GIFs is possible.
The well-designed and clear interface facilitates easier manipulation of the application.
HD definition is provided to download Facebook videos.
Private Facebook videos can also be saved without permission.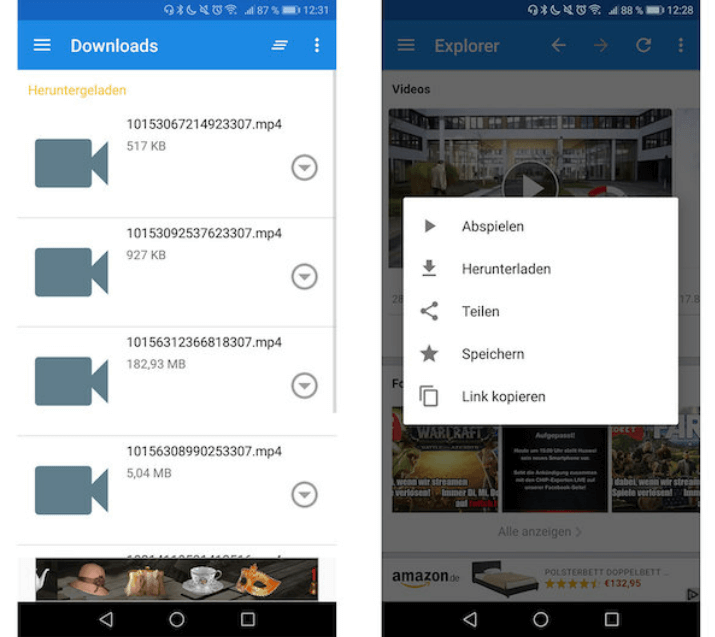 Top 5. MyMedia
Another free Facebook video downloader app for iPhone you can pay your trust is MyMedia. This application functions in a superior way from the sacristy side, as it has provided the lock function to keep all Facebook downloads private and safe on your iPhone. Surely, you can come across Facebook and access all videos to process the download without restrictions at all. For those who really care about the security of the video download feature, MyMedia shall be your top pick.
Features:
Secure manipulation is a highlight of this application.
Popular encoders such as MP4, MOV, and M4V are all provided.
The Facebook downloads can be exported in HD quality for free.
You can access all Facebook videos, documents, images, and audio to download without any restrictions.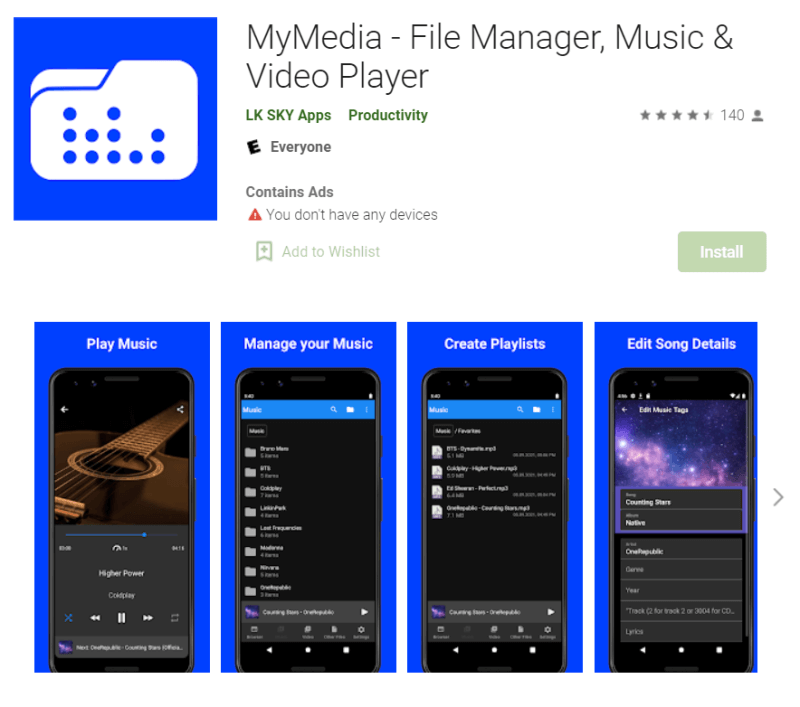 Top 6. HD Video Downloader
The final recommended Facebook video downloader app for Android is HD Video Downloader. With a straightforward UI, the application allows you to log in Facebook for discovering the video content you like for streaming, and there will be a download button equipped when the app detects the sources. Simply tap it and you will be turned to the video downloading page and convert, download it locally in no time.
If needed, HD Video Downloader will let you change the location to save Facebook downloads to an external SD card without taking up the internal memory of your Android devices.
Features:
All-in-one video downloader for Facebook users to browse, play, and download videos at once.
Both HD and SD encoders are provided to save Facebook downloads.
It is possible to change the download location to store videos on external SD cards on Android devices.
Reliable and fast service is ensured.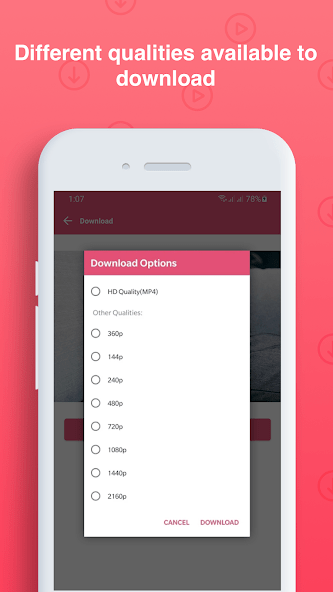 Final Verdict
To sum up, if you wish to download Facebook videos on mobile devices, a trustworthy Facebook video downloader app is a must-have tool for you. From the top 6 list recommended above, I would like to give a further recommendation - considering the effortless performance, security, and quality-ensured downloads, VideoHunter for Android and Video Downloader for Facebook can be the two best picks for Android and iPhone users respectively.
Surely, you can compare them carefully and select the best one based on your own standards. Then simply process the Facebook video download with your selection. Enjoy!