When you find a funny video on YouTube and are ready to play it back, YouTube says "This video is unavailable". This would be so frustrating and you must want a quick way to fix YouTube video unavailable issue. Thus, we brought this blog here to help. Please read 11 possible ways to fix YouTube video not available.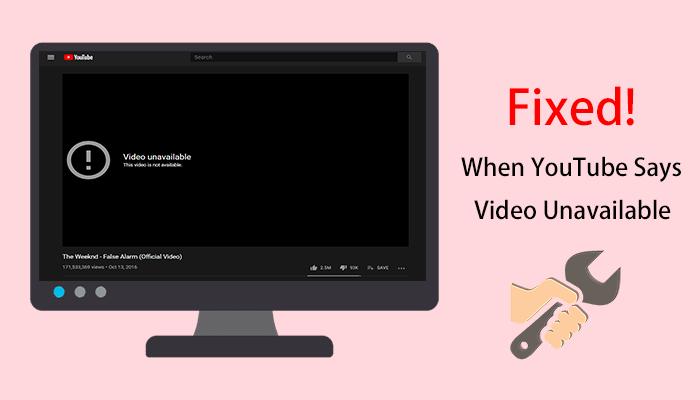 CONTENT Fix: YouTube Video Unavailable Due to Network Connection IssuesFix: YouTube Video Unavailable Due to Official Terms and PoliciesFix: YouTube Video Unavailable Due to Device and Browser IssuesAn Ultimate Way - Download YouTube Videos for Offline Enjoyment
NOTE: There are several reasons causing the YouTube video unavailable issue. When you encounter with the problem, you can check from these several aspects and take corresponding solutions. If none of these 11 methods, try VideoHunter.

Fix: YouTube Video Unavailable Due to Network Connection Issues
Refresh and Restart Your Browser
Internet issue can be a direct influence on the YouTube video not available. As a result, you should check if your device is connected to a good network. If the signal is weak, change it and then refresh or reopen the video page.
Change The Video Quality
In some cases, due to the quality of the selected video, the message that this video is not available may appear on YouTube. In this case, the official may also recommend you to adjust the video quality and choose a lower one.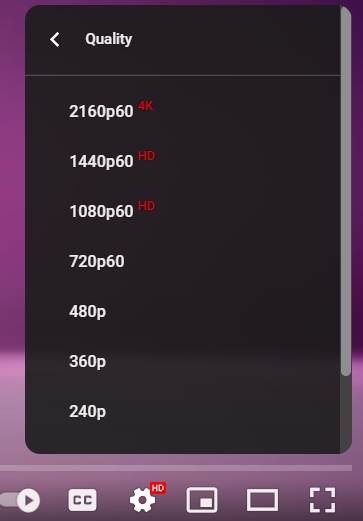 Fix: YouTube Video Unavailable Due to Official Terms and Policies
Video Is removed
YouTube would evaluate each YouTube video and decide whether to keep them in a while. When the YouTube video you want to stream is unavailable anymore, it may have against YouTube's terms so the official removes it from the search results. Then it results in the YouTube video unavailable issue. In this case, you can search to see if other YouTubers have uploaded the same or similar content.
Bypass YouTube Video Regional Restrictions
A possible reasion why YouTube video is unavailable is the regional restriction set on the video. Uploaders can choose to allow audiences of certain regions have the access to videos, and letting others fail to play it back. In addition, basing on the local laws, YouTube may have blocked thYouTubeis video so that local audiences fail to stream it. So when you see the notice "This video is not available in your country", this video is unavailable in your living area currently.
It's not a big deal. You can directly change the location setting in YouTube by clicking your profile image and then select the region where the video is allowed to be played in the "Location" setting. If this video is still not available even you have changed your location, you can use a VPN or Proxy to fake your IP address to make YouTube believe that you are in the regional where the video is playable.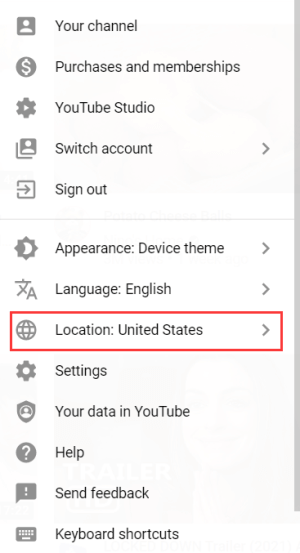 Fix: YouTube Video Unavailable Due to Device and Browser Issues
When you get the message "This video is not available on your device", there are 8 solutions to fix the YouTube video not available issue.
Clear Browser Cache/Cookies
Web browser would store cache data and cookies of the websites to enable users faster browsing speed. But when there are too much cache and cookies, the data would cause corruption and results in some web pages performance error, including YouTube videos playback issue. Therefore, you can try to clear the web browser's cache and cookies to get the YouTube video unavailable problem solved.

Turn off Browser Extension
The extensions you have installed to your web browser may interrupt the video playback on YouTube, then lead to the YouTube video unavailable error. By removing certain browser extensions can simply fix this issue. Or you can use the incognito (private) mode provided by your using web browser to remove the influence brought by installed browser extensions.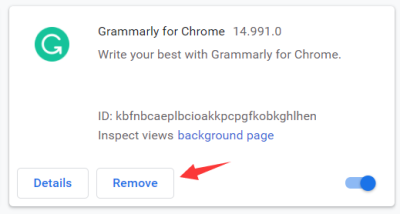 Turn off Hardware Acceleration
Hardware acceleration is a web browser setting that is accessible from all YouTube videos. It can help to load videos much faster, so people can play YouTube videos without waiting for a long buffering time. But if there is conflict happening on your device's hardware when this setting is enabled, the videos won't load successfully. Under this case, you can turn it off to enable YouTube video to be playable again.
Take Chrome as an example, the setting can be found in "Settings" > "Advanced" > "System". Just toggle off the "Use hardware acceleration when available" and go back to YouTube to play the video again.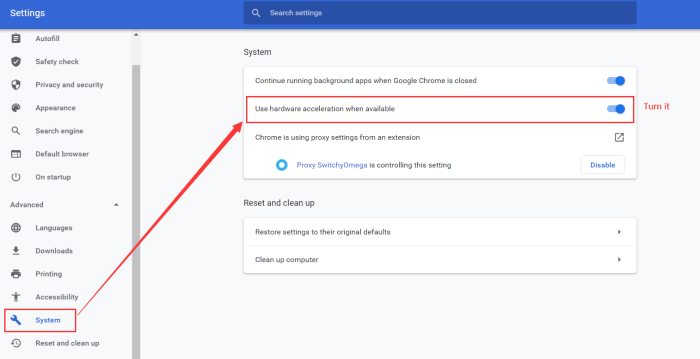 Enable JavaScript
JavaScript is ensured to let every web page performs its provided interactive content to users, including playing the YouTube videos. Although JavaScript would be automatically enabled in web browsers, sometimes it may be turned off for unknown reasons. So when YouTube video is not available on your device in browsers such as Chrome, go to "Settings" > "Privacy and security" > "Site Settings" > "Content" > "JavaScript" to set it to be "Allowed".

Try Another Browser
If you keep getting YouTube video unavailable error, perhaps changing your browser will solve your problem. Sometimes the browser may affect the streaming of the video we want to play, not just the settings and configuration changes.
Reinstall Adobe Flash Player
Browsers require Adobe Flash Player to allow media content from playing back successfully. So when YouTube video unavailable, you should consider whether the Adobe Flash Player goes wrong. You can check to update or reinstall it to enable the video playback function to be available on YouTube.
Turn off Firewall or Antivirus Programs
The security settings such as the firewall or pop-up ads/anti-vrus blocking programs on your devices would also prevent YouTube videos from loading videos for you. So you also need to check whether the security settings on your computers have prevented YouTube from connecting to the network, thus making the YouTube videos unavailable. When you make sure your network environment is safe, you can turn them off to make blocked YouTube videos available again.
Apart from the 11 ways to fix YouTube video not available issue, you may wonder a one-for-all solution. Here we recommend a hassle-free YouTube video downloader for you!
An Ultimate Way - Download YouTube Videos for Offline Enjoyment
The final, and the most effective method to avoid YouTube videos being unavailable and to make YouTube videos ready to be playable at anytime is to download them offline. VideoHunter can bring you help. VideoHunter serves users with the best YouTube videos downloading service, with the ability to download YouTube single videos, playlists, subtitles, and even download unlisted YouTube videos offline with the best quality. It is also user-friendly and simple to use!
VideoHunter A Reliable and High-quality Any Video Downloader for Windows/Mac Support to download videos from YouTube, Facebook, Dailymotion, and 1,000 more websites; Offer high resolutions such as 1080p, 4K, and 8K to output; Offer mainstream formats like MP3, MP4 to encode the videos; Allow to download subtitles in an extra file offline; Enable 6X faster speed and batch download to save much time; Ensure 100% clean and safe environment for everyone to use. Free Download Free Download
You only need several simple clicks and your wanted YouTube video can be downloaded easily.
STEP 1. Go to YouTube and directly copy the URL of the YouTube video you'd like to save for offline viewing.
STEP 2. Open VideoHunter and then insert the YouTube video URL into the frame bar. Then, hit the "Analyze" icon to download the video.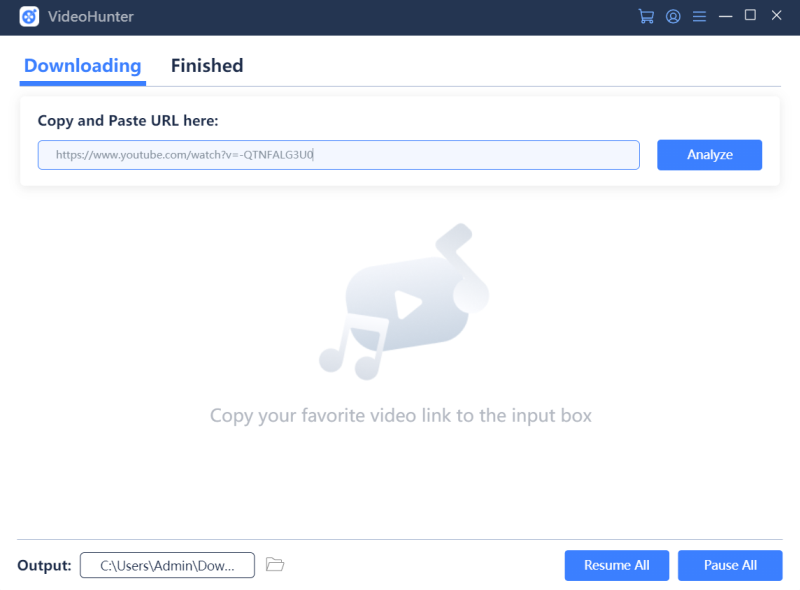 STEP 3. Finally, when VideoHunter provides output choices, select your desire quality and format, and directly hit the "Download" button to download YouTube video offline.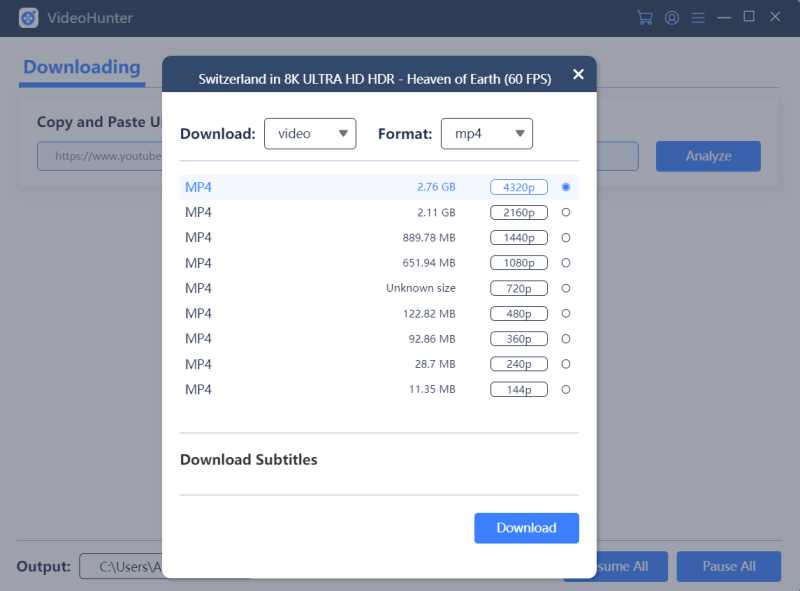 When YouTube says this video is unavailable, find the right solution based on the issue that may be causing the problem. You have 11 solutions available. You can also use VideoHunter to download YouTube videos directly to permanently eliminate such errors.