As a regular user of YouTube, you may have created many YouTube playlists that contain a bunch of your favorite videos. But some of them are somehow reported as unavailable suddenly. Don't panic! This is just one of the common YouTube errors - the unavailable YouTube video issue. It often occurs with an error message saying "This video is unavailable". Then, you find the YouTube video can't be viewed or they are hidden, deleted, or locked as private.
Why does YouTube say this video is unavailable on this device? Is it possible to see this unavailable video on YouTube? In this post, we'll first cover 4 common reasons behind the issue and share 9 workable methods to fix the YouTube unavailable video issue. In the end, we'll also introduce a powerful YouTube video downloader to help you save an unavailable YouTube video and even YouTube playlists.
You May Like:
How to Fix 5 Common YouTube Errors
CONTENTS "This YouTube Video is Unavailable": The Reasons4 Common Methods to YouTube Unavailable Video4 Specific Methods to YouTube Unavailable VideoFinal Method to YouTube Unavailable Video: YouTube Unavailable Video Finder
"This YouTube Video is Unavailable": The Reasons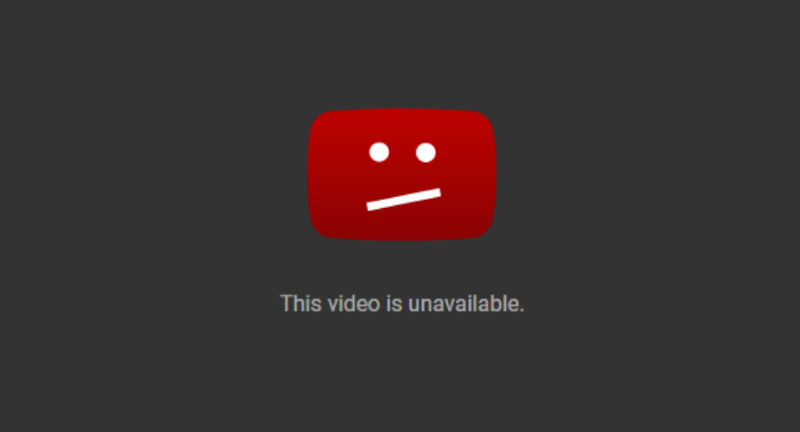 There are a lot of possible causes why YouTube videos are unavailable. Generally, it's hard to identify which one leads to the unavailable video issue, especially when you run into the issue unexpectedly. The unavailable YouTube video issue can be triggered by the following common causes:
Weak Wi-Fi signal results in failure to stream the video.
Accumulated cache or cookies of YouTube hog up your storage space, slows down your device's browsing performance and leads to the video being unavailable on YouTube issue.
Bugs in YouTube or outdated devices stop you from accessing YouTube videos.
Unavailable YouTube videos contain geo-restricted content and thus are inaccessible within the app.
YouTube blocks uploaded and embedded YouTube videos that contain someone else's copyright or inappropriate content, including copyrighted songs or videos and dangerous content.
Deleted or hidden YouTube videos. Video creators may delete their YouTube videos or set them private. YouTube takes down some videos for some reason.
To solve the first three issues that make YouTube videos unavailable, 4 common methods are listed as follows. If you've identified the cause of unavailable YouTube as one of the last 3 reasons, you can jump to 4 specific methods.
You May Like:
9 Methods to Fix YouTube Videos Not Playing on Phones & PC
8 Easy Ways to Solve YouTube Playback Error
4 Common Methods to YouTube Unavailable Video
Whether it's an unstable Wi-FI connection, a buildup of cache and cookies, software bugs, or outdated browsers or devices, any of them can lead to playback failure, but most of these are within your control. Here are 4 methods to help you fix them.
Method 1. Switch to A Stable Internet Connection
When you're trying to enjoy a video on YouTube, a spotty Wi-Fi signal can ruin everything by causing endless buffering or making a YouTube video unavailable. To solve the issue, here are 3 quick fixes you can have a try.
Test your broadband Internet and WiFi speed with an Internet speed test.
If your Wi-Fi connection is unstable or slow, move closer to the router, reconnect the WiFi network, or switch to another network.
Reconnect the power and Ethernet cables to the modem.
Switch to cellular data.
Method 2. Reduce Video Quality
YouTube allows you to play a video in various sizes, ranging from 240p to 4k. Different video sizes could affect Youtube streaming. Videos at an ultra-high resolution like 720p are larger and thus take longer to play than the same video streaming at 360p. If the video on YouTube you are trying to play is long with a high resolution, it may take a while to stream it or even could fail to do this, especially when the Internet is unstable or slow. The screen will display an error message like "YouTube video is currently unavailable."
In this case, you can reduce the video quality by clicking the setting icon at the bottom right corner of the screen and reducing the video quality to a preferred but low video quality like 480p.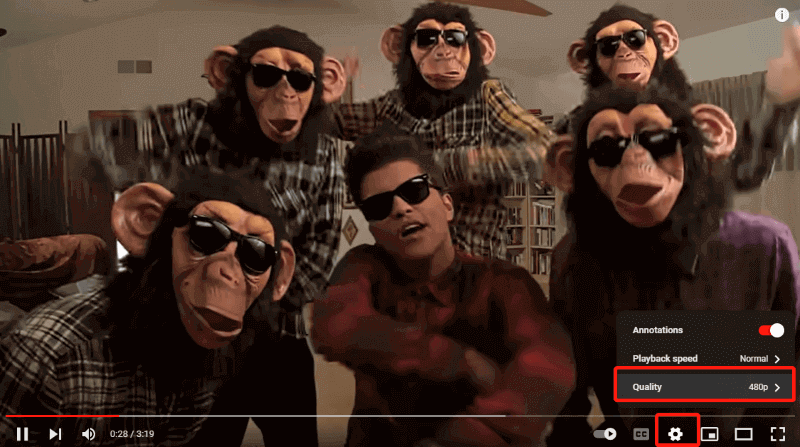 Method 3. Clear Cache and Cookies of Browser or YouTube
Apart from high video resolution, cache and cookies also may make YouTube videos unavailable. Cache and cookies are saved when you browse YouTube or watch its videos on phones. This is generally helpful as they improve the loading speed of applications and websites during your next visit. But cache and cookies can occasionally cause problems. A buildup of caches and cookies can cause glitches to happen, including slowing down your device and causing a YouTube video unavailable.
That's why cache and cookies should be cleared regularly before they turn corrupted and cause problems. Follow the detailed steps below to clear cache and cookies.
Clear Cache and Cookies of Your Browser on PC
Here we take Google Chrome as an example.
Step 1. Click the three-dot menu icon at the top right to open a drop-down menu.
Step 2. Hover over More tools and click Clear browsing data.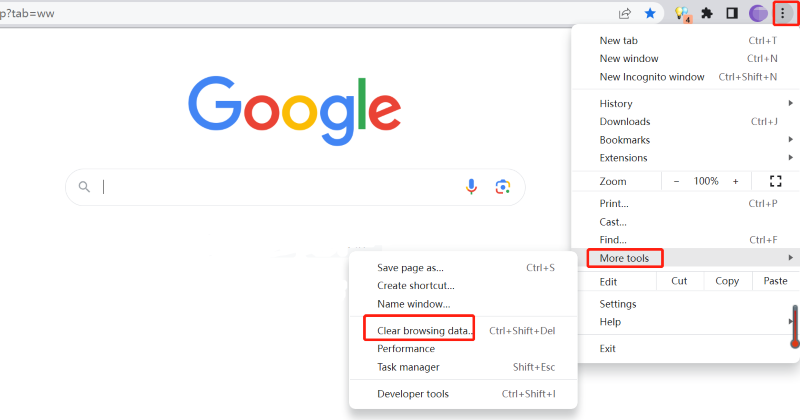 Step 4. A box will pop up with a few options. Check Cookies and other site data and uncheck the other two options. Click the arrow in the box next to Time Range to open a drop-down menu where you select All Time.
Step 5. Click Clear data. Then, the cookies and data of Chrome will be cleared.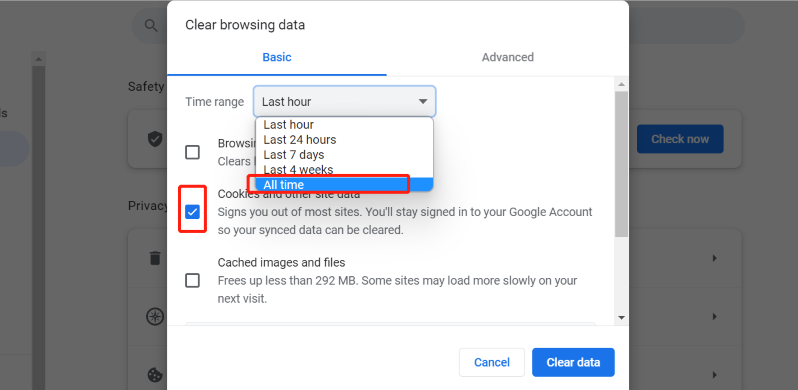 Clear Cache and Cookies of YouTube on Phone
Step 1. Open your phone and navigate to Settings.
Step 2. Search for the YouTube app and tap the app.
Step 3. Hit the CLEAR CACHE button to clear the cache of YouTube.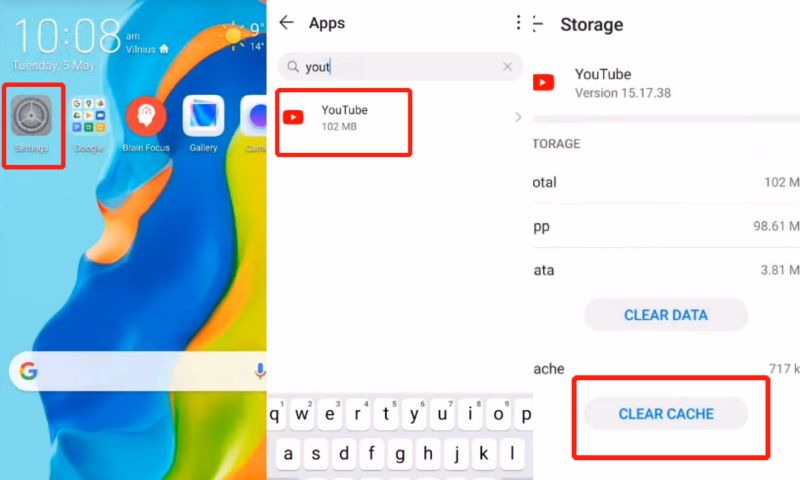 Method 4. Update Your PC or Phone
Performing regular device and app updates is also an important way to keep YouTube running smoothly and free from any issues that result in videos being unavailable on YouTube. When the developers identify performance issues like bugs in devices or apps, they will fix the issues as soon as possible and release updates before bugs cause huge problems.
To keep your device or the app up-to-date, no need to wait for the next automatic update. You can manually update your PC, phone, and the YouTube app on your own.
Update the YouTube App:
STEP 1. Head to the app store. (Android users can go to Google Play.)
STEP 2. Tap Search at the bottom right and search for YouTube.
STEP 3. If your YouTube app is not the latest version, there will be an Update button next to the app icon otherwise it will show Open.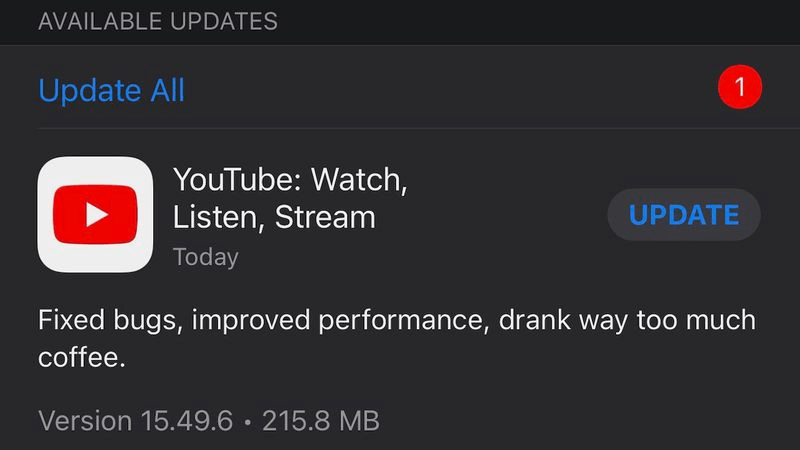 Update Your Phone:
STEP 1. Go to the Settings.
STEP 2. Tap About Phone> System update > Check for updates.
(These options will vary depending on your phone's current operating system. But the steps are basically similar.)
Update Your PC:
STEP 1. Navigate to Settings.
STEP 2. Windows users can choose Windows Update on the left-hand side. Click the Check for Updates button.
For Apple users, click the Apple menu and choose General from the sidebar. Click Software Update > Update Now.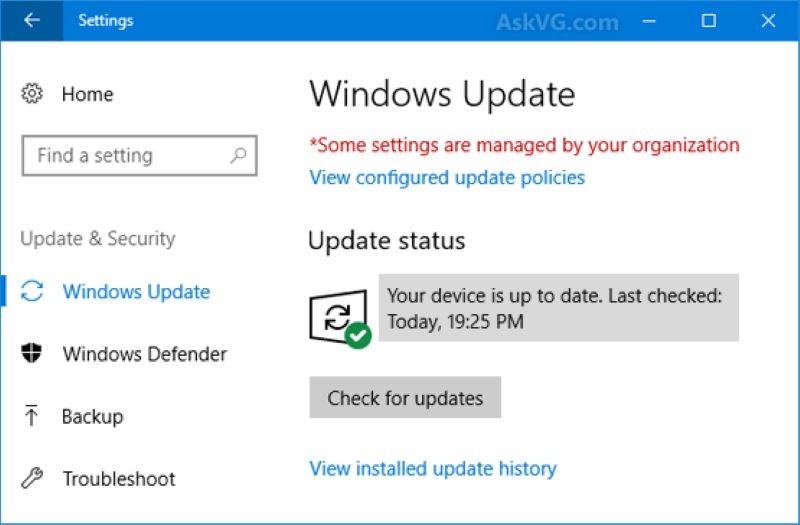 4 Specific Methods to YouTube Unavailable Video
Facing some easy YouTube unavailable videos, you can use the 4 common methods above. But what if the YouTube video is unavailable due to geo-restriction, copyright infringement, being removed, or disappearing forever? Is there any method to recover a hidden YouTube video? To find out the answers, keep reading!
Method 1. Use A VPN to Watch Geo-restricted Videos With stable Wi-Fi, you can watch and access millions of YouTube videos online. But this doesn't mean you can access them anywhere. Video creators may make their videos viewable in specific countries or regions. On the other hand, YouTube will block some videos in specific territories to comply with local laws. If you want to watch a geo-restricted YouTube video, the best solution is to use a VPN.
VPN can help you bypass YouTube region blocks by replacing your real location with another one that appears to YouTube that you're located in a place that is allowed to access YouTube. In this way, you can watch otherwise blocked content.
You May Like:
How to Watch and Download Age-Restricted YouTube Videos
Method 2. Search for An Unavailable Embedded Video on YouTube When watching embedded YouTube videos on a webpage, sometimes you may find it unavailable and an error message saying "Video Unavailable. Watch on YouTube." There is a high chance that the video contains copyrighted material such as music videos or background music without permission from the content owner to use their content.
To protect their copyrighted content, YouTube would block the video. To solve this copyright-related issue, you can head to YouTube.com to search for the video and watch it.
Note:
Chances are that you can't find the embedded video. You can turn to YouTube unavailable video finders like VideoHunter YouTube Downloader to find and download the unavailable embedded video with its URL.
Method 3. Trim An Uploaded Unavailable YouTube Video (Only for Uploader)
After uploading your videos on YouTube or embedding a video on a webpage, the videos can be unavailable due to copyright infringement. In other words, if your video contains copyrighted material without the owner's authorization to use it in your video, YouTube will remove the video until you solve the copyright issue. Meanwhile, the platform will also send you a copyright claim by e-mail after making the video unviewable.
In this case, you can ask permission from the content owner to avoid copyright infringement. In addition, you can remove the copyrighted content from your video and reupload it.
Method 4. Find YouTube Hidden or Private Videos
After adding many of your favorite videos to the playlists, you may sometimes find "1 unavailable video is hidden YouTube playlist" from time to time. The video that once was viewable now is not available anymore. This is related to YouTube's classification of videos. The platform allows video creators to mark their videos as public, unlisted, or private. When the creator sets it as unlisted, the video can be viewed only if you have the URL of the video. If the video is set as private, it will not come up under any public search results or channel lists. It can't be viewed to others unless its owner allows you to watch the video.
To watch private videos, you can get in touch with their owners for permission and the link. After getting the link, you can download YouTube private videos. If you just want to know which and why the YouTube video is hidden, try the following specific fixes.
Ask for the URL of Unlisted YouTube Videos
Unlisted YouTube videos won't appear in the search results. To find unavailable YouTube videos, you can ask the owner if it is possible to share the video URL with you. Once you have the shareable URL, you can download the unlisted YouTube videos with YouTube downloaders and save them forever.
Figure out Why YouTube Says Video Unavailable
After YouTube hides unavailable videos, a notification will appear after you open a playlist that contains hidden videos. To know the reason why the videos are hidden, click the three-dot icon on the left-hand side.
Choose Show unavailable videos. The hidden videos will appear in the playlist with exact reasons like private videos or deleted ones.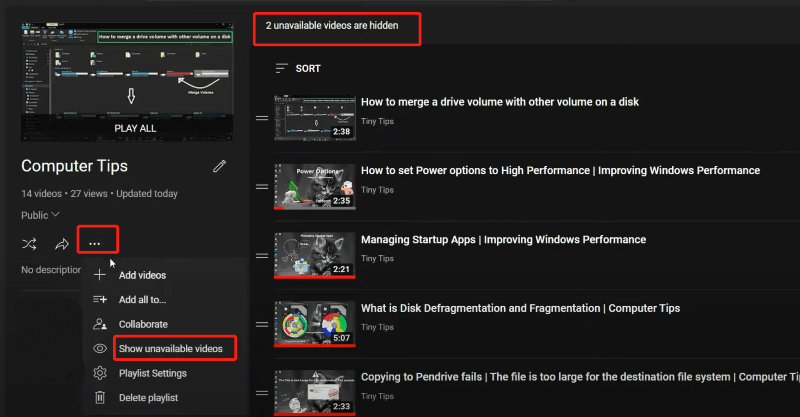 Find the Title of A Hidden or Deleted YouTube Video via Google Search
Deleted or private videos are basically inaccessible. But at least you can know which video is hidden via Google Search.
Step 1. Head to YouTube.
Step 2. Copy the video identifier from the video URL. The video identifier refers to the part after "v=".

Step 3. Paste the copied video identifier into the Google search bar and click Enter to let the browser start searching. After that, you might be able to see the title of the deleted video, though this solution does not work for every hidden video.
Final Method to YouTube Unavailable Video: YouTube Unavailable Video Finder
After trying the above methods, you can watch the unavailable YouTube videos again. But there's a chance that these YouTube videos might be unavailable again one day. If they are important to you, you can download them using YouTube video downloaders to keep them forever.
VideoHunter YouTube Downloader is a reliable and safe YouTube video downloader that helps you download YouTube unavailable videos such as unlisted and private videos as long as you have their URLs. By copying and pasting the URL of the YouTube video, you can download and save them on your PC and don't worry that they will disappear someday.
Better still, VideoHunter YouTube Downloader can batch download multiple YouTube videos and playlists at one go.
Steps on Saving YouTube Unavailable Videos with Their URLs:
Step 1. Download VideoHunter YouTube downloader by clicking the download button above.
Step 2. Launch the app. Copy and paste the URL of the unavailable video to the YouTube unavailable video downloader.
Step 3. Customize the output format and other preferences for the video as you like. Click Download. Then you can keep the YouTube video permanently even if the creator sets it as private or deletes it.
Conclusion
There are many causes of making YouTube videos unavailable. Based on different causes, the 9 methods above are listed to help you watch an unavailable YouTube video. As no one knows whether the video will be unavailable again for unknown reasons, the safest way is to use VideoHunter YouTube Downloader to download and keep unavailable YouTube videos, saving you extra worries.