TikTok has gained global popularity since 2017, and people from all walks of life are addicted to vertical videos for all kinds of fun. In some cases, you may want to download TikTok videos without watermarks for offline playback or personal collection, but you're not allowed to download videos from TikTok. So, check out this post for the best TikTik video downloaders for Android and iPhone/iPad. Or, if you prefer not to download any apps, there are also free online TikTok video downloaders for you.
CONTENT TikTok Video Downloader App for Android TikTok Downloader App for iPhone/iPad Online TikTok Downloader (All Platforms)
TikTok Video Downloader App for Android
If you like swiping TikTok videos on your Android phone or tablet, you might as well install a TikTok downloader app for Android. There are some excellent apps on the market. If you have no idea which one to try, consider the 2 recommended TikTok video downloaders below.
VideoHunter for Android
VideoHunter provides the leading video download service for desktops and Android. VideoHunter for Android enables you to download TikTok videos without watermarks to MP4 of up to 8K quality according to the video quality of the source video.
Also, VideoHunter for Android is easy to use. It comes with an in-built web browser for you to quickly access your favorite TikTok videos and save TikTok videos locally in a few steps. Then, you are able to watch, share, or transfer TikTok videos offline freely.
Sparking Features
Support over 1,000 online video sites including TikTok, YouTube, Instagram, Twitter, and more.
Offer multiple video quality options to choose from 8K, 4K, 2K, 1080p, 720p, and 360p.
Download multiple tasks of up to 4 downloads at the same time.
Accelerate the whole downloading process at ultra-fast speed.
Download TikTok videos without watermarks.
Enable users to download TikTok and YouTube videos to MP3 on Android of up to 320kbps.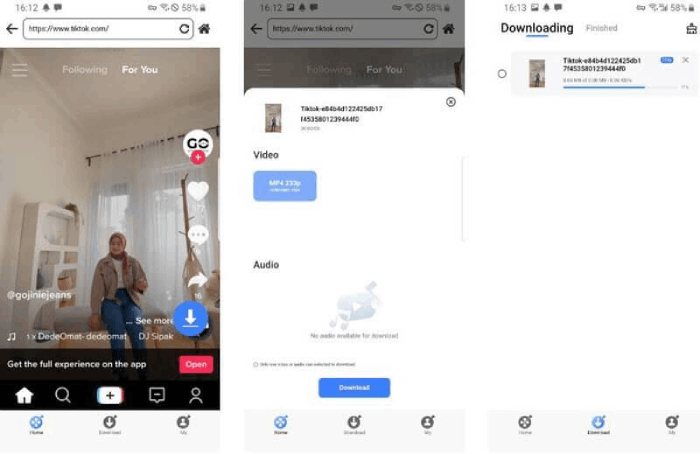 Video Downloader for TikTok
Video Downloader for TikTok is available on Google Play Store and you can directly download and install the app on your Android device. The TikTok video downloader app supports 10+ video sites and 15+ different languages. When you copy the video link from TikTok, the app is able to auto-detect the TikTok video and prompt you to download the video.
This app also has a TikTok sound downloader that allows users to save the sound only. The downloads are easy to manage and share as you want. Moreover, you can directly play the downloaded TikTok videos with its in-built video player.
Sparking Features
Support over 10+ sites including Twitter, Instagram, WhatsApp, Pinterest, Facebook, and others.
Enable auto-detection for the link copied to your clipboard on Android for quick download.
Additional TikTok audio downloader to only download the sound of a TikTok video.
Play local Tiktok video downloads with its video player in the app.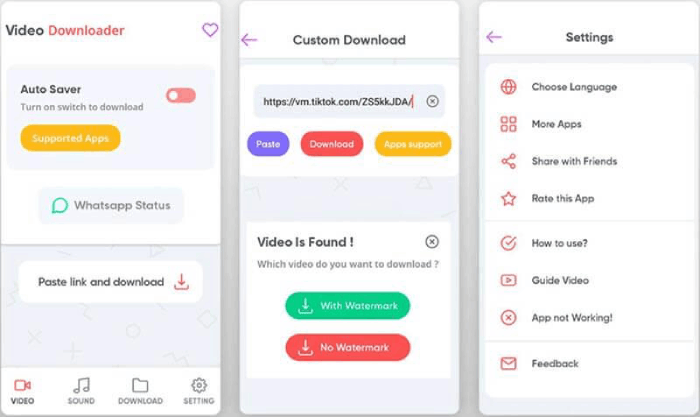 TikTok Downloader App for iPhone/iPad
Also, you can directly install workable apps to save TikTok videos on your iPhone and iPad from the App Store. I have tried and tested the 2 best TikTok video savers for iOS. You should know that apps of this kind cannot download TikTok videos on iOS devices, but save the videos to your collection instead. If you're looking for a way to download TikTok videos on iPhone/iPad, check out the online TikTok downloaders in the next part.
SaveTok
SaveTok is more like an integrator for TikTok videos. This app enables you to watch, bookmark, share, and save TikTok without watermarks on your iPhone for offline playback. Moreover, it allows you to create playlists for your favorite videos in TikTok and share the playlist with someone who doesn't need to install SaveTok on their smartphone.
You can also bookmark profiles to follow the latest updates of your favorite influencers on TikTok as long as they post a new video. By the way, if you want to get the background music of a specific TikTok video, SaveTok can identify TikTok's music with Shazam Integration. Moreover, there is a Slow-mode feature to play TikTok videos in slow-mo if you want to.
Sparking Features
Directly view, share, and bookmark TikTok videos in the app.
Create your personal playlists for sorting out all your favorite videos.
Keep real-time updated with your favorite creators in TikTok by bookmarking their profiles.
Save TikTok videos to iPhone/iPad without watermarks.
Play TikTok videos in Slow-mode.
Recognize TikTok's music with Shazam.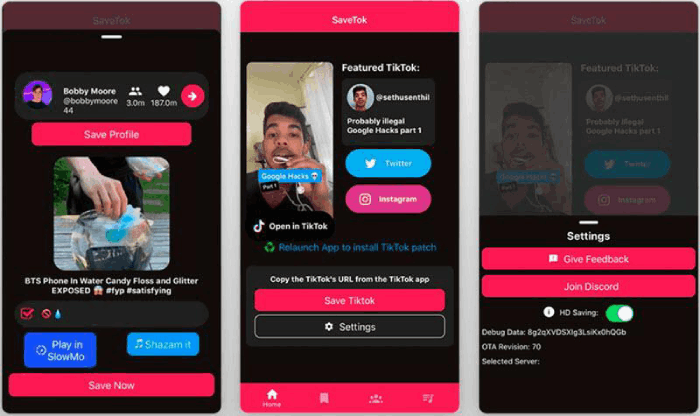 TikSave
TikSave is a TikTok video saver available in the App Store. It enables you to save TikTok videos in a few taps and group the videos into different collections. You can also bookmark your frequently-viewed profiles to follow up with their latest videos.
If you're an influencer, TikSave allows you to choose the right time to post or repost your TikTok videos with a visual schedule plan. Better yet, it offers insight analysis to help creators optimize their content and bring better videos to TikTok.
Sparking Features
Create collections to save and group your favorite TikTok videos.
Save TikTok videos without watermarks on iPhone and iPad.
Schedule your videos to post at the right time automatically.
Offer insightful analytics of the video including views, likes, comments, and shares.
Bookmark profiles to follow up with the latest videos on TikTok.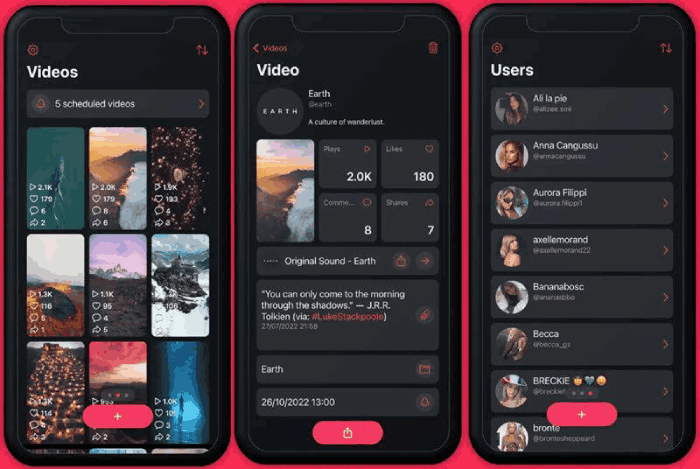 Online TikTok Downloader (All Platforms)
For those who don't want to download any software on Android or iOS, it's a great idea to try free online TikTok downloaders. There are many online tools available over the internet with slight differences in features. Now, let's go over the following 2 online TikTok downloaders.
SnapTik
SnapTik is a simple online TikTok video downloader free of charge that works to download TikTok videos without watermarks. The good point is that you can access this site almost on any popular browser like Chrome, Firefox, Opera, and others. Moreover, you can use this platform to save Tiktok videos on any device, including your Android, iPhone, Windows, and Mac.
Easy as it is to use, the functionality is also simple. SnapTik only requires a video link from TikTok, but it will convert the video to MP4 without any video quality options. That is to say, you are just able to download the SD quality of TikTok videos using this online tool.
Sparking Features
Free to use all the time.
Easy to download TikTok videos with a mere download service.
Can be accessed on any device with any browser.
No need to download any software.

SSSTik
SSSTik functions as both a TikTok video downloader to MP4 and TikTok sound downloader to MP3 with no need to log in to your TikTok account. This tool is totally free to use and easy to access online with any browser. As long as your device has a web browser, you can easily download TikTok videos to local storage by pasting the video link into the search bar.
This online TikTok downloader doesn't set limitations on free downloads, so it means that you can download as many TikTok videos without watermarks as you like. What's more, the site is considerate to show tutorials on how to use it across all platforms on its main page in case you have problems using it on Android or iPhone. However, SSSTik only supports TikTok, so it cannot work as a YouTube video converter to MP4.
Sparking Features
Offer online TikTok video download service free of charge without watermarks.
Work as TikTok video to MP4 downloader and TikTok audio downloader to MP3.
Support for downloading TikTok videos on desktops, laptops, tablets, Android, and iPhone.
No need to download any third-party software or apps.
Easy to use, requiring only a TikTok video link.
Compatible with browsers including Chrome, Firefox, Opera, Edge, and others.

After going through the 6 best TikTok video downloaders in this post, which one is your best pick? Online tools are always convenient, but they merely work for TikTok videos and support SD video quality. Therefore, you may need to download a TikTok video downloader app on your Android or iPhone/iPad if you want a better download service.
VideoHunter for Android is an all-in-one solution to download online videos from a variety of video sites including TikTok, YouTube, Twitter, Facebook, and so on. It enables users to download HD videos in MP4 of up to 8K and in MP3 of up to 320kbp. If you want support for more than TikTok, it is a better choice to give it a shot.